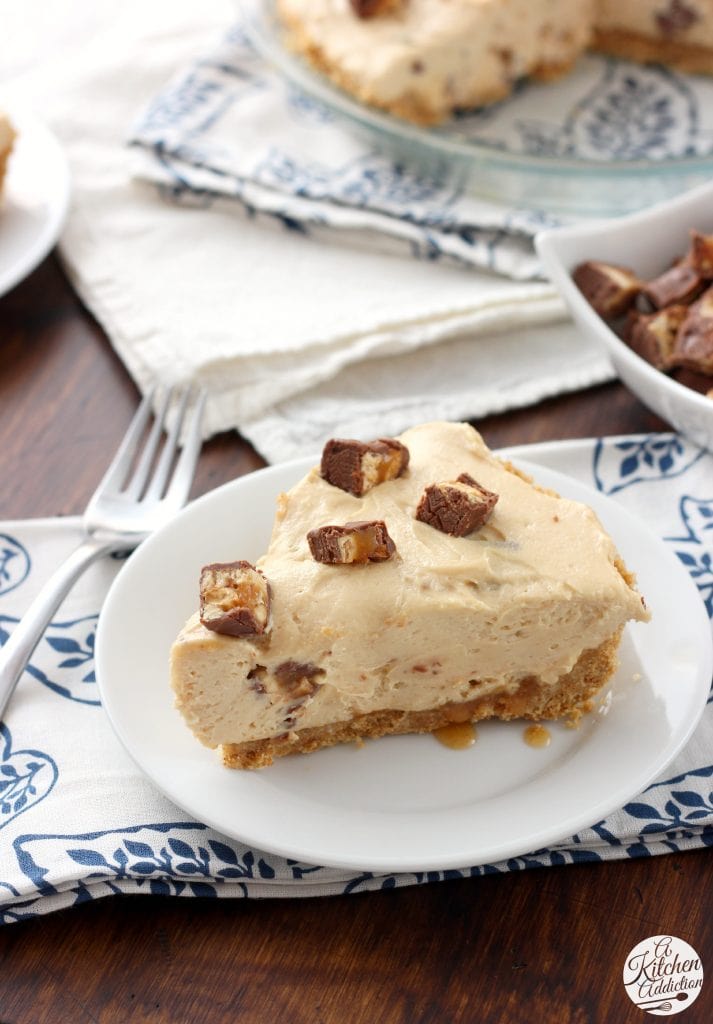 Well, it only took me two months, but I finally kept my word! I mentioned after my husband's birthday that we had peanut butter snickers cheesecake pie and peanut butter s'mores ice cream to celebrate.
However, we ate the cheesecake before I remembered to take pictures. Well, I finally got around to making it again and taking pictures. My husband definitely wasn't upset to have to eat through another cheesecake!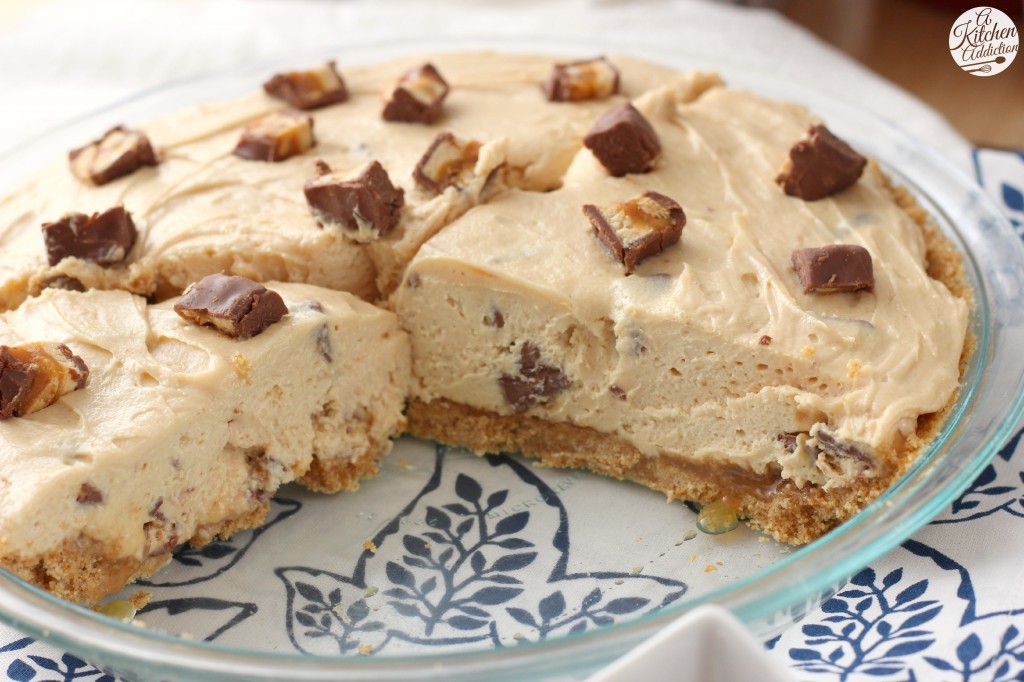 Since I just stated recently that I prefer no bake cheesecakes, I'm sure that it comes as no surprise that this cheesecake is also no bake.
A light, fluffy peanut butter cheesecake acts as the filling to the pie. Chopped Snickers are stirred in and sprinkled on top.
To give the cheesecake a bit more of the Snickers flavor, caramel sauce is drizzled over the top of the crust before the filling is added.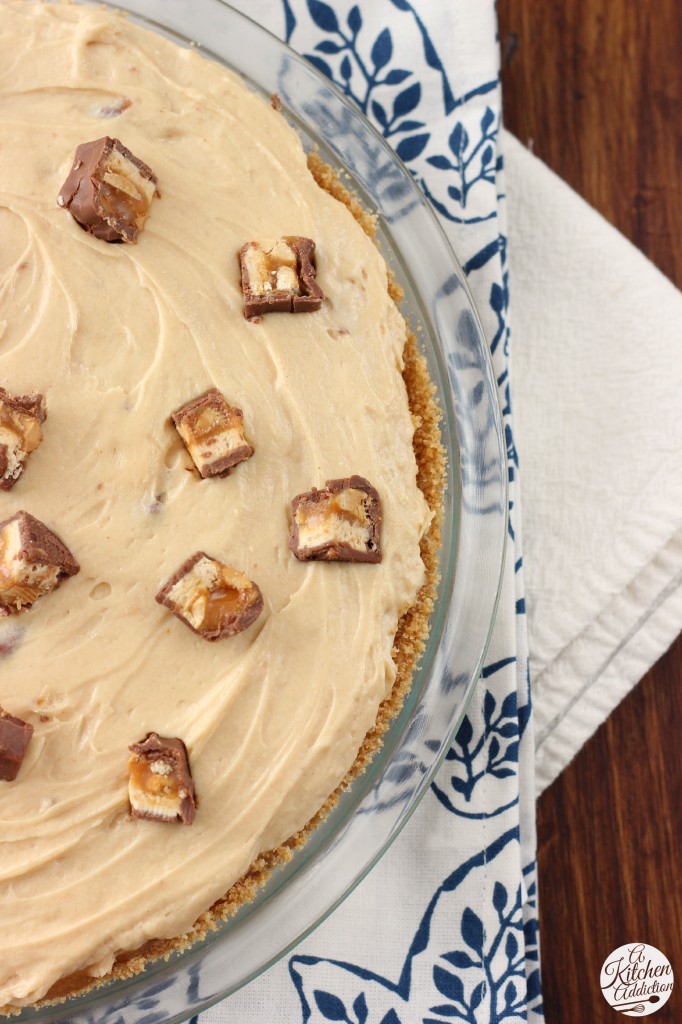 You could easily swap out chocolate graham crackers for the regular ones to make it even more like a Snickers, but my husband isn't a fan of chocolate (How is that possible?!), so I went with the honey graham crackers.
Either way this cheesecake won't last long. Quick whip it up in the afternoon and enjoy a decadent dessert for dinner! Your taste buds will thank you.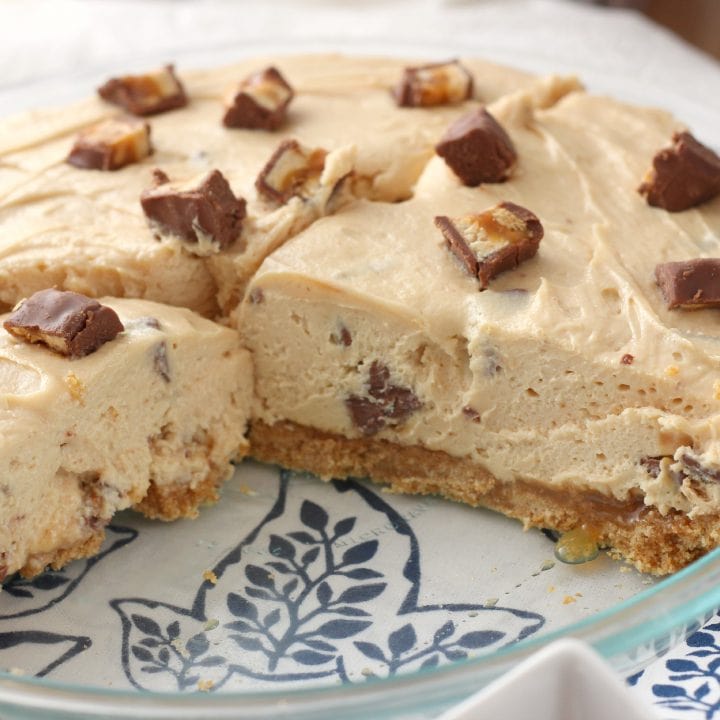 Peanut Butter Snickers Cheesecake Pie
Ingredients
For the Crust
1 1/2 C crushed graham cracker crumbs (12 whole graham crackers)
1/4 C sugar
1/8 tsp salt
6 tbsp, butter, melted
3 tbsp caramel sauce (store bought or homemade)
For the Filling
12 oz 1/3 of the fat cream cheese, softened
1 C confectioner's sugar
1/2 C creamy peanut butter
1 tsp vanilla extract
1/2 C Snicker's bars, chopped
1 8oz container whipped topping, thawed
caramel topping, optional
chopped Snicker's bar, optional
Instructions
Spray a 9 inch pie plate with non-stick cooking spray.
In a medium bowl, stir together graham cracker crumbs, sugar, salt, and butter until thoroughly combined. Press into the bottom of prepared pie plate. Drizzle with caramel sauce.
Cover and refrigerate while making filling.
In the bowl of a stand mixer, beat together cream cheese and confectioner's sugar until smooth. Add in peanut butter and vanilla extract and beat until combined. Stir in chopped Snickers. Gently fold in whipped topping.
Pour filling into pie crust. Drizzle with more caramel sauce and additional chopped Snickers, if desired.
Refrigerate for 4 hours or until set.
Cut into pieces and serve.
Recommended Products
As an Amazon Associate and member of other affiliate programs, I earn from qualifying purchases.