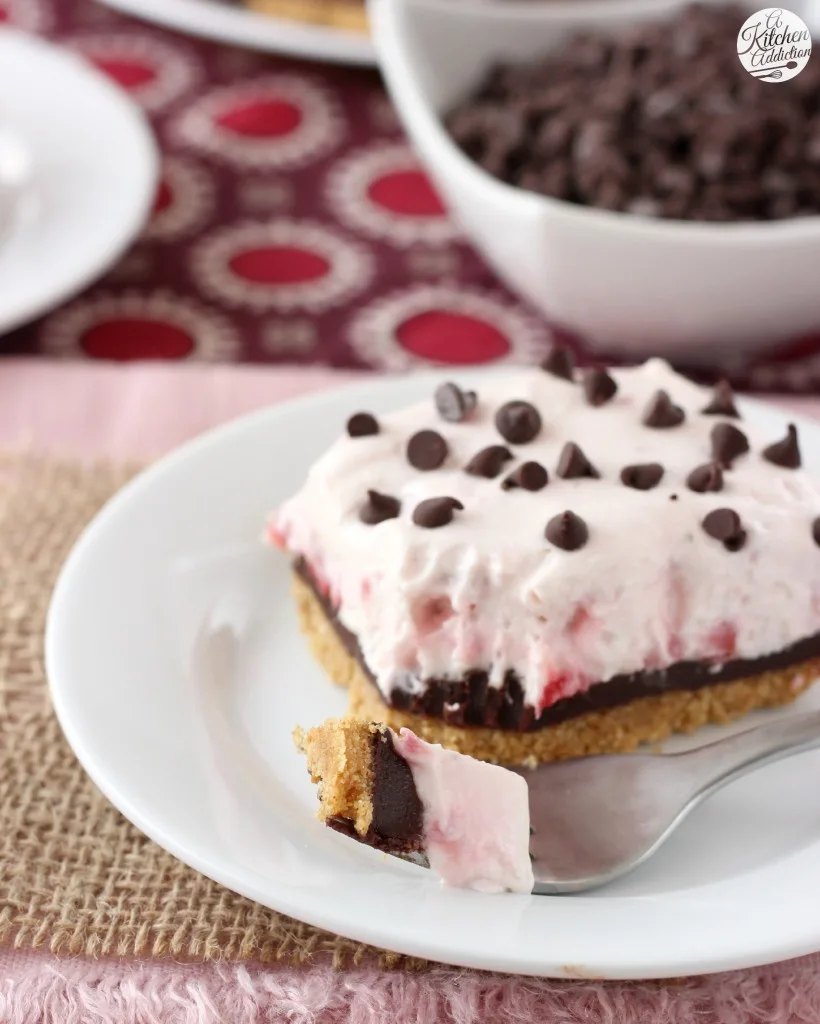 Do you ever have a recipe that sticks in your mind for a long time just waiting to be made? I had seen strawberry cheesecake with chocolate ganache at a store awhile back and just knew that I had to make it at home.
Since I don't make cheesecake very often, it was awhile before I actually set out to recreate it.
I wish I had made it sooner, because these strawberry chocolate ganache cheesecake bars were everything I hoped they'd be!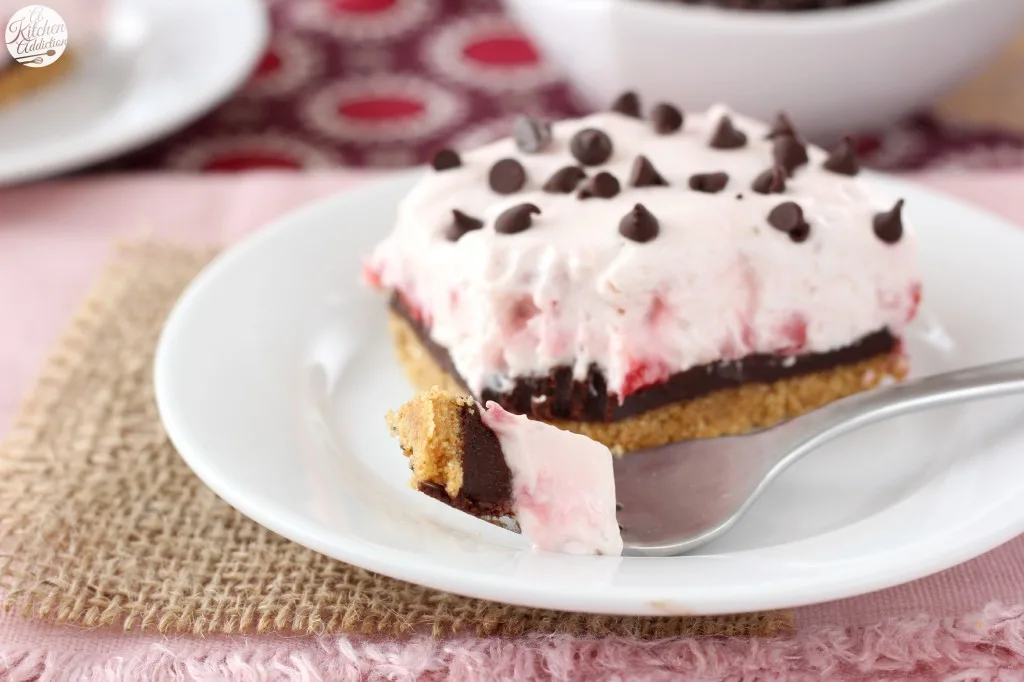 Did you know that today is National Cheesecake Day? Even more reason to make these strawberry chocolate ganache cheesecake bars. I couldn't let a day like this pass by! (Be sure to check out the list below for more great ways to celebrate.)
Since I've been all about no bake recipes lately, I decided to take the no bake cheesecake route. Because they are no bake, these bars come together quickly and you don't have to worry about whether or not they're done (or am I the only one who struggles knowing when cheesecake is done?!).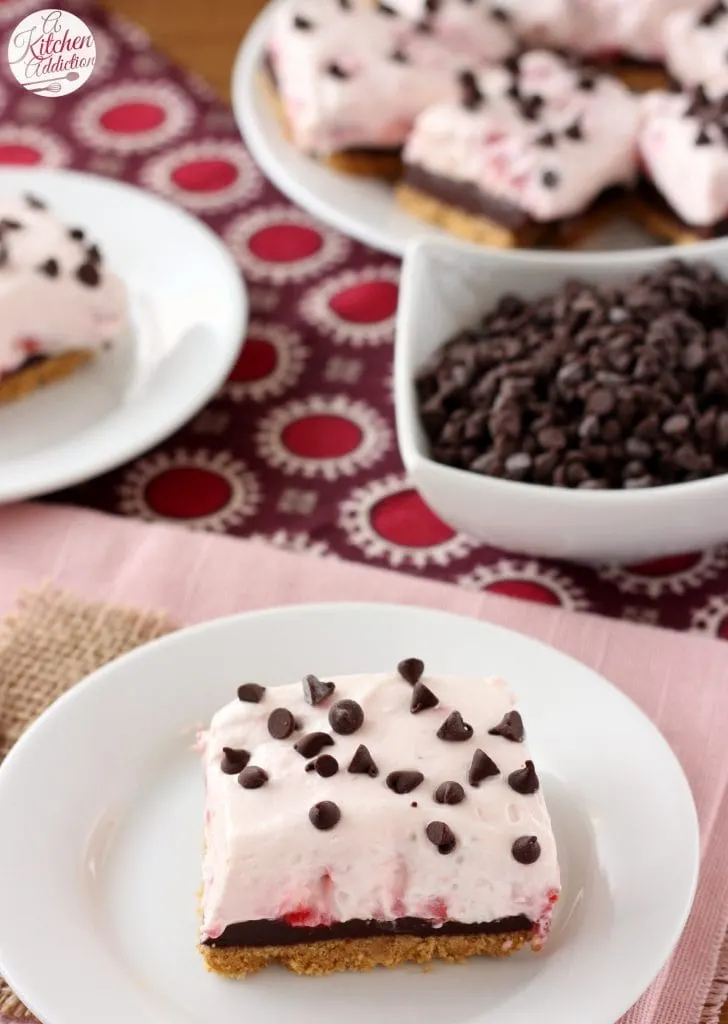 A simple graham crust is topped with a rich, creamy layer of chocolate ganache. Since the theme of these bars is easy, I just used chocolate chips and heavy cream to create this velvety ganache.
Cream cheese, whipped topping, and fresh strawberries make up the sweet cheesecake layer, while a sprinkling of mini chocolate chips tops it off.
If the fact that it's National Cheesecake Day isn't reason enough to make these cheesecake bars, the rich chocolate ganache and sweet strawberry cheesecake should be!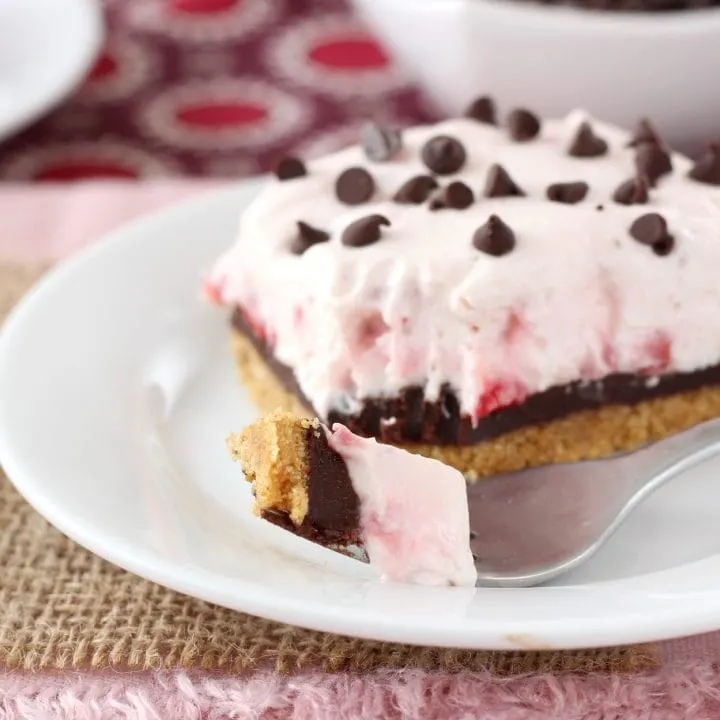 Strawberry Chocolate Ganache Cheesecake Bars
Ingredients
For the Crust
1 1/2 C finely crushed graham cracker crumbs
2 tbsp sugar
1/3 C butter, melted
For the Ganache
1 C chocolate chips
1/2 C heavy whipping cream
For the Cheesecake
2 (8 oz) packages 1/3 of the fat or regular cream cheese, softened
3/4 C sugar
1 1/2 C finely chopped strawberries
1 (8 oz) tub whipped topping, thawed
mini chocolate chips for garnish
Instructions
Line an 8x8 or 9x9 inch baking dish with parchment paper or aluminum foil.
In a bowl, stir together graham cracker crumbs, sugar, and butter. Press mixture into the bottom of prepared baking dish. Cover and place in refrigerate while making ganache.
In a small saucepan, stir together chocolate chips and whipping cream. Bring to a boil over medium heat. Remove from heat and stir until until smooth. Pour over crust. Cover and place in refrigerator for 30 minutes or until ganache is set.
In the bowl of stand mixer, or with an electric mixer, beat together cream cheese and sugar until creamy. Stir in strawberries. Gently fold in whipped topping. Spread over ganache layer. Top with mini chocolate chips.
Refrigerate for 2 hours or until set.
Cut into pieces and serve.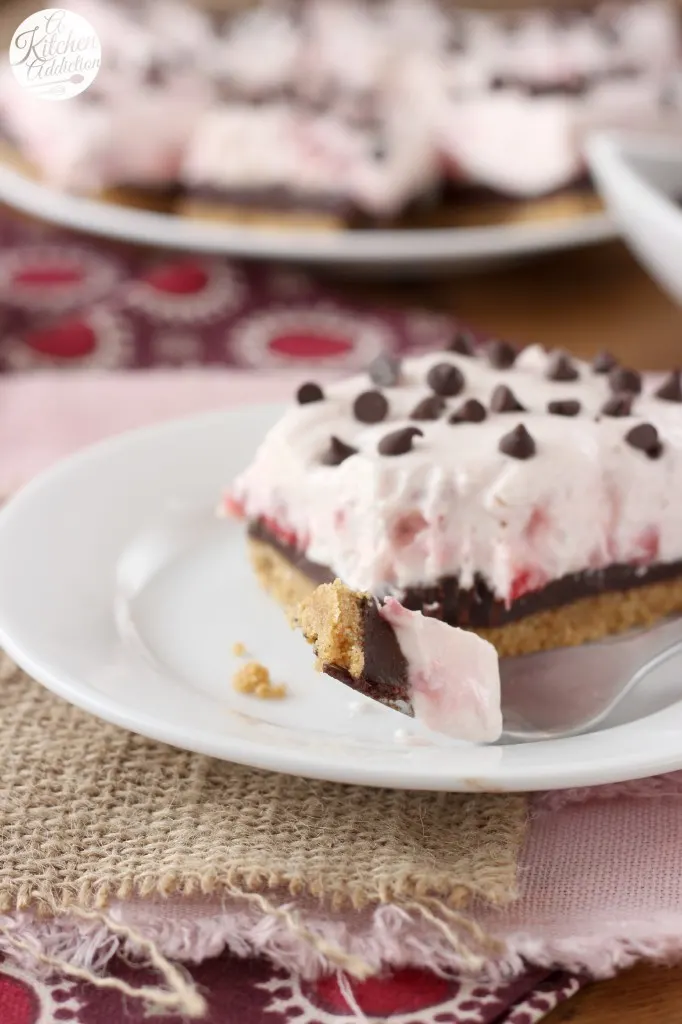 Be sure to check out more delicious cheesecake recipes from these great bloggers!
Pear cheesecake with gingersnap crust from Roxana's Home Baking
Strawberry Chocolate Ganache Cheesecake Bars from A Kitchen Addiction
No-Bake Peanut Butter Cheesecake from Crunchy Creamy Sweet
Frozen Peanut Butter Cheesecake with Nutter Butter Crust from Crazy for Crust
Caramel Overload Cheesecake Bars from Crumbs and Chaos
Blackberry Goat Cheese Cheesecake from Baking a Moment
Healthier Peanut Butter Cheesecake Brownie Bars from Texanerin Baking
White Chocolate Raspberry Swirl Cheesecake from Will Cook For Smiles
Coconut Cheesecake with Macadamia Crust from All Day I Dream About Food
Lemon Cheesecake from Shugary Sweets
No Bake Peanut Butter Cheesecake from Dinners, Dishes, and Desserts
Oreo Cheesecake (vegan) from Namely Marly
Blueberry Ricotta Cream Cheesecake from Hungry Couple
Lemon Ginger Panna Cotta Cheesecake with Blueberry Sauce from Girl Versus Dough
Mini Mascarpone Cheesecakes with Strawberry Balsamic Topping from Boulder Locavore
S'mores Cheesecake from The Gunny Sack
Raspberry Cheesecake with Oreo Crust from Hip Foodie Mom
Black Raspberry Cheesecake Milkshake from Blahnik Baker
No Bake Oatmeal Chocolate Chip Cookie Dough Cheesecake from White Lights on Wednesday
Blackberry Cheesecake Popsicles from The Girl In The Little Red Kitchen
Chocolate Nutella Cheesecake Cake from gotta get baked
White Chocolate Frangelico Cheesecake from That Skinny Chick Can Bake
Cherry and Pistachio No Bake Cheesecake with Animal Cracker Crust from Cravings of a Lunatic
Triple Brigadeiro Cheesecake Tart from From Brazil To You
White Chocolate Cheesecake with Macadamia Nuts and Caramel from Taste and Tell
Snickers Cheesecake from Life, Love and Sugar
Cherry Cheesecake Brownies from Inside BruCrew Life
Lilikoi Cheesecake with Macadamia Nut Shortbread Crust from Dieter's Downfall
Strawberry Cheesecake Pots from Barbara Bakes
Mom's Cheesecake from Magnolia Days
Very Berry Cheesecake with Chocolate Oreo Crust from JavaCupcake
Vanilla Bean Cheesecake from Wine & Glue
New York Style Cheesecake from URBAN BAKES
Rainbow Cheesecake from In Katrina's Kitchen
Chocolate Cheesecake w/ Whisky Toffee Shards from girlichef
No Bake Coconut Lime Cheesecake Bars from Beyond Frosting
Lemon Blueberry Cheesecake Bars from Cooking In Stilettos
Ricotta Cheesecake from French Press
Peanut Butter Cheesecake with Nutella Ganache Topping from The Redhead Baker
Chocolate-Covered Strawberry Cheesecake from Savvy Eats
Caramel Macchiato Cheesecake from Wishes and Dishes
Key Lime Pie Cheesecake from Love and Confections
Apricot-Swirl Cheesecake from Take A Bite Out of Boca
Hawaiian Mini Cheesecakes from Pint Sized Baker
Butter Pecan Caramel No-Bake Mini Cheesecakes from Simply Southern Baking
Pumpkin Cheesecake from Lady Behind The Curtain
Mini cheesecakes with a toasted coconut crust (gluten free) from Quarter Life (Crisis) Cuisine
No Bake Blackberry Cheesecake from You Made That?
Mini No Bake Lime Cheesecakes from Miss in the Kitchen
No-Bake Limoncello Cheesecake from Cake Duchess
No-Bake Berry Cheesecake from Food Lust People Love
Key Lime Trifles from Hoosier Homemade
Hawaiian Chantilly Layer Cheesecake from Wallflour Girl
No Bake Cookies and Cream Cheesecake Bars from Garnish with Lemon
Mango Cheesecake (vegan) from Jessiker Bakes
Salted Caramel Apple Cheesecake from Jane's Adventures in Dinner
Chocolate Peanut Butter Cheesecake Bars from Chez CateyLou
Oreo Ripple Cheesecake from Overtime Cook
No Bake Dulce de Leche Cheesecake with Caramelized Peaches from The Food Charlatan
Chocolate Caramel Cheesecake Ice Cream from Chocolate Moosey
Sugar Cookie Cheesecake from Munchkin Munchies
Caramel cheesecake martini from Happy Food, Healthy Life
Frozen PB&C Cheesecake from Noshing With The Nolands
Chocolate Brownie Cheesecake Cookies from Lemons for Lulu