This One Bowl Chocolate Chip Zucchini Cake is made with yogurt and whole wheat flour, but you'd never guess it from how tender and flavorful it is! Put your zucchini to good use, and make this super easy zucchini snack cake!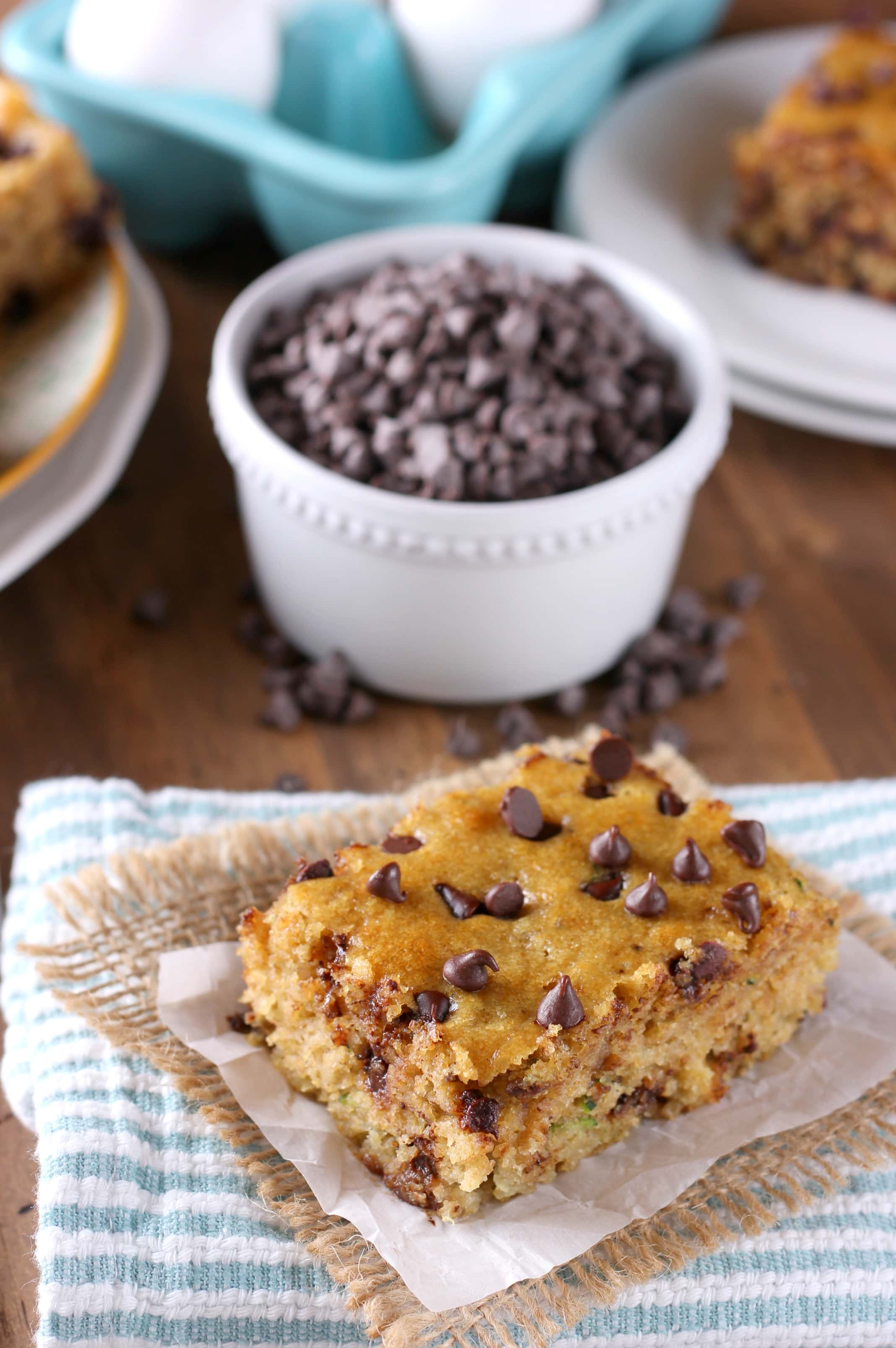 Our zucchini plants are starting to go crazy with blossoms. We still don't have any zucchini that are ready to be picked (we're a little behind the times here in MN), but I'm getting ready for all of the recipes that I can't wait to make once our garden is overflowing with all kinds of zucchini!
One of my favorite ways to use up the plethora of zucchini in our garden is to make this one bowl chocolate zucchini cake. It's loaded with chocolate and super tender. But someone in this house doesn't like chocolate, so it doesn't get made as often as I would like.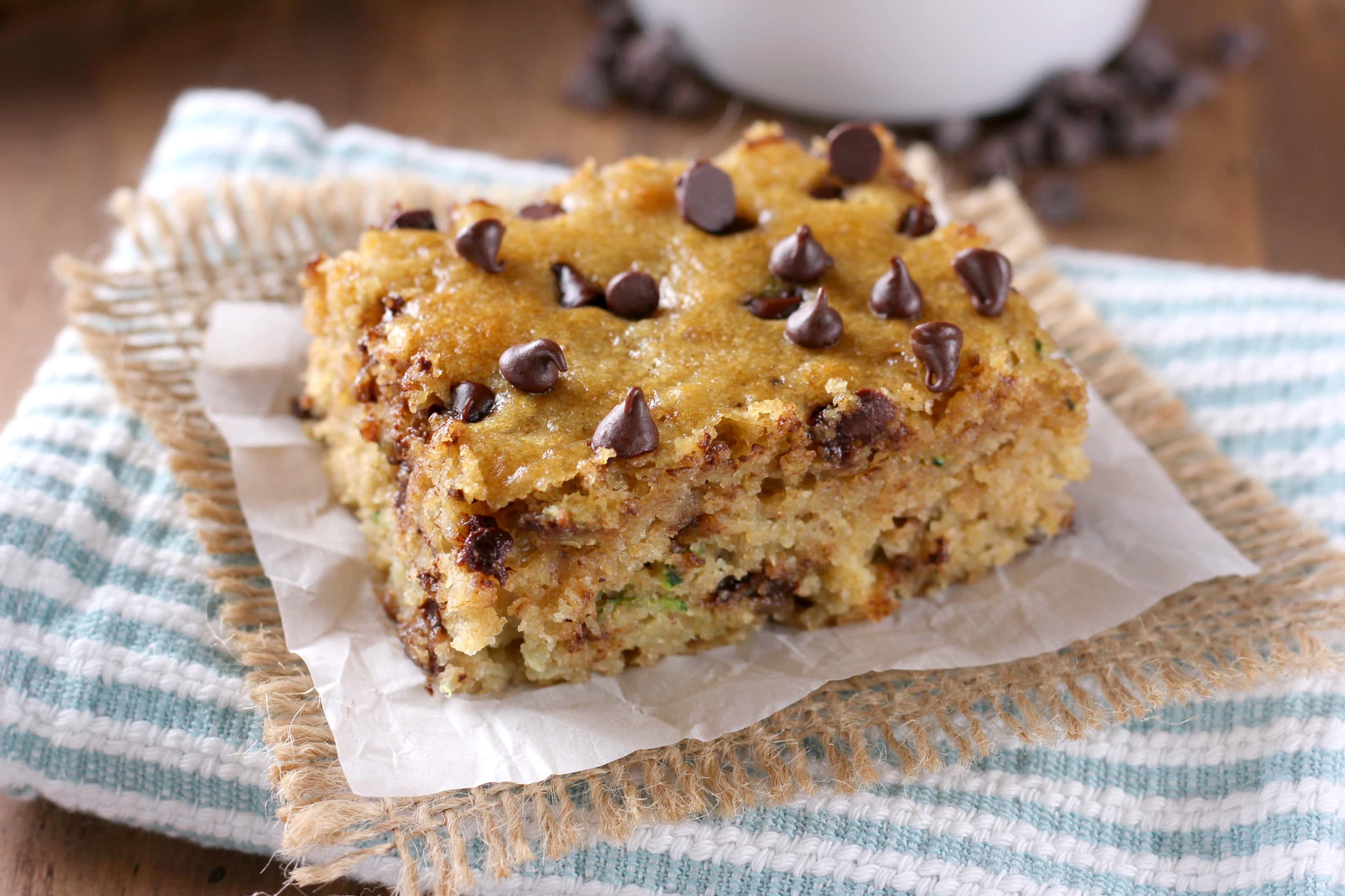 So, I thought I would make a zucchini cake that would tone down the chocolate a bit. I couldn't leave it out completely though!
Chocolate just goes so well with zucchini (If you don't like chocolate at all, check out these spiced cream cheese frosted zucchini bars!), so this cake still has a smattering of mini chocolate chips throughout the cake and sprinkled on top.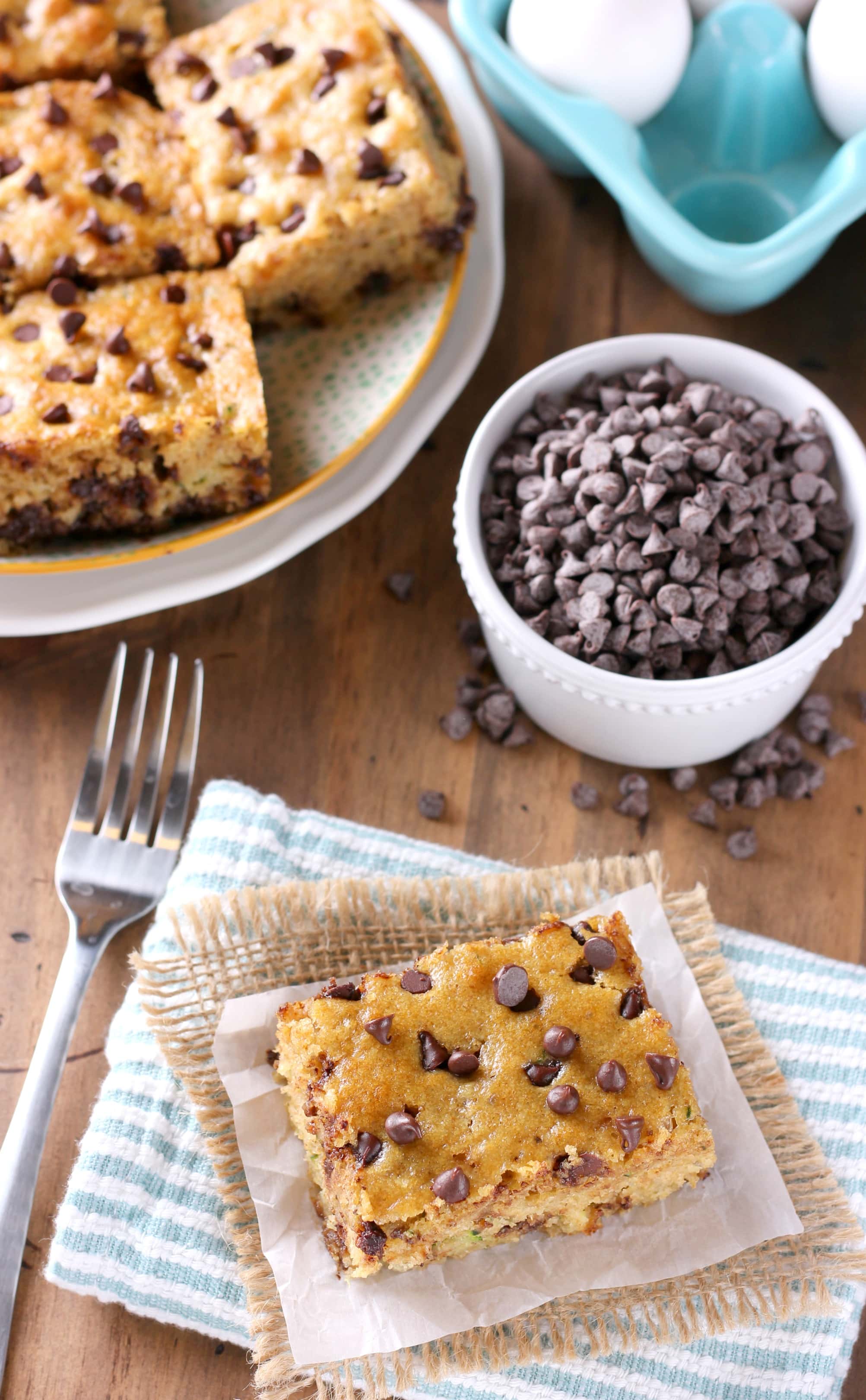 Based off of our chocolate zucchini cake recipe, this easy snack cake has a combination of brown and white sugars and ups the amount of vanilla extract. Of course, it also doesn't have unsweetened cocoa powder but it does use a few more mini chocolate chips.
I like using mini chocolate chips so you get a bit of chocolate in each bite without using a lot of chips! Halfway through the baking time, I pulled out the cake and sprinkled a few more chips on top for a bit more flavor and to keep them from sinking in if I added them at the start of the baking time. Because, in my book, more chocolate is usually better!
If you find yourself with more zucchini than you know what to do with (or just set some aside to make this cake!), shred some up for this cake!
One Bowl Chocolate Chip Zucchini Cake
Author:
Ingredients
1/2 C sugar
1/4 C brown sugar
½ C plain yogurt
⅔ C milk
1 egg
2 tsp vanilla extract
1 1/3 C white whole wheat flour or all-purpose flour
1 tsp baking soda
½ tsp salt
1 C shredded zucchini (Shred zucchini onto a paper towel or clean kitchen towel to soak up some of the moisture before using)
1/3 – 1/2 C mini chocolate chips, depending on preference
additional mini chocolate chips for garnish, optional
Instructions
Preheat oven to 350. Spray a 9×9 inch baking dish with non-stick cooking spray.
In a large bowl, whisk together sugars and yogurt until combined. Add in milk, egg, and vanilla extract and whisk until well-combined.
Add in flour, baking soda, and salt. Stir together until just combined. Stir in shredded zucchini and mini chocolate chips. Spread batter into prepared baking dish.
Bake for 10 minutes. Remove from oven and sprinkle with mini chocolate chips, if desired. Return to oven and bake for an additional 12-15 minutes, or until toothpick inserted in center comes out clean.
Remove to a wire rack to cool.