I'm having one of those weeks where I've been a day ahead since Sunday, where I woke up thinking it was Monday. So, in my mind, today is Friday. That means we can celebrate with brownies. And cookies. But since I don't have the patience to make both, I combined them into one. Monster Cookie Brownies! Now I can enjoy two of my favorite desserts while only making one recipe!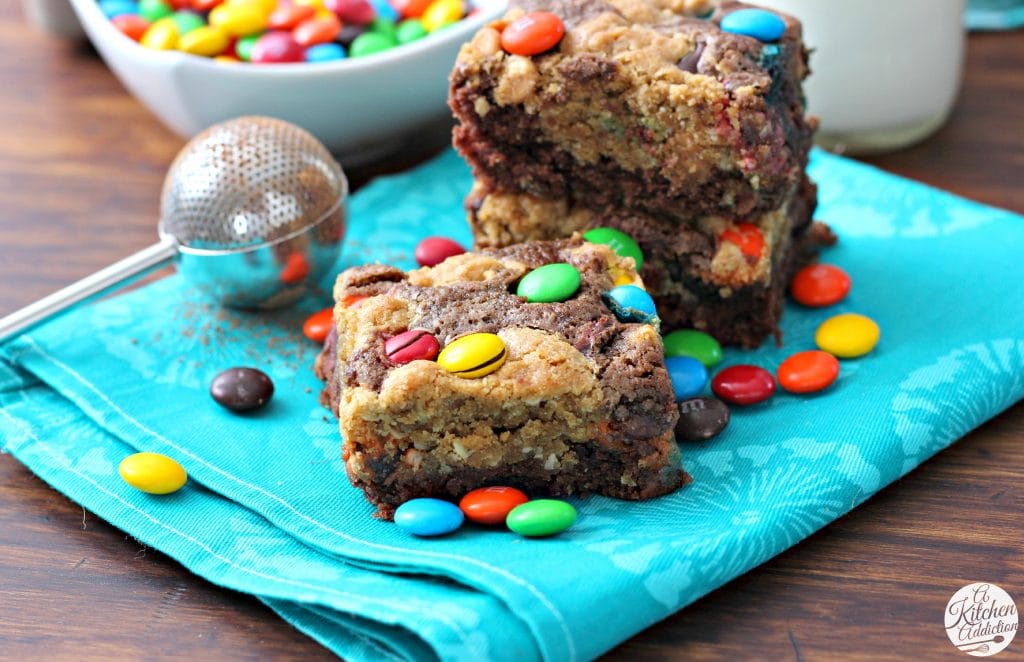 Rich fudgy brownies combined with chewy monster cookies. I highly recommend eating them straight from the oven so you get to enjoy the melty M&M's, chocolate chips, and peanut butter chips! With some slight modifications to this brownie recipe and this monster cookie recipe, I was able to create a pretty tasty mash-up. A delicious mash-up that is for a good cause!
What makes these monster cookie brownies even better is the fact that they are a part of OXO's Bake a Difference campaign in support of Cookies for Kids' Cancer, a non-profit organization founded by two OXO employees inspired by their son's battle with cancer. Have you heard of this organization? You should check it out! I've partnered with OXO's campaign for the past two years and am excited to be able to help out again this year!
During the month of October, OXO is donating $100 to Cookies for Kids' Cancer for every blog post that is dedicated to this campaign, but you can help too! OXO is also donating 25 cents per specially marked item in support of pediatric cancer as part of its $100,000 pledge to Cookies for Kids' Cancer. (Look for specially marked OXO products with the green sticker at stores near you!)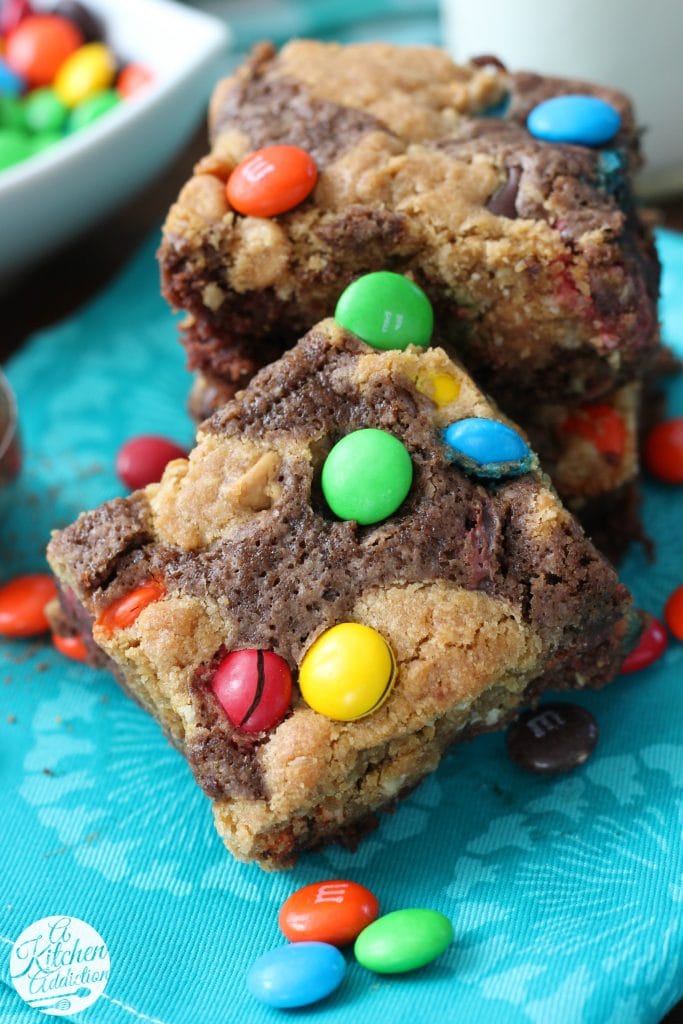 As part of the campaign, OXO sent along some baking tools to help us out with our recipes. They just introduced a new non-stick pro bakeware line and the 9×13 cake pan is perfect for cooking fudgy brownies evenly. Their baker's dusting wand is not only great for sprinkling confectioner's sugar on your favorite baked goods, but it also does a great job of evenly coating pans for recipes that call for greasing and flouring (or in the case of this recipe coating with baking cocoa for a bit of extra chocolate!) And for serving? Just grab one of their brownie spatulas that you can use to both cut the brownies and serve them!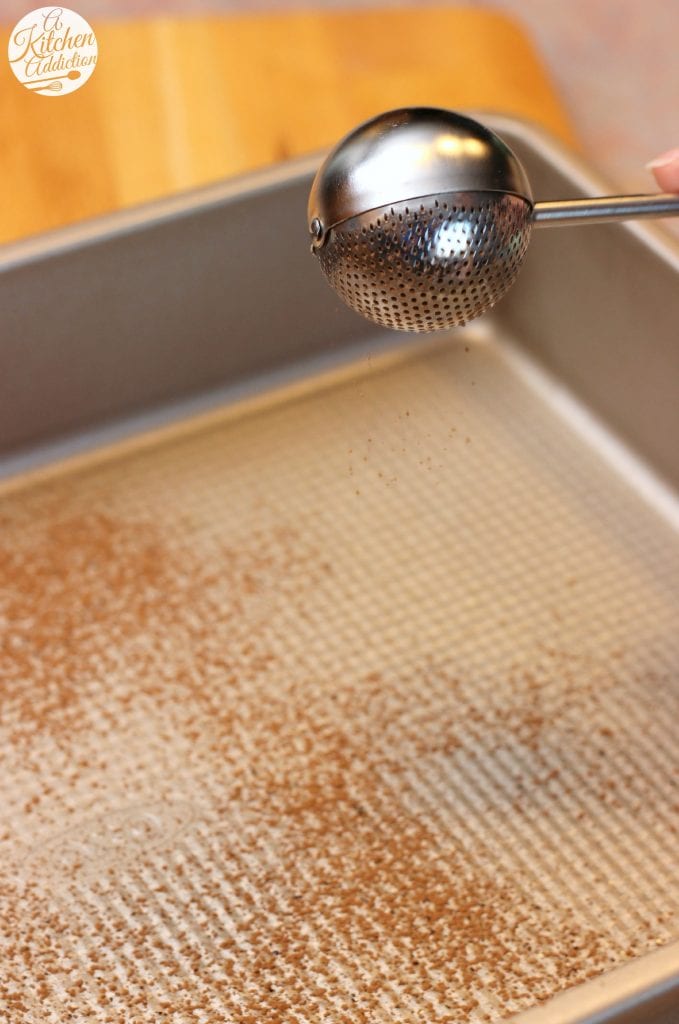 So go grab a few specially marked OXO products and whip up a batch of brownies! It's a win win. You get brownies and you help support kids and their families who are struggling with the effects of cancer.
Monster Cookie Brownies
Author:
Ingredients
For the Brownie Layer
1/2 C butter
1/4 C unsweetened baking cocoa
1/3 C melted coconut oil
1 C water
2 C granulated sugar
2 large eggs
1/4 C milk of your choice
1/2 tsp vanilla extract
2 C all-purpose flour
1 tsp baking soda
1/2 tsp salt.
For the Cookie Layer
6 tbsp creamy peanut butter
2 tbsp butter, softened
1/4 C brown sugar
2 tbsp sugar
1 egg
1/2 tsp vanilla extract
6 tbsp all-purpose flour
1/4 tsp baking soda
1/4 tsp salt
1/4 C quick oats
1/4 C M&M's
1/4 C chocolate chips
1/4 C peanut butter chips
Instructions
Preheat oven to 350. Spray a 9×13 inch baking dish with non-stick cooking spray. Sprinkle with unsweetened baking cocoa.
In a medium saucepan, stir together butter, baking cocoa, coconut oil, and water over medium heat. Bring to a boil, stirring constantly to prevent scorching. Remove from heat. Set aside to cool.
In a large bowl, whisk together sugar, eggs, milk, and vanilla extract. Slowly whisk in the cooled melted butter mixture.
In a medium bowl, whisk together flour, baking soda, and salt. Add the dry ingredients to the wet ingredients and stir to combine.
Pour batter into prepared baking dish.
Beat together peanut butter and butter until smooth. Add in sugars, egg, and vanilla extract. Beat until creamy. Stir in flour, baking soda, and salt until well-combined. Stir in oats until combined. Stir in M&M's, chocolate chips, and peanut butter chips.
Drop cookie dough by spoonfuls over the top of brownie batter.
Bake for 30-35 minutes or until toothpick inserted in the center comes out mostly clean. A few crumbs means the brownies will be nice and fudgy.
Allow to cool for 15 minutes and cut into bars.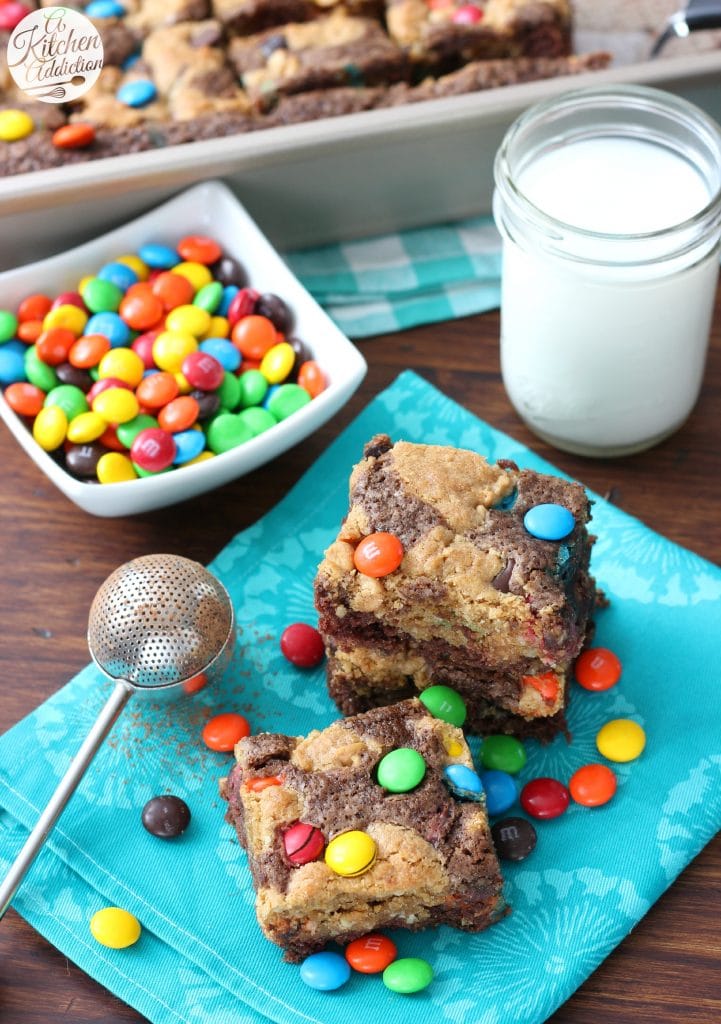 Disclaimer: I was not compensated for this post. I received OXO products to help support this campaign. Thank you for helping me support this cause!
– Cookies for Kids' Cancer is a recognized 501c(3) public charity duly incorporated under the laws of the state of New Jersey. Your donations are tax deductible to the fullest extent allowable by law. 100% of proceeds raised by Cookies for Kids' Cancer fund pediatric cancer research.
– OXO will be donating $100 to Cookies for Kids' Cancer for each blog post dedicated to this campaign in October (up to our $100,000 commitment*.)
– *In 2015, OXO will donate up to $100,000 to Cookies for Kids' Cancer through product proceeds, bake sale matches and other fundraising efforts