Tender and light, you'll never guess that these One Bowl Pumpkin Oat Muffins are made with whole wheat flour and oats!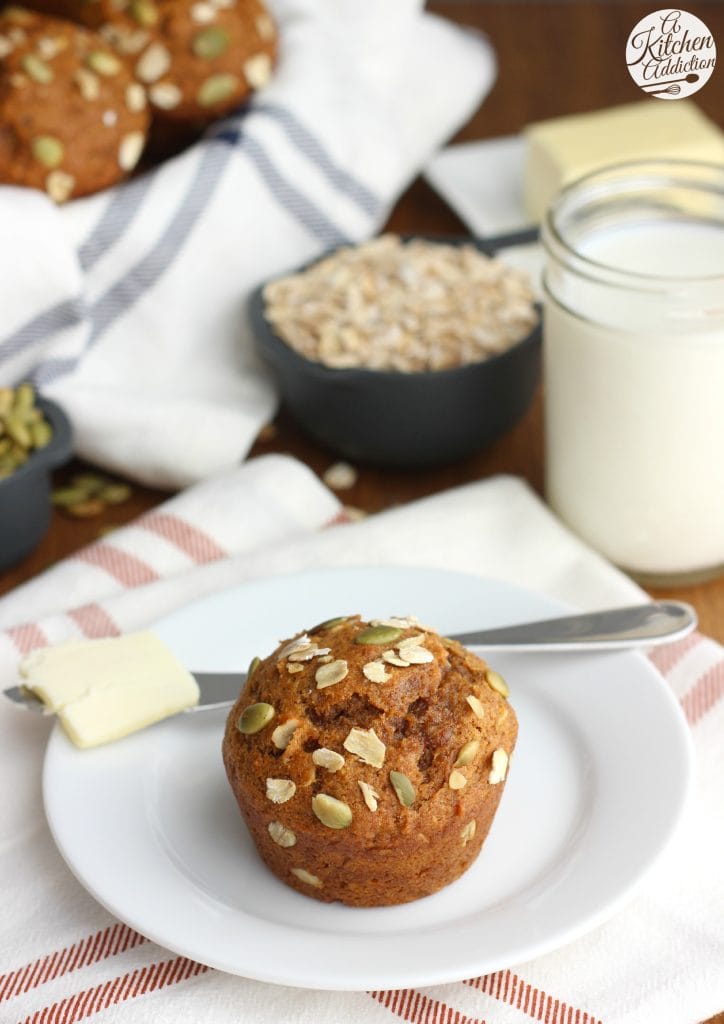 Something amazing happened last week. I made a pumpkin recipe that my husband liked! And not only did he like the pumpkin muffins, he couldn't stop eating them!
You see, he isn't much of a fan of pumpkin, but he'll tolerate it. So I didn't have high hopes for these pumpkin oat muffins (even though I thought they tasted great!) when I gave him one to try.
I was pretty surprised when he said "These are really good!" and then proceeded to eat another (and possibly another!). These super easy one bowl pumpkin oat muffins are just that good.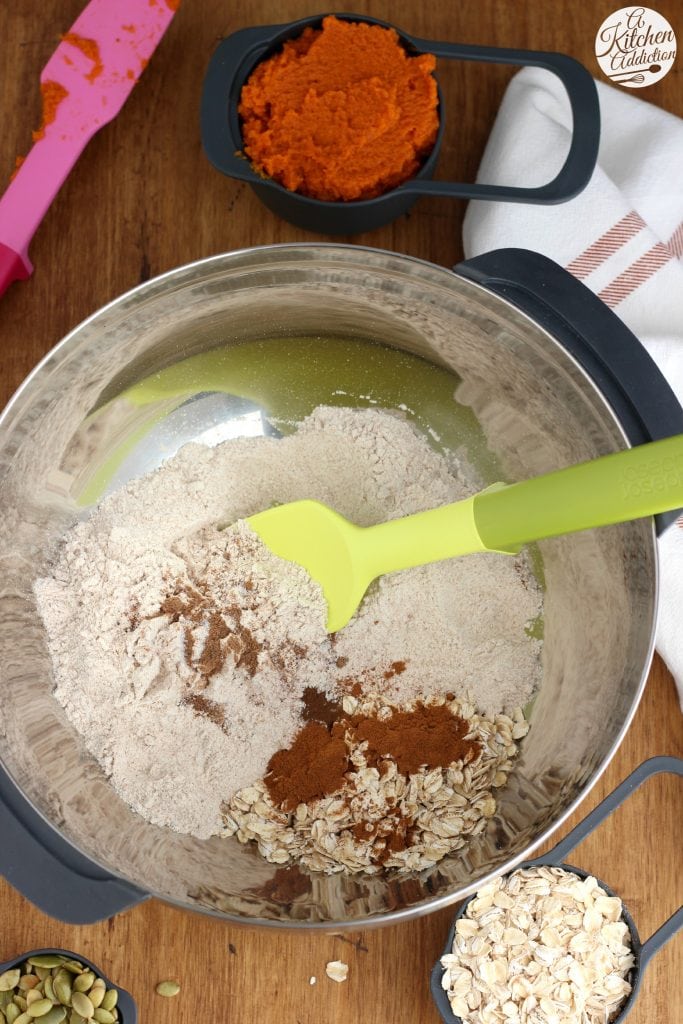 They originally weren't even for the blog, I just wanted to make them in order to test out some great, new products. I was recently contacted by AlwaysMod to review some of their products.
I, of course, instantly went to their website to look at what they had to offer. And then I looked to see where they were located. Way too close to where I live. At least that's what my bank account thinks.
Pretty sure that I wanted one of everything on the site, so living so close to their actual store could pose a problem (a good one!)!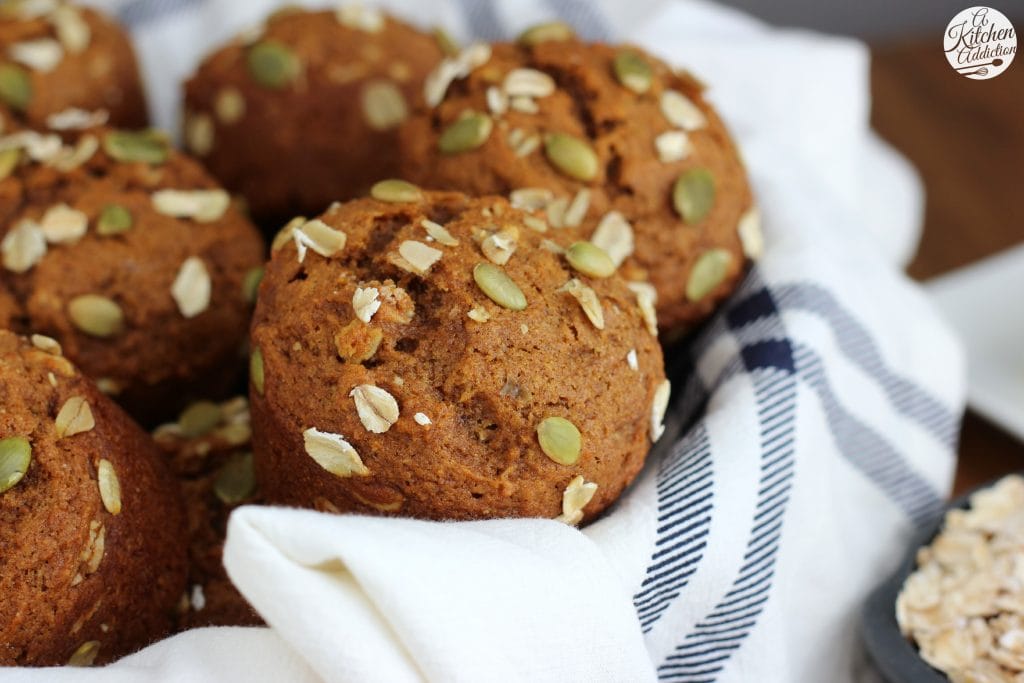 I'm always interested in learning about local companies, so I accepted and eagerly awaited my package filled with a Joseph Joseph SwitchScale 2-in-1 Digital Scale, Joseph Joseph Elevate Spatula Set, and Joseph Joseph Nest 100 Bowls.
Are you like me and have lots of spatulas? I use spatulas for everything. But one problem I have with my current spatulas is that I have to always set the spatulas on something to keep them from coming into contact with the counter. Not a problem with these spatulas!
The weighted core and tool rest prevents the head from touching whatever surface you place it on. Just what I've needed. Plus, the heads are sturdy making it easy to scoop and scrape heavier batters or foods.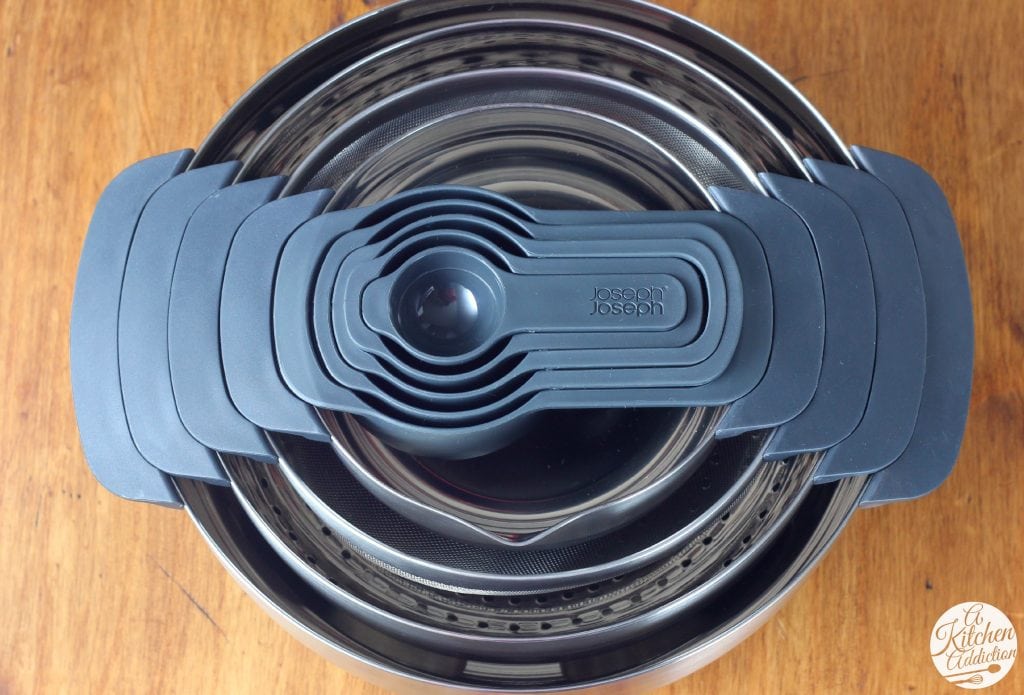 My first thought when I saw the nesting bowls was that this is a perfect set for someone who doesn't have a lot of space in the kitchen. The set contains just about everything you need.
A large mixing bowl, a small mixing bowl with a pouring spout, a colander, a sieve, and measuring cups and spoons! I loved that the small bowl had the pouring spout that made it easy to pour wet ingredients into the dry ingredients.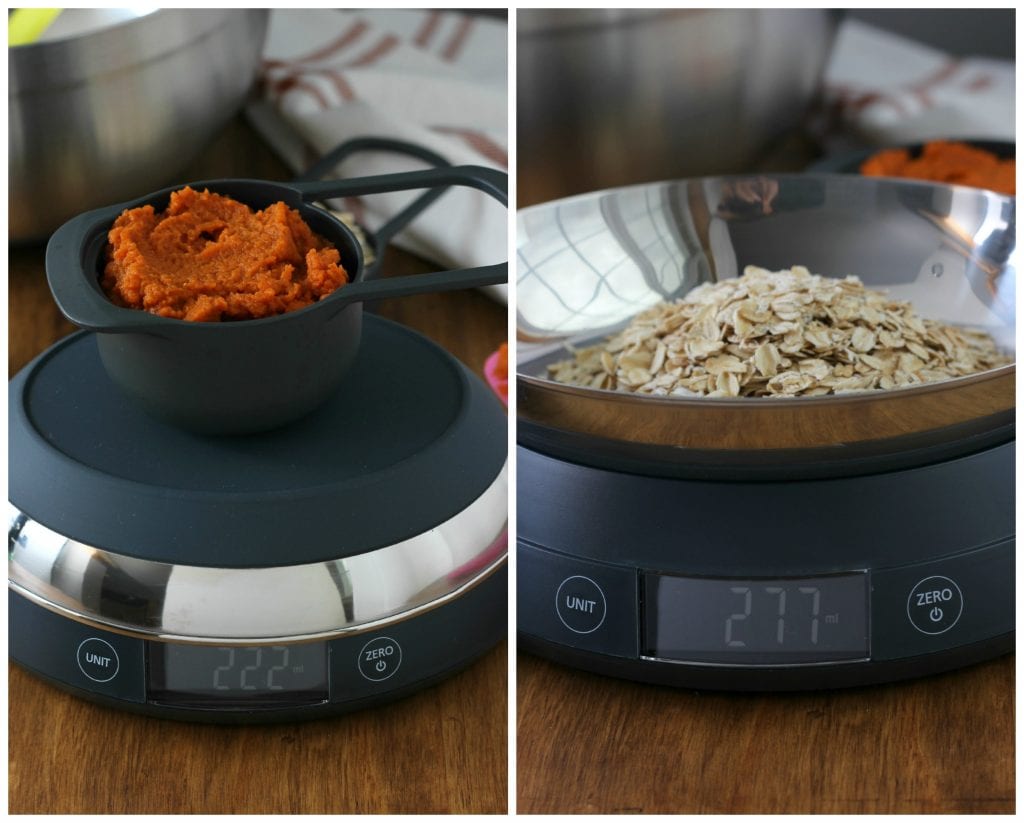 Now it's time for a small confession. For someone who does a lot of baking, I'm afraid I've never really used a scale to get exact measurements. This digital scale is great because you can either measure stand alone items on top or flip over the top that converts into a bowl and measure loose ingredients in the bowl. So convenient!
Plus, it does both metric and imperial readings. Now I have no excuse to not have batch after batch of baked goods turn out consistently the same!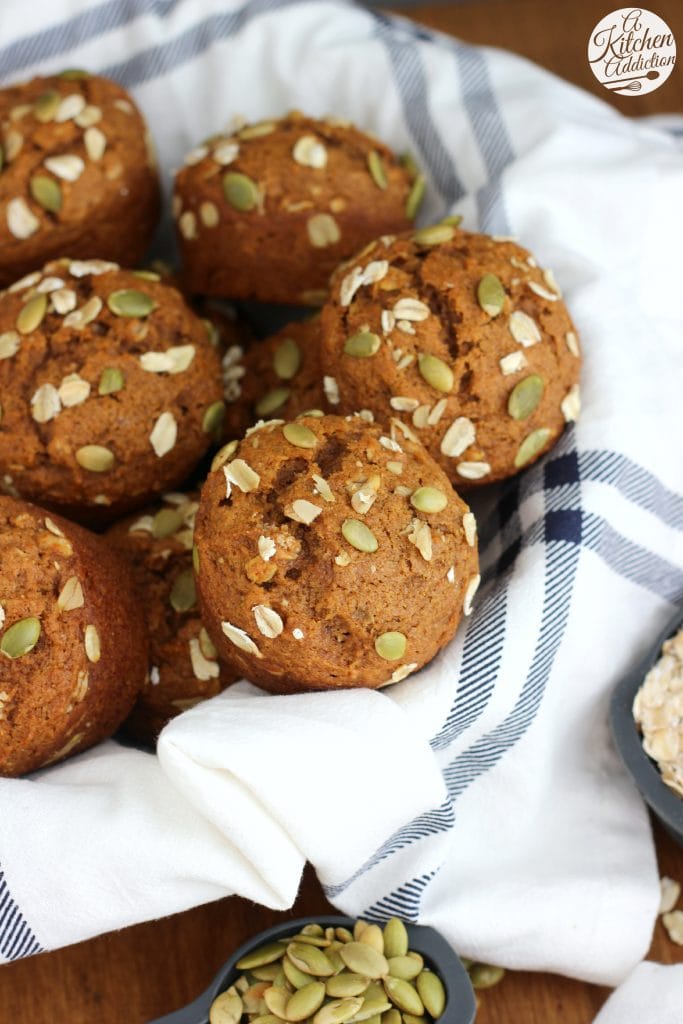 After testing out these products and making multiple batches of these muffins I knew that I had to share, especially since my husband has basically eaten an entire batch himself!
You'll never guess that these tender, moist muffins are made with 100% whole wheat flour, oats, coconut oil, and honey. The texture is way too light to tell.
Perfect for any picky eaters that think they don't like baked goods made with whole wheat flour!
The best part of all of this? A Kitchen Addiction and AlwaysMod are teaming up to give away one Joseph Joseph SwitchScale 2-in-1 Digital Scale to one lucky reader! Just follow the instructions in the widget below! Good Luck! 🙂 (GIVEAWAY CLOSED)
Be sure to check out AlwaysMod on Facebook, Pinterest, Twitter, and Instagram.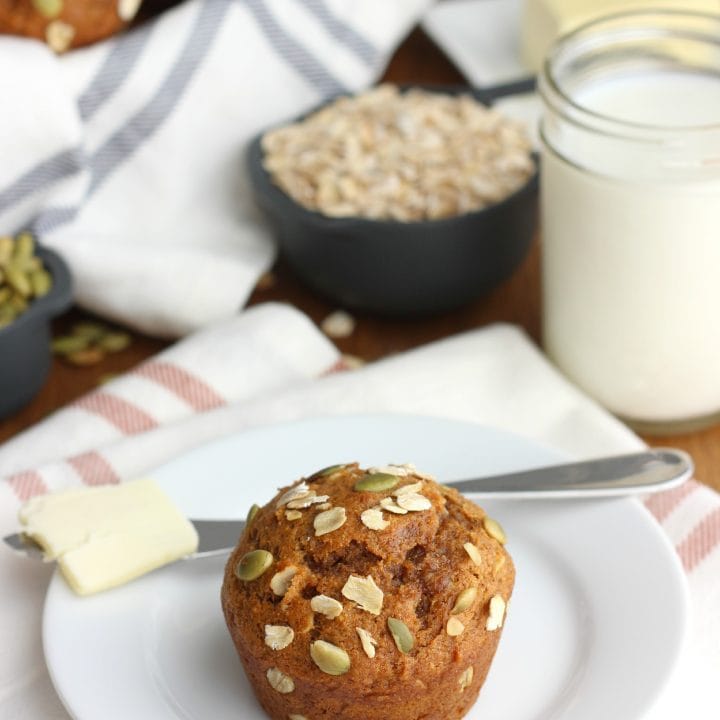 One Bowl Pumpkin Oat Muffins
Ingredients
For the Muffins
1 1/2 C (180 g) whole wheat flour
1/2 C (43 g) rolled oats
1/2 C (110 g) brown sugar
1 1/2 tsp cinnamon
1 tsp baking soda
1/2 tsp salt
1/2 tsp nutmeg
1/4 tsp cloves
1 C (220 g) pumpkin puree
1/2 C (170 g) honey
1/2 C (118 mL) coconut oil, melted
1 tsp vanilla extract
2 eggs
pepitas, for topping
rolled oats, for topping
Instructions
Preheat oven to 350 degrees F. Spray a muffin tin with non-stick cooking spray or line with cupcake liners.
In a large bowl, whisk together flour, oats, brown sugar, cinnamon, baking soda, salt, nutmeg, and cloves.
Add pumpkin puree, honey, coconut oil, eggs, and vanilla extract. Stir until just combined, making sure that the eggs are incorporated.
Scoop batter into prepared muffin tin, filling each cup about 2/3 full. Sprinkle with pepitas and rolled oats.
Bake for 20-25 minutes or until toothpick inserted in the center of muffin comes out clean.
Recommended Products
As an Amazon Associate and member of other affiliate programs, I earn from qualifying purchases.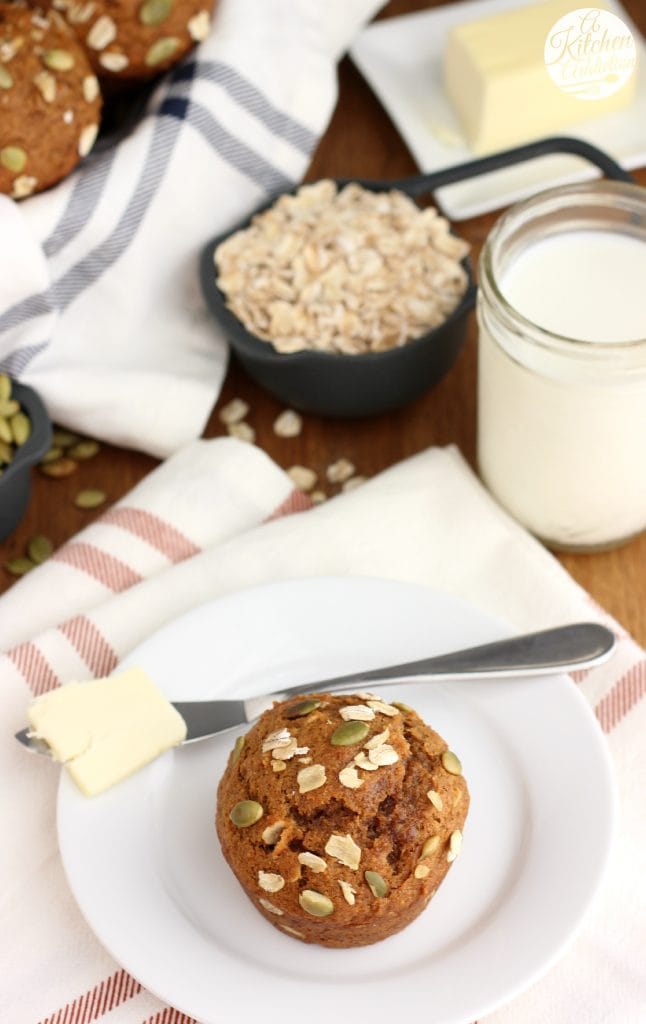 Disclosure: I received the Joseph Joseph products from AlwaysMod for review purposes only. As always, all opinions are my own.
The giveaway is open to any U.S. resident 18 years of age or older. The giveaway ends at 11:59 p.m. CT on Friday, Nov. 6.