Rich and fudgy, these Buttermilk Brownies are loaded with chocolate! Topping these decadent brownies is a frosting that tastes like fudge and makes these brownies irresistible!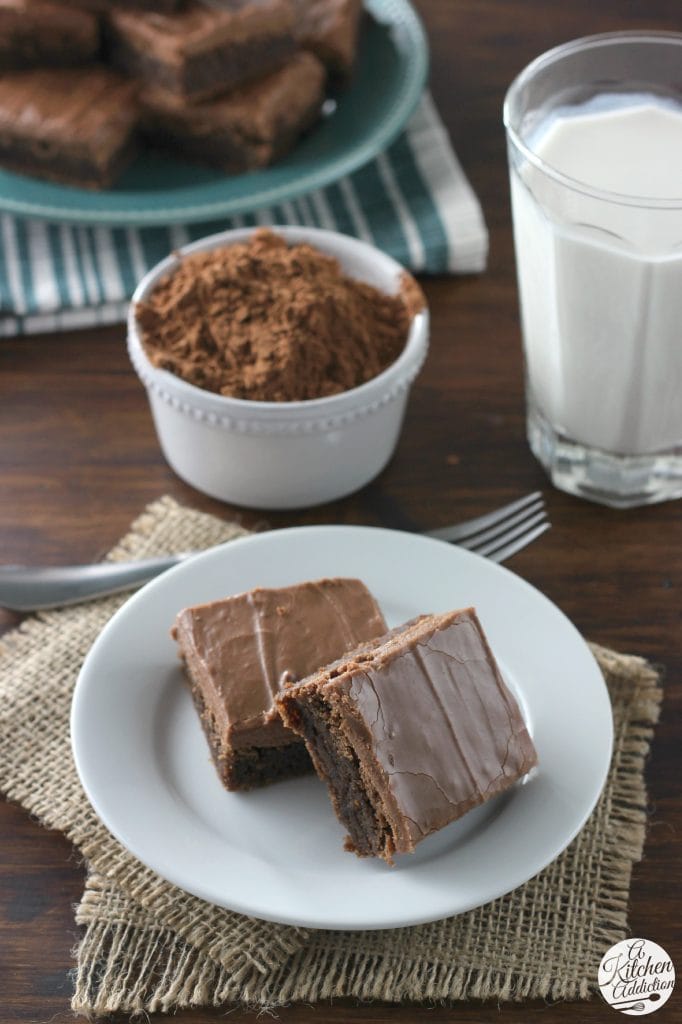 This post is sponsored by BlogHer and Dairy Good.
I love looking through new cookbooks. My spare time is often filled flipping through the pages of whatever cookbook I have just recently gotten my hands on!
Some cookbooks have more of a connection to my life than others and I find myself looking through the entire cookbook before setting it back down.
So, when I was sent a copy of The Dairy Good Cookbook: Everyday Comfort Food from America's Dairy Farm Families, it was no different. As soon as I had the time, I sat down and flipped through it cover to cover!My dad grew up on a dairy farm, so I knew all about dairy cows from as early as I can remember.
I know about the dedication and hard work of the farming community and greatly respect the work and dedication they put into their farms.
Dairy farmers work hard every day to bring people great tasting, wholesome dairy foods like milk, cheese, and yogurt!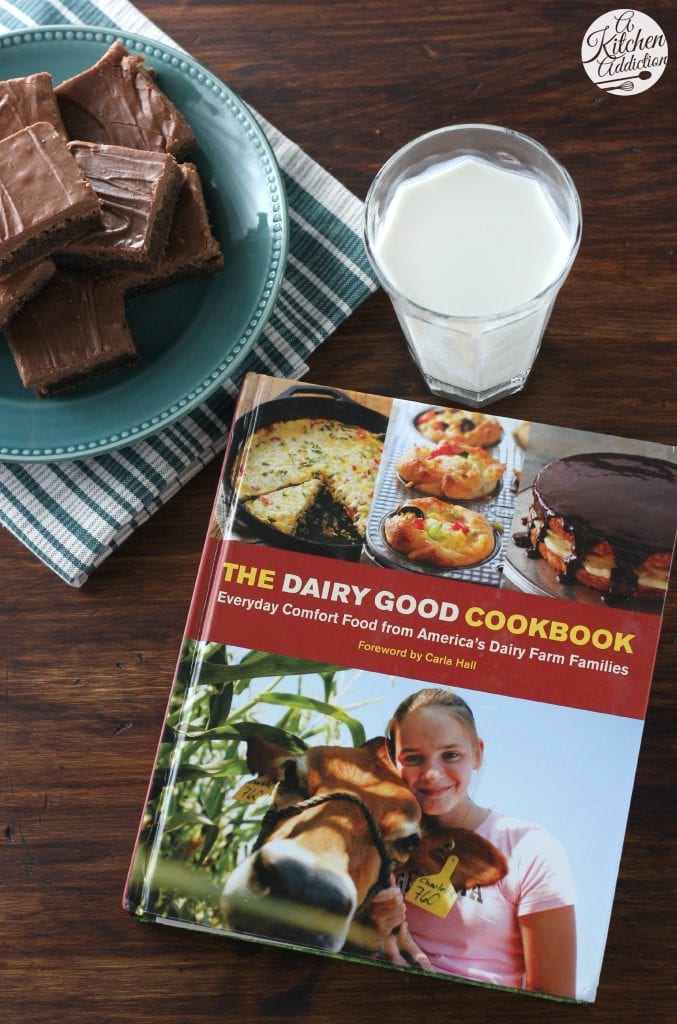 The Dairy Good Cookbook contains 113 great-tasting, easy-to-make recipes that shape a story of American dairy farmers. It really is a way of life. The cookbook includes farmer profiles of families like my own and I was instantly drawn to the Koepke family that runs a Holstein farm in Wisconsin just like my dad's family.
Dairy farming has been in their family since John Koepke's great-great-grandfather settled there in 1875! They work hard to treat both their animals and land with great respect, winning numerous soil conservation awards. Their goal is to provide nutritious dairy foods in a sustainable way.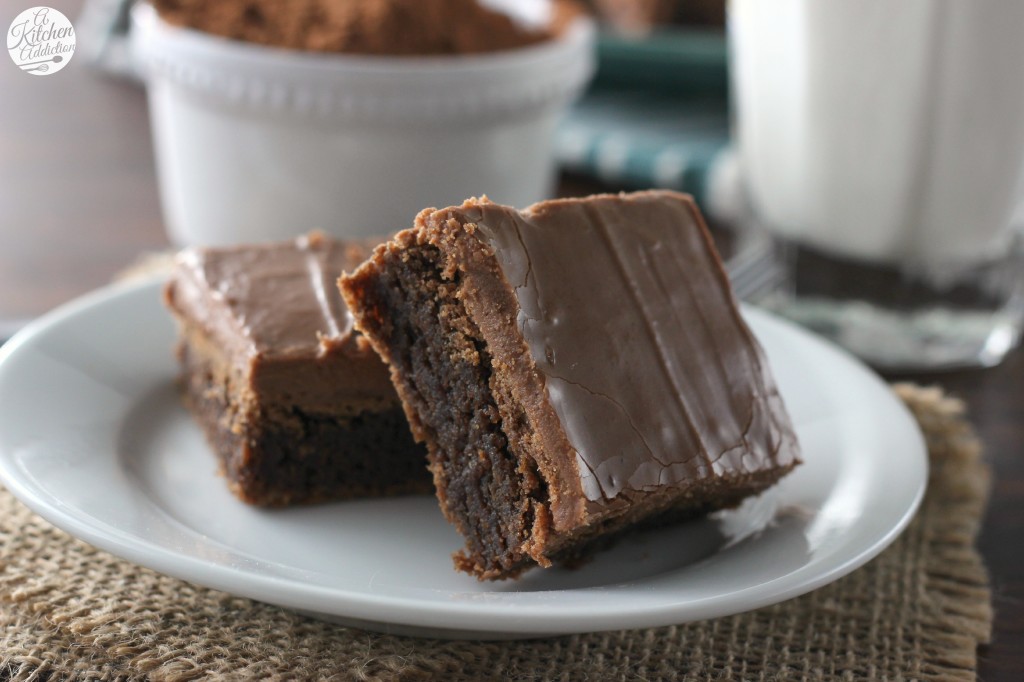 I enjoyed the fact that the cookbook is set up not by category, but by a typical day on the farm and helps connect the reader to the lives of the farmer's and the farmer's memories of enjoying the food.
While I was flipping through the cookbook and saw many recipes that I wanted to try, these buttermilk brownies stood out to me for a couple reasons.
First of all, when I think of a glass of cold milk, brownies instantly come to mind! Secondly, the frosting reminded me of a frosting in my grandma's cookbook, so I knew it would be good!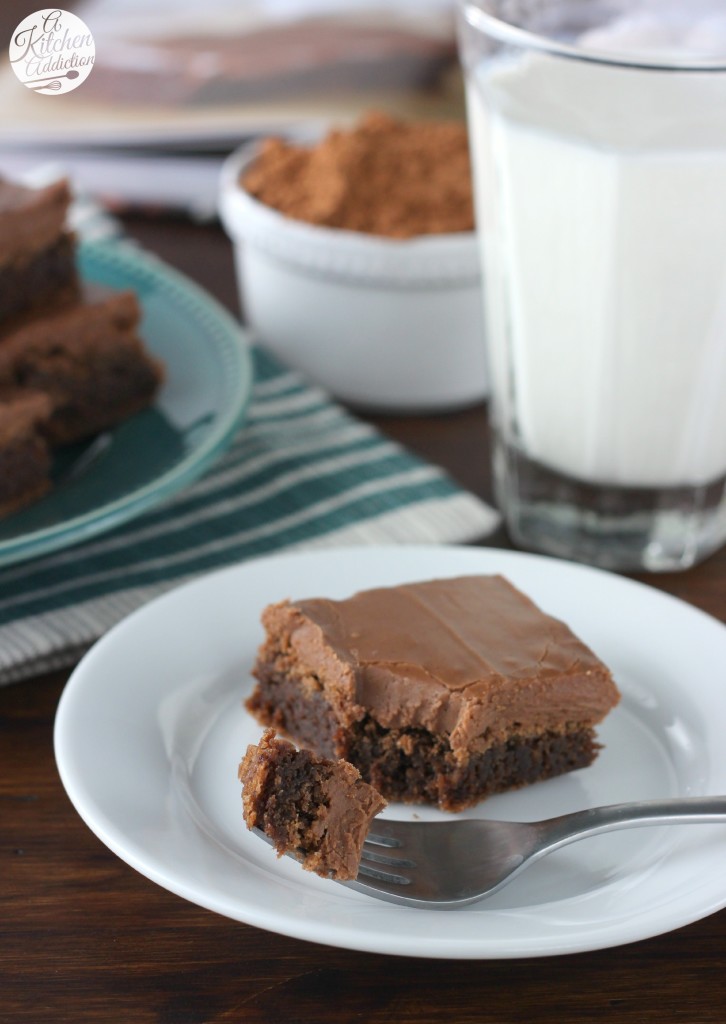 I followed the easy instructions exactly, and the result was amazing. Rich, fudgy brownies that have a slight tang from the buttermilk. They really are irresistible.
You can't tell from the pictures, because the frosting covers it, but these brownies have that crackly top that I love. And the frosting?
The frosting tastes like spreadable fudge. No kidding. It is so good. Combine the rich, fudgy brownie with a spreadable fudge frosting and you have brownies that require hiding because it will be hard to have any self-control!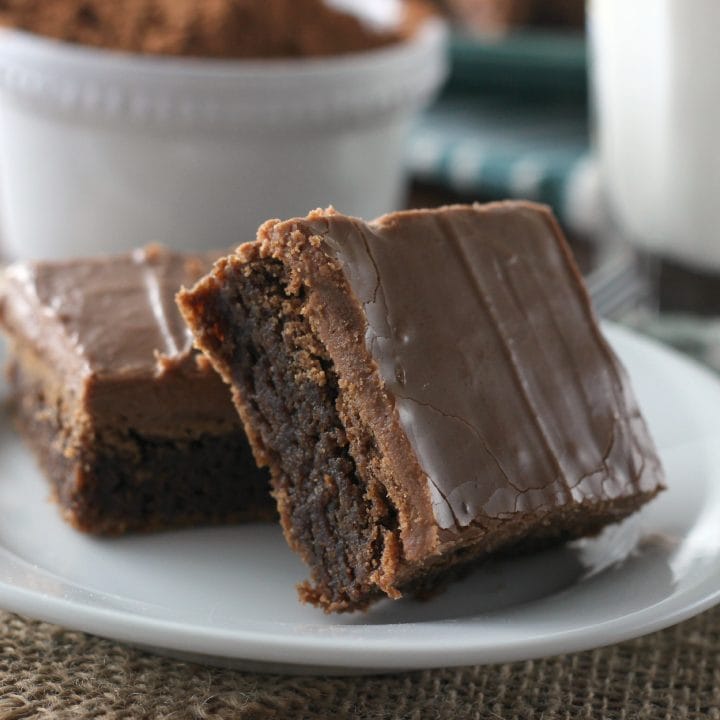 Buttermilk Brownies
Yield: 20 brownies

Prep Time: 30 minutes

Cook Time: 20 minutes

Total Time: 50 minutes

Rich and fudgy, these Buttermilk Brownies are loaded with chocolate! Topping these decadent brownies is a frosting that tastes like fudge and makes these brownies irresistible!
Ingredients
For the Brownies
softened butter, for the pan
1/2 C (1 stick) unsalted butter
1/4 C unsweetened baking cocoa powder
1/2 C vegetable oil
1 C water
2 C all-purpose flour
1 tsp baking soda
1/2 tsp salt
2 C granulated sugar
2 large eggs
1/4 C buttermilk
1/4 tsp vanilla extract
For the Frosting
1/2 C (1 stick) unsalted butter
1/2 C buttermilk
1/4 C unsweetened baking cocoa powder
1 (1-pound) box powdered sugar (4 3/4 cups)
1 tsp vanilla extract
pinch of salt
Instructions
For the brownies, preheat the oven to 400 degrees F. Butter a 9 by 13-inch baking pan with softened butter; set the pan aside.

Heat the butter, cocoa powder, vegetable oil, and water in a medium saucepan over medium-high heat. Bring to a boil. Remove from the heat and allow to cool just until warm; set aside.

Sift the flour, baking soda, and salt into a medium bowl; set aside.

Combine the granulated sugar, eggs, buttermilk, and vanilla extract in a large bowl. Whisk to combine. Add the cooled cocoa mixture.

Add the dry ingredients to the wet ingredients and stir until just combined. Pour the batter into the prepared baking pan. Bake for about 20 minutes or until a cake tester inserted into the center comes out clean.

For the frosting, combine the butter, buttermilk, and cocoa powder in a saucepan. Bring to a boil over medium-high heat. Remove from the heat.

Combine the powdered sugar, vanilla extract, and salt in a large mixing bowl. Slowly add the buttermilk mixture to the sugar mixture, beating with an electric mixer on medium speed. Continue beating until smooth and creamy. Allow to cool completely.

After the brownies have cooled, spread the frosting evenly over the top.
Recommended Products
As an Amazon Associate and member of other affiliate programs, I earn from qualifying purchases.
Nutrition Information:
Yield: 20 Serving Size: 1
Amount Per Serving: Calories: 225Total Fat: 7gSaturated Fat: 1gTrans Fat: 0gUnsaturated Fat: 5gCholesterol: 22mgSodium: 162mgCarbohydrates: 37gFiber: 1gSugar: 26gProtein: 3g

Nutrition information shown is an estimate provided by an online calculator and may not always be accurate. It should not be considered a substitute for a medical professional's advice.

This recipe is used with permission from The Dairy Good Cookbook and Andrews McMeel Publishing, LLC.
*This post contains affiliate links.