Well, it's happened. Pumpkin has made an appearance in my kitchen, and it's not leaving anytime soon! Despite the fact that it's in the upper 80's, possibly getting into the 90's, it's September and I'm ready for fall baking.
This is the longest I've held out on pumpkin baking for the last couple of years, so we're diving in with no turning back. Since it's the first pumpkin recipe of the season, it had to be a good one.
And it was. These loaded pumpkin blondies didn't disappoint!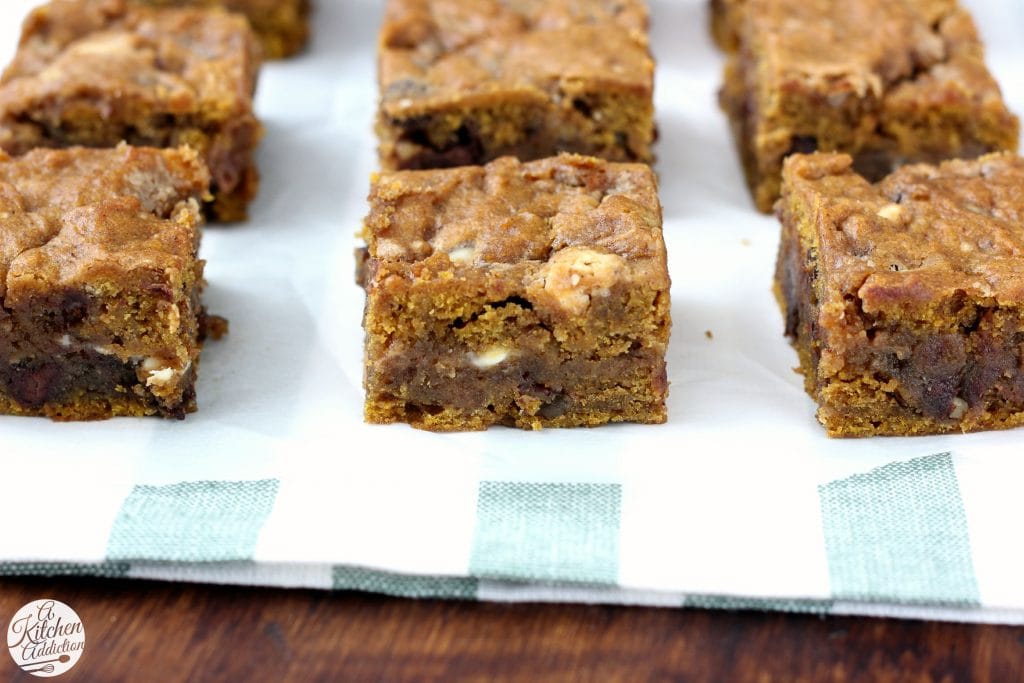 I actually had these pumpkin blondies on my baking list from last fall but never got around to them. I couldn't let them get pushed aside this season, so they made their way to the top.
I can already tell you that they will be making another appearance before the season is over! These loaded pumpkin blondies are super easy to make and are packed with salted caramel, pecans, and lots of chocolate!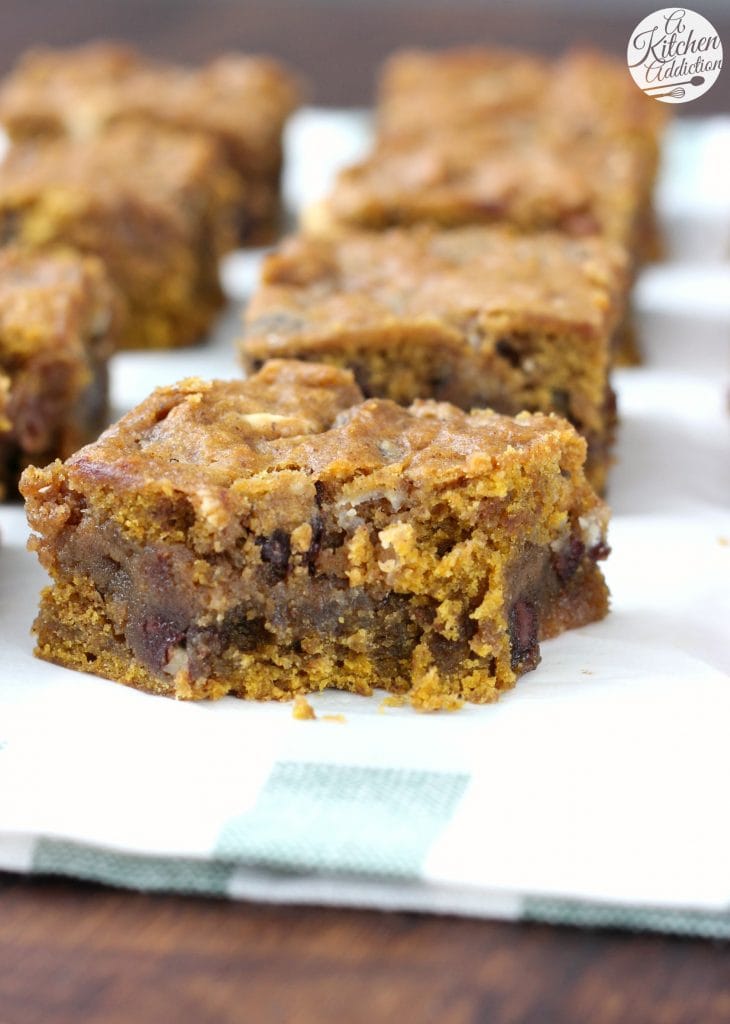 A combination of white chocolate and semi-sweet chocolate provide rich, creamy sweetness that accents the salted caramel perfectly. The salted caramel isn't just a drizzle, it's a whole layer that's stuffed between the layers of blondie that starts to soak a little into the bottom layer as the bars bake.
Gooey caramel and melty chocolate. . .you really can't go wrong when those two things are involved! The chopped pecans add a bit of nuttiness and texture to these soft bars.
Ready for fall, or not, you'll want to make these bars soon!

Loaded Pumpkin Blondies
Author:
A Kitchen Addiction
Ingredients
1¼ C all-purpose flour
1 tsp cinnamon
½ tsp nutmeg
¼ tsp cloves
¼ tsp salt
½ C butter, softened
½ C brown sugar
¼ C sugar
1 egg
1 tsp vanilla extract
1 C pumpkin puree (not pumpkin pie filling)
½ C white chocolate chips
½ C semi-sweet chocolate chips
½ C chopped pecans
½ C homemade salted caramel or store bought caramel sauce (not caramel syrup)
Instructions
Preheat oven to 350. Spray a 9x9 inch baking dish with non-stick cooking spray.
In a large bowl, whisk together flour, cinnamon, nutmeg, cloves, and salt.
In the bowl of a stand mixer, or with an electric mixer, cream together butter and sugars. Beat in egg and vanilla extract until creamy. Beat in pumpkin until combined. Stir in chocolate chips and chopped pecans.
Spread half of batter into the bottom of prepared baking dish. Bake for 10 minutes.
Spread caramel over the top. Top with remaining dough.
Bake for an additional 30-35 minutes or until top is light golden brown.
Remove to a wire rack to cool.
Cut into bars and serve. Store in an airtight container.