This is a sponsored conversation written by me on behalf of KitchenAid. All opinions and text are mine.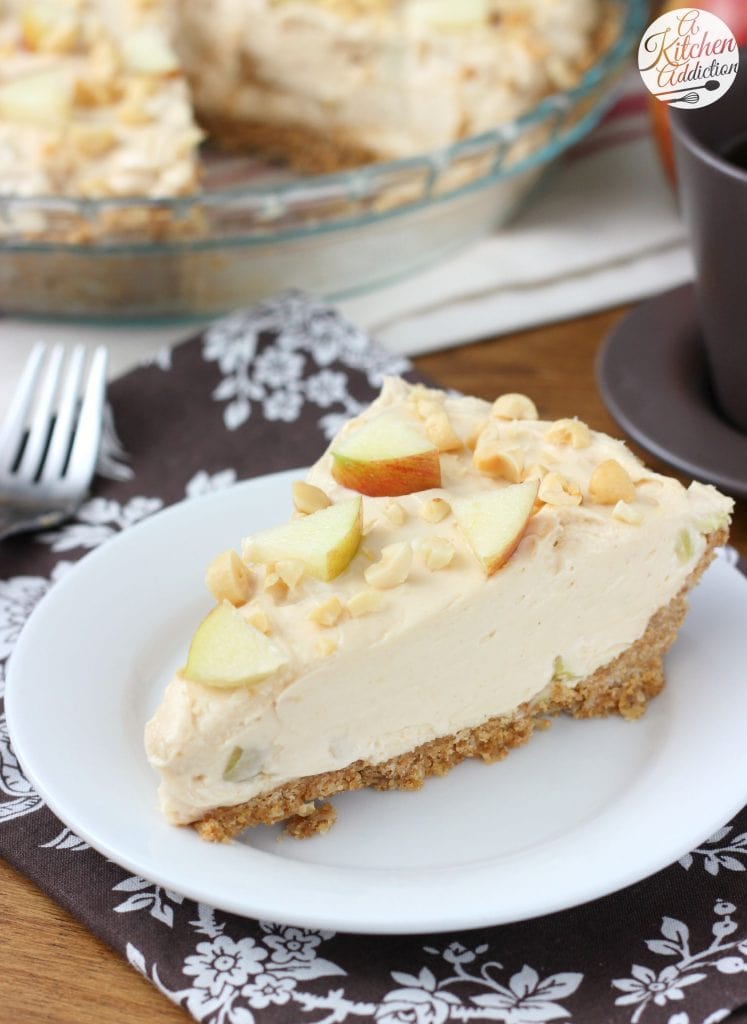 Fresh, fall apples are finally here, and you know what that means! I will be buying way too many, because I just can't resist them. That also means that I'll be baking with them like crazy once I realize that we can't eat them all before they go bad. But don't worry, I have plenty of recipes in mind to share with you, including this apple peanut butter oatmeal cookie cheesecake made as part of a challenge that you need to hear about!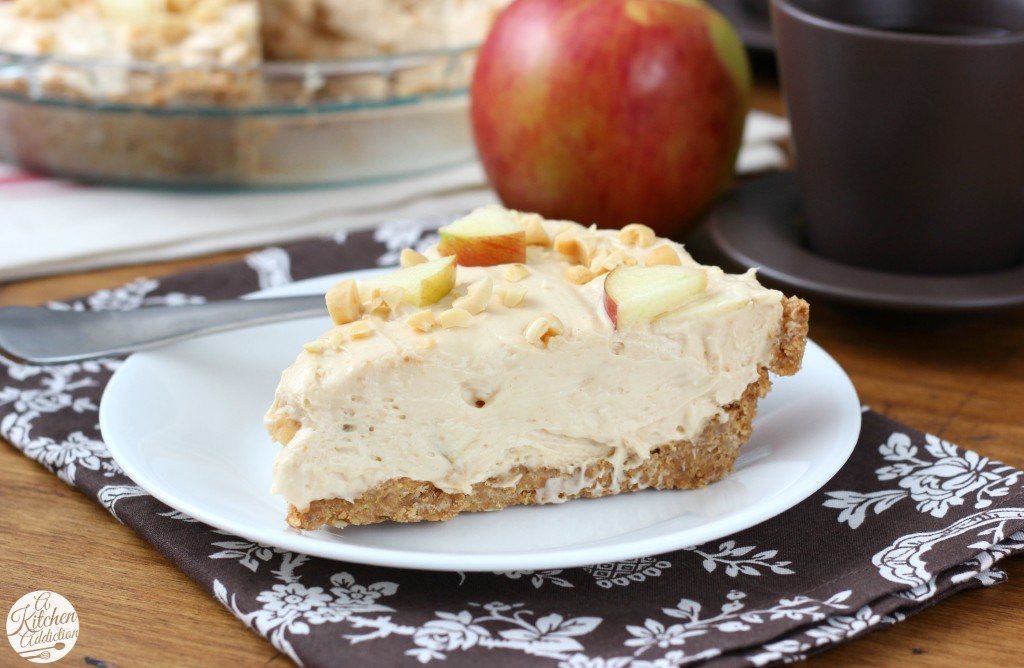 KitchenAid is hosting a KitchenAid Contest, the Apple Challenge, and has asked me to share a recipe that showcases apples in a way that they aren't normally used. They are teaming up with Food Network Chef, Geoffrey Zakarian, to showcases apples and bring awareness to the challenge. That's not all, they want you to get involved, too!
And the best part? The grand prize winner receives a suite of KitchenAid Black Stainless Steel Appliances and a private cooking lesson with Geoffrey Zakarian! (How amazing would that be?!) Be sure to check out the details below for more information!
But back to the recipe. While all those apples are still fresh and crisp, I thought I would put some of them to good use in an easy fall cheesecake that contains the flavors of oatmeal cookies, peanut butter, and apples!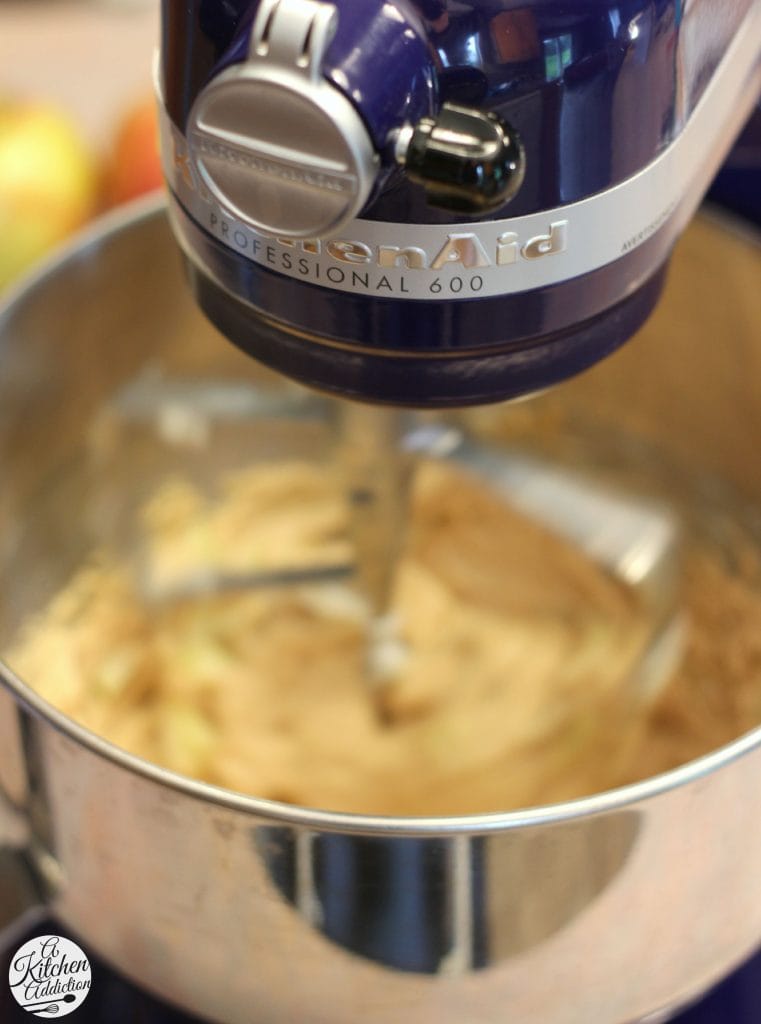 I have found that most cheesecakes use cooked apples, but I decided to go with raw apples to keep the crunch in tact and give the cheesecake a bit of texture. Plus, I feel like you lose a bit of the fresh flavor when you cook the apples down, and I wanted this cheesecake to be loaded with that iconic fall apple flavor!
A whole cup of finely chopped apples is stirred into the batter and even more chopped apples are sprinkled over the top right before serving!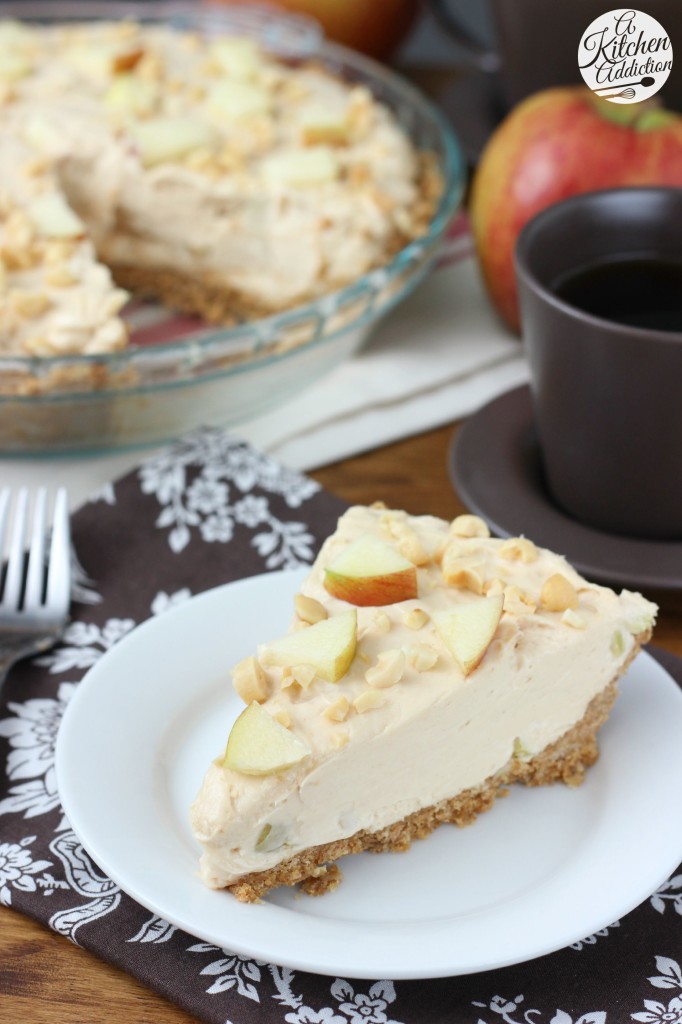 A chewy oatmeal cookie crust acts as the base. Instead of a typical graham cracker crust, oats and brown sugar are added to give the crust that classic oatmeal cookie flavor. The chopped peanuts on top give the cheesecake a bit of saltiness tying together the sweet, nutty, and tart flavors of this addictive cheesecake.
While there is peanut butter in the cheesecake layer, the texture remains light which makes it perfect for enjoying after any meal without feeling like you're going overboard on your dessert!
Since the cheesecake layer is no-bake, it works well with the warm days we've been having as summer winds down, and we head into fall!

Apple Peanut Butter Oatmeal Cookie Cheesecake
Author:
A Kitchen Addiction
Ingredients
For the Crust
1 C graham cracker crumbs
½ C regular oats
3 tbsp brown sugar
⅛ tsp salt
¼ C butter, melted
3 tbsp creamy peanut butter
2 tsp vanilla extract
For the Cheesecake
12 oz cream cheese, softened
1 C confectioner's sugar
½ C creamy peanut butter
1 tsp vanilla extract
1 C finely chopped apples
3 C homemade whipped topping (or one 8 oz container frozen whipped topping, thawed)
3 tbsp chopped peanuts, for garnish
additional chopped apple, for garnish
Instructions
Preheat oven to 350. Spray a 9 inch (or larger) pie plate with non-stick cooking spray.
Stir together graham cracker crumbs, oats, brown sugar, and salt. Stir in melted butter, peanut butter, and vanilla extract until combined. Press into prepared pie plate.
Bake for 8 minutes or until light golden brown. Remove to a wire rack to cool.
While crust is cooling, prepare filling. Beat together cream cheese, confectioner's sugar, peanut butter, and vanilla extract until creamy. Stir in chopped apples. Gently fold in whipped cream.
Pour filling into cooled pie crust. Refrigerate for 4 hours or until set.
Sprinkle with chopped peanuts and apples right before serving.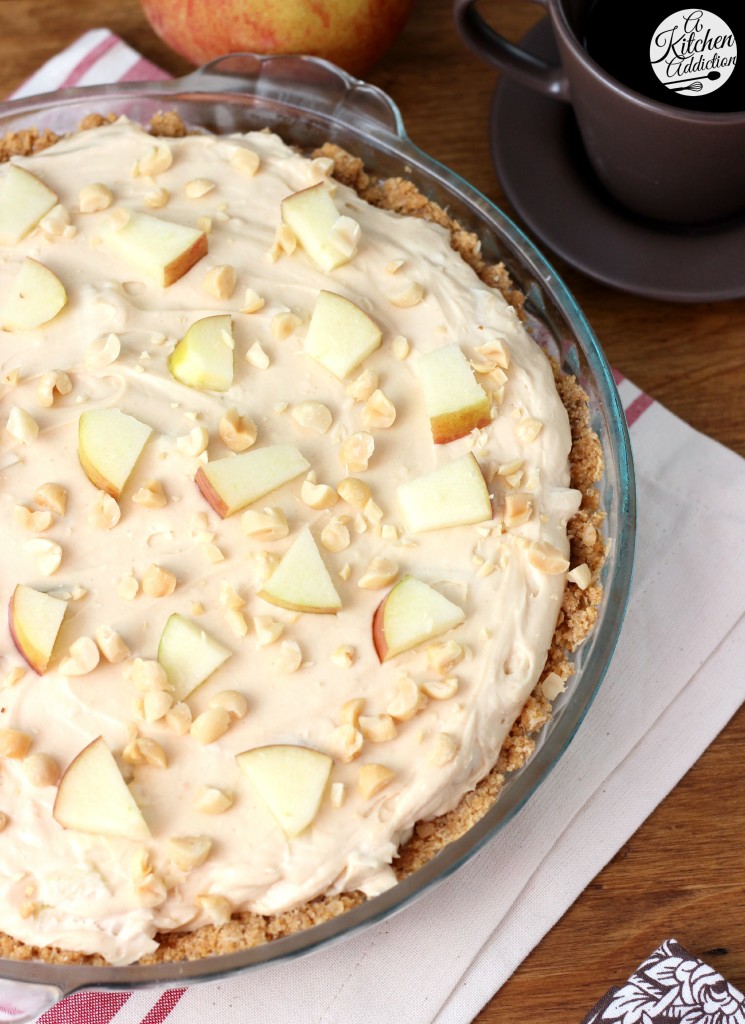 Food Network and Food.com invite you to join in on the challenge! Users will enter the "apple" recipe cooking challenge where users will submit a photo and description of their best dish incorporating the use of an apple.
Submissions can be uploaded through Twitter or Instagram, FoodNetwork.com/applechallenge or food.com/applechallenge using the hashtag #KitchenAidContest.
Food Network Kitchens will select the top 4 recipe submissions and the 4 finalist will win a trip for 2 to NYC to push their limits in a live cook-off to cook their dish to be judged by Food Network chef Geoffrey Zakarian.
1 winner will receive the grand prize of a suite of KitchenAid Black Stainless Steel Appliances and a private cooking lesson with Geoffrey Zakarian. Have you seen the new black stainless steel appliances yet? If I didn't already have decent appliances, I'd be making over my kitchen with these new appliances asap!
View the full contest details here!
From the first-ever black stainless steel to the first-ever five-door refrigerator, KitchenAid pushes the limits with our appliances, so our home cooks can do the same with their cooking. See the revolutionary new line of KitchenAid appliances or visit the Kitchenthusiast™ blog for recipes, tips and more.
This is a sponsored conversation written by me on behalf of KitchenAid. The opinions and text are all mine.