These Herbed Wheat Cloverleaf Rolls are perfectly light and fluffy while only taking 45 minutes to make from start to finish! A light, savory herb flavor gives these dinner rolls a unique flavor perfect for pairing with soups, chicken, and, of course, Thanksgiving dinner!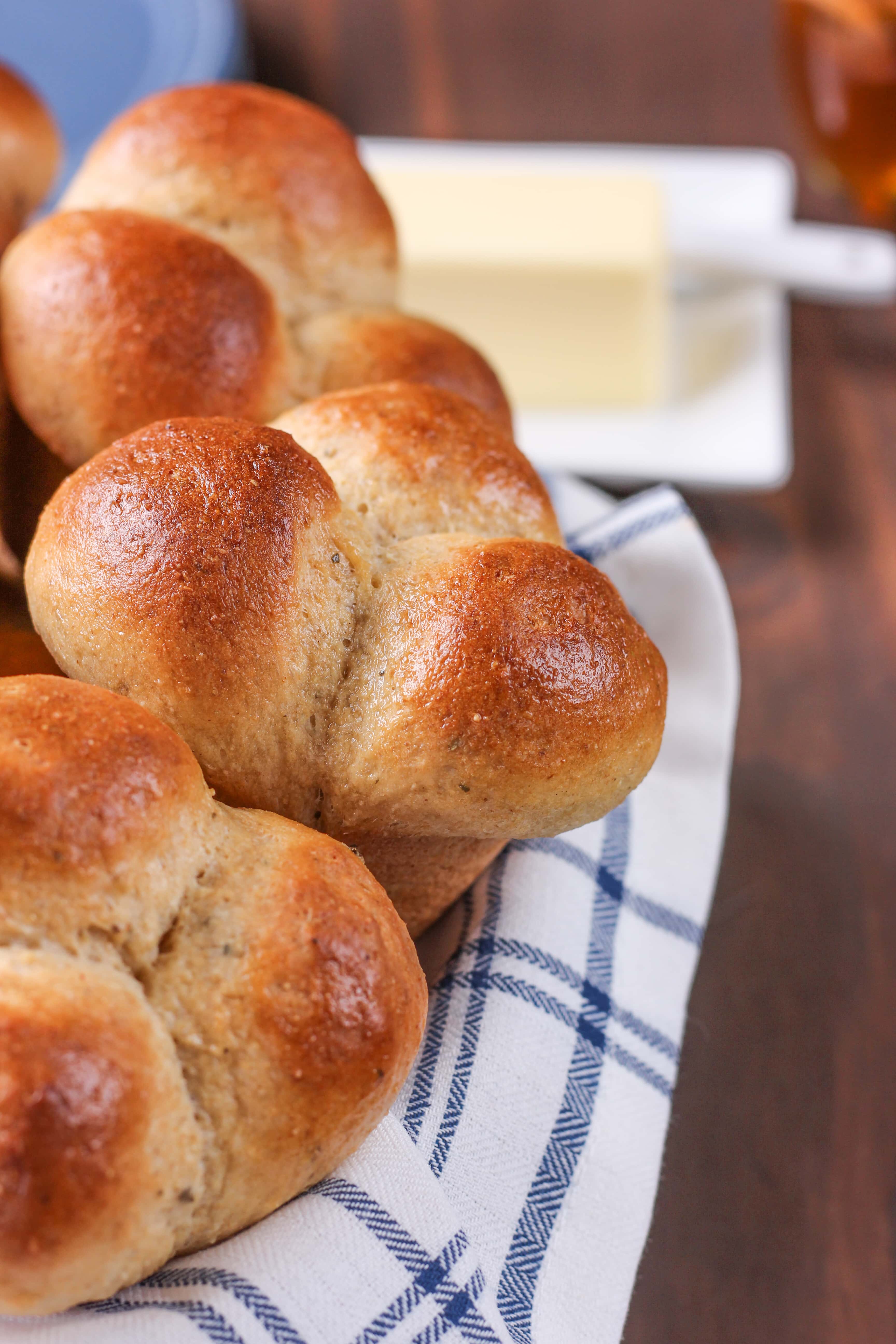 This recipe is made in partnership with Red Star Yeast. As always, all opinions are my own.
Tomorrow is already November 1st! Which means it's time to start thinking about Thanksgiving! I know there are some of you who already have your entire menu planned out, but for those of you who are just starting to think about what to make for Thanksgiving, I have an easy recipe for you.
It just isn't a Thanksgiving meal without bread at our house, preferably homemade bread. Since we like homemade bread so much, we usually end up making a different recipe every year. This year is no different. We're going to be making herbed wheat cloverleaf rolls.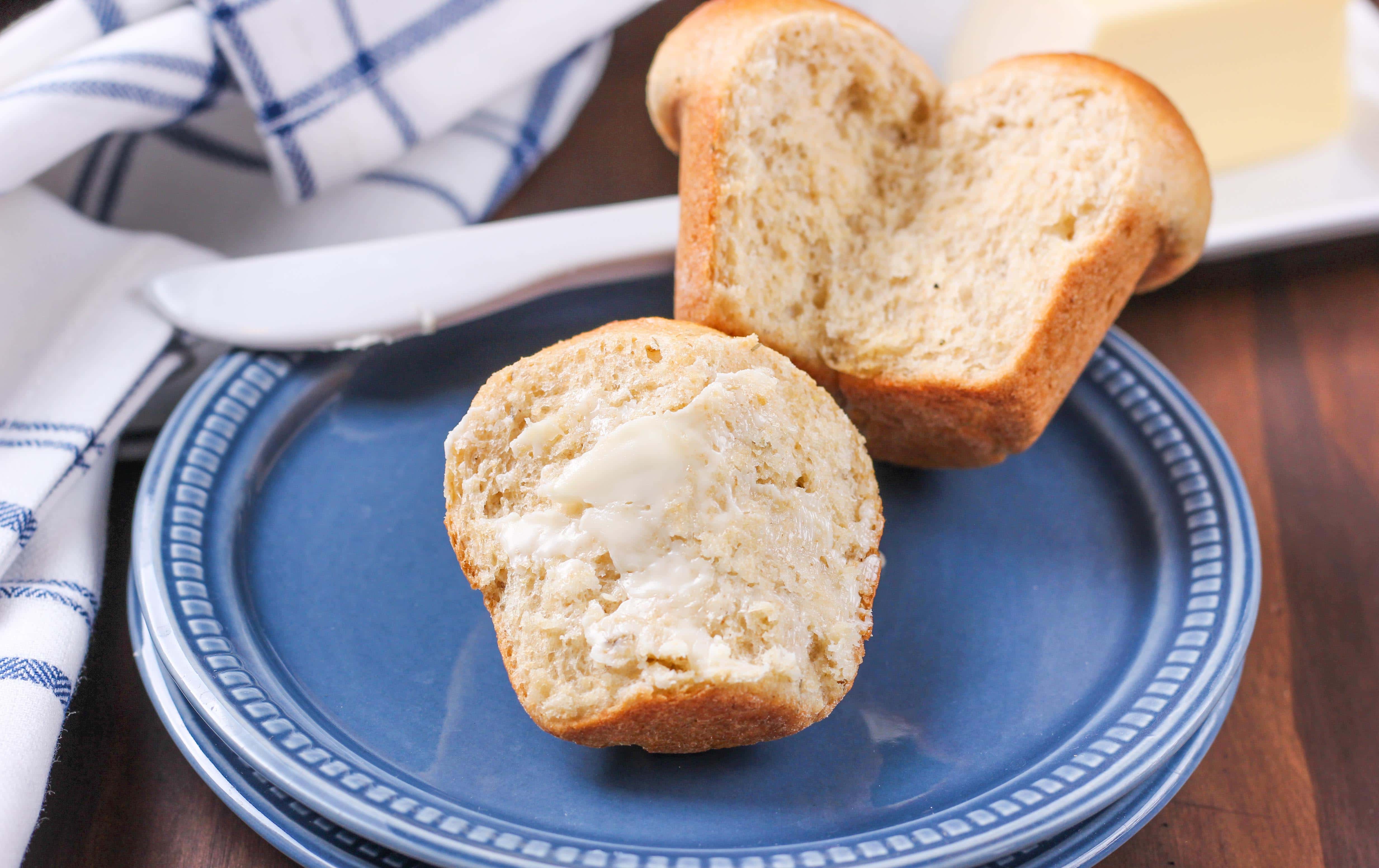 These cloverleaf rolls are a combination of my go-to 30 minute honey wheat dinner rolls and these herbed wheat dinner rolls.
Because the shaping takes a bit of extra time and the extra handling of the dough caused the dough to need a little longer rest time, these cloverleaf rolls ended up being 45 minute dinner rolls instead of the 30 minutes that I was aiming for. But they're still a lot faster than most yeast rolls!
The perfect rise is achieved by using my favorite Red Star Platinum Yeast. I frequently talk about how Red Star's yeast helps achieve the rise I need for my breads, and these rolls are no different.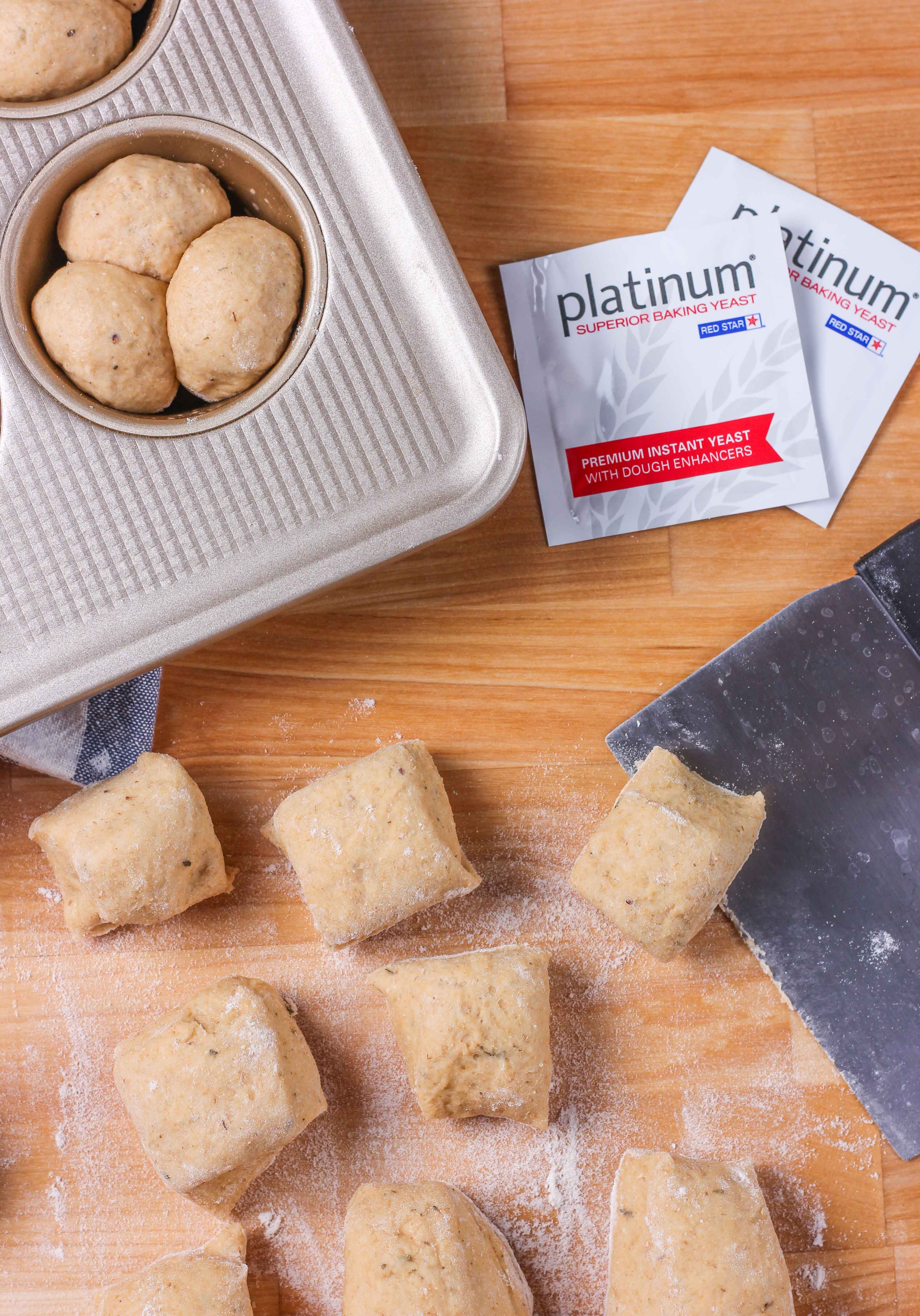 Since the goal of these rolls (along with the goal of being light, fluffy, and delicious!) was to make them in as short of amount of time as possible, two packages of yeast are used instead of just one like most recipes call for.
All you have to do is mix the dough together, form it into balls, let it rest for 15 minutes, and then bake for 12-15 minutes. Easy! I like to brush a bit of melted butter on right after you pull the rolls from the oven to give them a nice sheen, but you can skip that step if you're in a hurry.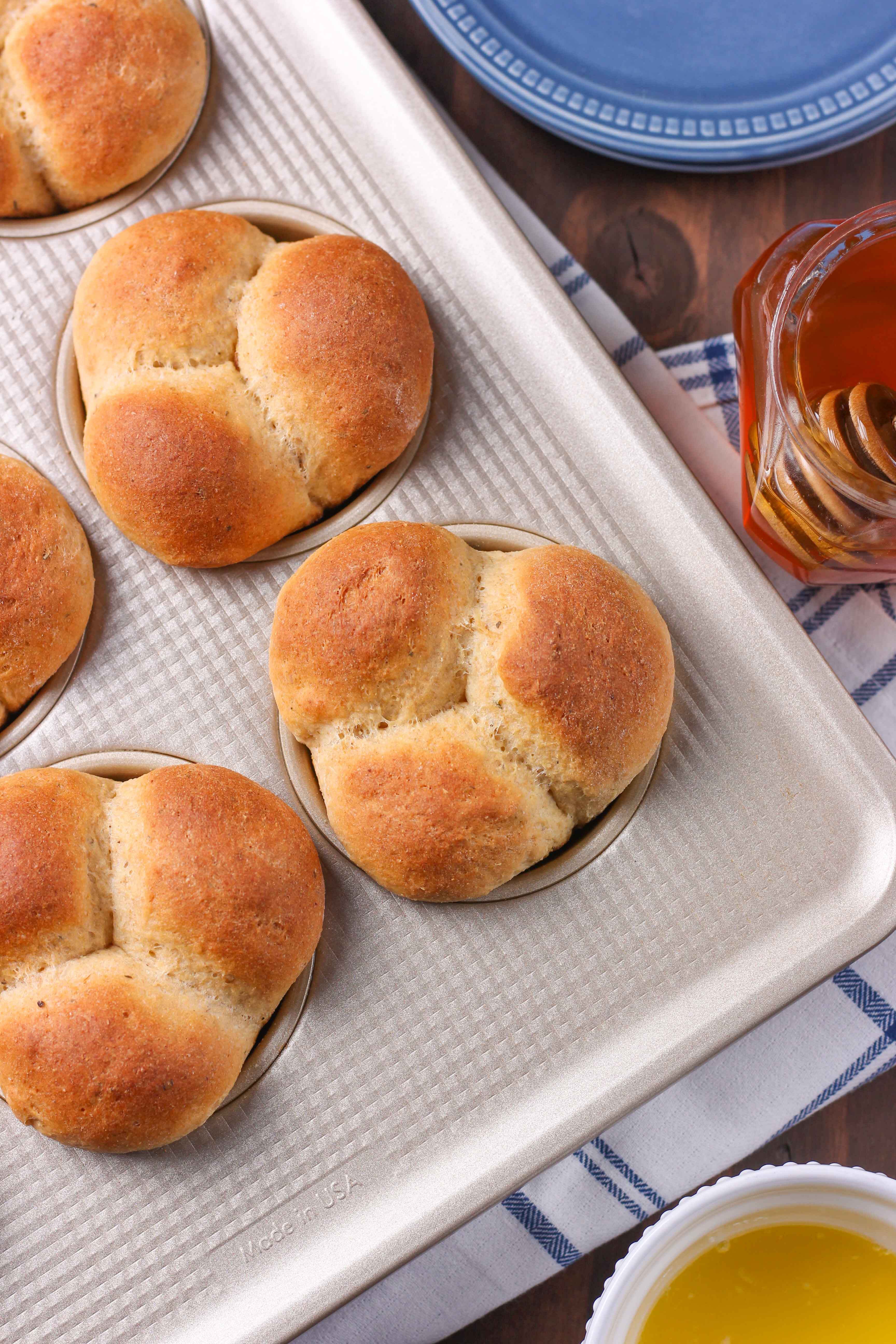 The result is a savory dinner roll that is light, fluffy and completely irresistible! Then all you have to do is try not to eat them all while you're making the rest of your menu!
Be sure to check out Red Star Yeast's Facebook, Twitter, Pinterest, and/or Instagram pages for more recipe inspiration and baking tips!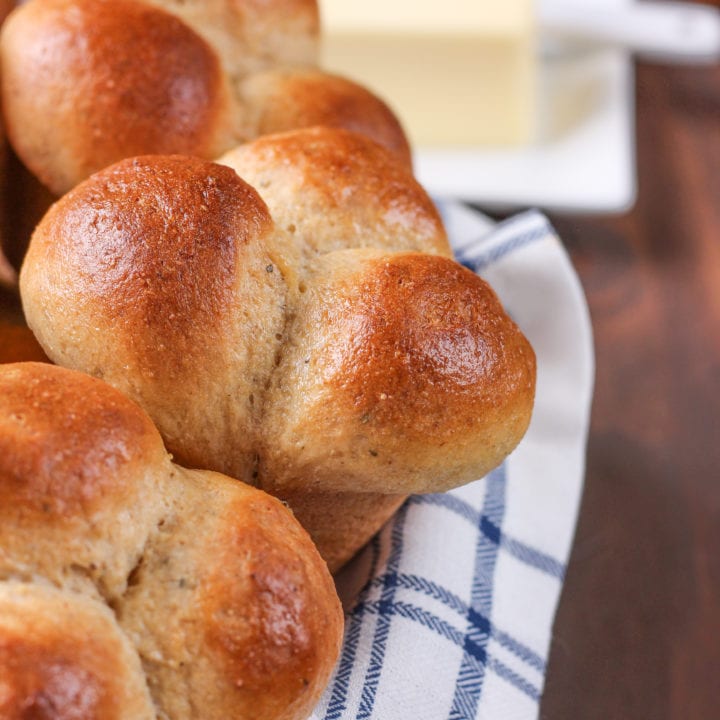 Herbed Wheat Cloverleaf Rolls
Yield: 12 dinner rolls

Prep Time: 20 minutes

Bake Time: 10 minutes

Rise Time: 15 minutes

Total Time: 45 minutes

These Herbed Wheat Cloverleaf Rolls are perfectly light and fluffy while only taking 45 minutes to make from start to finish!
Ingredients
2 1/2 Cups white whole wheat flour
1 Cup bread flour, plus additional 1/4 cup if needed
2 Tablespoons Red Star Instant Dry Yeast
1/2 teaspoon salt
1/2 teaspoon dried thyme
1/2 teaspoon dried oregano
1/2 teaspoon dried basil
1/4 teaspoon garlic powder
1 Cup milk, warmed to 120 to 130 degrees Fahrenheit
1/4 Cup water, warmed to 120 to 130 degrees Fahrenheit
1/4 Cup honey
1 egg, room temperature
4 Tablespoons butter, melted
2 Tablespoons butter, melted for brushing
Instructions
In the bowl of stand mixer affixed with the paddle attachment, combine white whole wheat flour, yeast, salt, dried thyme, dried oregano, dried basil, and garlic powder.
In a small bowl, whisk together milk, water, honey, and egg. Add wet ingredients to dry ingredients and beat until just combined.
Add bread flour and melted butter. Switch out paddle attachment for dough hook and knead until dough is smooth and elastic. Dough should pull away from sides of bowl and be slightly sticky. If dough is too sticky, add up to an additional 1/4 cup bread flour.
Butter or spray with non-stick cooking spray the bottom and sides of 12 cup muffin tin. Set aside.
Turn dough out onto floured surface. Divide into 12 equal pieces. Divide each piece into 3 equal pieces.
Take each piece of dough and roll into a ball. Place 3 balls of dough in each cup of the muffin tin. Cover and allow to rise for 15 minutes in a warm location to puff. (If your house is cool, you may need to give the dough 20-25 minutes until it puffs.) While dough is resting, preheat oven to 400 degrees Fahrenheit.
Bake for 10-12 minutes, or until tops are golden and internal temperature reaches 190 degrees Fahrenheit. Remove from oven and brush with butter.
Serve warm.
Recommended Products
As an Amazon Associate and member of other affiliate programs, I earn from qualifying purchases.
Nutrition Information:
Yield: 12 Serving Size: 1 cloverleaf roll
Amount Per Serving: Calories: 188Total Fat: 7gSaturated Fat: 4gTrans Fat: 0gUnsaturated Fat: 3gCholesterol: 32mgSodium: 152mgCarbohydrates: 27gFiber: 3gSugar: 6gProtein: 5g

Nutrition information shown is an estimate provided by an online calculator and may not always be accurate. It should not be considered a substitute for a medical professional's advice.