When it comes to Thanksgiving sides, homemade bread is one of my favorites. Actually, homemade bread at any time is a favorite. Put a piece of cake, a brownie, or a cookie in front of me next to fresh from the oven bread, and I will chose the bread every time. So, when it comes to our Thanksgiving, you know that fresh bread will make an appearance! 🙂
Regular wheat dinner rolls get an upgrade with the addition of herbs. The thyme, oregano, and basil in these wheat rolls blend well with the Thanksgiving flavors of turkey and stuffing. Oh, and they are guaranteed to make your stomach growl while baking!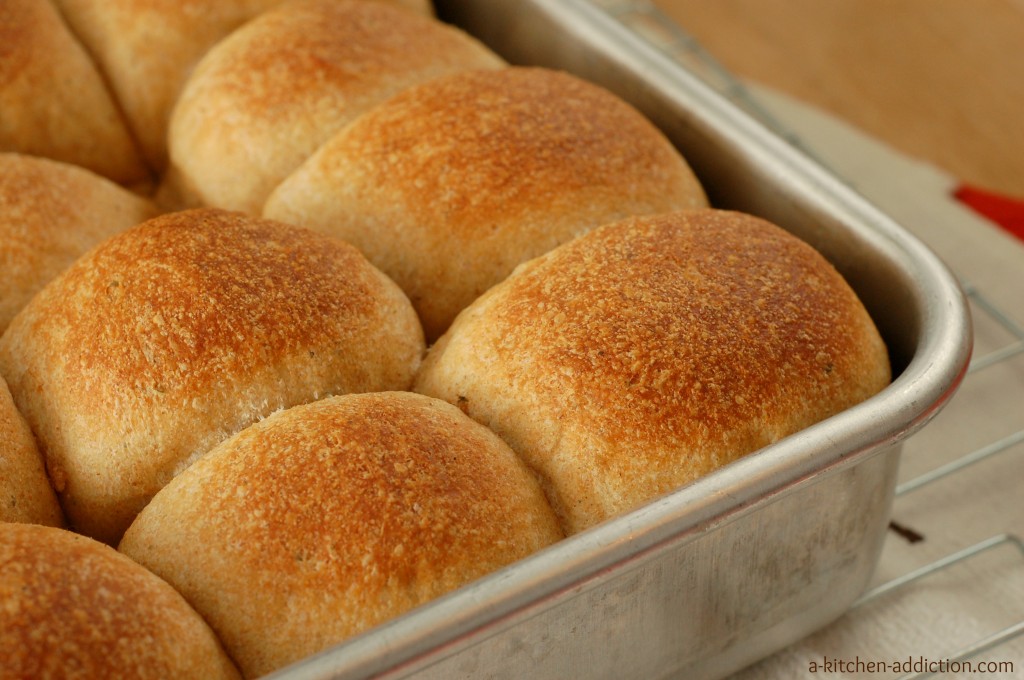 These dinner rolls are perfect for a busy day like Thanksgiving. The bread machine does all of the work of mixing and kneading. Just pull the dough out and shape it into balls. While they are rising you can work on other dinner preparations. Stick them in the oven for 15 short minutes (though the amazing aroma will make it seem way longer!), and you will have hot, fresh bread ready to serve!
Herbed Wheat Dinner Rolls
Yield: 12 rolls
Ingredients
1 C warm water
2 tbsp butter, softened
1 egg, room temperature
1 1/2 C whole wheat flour
1 3/4 C unbleached all-purpose flour
1/2 tsp dried thyme
1/2 tsp dried oregano
1/2 tsp dried basil
1/4 tsp garlic powder
1/4 C honey or sugar
1 tsp salt
3 tsp instant dry yeast
1 tbsp melted butter for brushing the tops
Directions
Place ingredients (except melted butter) in your bread machine according to manufacturer's instructions. Select dough cycle.
When cycle is finished, remove dough from pan and turn out onto a lightly floured surface. Cover with a clean towel and let rest for 10 minutes. If your bread machine has a rest built into the dough cycle, you can skip this step.
Butter or spray with non-stick cooking spray the bottom and sides of a 9×9 baking dish.
Divide dough into 12 equal pieces. Shape each dough into a ball. Place in baking dish and brush with melted butter. Cover and let rise in a warm area for 30 minutes or until dough has doubled in size.
Preheat oven to 350. Bake for 15-20 minutes or until tops of rolls are golden brown. Remove to a wire rack to cool for 5 minutes.
Serve warm.
This recipe is adapted from Betty Crocker.
This recipe is linked with Farm Girl Friday, Mom's Test Meal Monday, Thanksgiving Blog Hop, Weekend Potluck, Wonderful Food Wednesday.