These 30 Minute Honey Wheat Dinner Rolls are perfectly light and fluffy while only taking 30 minutes to make!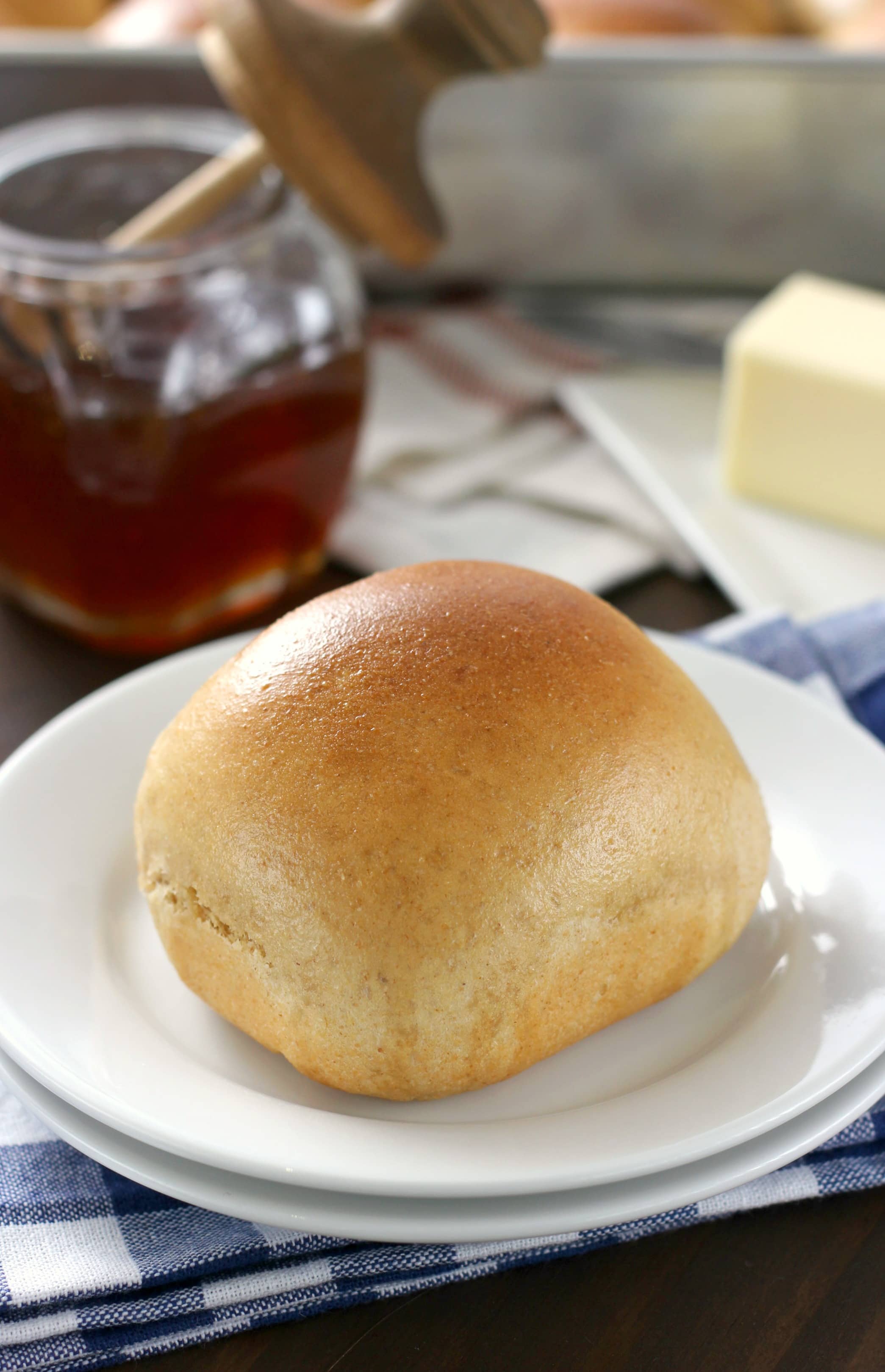 A couple of weeks ago I shared with you our favorite sweet potato dinner roll recipe (and my love for homemade bread!).
This week I thought I'd share our favorite wheat dinner roll recipe that I know you'll love. 30 minute honey wheat dinner rolls!
Not only do these rolls taste really good, they are also super easy to make!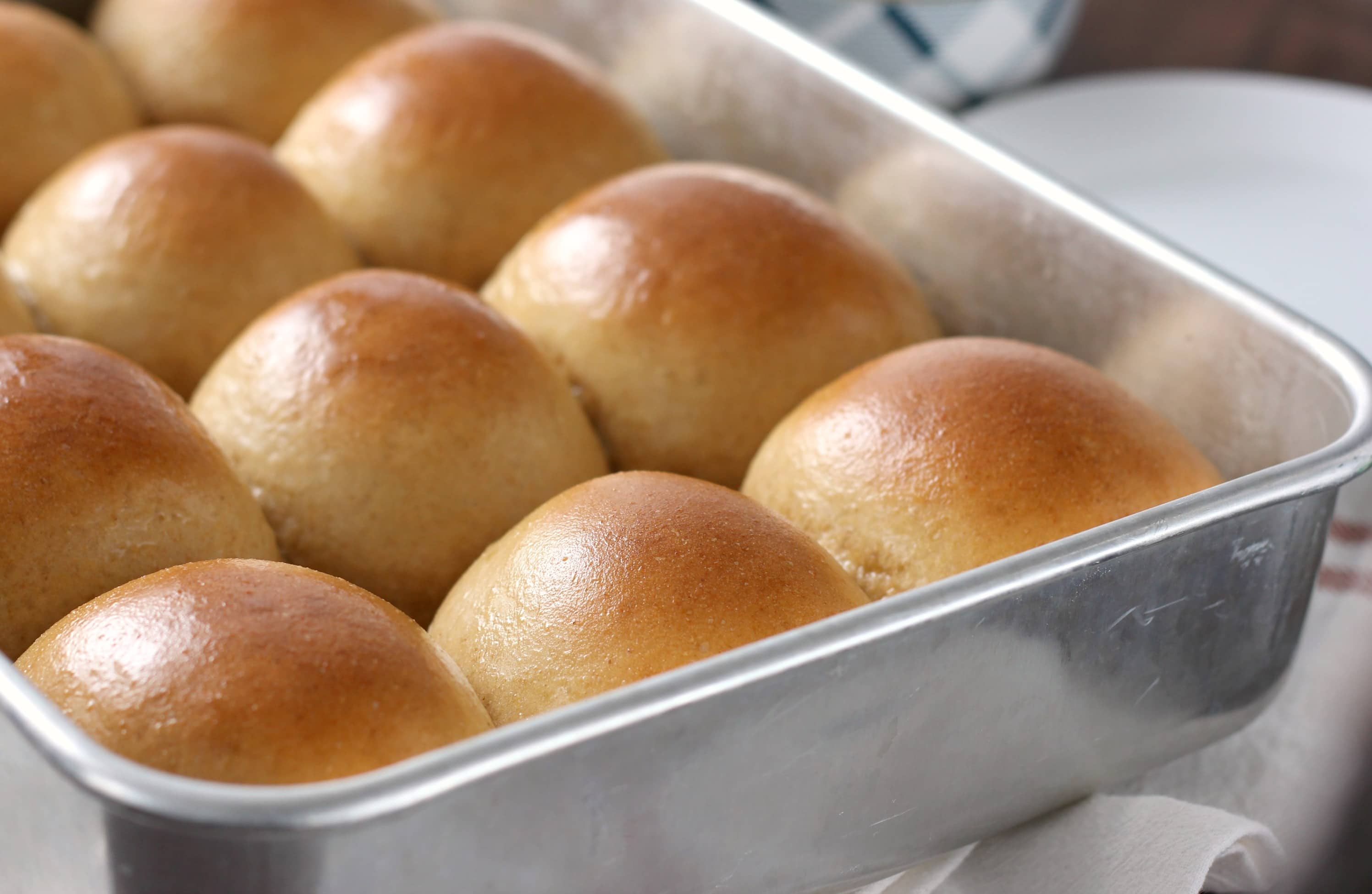 If you're nervous about making your own dinner rolls, this recipe is for you! I know it may seem hard to believe that you can have light, fluffy homemade rolls ready in 30 minutes, but it's possible.
After experimenting with these honey whole wheat cloverleaf rolls and a no-knead dinner roll recipe that I realized I haven't shared yet, I finally came up with a forgiving recipe that lets you "over knead" a bit and "under knead" a bit while still producing tender, fluffy rolls.
Just the recipe that I need to have on hand!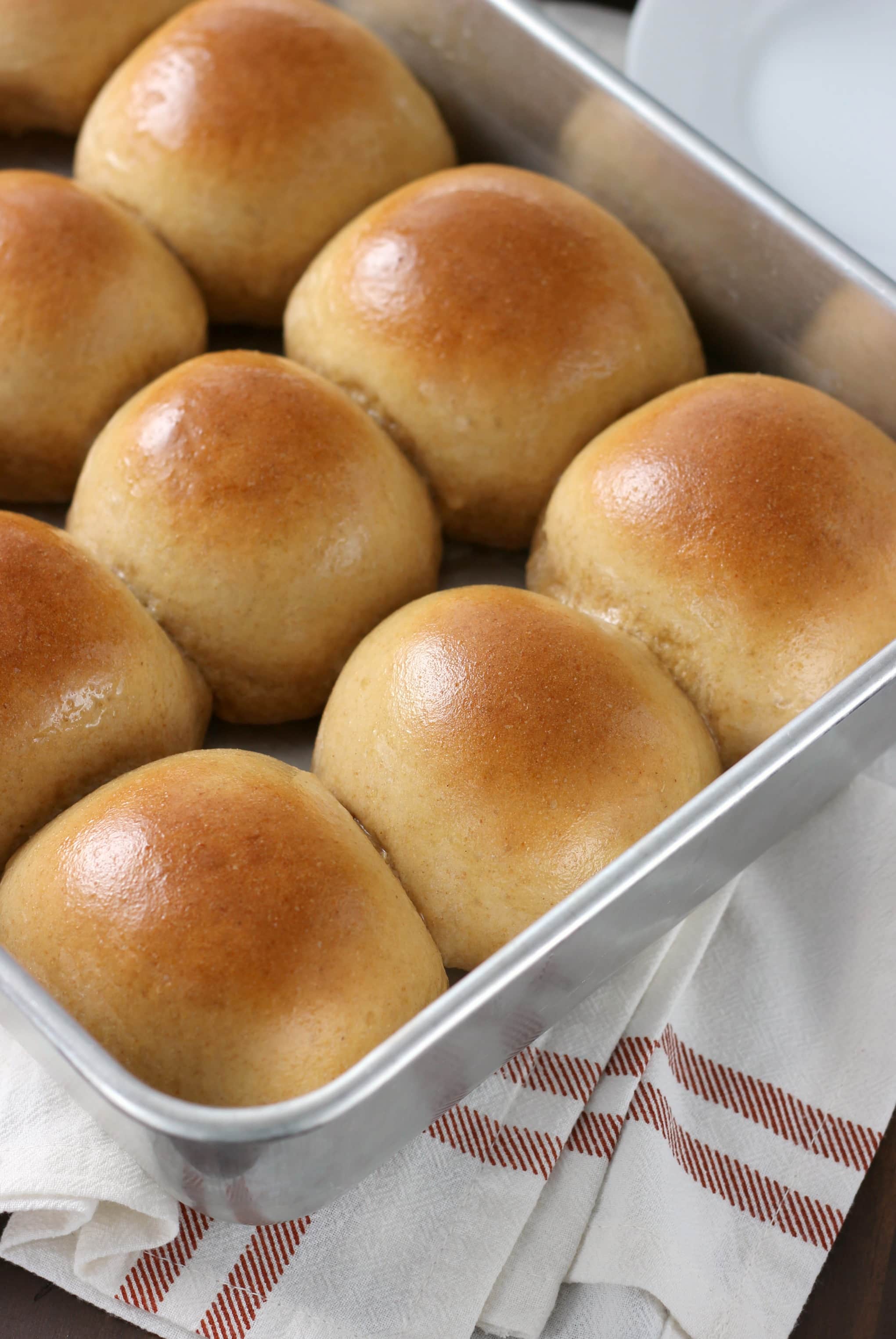 These honey wheat dinner rolls are the perfect addition to your Thanksgiving menu. Thanksgiving dinner can get kind of hectic, so why not go easy with the dinner rolls?!
The dough takes a quick 15 minute rise and then a short 10-12 minutes in the oven for baking.
You can also make them ahead of time, leave them in the pan, and then warm them back up in the oven right before serving!
30 Minute Honey Wheat Dinner Rolls
Ingredients
2 1/2 C white whole wheat flour
1 C bread flour + additional 1/4 cup if needed
2 tbsp instant dry yeast (I used Red Star)
1/2 tsp salt
1 C milk, warmed to 120-130 F
1/4 C water, warmed to 120-130 F
4 tbsp honey
1 egg, room temperature
4 tbsp butter, melted
2 tbsp butter, for brushing
Instructions
In the bowl of stand mixer affixed with the paddle attachment, combine white whole wheat flour, yeast, and salt.
In a small bowl, whisk together milk, water, honey, and egg. Add wet ingredients to dry ingredients and beat until just combined.
Add bread flour and melted butter. Switch out paddle attachment for dough hook and knead until dough is smooth and elastic. Dough should pull away from sides of bowl and be slightly sticky. If dough is too sticky, add up to an additional 1/4 cup bread flour.
Butter or spray with non-stick cooking spray the bottom and sides of a 9×13 baking dish.
Shape dough into 12 rolls and place in prepared baking dish.
Allow to rest for 15 minutes in a warm location. While dough is resting, preheat oven to 400 F.
Bake for 10-12 minutes, or until tops are golden. Remove from oven and brush with butter.
Serve warm.
Notes
If your kitchen is cold, you may need to allow your rolls to rise an additional 5-10 minutes before they puff.
Recommended Products
As an Amazon Associate and member of other affiliate programs, I earn from qualifying purchases.