Guess what?! It only got up to 88 on Friday! That was definitely something to celebrate, and we did! We turned the oven on and baked something that reminded us of fall! 🙂 Well, that and I had purchased a big bag of reduced price apples at the beginning of the week, and they needed to be used before they found themselves in the trash.
Actually, this crisp reminds us of more than just fall. It brings back memories of college and grad school where my husband (then boyfriend) and I ate this a lot. As in breakfast, lunch, and dinner. Don't judge.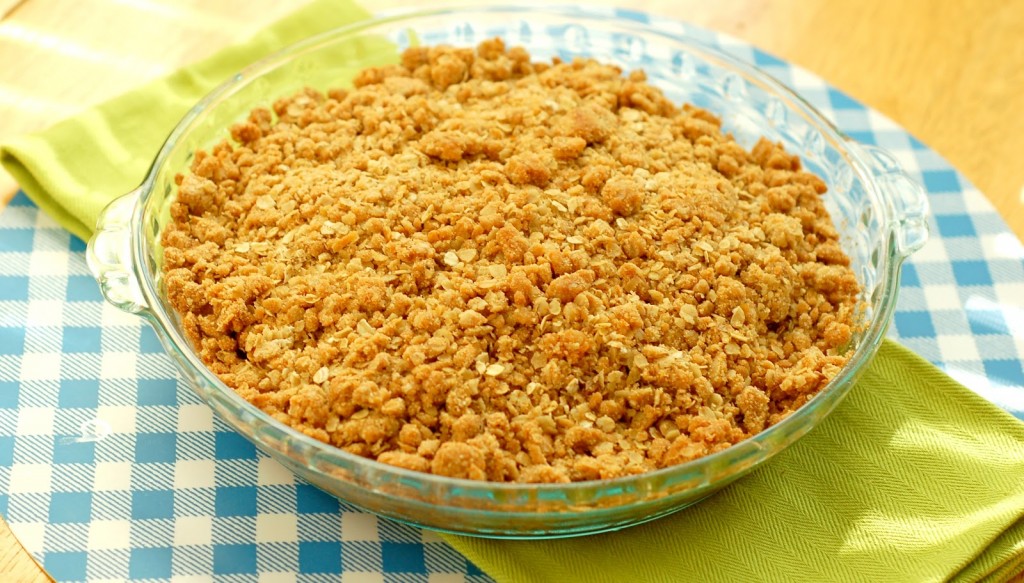 You see, there is only so much cafeteria food that your stomach can handle. Some of us less than others. The three staples that I relied on were oatmeal, peanut butter, and apples. Among my roommates and I, you could usually find wheat flour, sugar/sugar substitute, and butter/spread. Thus, the apple-peanut butter crisp was born.
This recipe went through many variations depending upon what was on hand. No butter? Throw in more peanut butter. No flour? Use all oats. You get the idea. It provided our protein, vitamins, and complex carbs in one dish (oh, and you could make it in a toaster oven!) and that was more than could be said for a lot of the meals at the cafeteria!
I love peanut butter and apples and peanut butter with oats, so this combination was only logical in my mind! 🙂 Though no longer in school (yay!), this recipe has remained a staple that is eaten all year long. The fact that it reminds us of cool weather doesn't hurt, either!
Apple Peanut Butter Crisp

Yield: 6-8 servings
Ingredients
5 large apples, diced
3/4 C granulated sugar substitute
1 tsp cinnamon
1/4 tsp nutmeg
1/8 tsp salt
For the Topping
1 1/2 C quick oats
1/2 C white whole wheat flour
1/4 C granulated sugar substitute
1/4 C brown sugar
1/2 tsp salt
1/2 C no-stir natural creamy peanut butter
1/4 C butter, softened
Directions