This Apple Peanut Butter Crisp is filled with the warm spices of apple pie and topped with a rich, irresistible peanut butter streusel! This simple recipe is easy to throw together for a last minute dessert!
*Text and recipe from 07/30/12. Images updated 11/03/17.
Fall is almost here and the weather is cooling! So, we turned the oven on and baked something that reminded us of fall. Well, that and I had purchased a big bag of reduced price apples at the beginning of the week, and they needed to be used before they found themselves going bad.
Actually, this crisp reminds us of more than just fall. It brings back memories of college and grad school where my husband (then boyfriend) and I ate this a lot. As in breakfast, lunch, and dinner. Don't judge.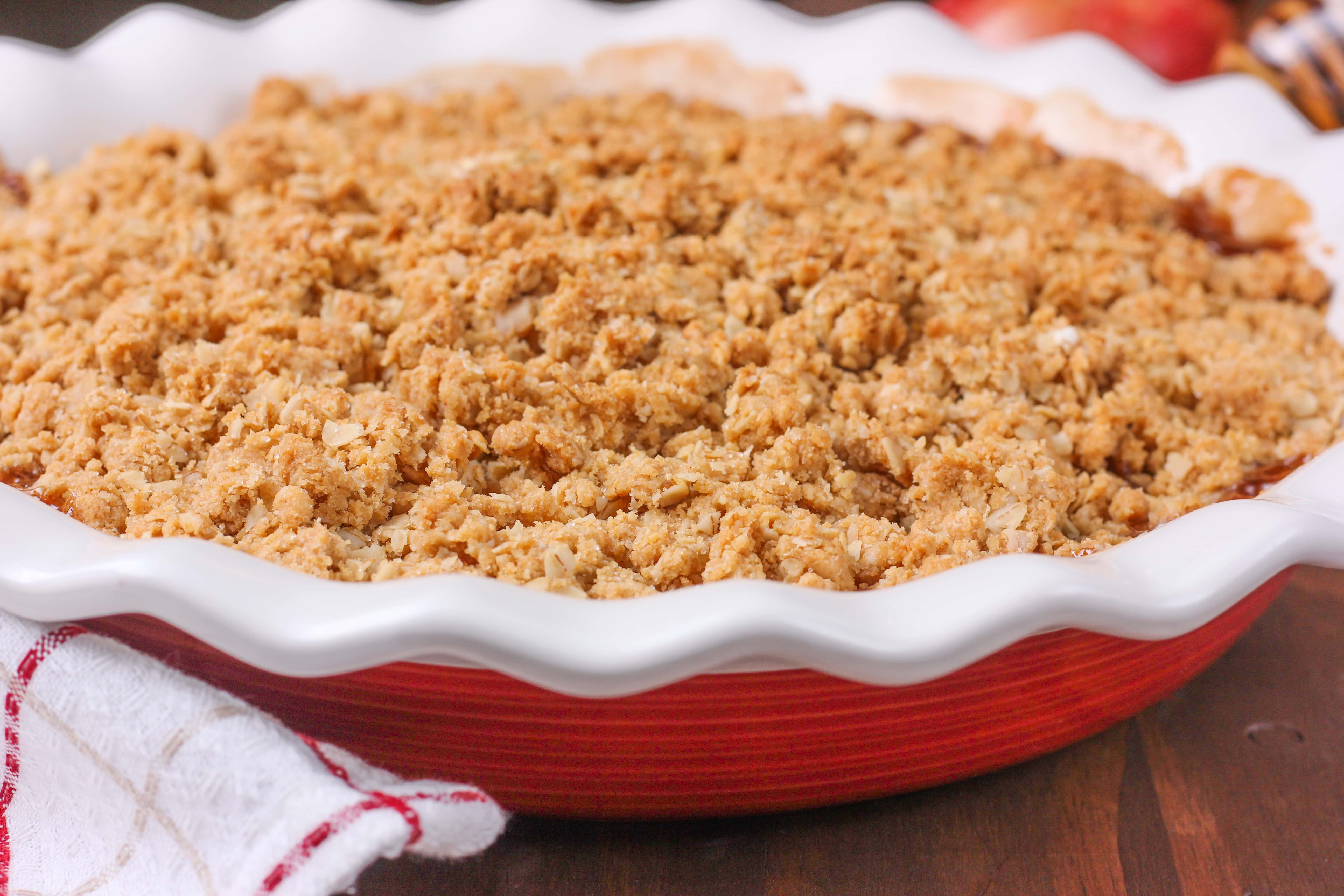 You see, there is only so much cafeteria food that your stomach can handle. Some of us less than others. The three staples that I relied on were oatmeal, peanut butter, and apples. Among my roommates and I, you could usually find wheat flour, sugar/honey, and butter. And that's how the apple peanut butter crisp was born.
This recipe went through many variations depending upon what was on hand. No butter? Throw in more peanut butter. No flour? Use all oats. You get the idea.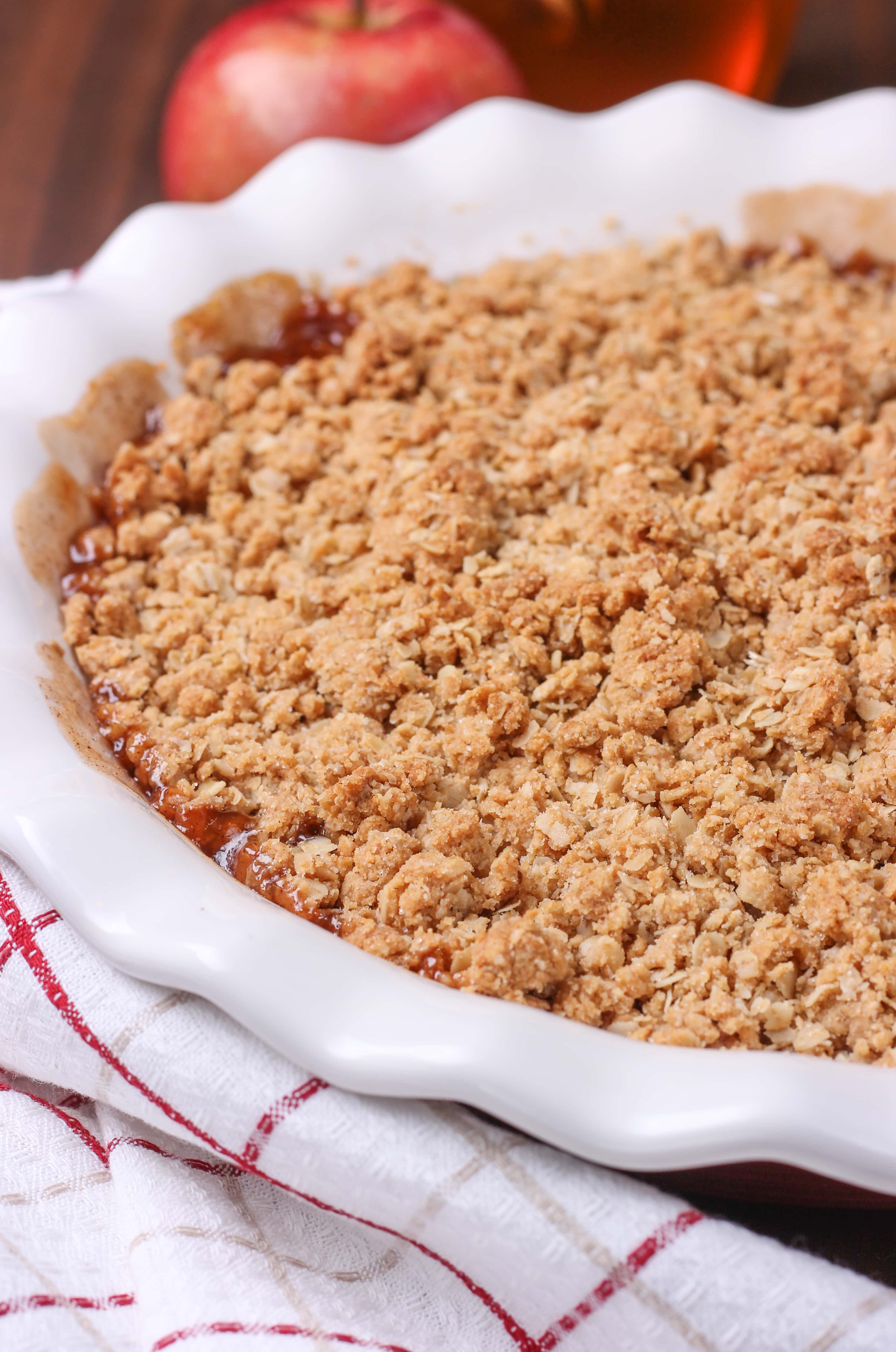 It provided our protein, vitamins, and complex carbs in one dish (oh, and you could make it in a toaster oven!) and that was more than could be said for a lot of the meals at the cafeteria!
I love peanut butter and apples and peanut butter with oats, so this combination seemed logical! Though no longer in school, this recipe has remained a staple that is eaten all year long!

Apple Peanut Butter Crisp
Author:
A Kitchen Addiction
Ingredients
For the Filling
5½ C apples, diced
½ C sugar
¼ C honey
1 tbsp cornstarch
1 tsp cinnamon
½ tsp nutmeg
¼ tsp allspice
For the Topping
1½ C quick oats
½ C whole wheat or white whole wheat flour
¼ C sugar
¼ C brown sugar
½ tsp salt
½ C no-stir natural creamy peanut butter
¼ C butter, softened
Instructions
Preheat oven to 350 degrees F. Lightly spray a 9-inch pie plate or an 8x8 inch baking dish with non-stick cooking spray.
In a large bowl, toss together the apples, cornstarch, sugar, honey, cinnamon, nutmeg, allspice, and salt. Set aside
In a medium bowl, stir together oats, flour, sugar, brown sugar, and salt until well combined. Cut in butter and peanut butter until mixture resembles coarse crumbs.
Pour apples into prepared dish. Top with oat mixture.
Bake for 20 minutes. Top with aluminum foil and bake for an additional 10-15 minutes or until filling starts to bubble.
Remove from oven and allow crisp to cool for 10 minutes before serving.
Store leftovers in the refrigerator.