This Cheesy Salsa and Chicken Pasta Skillet is warm, hearty comfort food that's ready in 30 minutes! Perfect for busy weeknights when you want to get your protein an veggies in without a lot of preparation!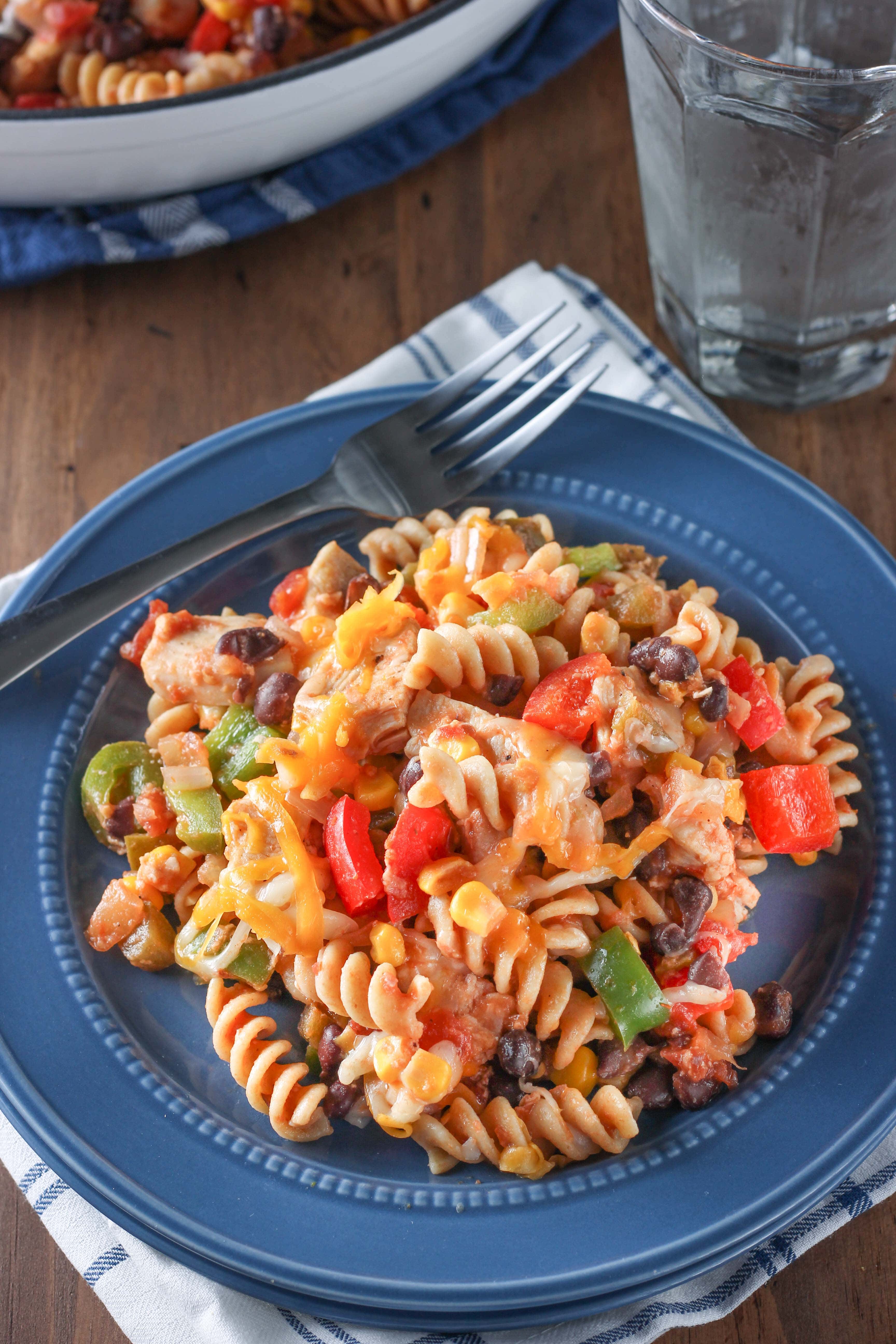 *Text and recipe from 07/18/12. Images updated 10/27/17.
I think it's pretty well established that weeknights can get crazy this time of year. Homework, sports, school meetings, the time you have after you get home from work is pretty much booked until bedtime.
So, it's important to have easy meals that you can turn to when you need something to feed the family that doesn't take forever to get on the table!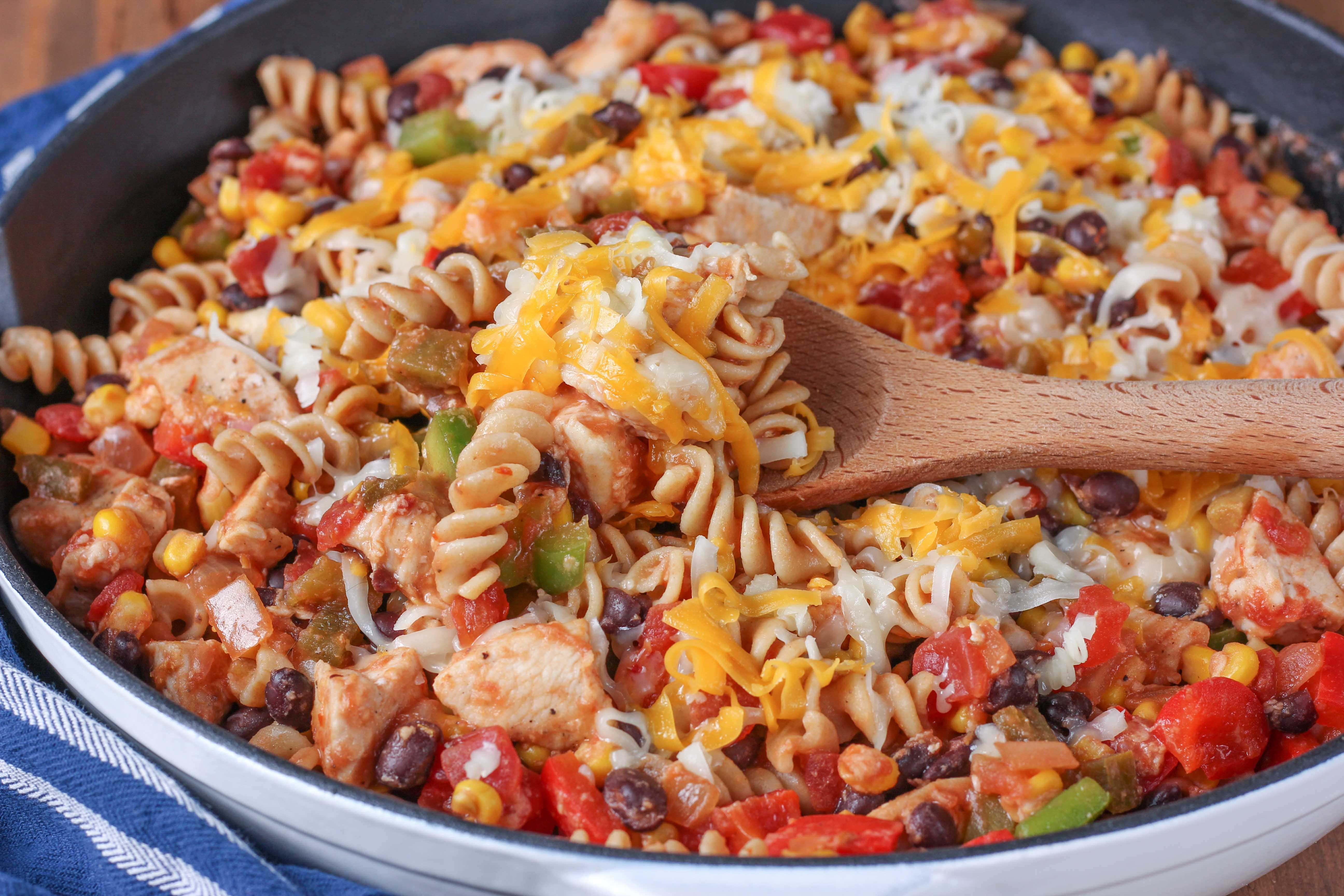 Enter skillet meals! One pan, a small amount of prep work, and a short cooking time. Skillet meals frequently make an appearance at our house because of how convenient they are.
Easy and they usually use ingredients that I already have on hand in the pantry and freezer.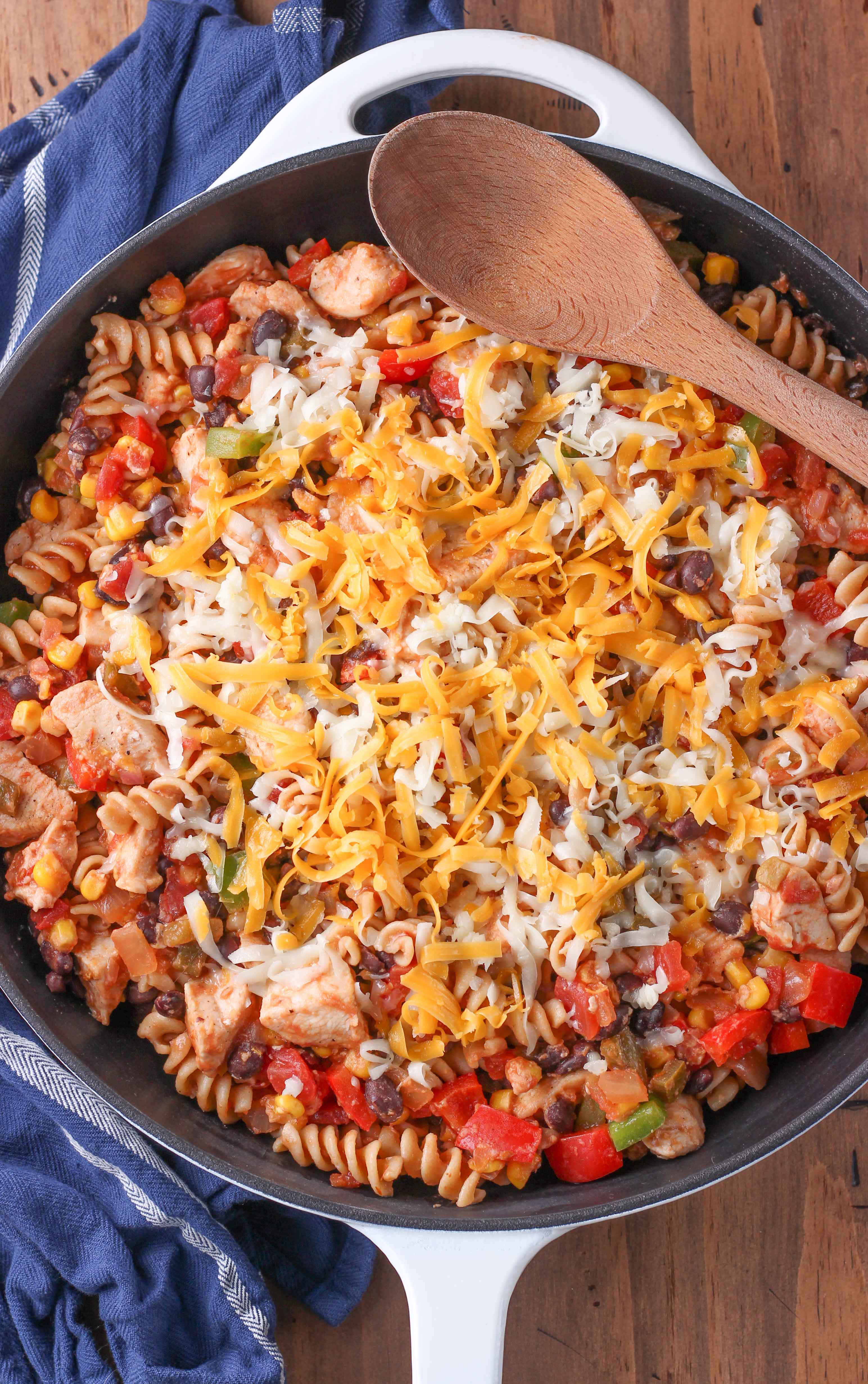 Plus, they are usually hearty and filling. Like this cheesy salsa and chicken pasta skillet. You get your lean protein, complex carbs, and veggies all in one dish! Plus, it's super versatile.
Don't like a certain veggie? Leave it out. Want to add more veggies in? Go for it! Change it up to match the tastes of your family!
Cheesy Salsa and Chicken Pasta Skillet
Author:
A Kitchen Addiction
Ingredients
2 C uncooked whole grain pasta of your choice
1 tbsp olive oil
1 lb boneless, skinless chicken breast, cut into bite-sized pieces
1 tsp salt
1 tsp onion powder
¼ tsp black pepper
1 garlic clove, minced
1½ C chunky salsa of your choice (If your salsa doesn't have much liquid, you may need an additional ½ cup of salsa)
1 C fresh or frozen and thawed sweet corn
½ C chopped green pepper
½ C chopped red pepper
1 C cooked black beans
¼ C red onion, coarsely chopped
1½ C shredded cheese, I used a combination of cheddar and mozzarella
Instructions
Cook pasta according to package directions. Remove from heat. Drain and cover.
While pasta is cooking, drizzle olive oil in a large skillet. Add chicken and sprinkle with salt, onion powder, black pepper, and garlic. Cook over medium-high heat until lightly pink.
Stir in salsa, corn, green pepper, red pepper, black beans, red onion and 1¼ cup cheese. Bring to a boil and allow to simmer on medium-low heat for 5 minutes, or until chicken reaches 165 degrees F.
Stir in pasta. Sprinkle with remaining ¼ cup cheese and let stand for 5 minutes to allow sauce to thicken before serving.