Thick, chewy and full of rich chocolate, these Dark Chocolate Almond Butter Bars are easy to make and just what you need when a chocolate craving hits!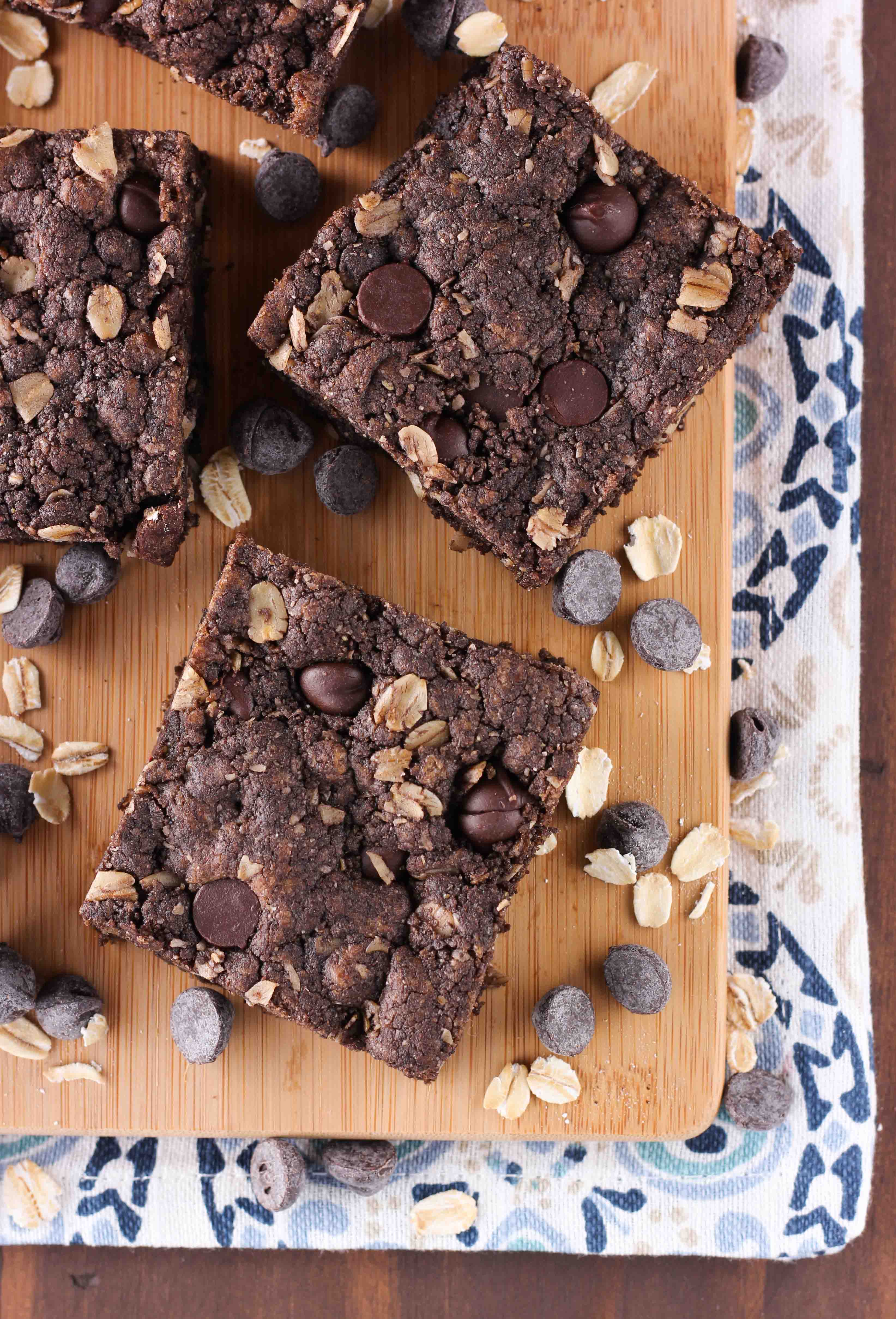 It's been over a month since chocolate has made an appearance on the blog. And in our house. While those one bowl s'mores brownies were good, they definitely don't last a month!
So, it's time to get the chocolate desserts back out. These almond butter bars aren't as over the top as the brownies, but they're definitely a good option when you want something chocolaty!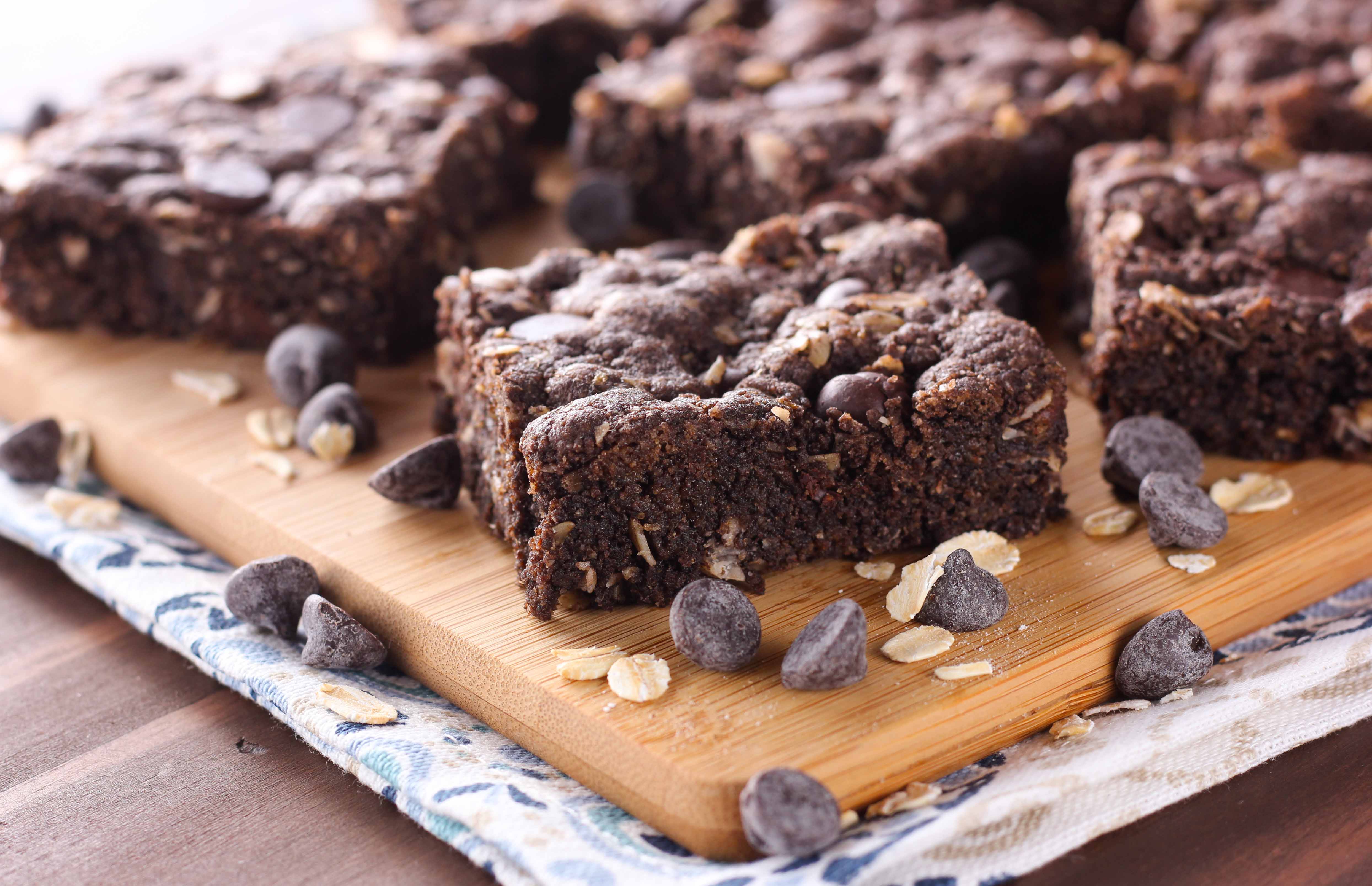 These chocolate caramel almond butter oat bars quickly became a favorite of ours, but I wanted something with more chocolate (sorry husband who doesn't like chocolate!). And, of course, I wanted something with dark chocolate!
So, I didn't just add dark chocolate chips, I added in some unsweetened dark chocolate baking cocoa, too! Just what I wanted. Lots of chocolate. But not too sweet. If really sweet chocolaty desserts are your thing, these almond butter bars aren't it. It's definitely more of a rich, chocolate flavor and less of a sweet, sugary chocolate flavor.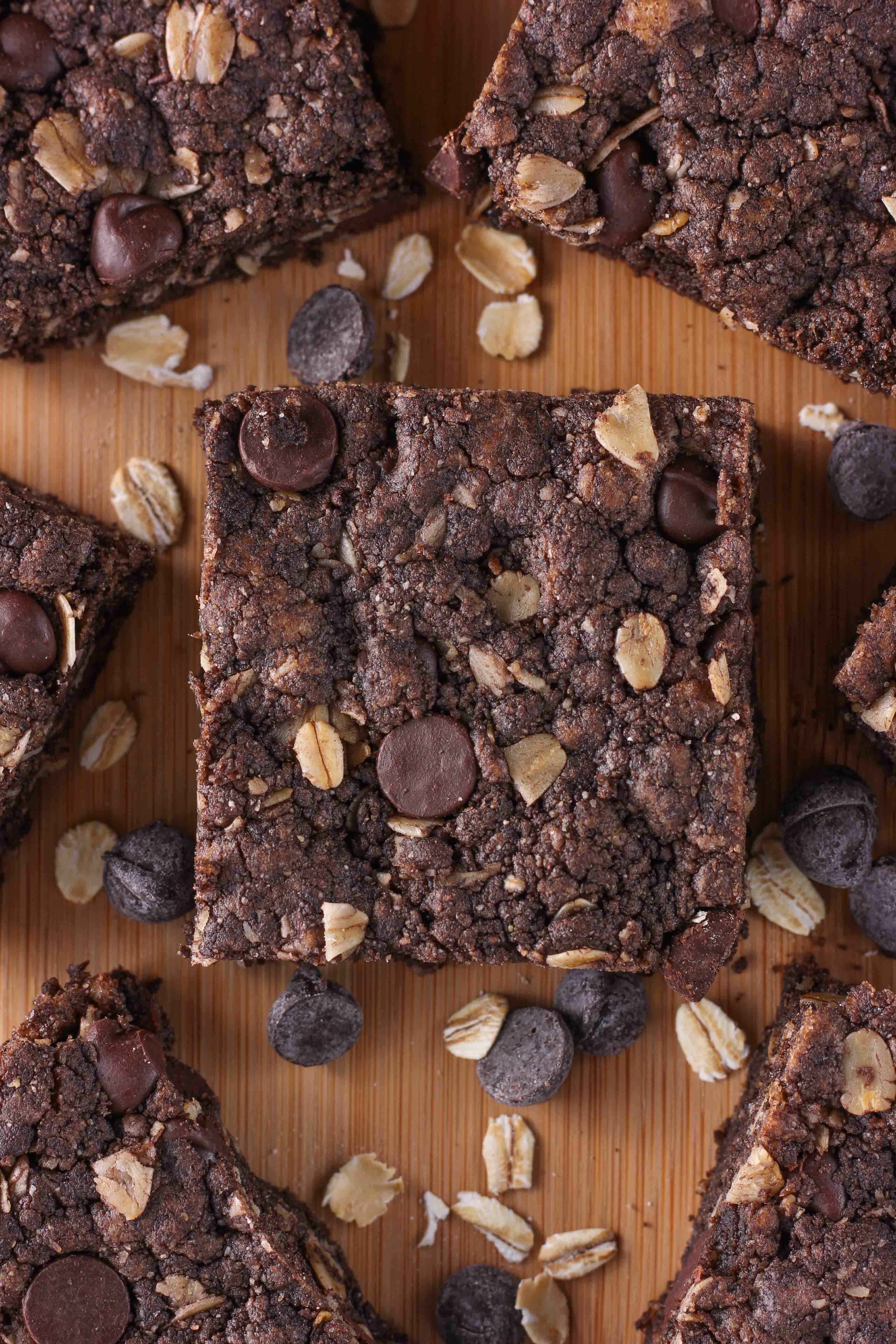 Just what you need when a chocolate craving hits and you need some serious chocolate flavor!
The chocolate oat combination is one of my favorite combos in cookies, and it's no different for these cookie bars. The slight nuttiness of the oats pairs well with the almond butter and makes these almond butter bars chewy and irresistible!
Dark Chocolate Almond Butter Bars
Author:
Ingredients
¾ C almond butter (If there is any separation, make sure that the oil is thoroughly stirred in before using.)
3 tbsp coconut oil, melted
½ C brown sugar
¼ C sugar
1 egg
2 tsp vanilla extract
¾ C white whole wheat flour
½ C + 2 tbsp oats
1/4 C unsweetened dark chocolate baking cocoa
1 tsp baking soda
1/4 tsp salt
½ C dark chocolate chips
Instructions
Preheat oven to 350. Set out an 8×8 or 9×9 inch baking dish. (Bars shown were made in a 9×9)**
In the bowl of stand mixer, or with an electric mixer, beat together almond butter, coconut oil, brown sugar, and sugar until combined. Add in egg and vanilla extract. Beat until creamy.
In a small bowl, whisk together flour, oats, baking cocoa, baking soda, and salt. Add dry ingredients to wet ingredients and stir to combine. Mixture will appear crumbly but should hold together when pressed. Stir in dark chocolate chips.
Press dough into the bottom of prepared baking dish. Bake for 10-12 minutes or until edges just start to appear dry and center is set. Do not over bake. Remove to a wire rack to cool for 10-15 minutes before cutting into bars and serving.
Notes
**I've found that the oil in the almond butter and coconut oil is enough to prevent the bars from sticking, so no non-stick spray is necessary. In fact, I've found a couple of times when I used it that it was too oily.