This Butternut Black Bean Pasta Skillet is warm, hearty comfort food that's on the lighter side. Filled with lean protein, you can feel good serving it up for a great meatless option!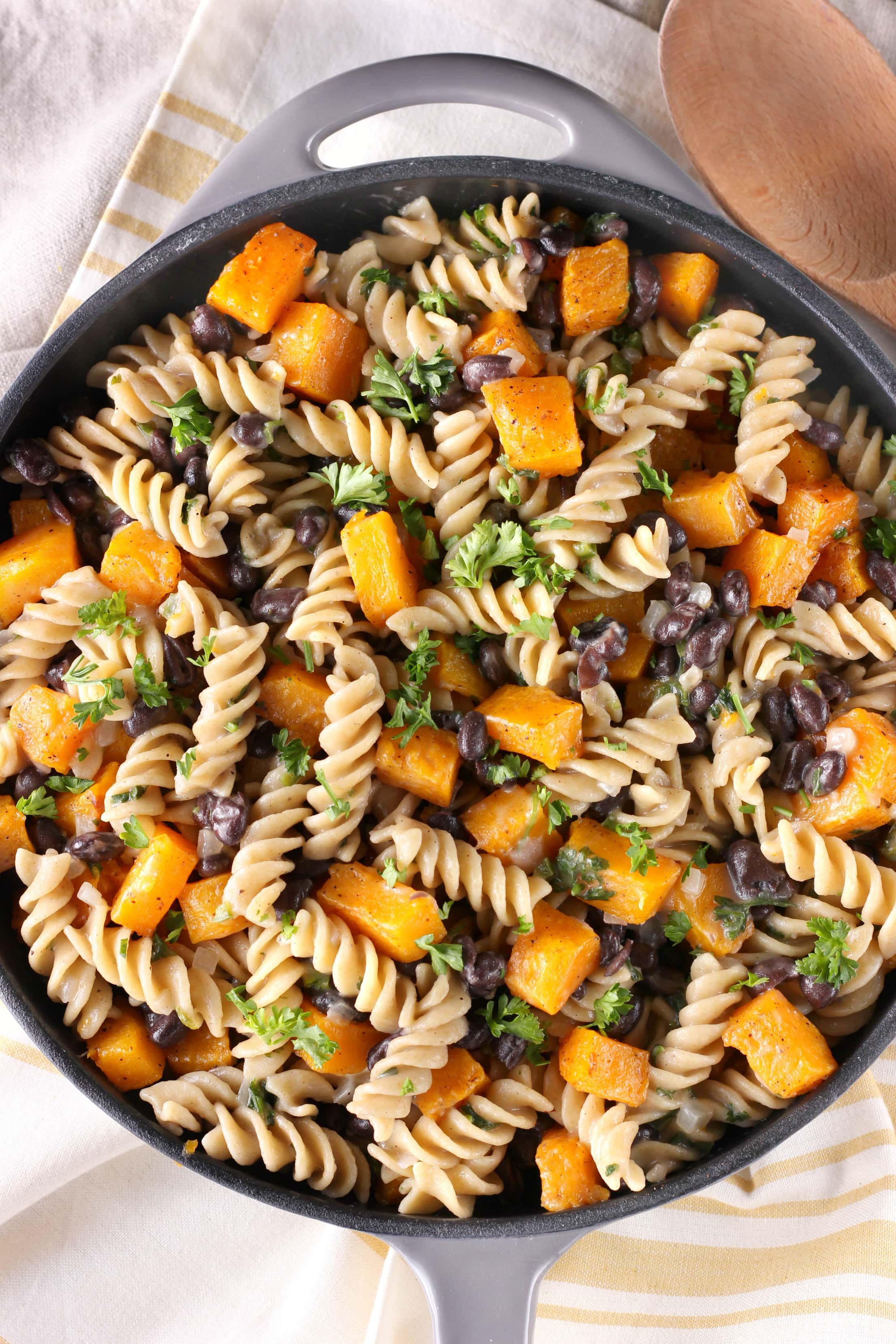 *Post and recipe from 09/30/13. Images updated 09/29/17.
I have found my new favorite type of squash. I used to love buttercup squash and basically used just that in my cooking and baking. I had butternut before and really didn't like it. That, and let's face it, it's not the easiest squash to peel and cut up!
It must have been a bad squash, because after roasting a butternut squash for this pasta skillet, I'm hooked. I could have eaten all of it plain if it weren't for the fact that I needed to add it to this dish! Though, you can solve that problem by roasting a little extra so you can snitch some while making the recipe!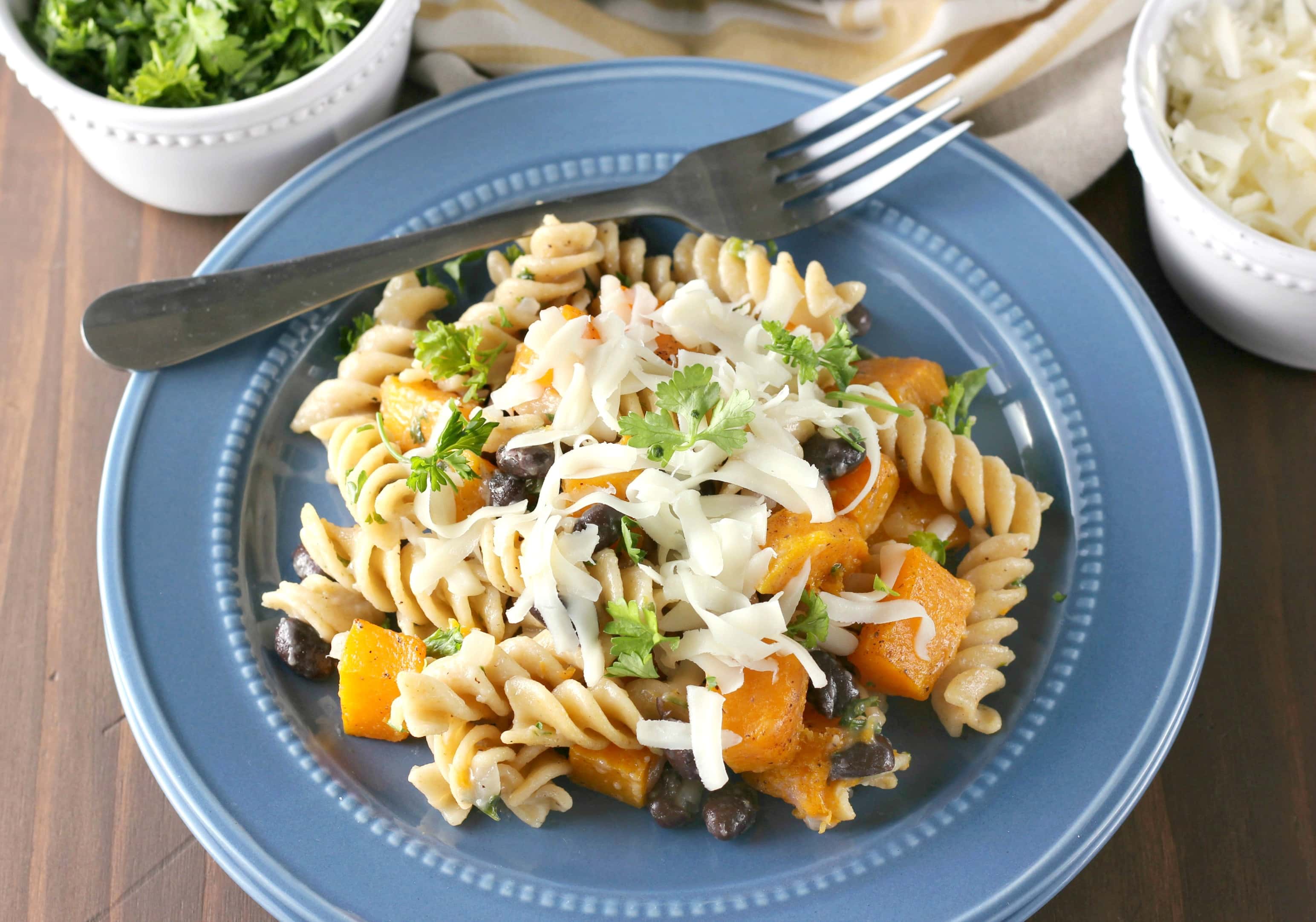 The olive oil, pepper, and nutmeg magically make butternut squash addicting when roasted for 20 minutes. A slight crispy edge appears, and the natural sweetness from the squash becomes prominent. It's good.
And in this pasta skillet, it's the main flavor that I can't get enough of. Even my husband who usually prefers to have some kind of meat in his meal, liked this meal!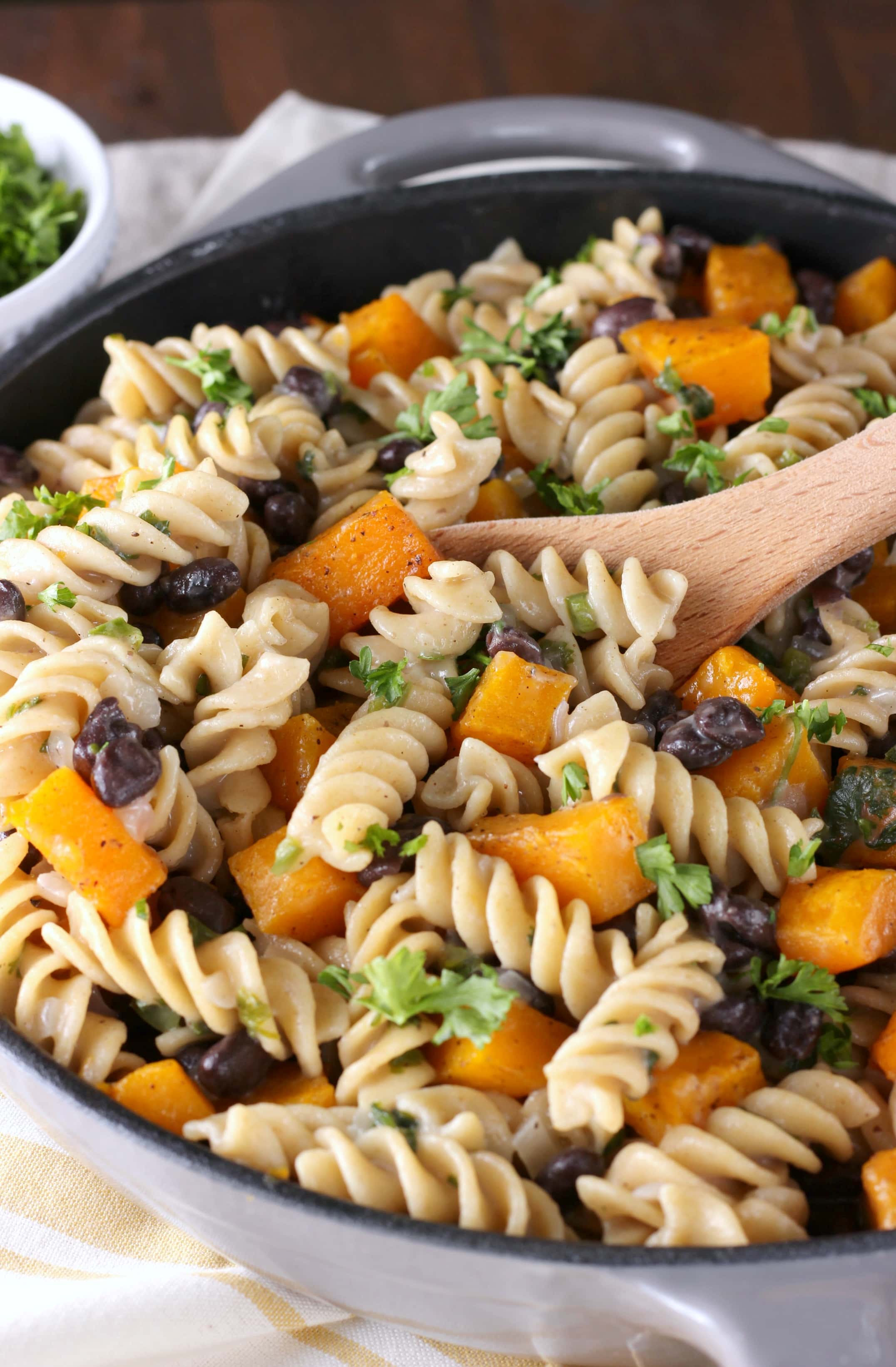 Throw in a jalapeño for a little heat (Trust me, it works). Toss it with pasta, black beans, and parsley. Top it with a bit more cheese (because cheese is always good!). Sprinkle with even more parsley, and serve.
The result is a meatless meal that will make you forget that there isn't meat present!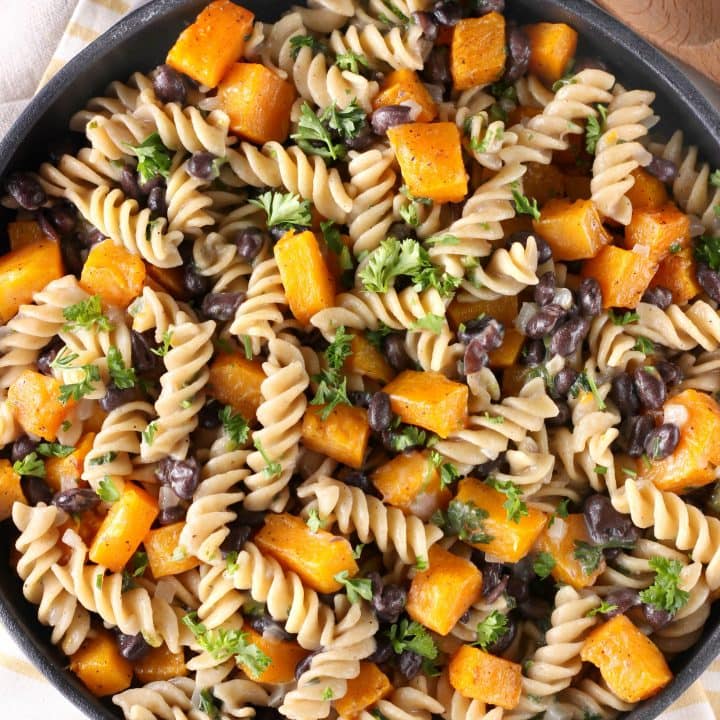 Butternut Black Bean Pasta Skillet
Ingredients
2 pounds butternut squash, peeled and cut into bite-size pieces
3 Tablespoons olive oil, divided
1/2 teaspoon nutmeg
1/4 teaspoon salt
1/4 teaspoon pepper
7-8 ounces whole grain pasta of your choice, about half of a box
1/4 Cup + 2 Tablespoons chopped parsley, divided
1/4 Cup chopped onion
4 cloves minced garlic
1 jalapeno pepper, chopped
1 1/2 Cups chicken stock
1 Tablespoon cornstarch mixed with 1 Tablespoon cold water
1/2 teaspoon ground ginger
1 Cup black beans
1 1/2 Cups shredded mozzarella or provolone cheese, divided
Instructions
Preheat oven to 425 degrees Fahrenheit. Line a baking sheet with a baking mat or parchment paper. Add squash to baking sheet and drizzle with 1 Tablespoon oil. Sprinkle with nutmeg, salt, and pepper. Toss until squash is coated. Roast for 20-25 minutes or until just starting to turn brown and tender.
While squash is roasting, prepare pasta according to package instructions.
Also while squash is roasting, add remaining 2 Tablespoons olive oil to a large skillet heating over medium-high heat. Add half of parsley, onion, garlic, and jalapeno pepper. Cook for 3-5 minutes or until garlic and onion just start to brown.
Add in chicken stock. Quickly whisk in cornstarch and ginger. Reduce heat to medium-low and simmer for 8-10 minutes, or until mixture starts to thicken.
Add in black beans and 1 cup mozzarella. Cook for another 5-7 minutes or until beans are warm and cheese melts.
Stir in squash, pasta, and remaining parsley. Sprinkle with remaining cheese right before serving.
Store leftovers in the refrigerator.
Notes
**Because the sizes of the boxes of pasta vary, just try to use about 7-8 ounces. It doesn't have to be precise.
Recommended Products
As an Amazon Associate and member of other affiliate programs, I earn from qualifying purchases.
Nutrition Information:
Yield:

6
Serving Size:

1
Amount Per Serving:
Calories:

671
Total Fat:

18g
Saturated Fat:

5g
Trans Fat:

0g
Unsaturated Fat:

10g
Cholesterol:

19mg
Sodium:

381mg
Carbohydrates:

110g
Fiber:

18g
Sugar:

7g
Protein:

28g
Nutrition information shown is an estimate provided by an online calculator and may not always be accurate. It should not be considered a substitute for a medical professional's advice.
This recipe is adapted from
Rachael Ray
.