An easy and convenient snack, these Dark Chocolate Pumpkin Spice Granola Bites are filled with warm spices, pumpkin puree, crunchy pepitas, and creamy dark chocolate!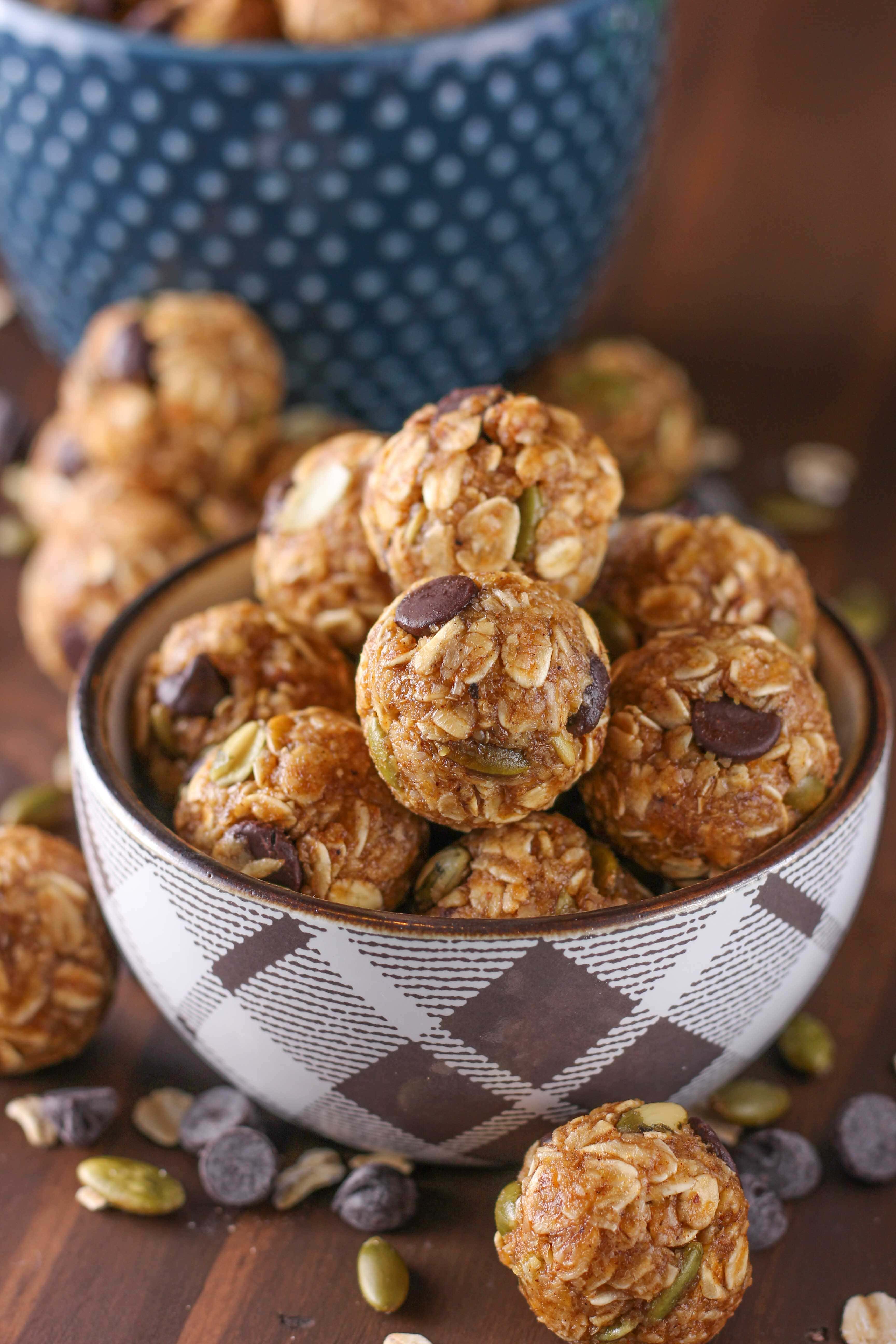 We're getting into that time of year when it's all about sweets. Halloween, Thanksgiving, Christmas. And don't forget about all of the pumpkin spice things that are out this time of year!
Well, if you're looking for a way to enjoy the flavors of the season that's a bit healthier, I'm here to help!
Make a batch of dark chocolate pumpkin spice granola bites!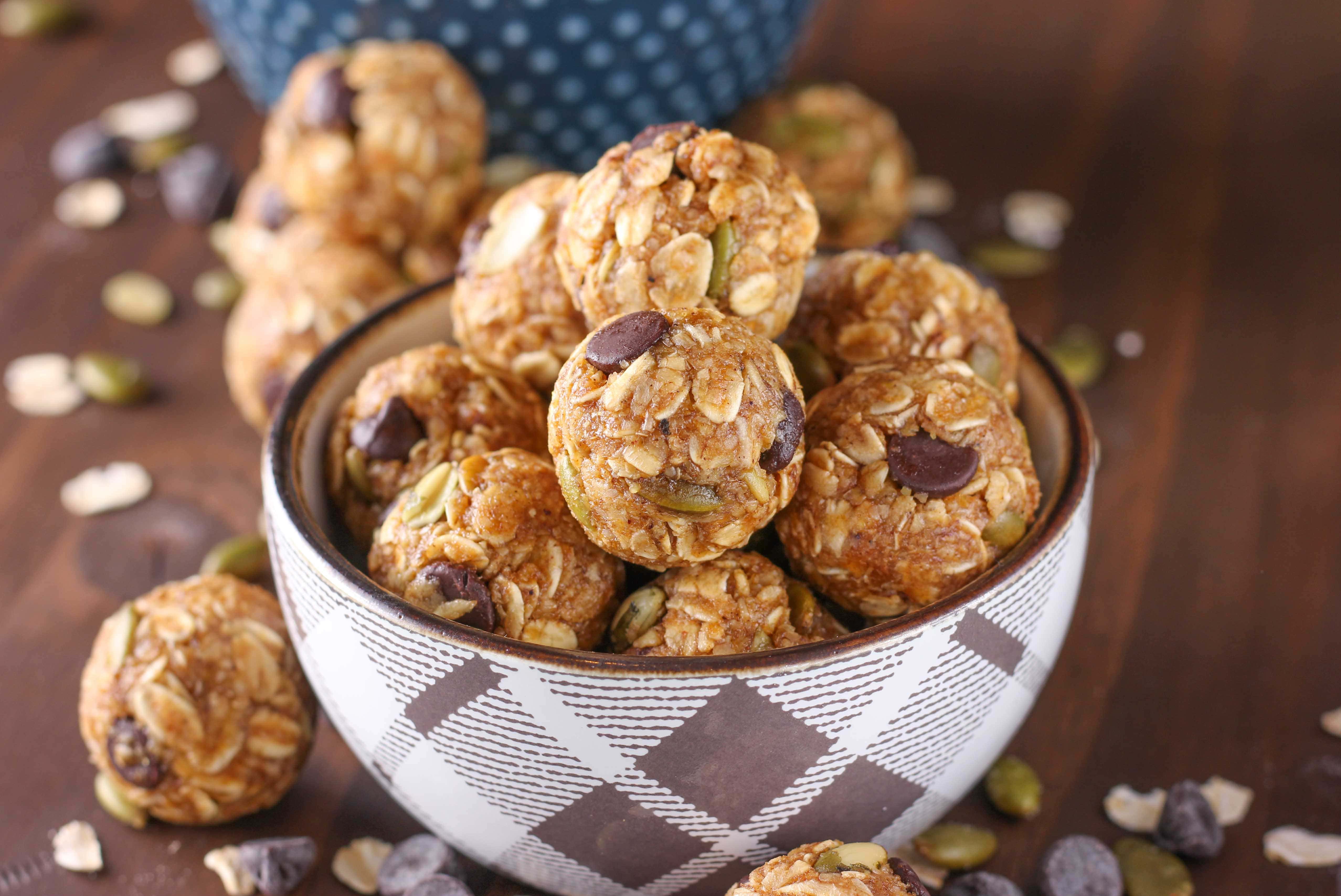 Most of the granola bites on the blog are centered around peanut butter or almond butter. Not these! These granola bites are all about pumpkin!
Crunchy pepitas combine with creamy dark chocolate chips. You can use raw or roasted pepitas, whichever you prefer. I used a lightly salted variety, because I love the sweet and salty combination.
Instead of just using pumpkin pie spices, I also added in some pumpkin puree to get more of the authentic pumpkin flavor.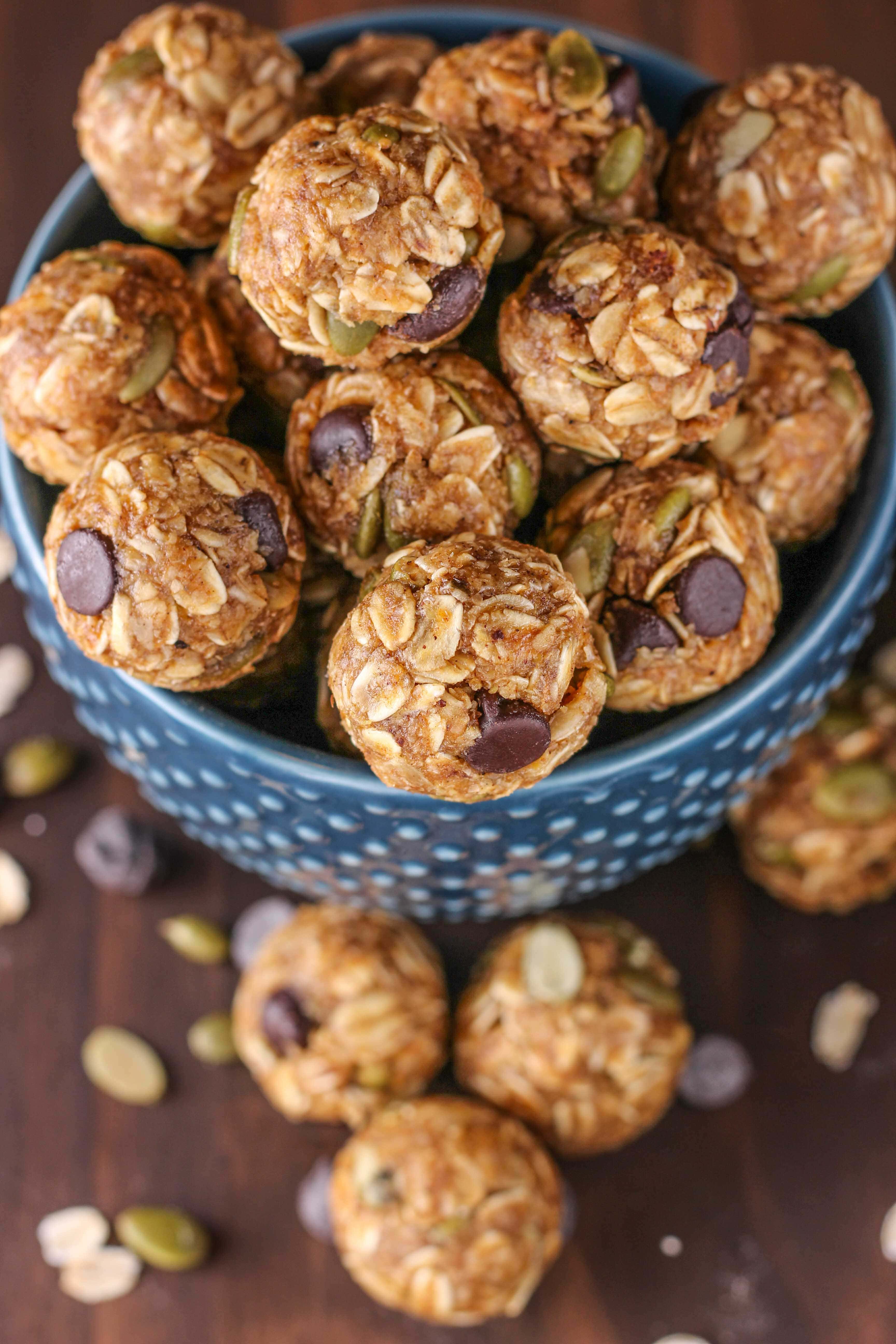 As with most granola bites, you can switch up the ingredients to fit your tastes and to what you have on hand. I like to use a combination of maple syrup and honey in my granola bites, but it if you only have one or the other, feel free to just use what you have.
Add to that some coconut oil to help hold them together along with some wholesome oats, oat bran, and flaxseed for a super easy way to enjoy the flavors of the season when mid-afternoon hunger hits without going overboard with fat and sugar!
Or grab a few for a last minute breakfast on your way out the door in the morning!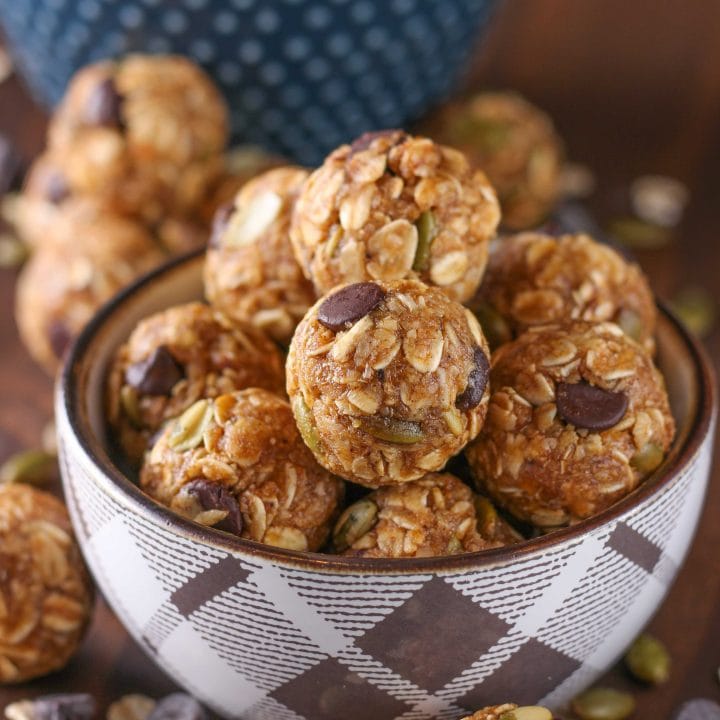 Dark Chocolate Pumpkin Spice Granola Bites
Refrigeration Time:
1 hour
Total Time:
1 hour
20 minutes
Ingredients
2 1/4 C regular or quick oats
1/3 C ground flaxseed
1/4 C oat bran
1 1/2 tsp cinnamon
1/2 tsp nutmeg
1/4 tsp ginger
1/8 tsp cloves
1/4 tsp salt
1/2 C honey
1/3 C maple syrup
3 tbsp pumpkin puree
2 tbsp coconut oil
1 tsp maple extract
1/4 - 1/3 C pepitas, depending on preference
1/4 -1/3 C dark chocolate chips, depending on preference
Instructions
In a large heat-safe bowl, whisk together oats, flaxseed, oat bran, cinnamon, nutmeg, ginger, cloves, and salt.
In a small saucepan, combine honey, maple syrup, pumpkin puree, coconut oil, and maple extract over medium heat. Bring to a boil and allow to boil for 4 minutes, stirring frequently to prevent scorching. Remove from heat.
Pour over oat mixture. Stir until mixture is completely coated. Let sit for 5 minutes. Stir in pepitas and dark chocolate chips. If you don't mind the dark chocolate melting and getting your hands dirty, form mixture into 1 inch balls. (I like to wait at least 15 minutes) Or cover and place in refrigerator for at least 30 minutes to allow the dark chocolate to harden and then form into 1 inch balls.
Refrigerate for 1 hour or until completely cooled and set.
Notes
The granola mixture will be sticky. In order to keep your hands from getting too sticky with the mixture, lightly coat with coconut oil or non-stick cooking spray.
Recommended Products
As an Amazon Associate and member of other affiliate programs, I earn from qualifying purchases.