Thick, chewy and loaded with chocolate and caramel, these Chocolate Caramel Almond Butter Oat Bars are super easy to make and hard to stop eating at just one!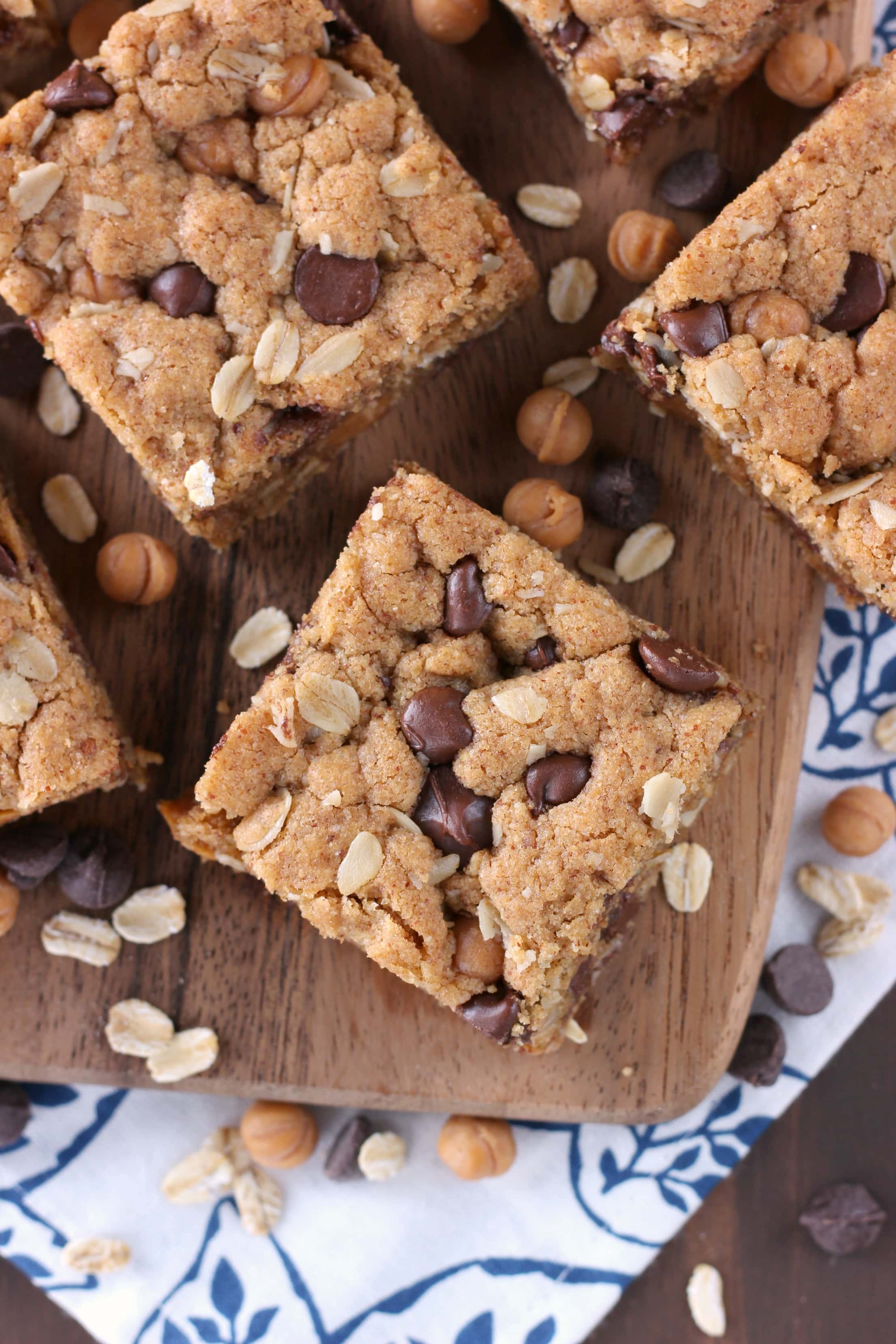 Some days just call for dessert. Believe it or not, we rarely have dessert around here. If I haven't made a recipe for the blog, then we most likely don't have dessert in the house.
But sometimes we want dessert, and we'll quick throw something super easy together.
Usually those desserts don't make it to the blog, but not this time. After a bite of these chocolate caramel almond butter oat bars, I knew that I had to make them for the blog!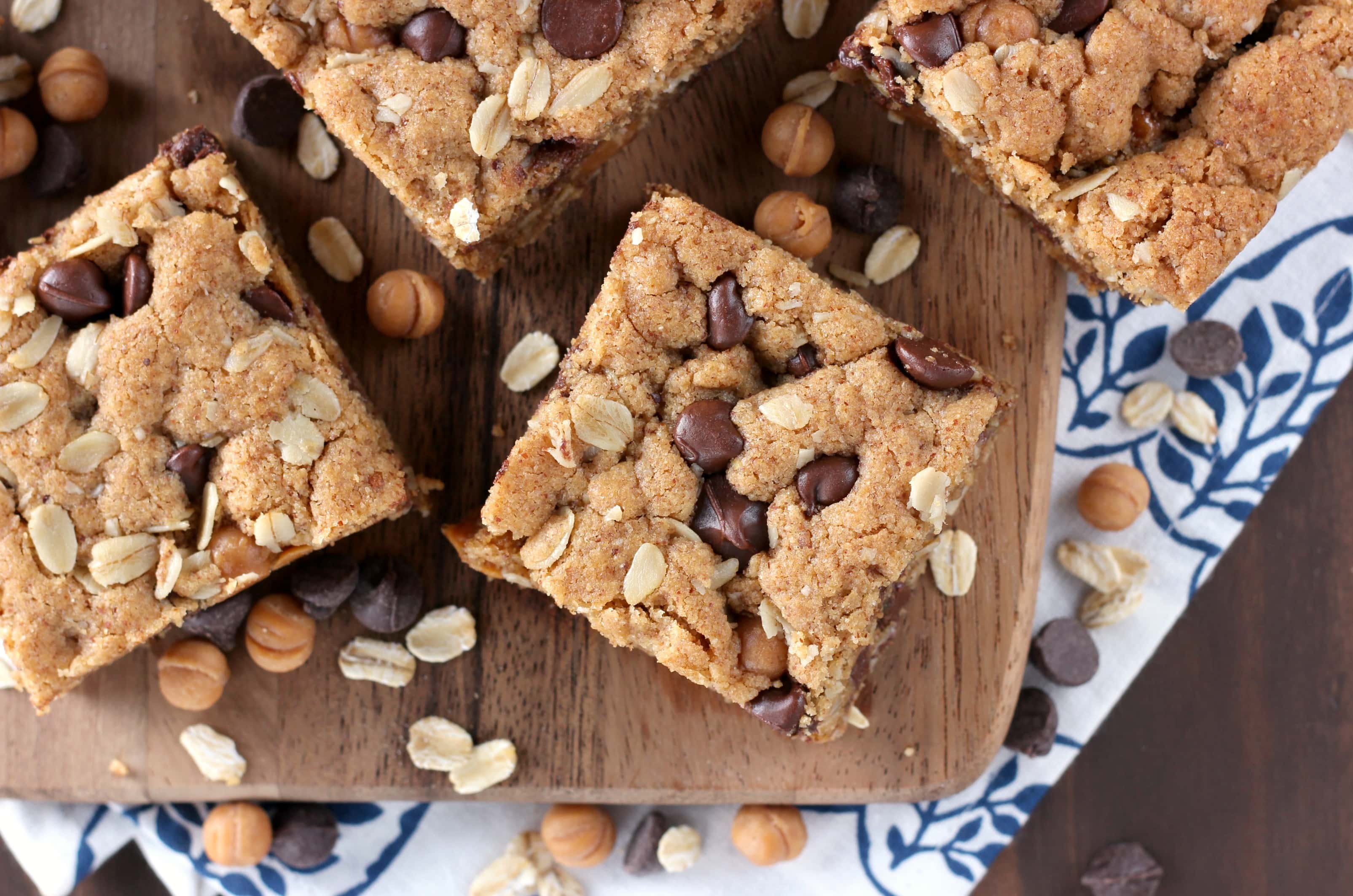 The thick, chewy base of these bars is white whole wheat flour, oats, and almond butter. It's no surprise that I love cookies with oats in them, so it shouldn't surprise you that these bars have oats in them, as well!
I love adding oats to heartier bars for their nutty flavor. The oats combined with the almond butter make these bars hard to resist!
The almond butter oat bars are then stuffed with lots of chocolate and caramel. I went with semi-sweet, but I think next time I may try dark chocolate.
Other than the fact that dark chocolate is never a bad option in this house, I think the richness of the dark chocolate would go well with the almond butter.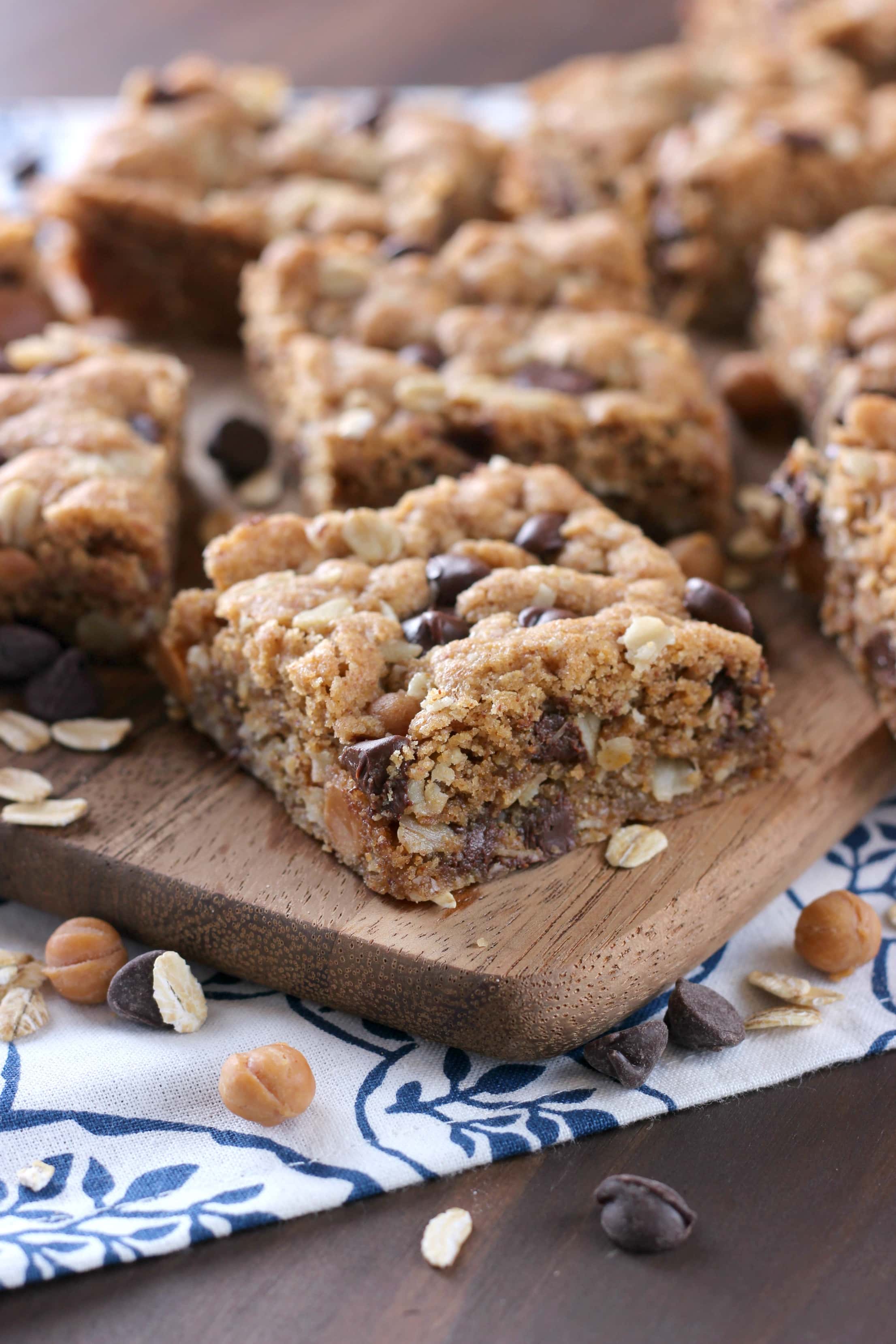 Chewy caramel bits were added kind of as an afterthought because I wanted something that my husband would like. Since plain chocolate isn't his thing, I knew that adding in some caramel would be good.
While I'm more about having plain chocolate, I'm glad the caramel bits were added. The sweet, chewiness of them is just what these bars needed.
Though, it makes it even harder to walk by the pan without eating one!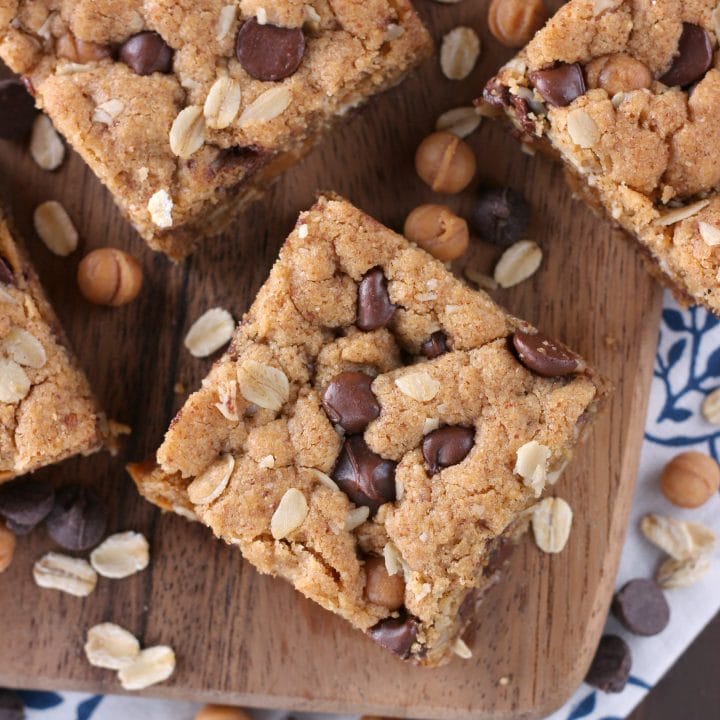 Chocolate Caramel Almond Butter Oat Bars
Ingredients
3/4 C almond butter (If there is any separation, make sure that the oil is thoroughly stirred in before using.)
3 tbsp coconut oil, melted
1/2 C brown sugar
1/4 C sugar
1 egg
2 tsp vanilla extract
3/4 C white whole wheat flour
1/2 C + 2 tbsp oats
1 tsp baking soda
1/2 tsp salt
1/2 C caramel bits
1/2 C chocolate chips
Instructions
Preheat oven to 350. Lightly spray an 8x8 or 9x9 inch baking dish with non-stick cooking spray. (Bars shown were made in a 9x9)
In the bowl of stand mixer, or with an electric mixer, beat together almond butter, coconut oil, brown sugar, and sugar until combined. Add in egg and vanilla extract. Beat until creamy.
In a small bowl, whisk together flour, oats, baking soda, and salt. Add dry ingredients to wet ingredients and stir to combine. Stir in caramel bits and chocolate chips.
Press dough into the bottom of prepared baking dish. Bake for 12-15 minutes or until edges just start to turn golden and center is set.
Remove to a wire rack to cool for 10-15 minutes before cutting into bars and serving.
Recommended Products
As an Amazon Associate and member of other affiliate programs, I earn from qualifying purchases.