Put those ripe bananas to good use with this easy Cinnamon Banana Cake that's topped with a Honey Cream Cheese Frosting!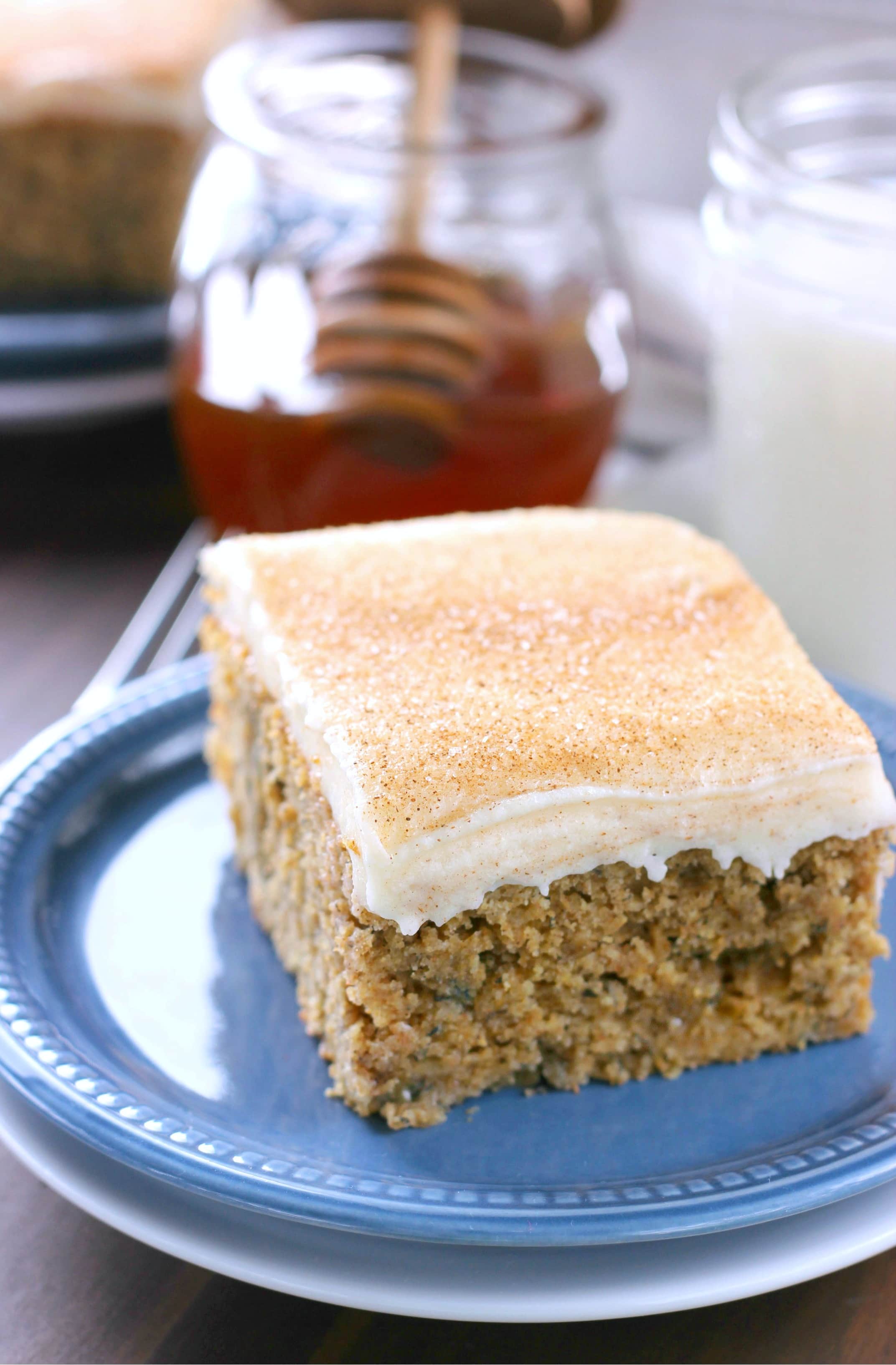 It's that weird time of year again in Minnesota. One day it can be sunny and in the upper 70's, and the next day it'll be in the low 30's and snowing. So, while I'm basically wanting to eat all fresh fruits and vegetables right now, there's still a part of me that wants to turn the oven on and get baking!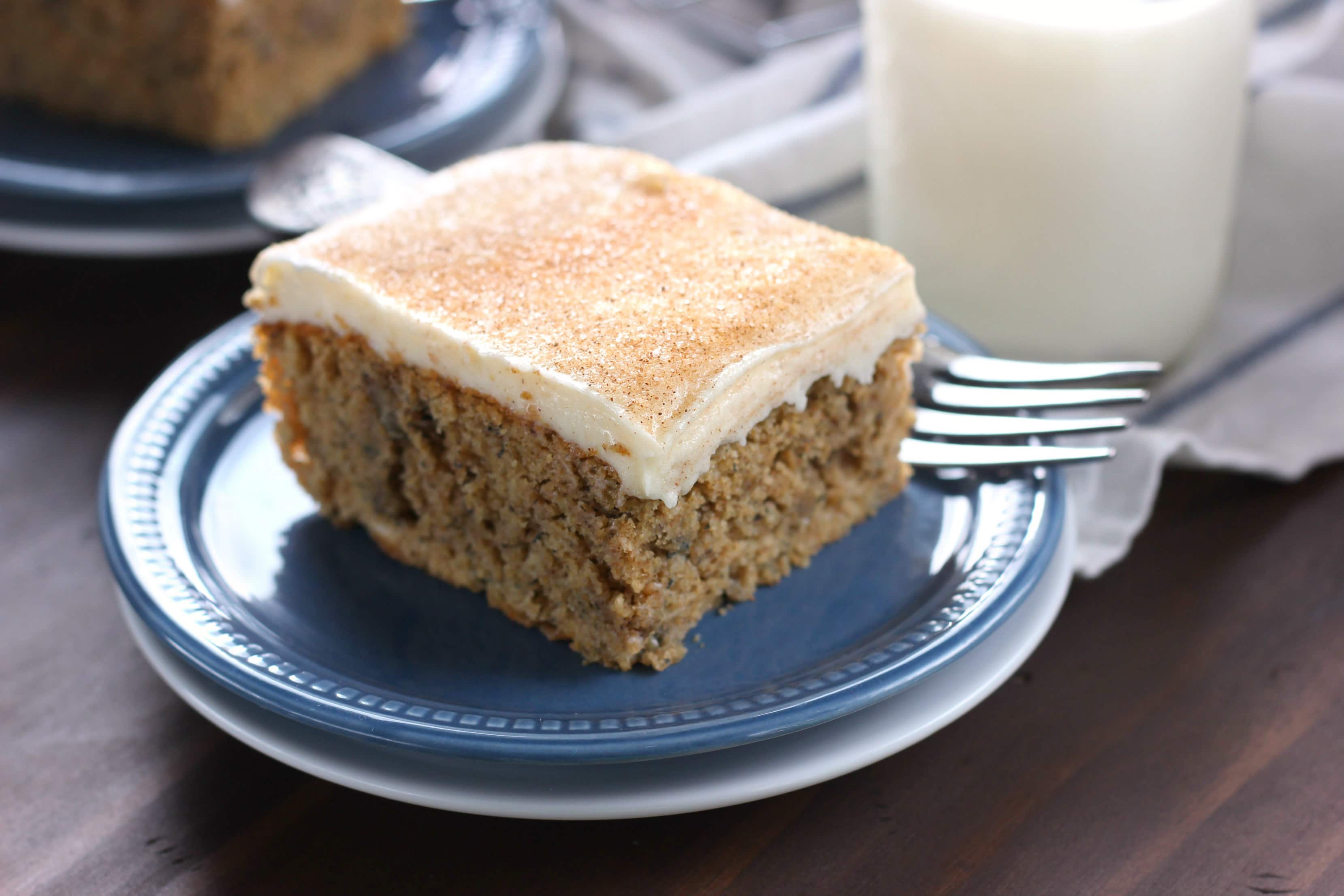 That happened this week when it was gray, rainy, and cold. I had some bananas left over from another recipe, thought they should be put to good use. It's been awhile since I've made banana cake, so it wasn't long before I was whipping up this easy cinnamon banana cake.
Just mix together the dry ingredients. Mix together the wet ingredients, and combine. It's that simple. I couldn't decide what to top this cake with at first. I was originally thinking a chocolate or peanut butter frosting to make it more like comfort food with the traditional flavors, but in the end went with this honey cream cheese frosting.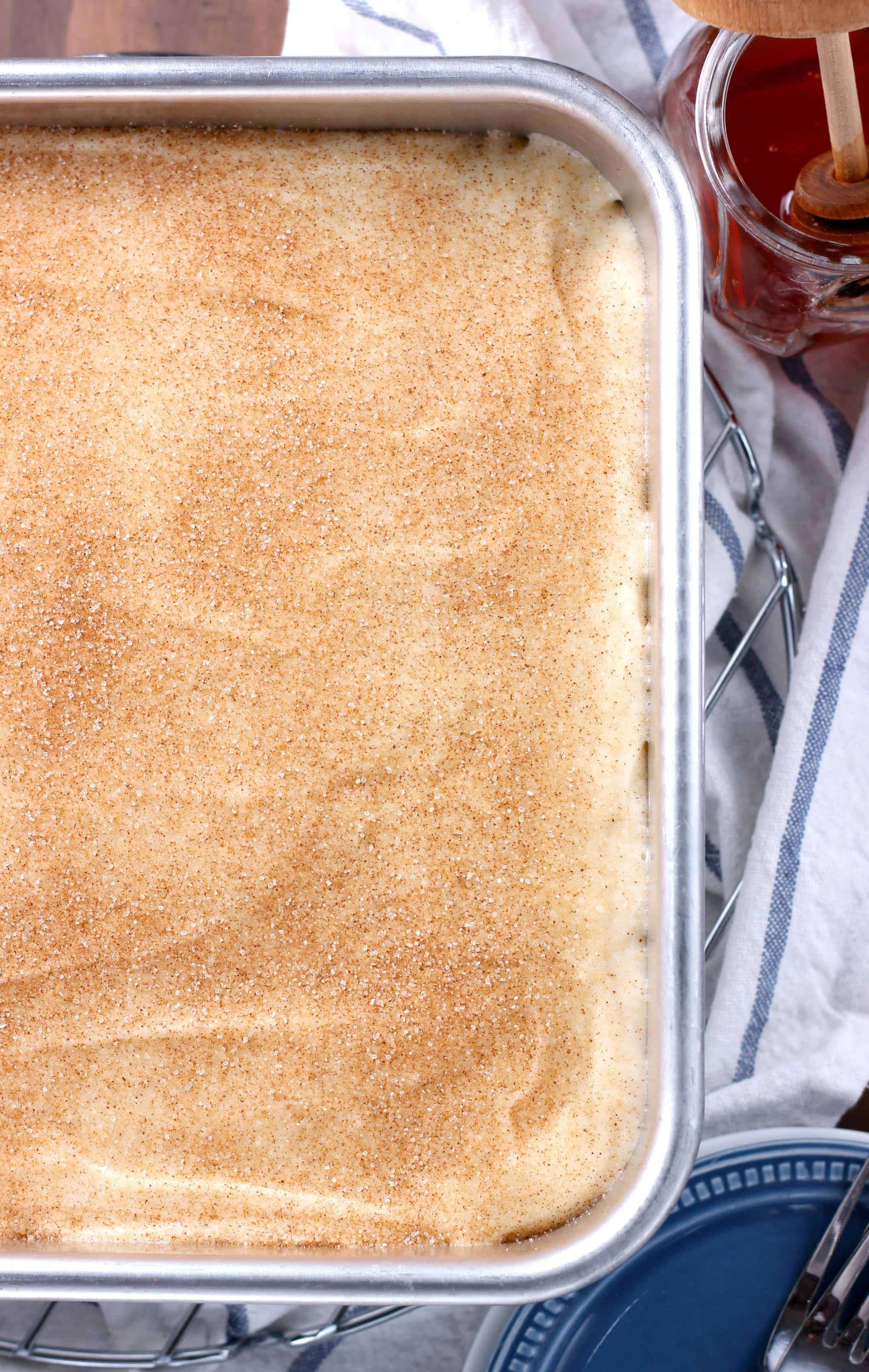 Cream cheese frosting is one of my favorites. It goes well with so many flavors. I'd already paired it with our carrot cake banana bread and our banana bread cinnamon rolls, so why not put it on the banana cake, as well! To change up the flavor a bit, I went with honey as part of the sweetener.
It adds a light, almost delicate flavor to the cake and is perfect for the hope of spring and the warm, sunny weather that's coming!

Cinnamon Banana Cake with Honey Cream Cheese Frosting
Author:
A Kitchen Addiction
Ingredients
For the Cake
1½ C white whole wheat flour
1 tsp baking powder
1 tsp baking soda
1 tsp cinnamon
¼ tsp salt
¾ C mashed very ripe bananas (about 2 medium bananas)
½ C plain yogurt
¼ C milk
¼ C sugar
¼ C honey
1 egg
1 tsp vanilla extract
For the Frosting
8 oz cream cheese, room temperature
¼ C butter, room temperature
3 tbsp honey
1½ C confectioner's sugar
⅛ tsp salt
½ tbsp sugar, optional
½ tsp cinnamon, optional
Instructions
Preheat oven to 350. Lightly spray a 9x9 baking dish with non-stick cooking spray.
In a large bowl, whisk together flour, baking powder, baking soda, cinnamon, and salt.
In a medium bowl, whisk together mashed bananas, yogurt, milk, sugar, honey, egg, and vanilla extract. Add wet ingredients to dry ingredients and stir until just combined.
Spread batter into prepared pan. Bake for 20-25 minutes or until toothpick inserted into the center comes out clean.
Remove to a wire rack to cool.
With an electric mixer, beat together cream cheese and butter until creamy. Beat in honey until combined. Slowly beat in confectioner's sugar and salt until smooth. Spread frosting over cake. Sprinkle with optional sugar and cinnamon. Allow frosting to sit for about 10 minutes before cutting cake into pieces and serving.