As soon as it gets close to spring, I find myself wanting carrot cake. I don't know why my mind seems to block it out the rest of the year. But as soon as it starts to warm up a bit, my mind starts drifting to carrot cake recipes!
We don't really need a carrot cake sitting around at our house, so I figured I would go with the next best thing, carrot cake banana bread!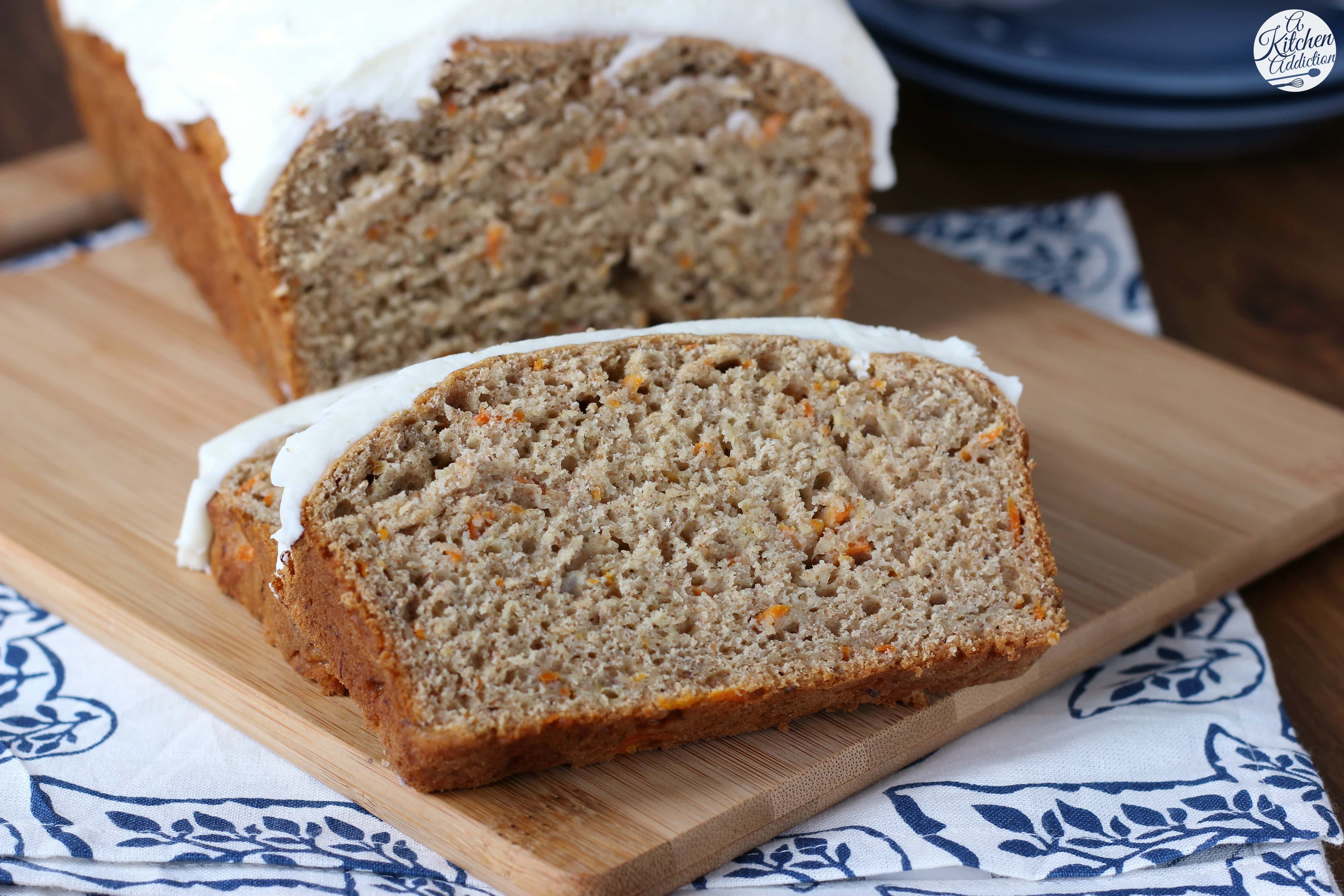 This quick and easy carrot cake banana bread is a healthy version of carrot cake. Instead of white flour, white whole wheat flour is used. Instead of lots of oil, yogurt and bananas are used. And finally, instead of lots of sugar, honey is used.
But don't worry, all of those healthy swaps didn't ruin the flavor! It still has that rich, slightly spicy flavor that we love about carrot cake.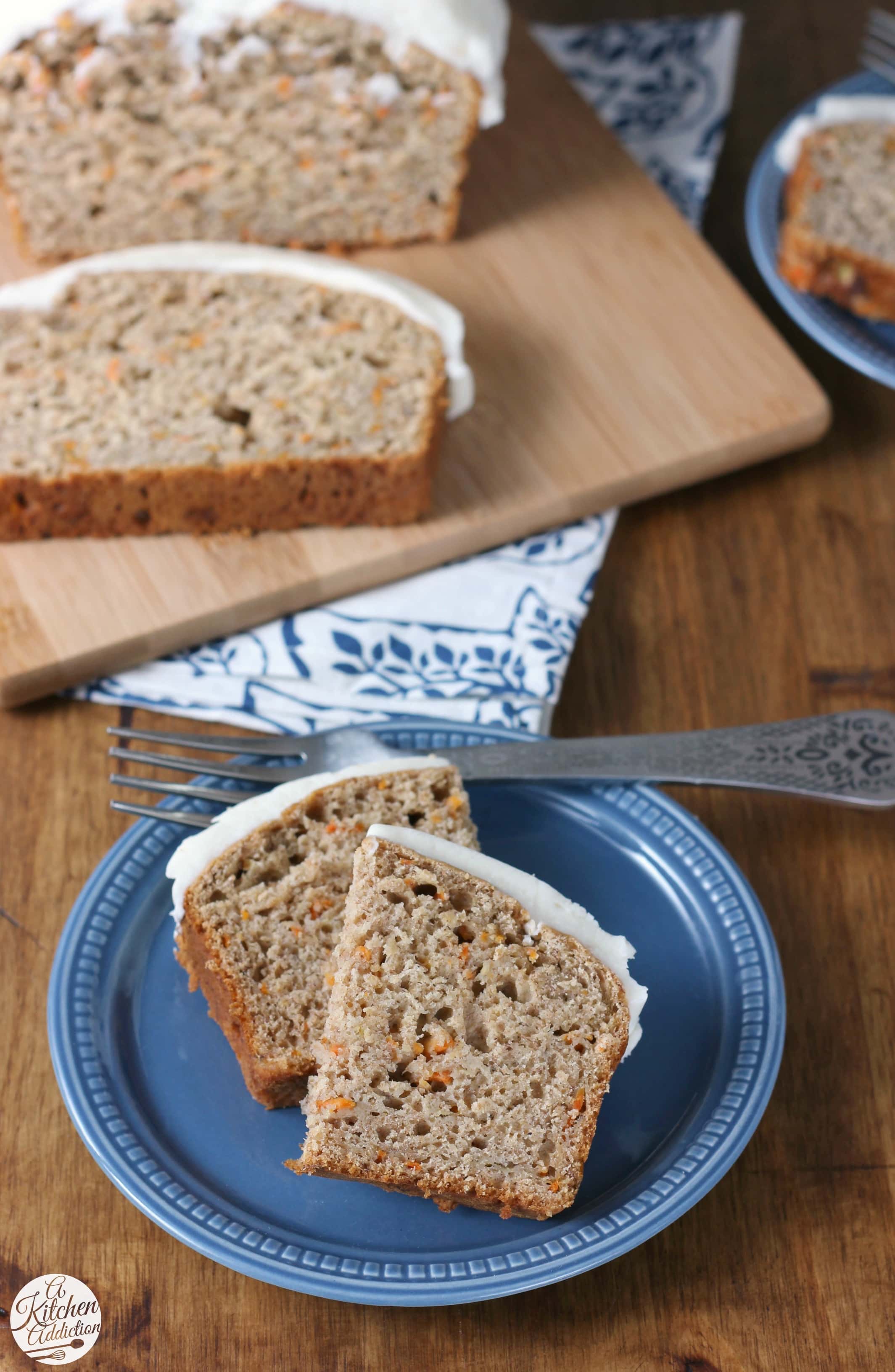 The frosting on the other hand, isn't so healthy. So, if you want to go the healthy route, skip the frosting. If you want to go the authentic carrot cake route, make sure to slather a thick layer on!
Then cut a couple of thick slices to enjoy while you wait for spring to finally arrive! Or if you live where there's no such thing as winter, enjoy them while basking in the warmth and sunshine!
Carrot Cake Banana Bread with Cream Cheese Frosting
Author:
Ingredients
For the Bread
2 1/4 C white whole wheat flour
1 tsp baking powder
1/2 tsp baking soda
1/2 tsp salt
1 1/2 tsp cinnamon
1/2 tsp nutmeg
1/4 tsp allspice
1 C mashed ripe bananas, the riper the better
1/2 C plain or vanilla yogurt
1/4 C honey
3 tbsp olive oil
2 eggs
1 tsp vanilla extract
1 C shredded carrots
For the Frosting
4 oz 1/3 of the fat cream cheese, softened
2 tbsp butter, softened
2 C confectioner's sugar
1/8 tsp salt
Instructions
Preheat oven to 350. Spray a 9×5 inch loaf pan with non-stick cooking spray.
In a large bowl, whisk together flour, baking powder, baking soda, salt, cinnamon, nutmeg, and allspice.
In a medium bowl, whisk together banana, yogurt, honey, olive oil, eggs, and vanilla extract. Add wet ingredients to dry ingredients and stir until just combined. Stir in shredded carrots.
Pour batter into prepared loaf pan. Bake for 40-50 minutes, or until toothpick inserted in the center comes out clean. To prevent top from getting too brown, you may want to cover loosely with aluminum foil after 25 minutes.
Remove to a wire rack to cool and prepare frosting.
Beat together cream cheese and butter until creamy. Beat in confectioner's sugar and salt until smooth, light and airy. Spread frosting over cooled bread.