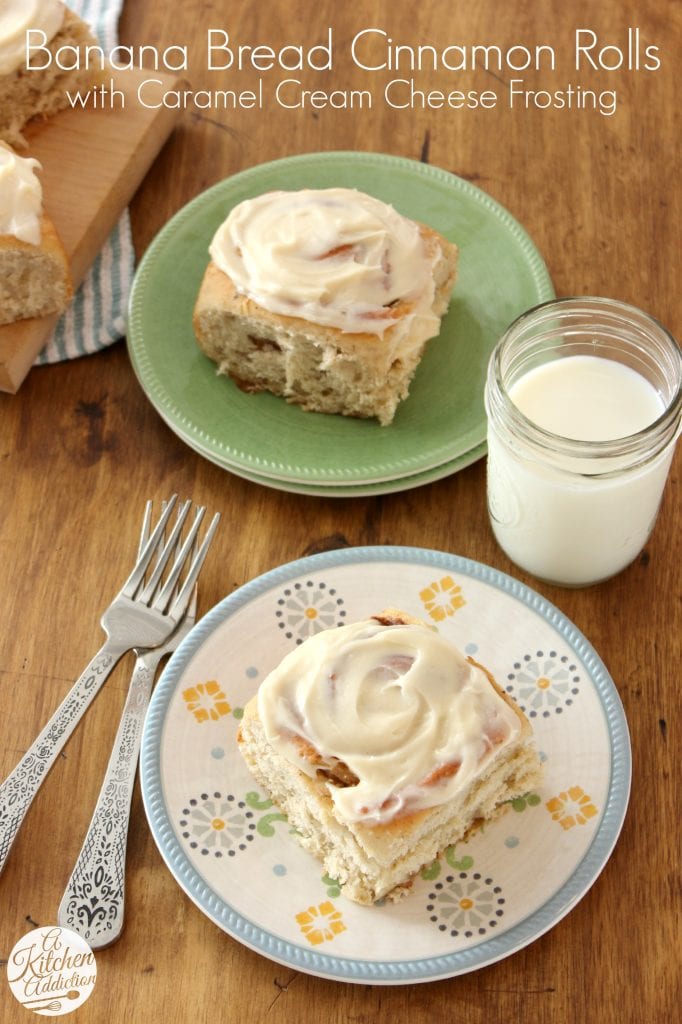 I don't know about you, but I am always looking for new ways to bake with bananas. I like banana bread, but there are only so many times that I can make it before I get bored with it.
And, since I've already done banana bread donuts, banana bread pancakes, and banana bread waffles, it was about time that I made banana bread cinnamon rolls (and I think I see banana bread scones in the future!)!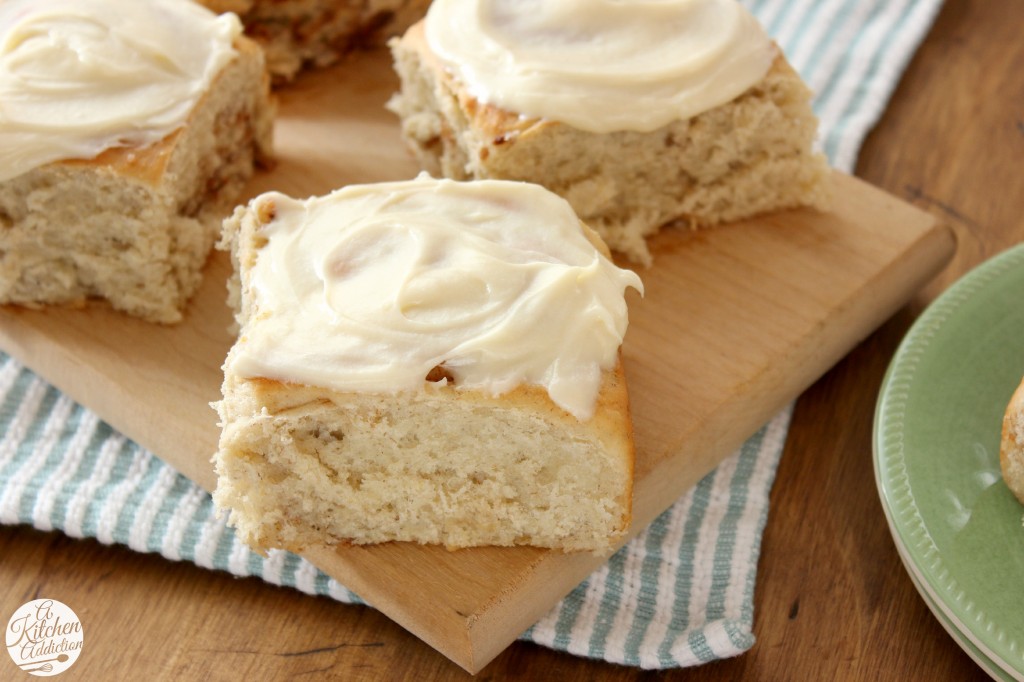 I obviously have a problem using bananas up in time, but I'm glad that this time I did let them get old. These banana bread cinnamon rolls are a nice change in flavor and texture from banana bread.
The rolls are light and airy with a delicate banana flavor. A bit of nutmeg added to the cinnamon filling brings out the flavor of the banana without being overpowering.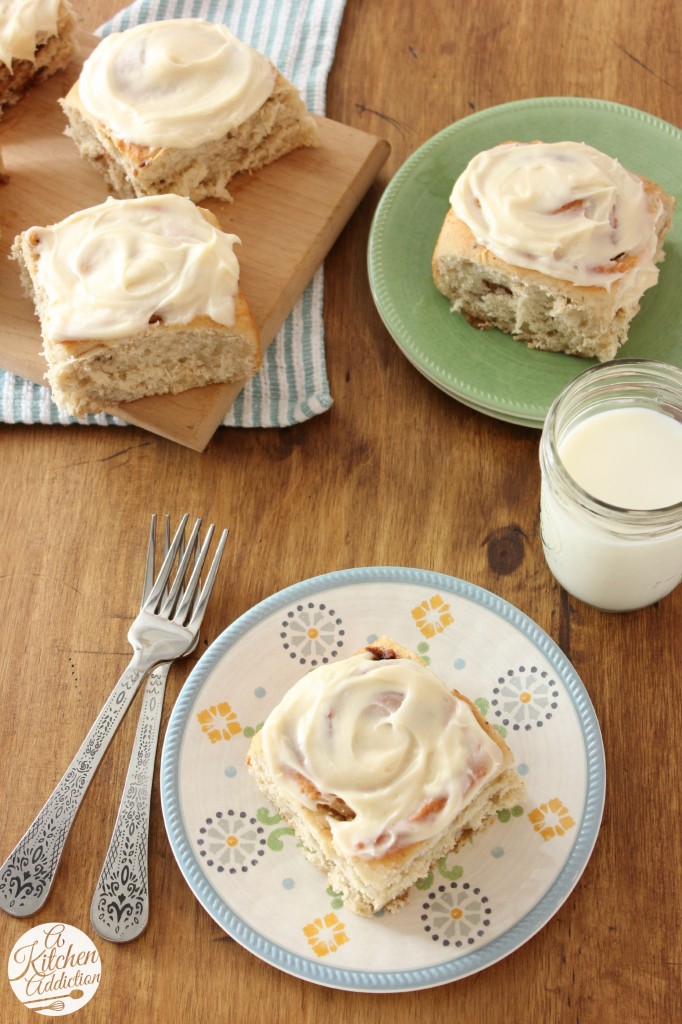 Instead of a normal cream cheese frosting, I thought I would mix it up by stirring in a little caramel sauce. Feel free to use your favorite brand. I wanted to keep it simple, so I didn't make my own.
The sweetness of the caramel offsets the tangy cream cheese and is the perfect topping for banana baked goods (definitely need to do more with the banana and caramel combination).
Now I need to get bananas just to let them get old so I can experiment!

Banana Bread Cinnamon Rolls with Caramel Cream Cheese Frosting
Author:
A Kitchen Addiction
Ingredients
For the Rolls
4½ C bread flour, divided
2¼ tsp active dry yeast (I used Red Star)
¼ C sugar
½ tsp salt
¾ tsp baking powder
1 C ripe bananas, mashed, about 3 medium (if you use overripe bananas, you may need to add more flour - see directions)
1 egg, room temperature
5 tbsp butter, melted and cooled
⅔ C milk, warmed to 120 degrees
1 tbsp cornstarch
For the Filling
¾ C brown sugar
1 tbsp cinnamon
1½ tsp ground nutmeg
¼ C butter, softened
For the Glaze
4 oz cream cheese, softened
¼ C butter, softened
2 tbsp caramel sauce/syrup (If you use thick caramel, you may need to add a tsp of milk to thin glaze)
1 C confectioner's sugar, sifted
Instructions
In the bowl of a stand mixer (or a large bowl), combine 3 cups flour, yeast, sugar, salt, and baking powder.
In a small bowl, whisk together mashed bananas, egg, and butter.
Add warmed milk to flour mixture and combine until mostly incorporated. Add banana mixture, cornstarch, and another 1 C of flour. Beat until mostly combined. Switch out to a dough hook and beat until smooth and elastic. Dough will be stickier than most bread dough. (If you used very ripe bananas, you will want to add another 2-4 tbsp of flour to soak up the extra moisture.)
Cover dough with a clean towel and allow to rise until doubled in size, about 1 hour.
Return bowl to mixer and add remaining ½ C flour. Knead until combined and smooth. Turn dough out onto a well-floured surface. Dough will be sticky, so it is important that the surface is covered in flour. Knead dough a couple of times until it comes together.
Roll dough out into a 16x22 inch rectangle. Spread softened butter over the top using a spatula or the back of a spoon. Stir together brown sugar, cinnamon, and nutmeg. Sprinkle over the top.
Tightly roll up dough lengthwise. Cut into 12 pieces. Place pieces into a buttered 9x13 inch baking dish. Cover with a clean towel and allow to rise until doubled in size, about 45 minutes.
Preheat oven to 350. Bake for 20-25 minutes or until rolls just start to turn golden brown.
Remove to a wire rack to cool slightly. While rolls are cooling, prepare glaze. Beat together cream cheese and butter until creamy. Add in caramel and confectioner's sugar. Beat until smooth. (This recipe makes enough for a thin layer of frosting on the rolls, feel free to double the recipe if you want more!)
Spread on warm cinnamon rolls. Serve.
This recipe is adapted from
Cooking Classy
.