These healthy Blueberry Oat Snacks bars are filled with two cups of fresh blueberries and warm cinnamon flavor! Enjoy one as a quick snack or as a grab-and-go breakfast on a busy morning!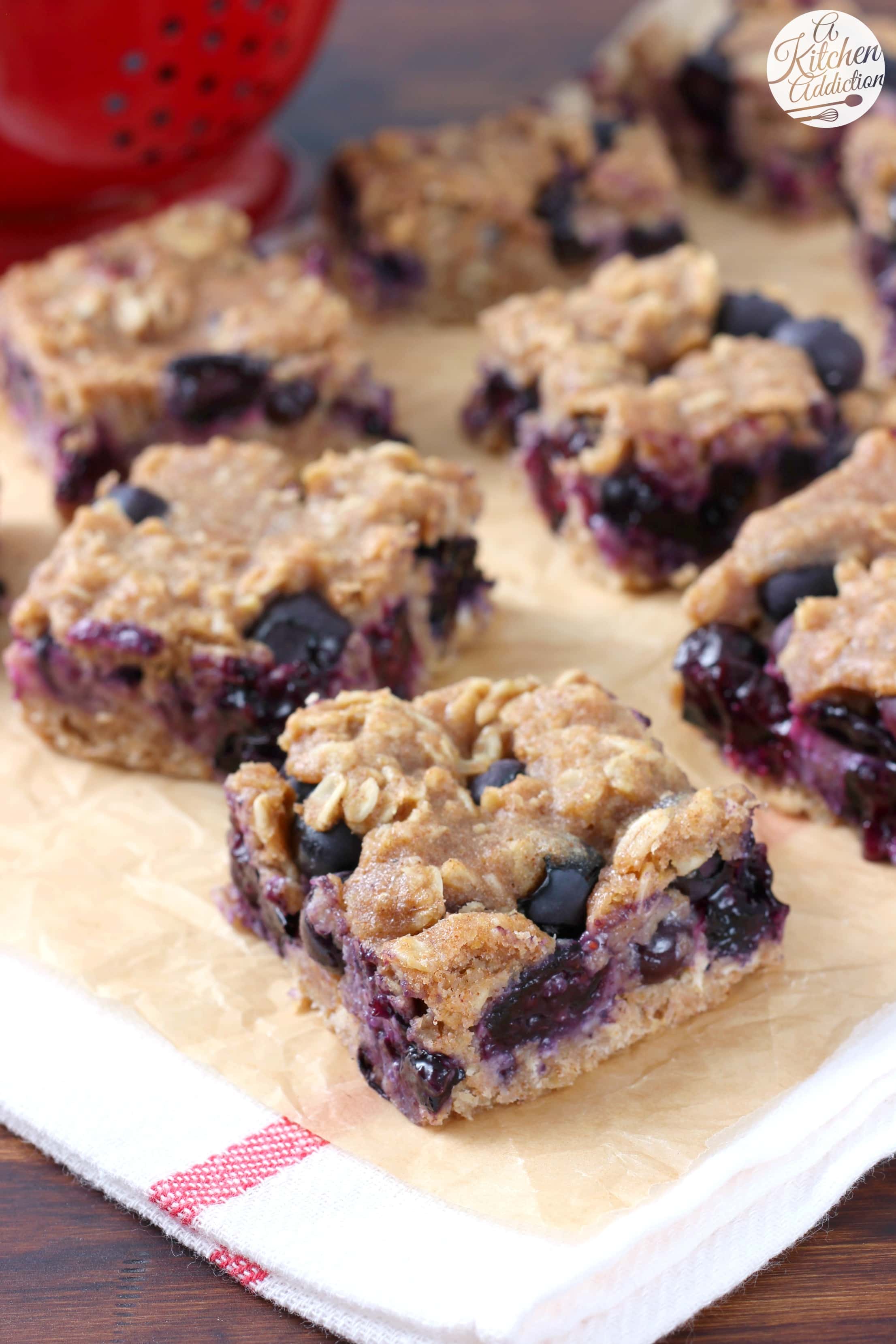 Summer is in full swing around here. We've been grilling, kayaking, landscaping, picnicking, and just about anything else that involves being outside!
But I have to admit, when we had a random 60 degree day tucked in between the heat and humidity, I was pretty excited. I threw open the windows and promptly got baking!
I do so little baking in the summer compared to the rest of the year that I couldn't resist taking advantage of the cool weather and turning on the oven.
I've been making a lot of no bake snacks, granola bites, etc. lately, so it was time that I made something baked that we could enjoy for snacks. First up were these healthy blueberry oat snack bars!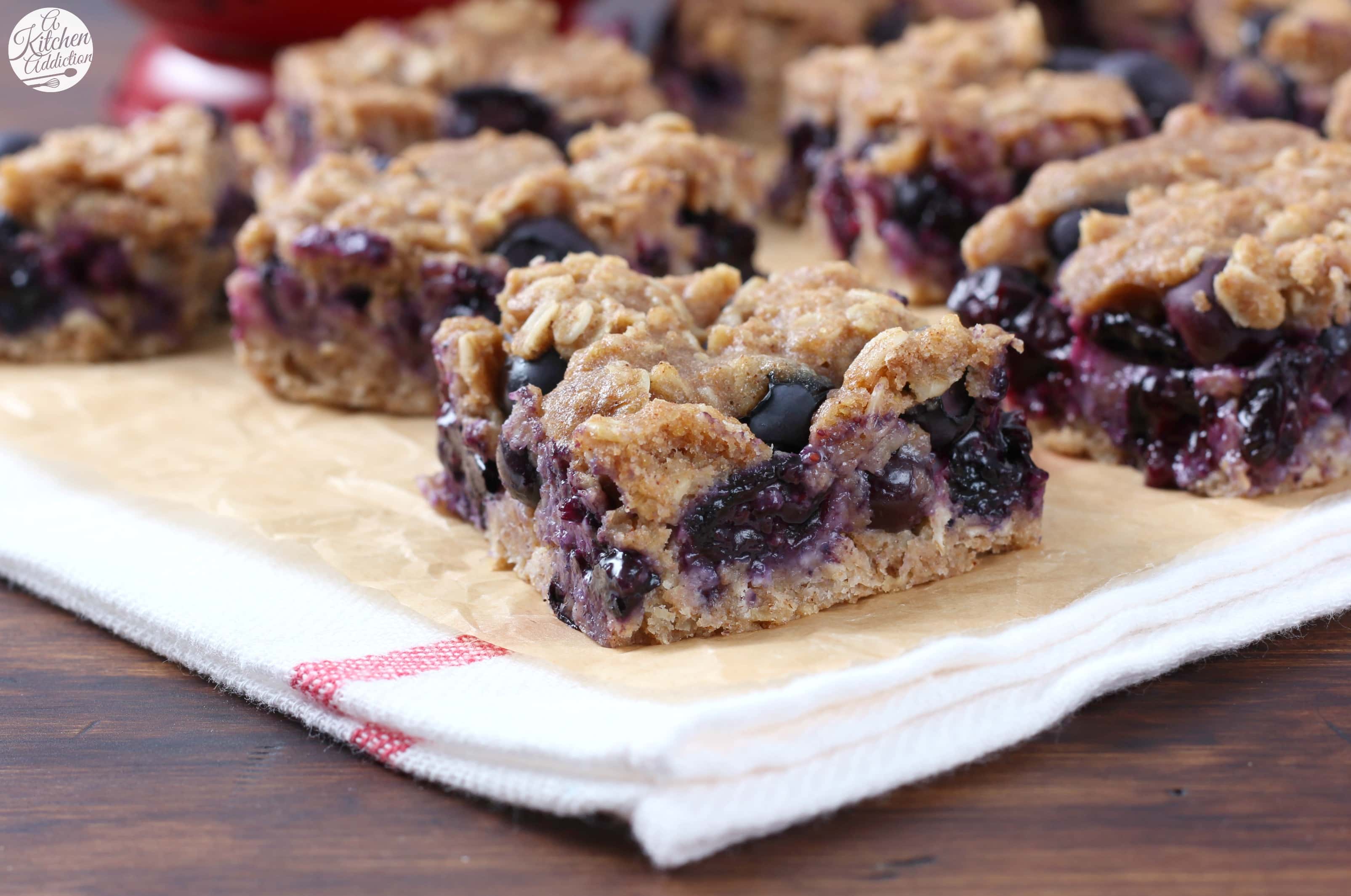 The base of these snack bars comes from these soft baked apple peanut butter oat bars. Loaded with oats, wheat flour, and flaxseed, I knew that I wanted to try this healthy combination with a different fruit and without the peanut butter.
I'm so glad it worked, so we can have a healthy snack on hand that uses up all those berries that are in abundance right now!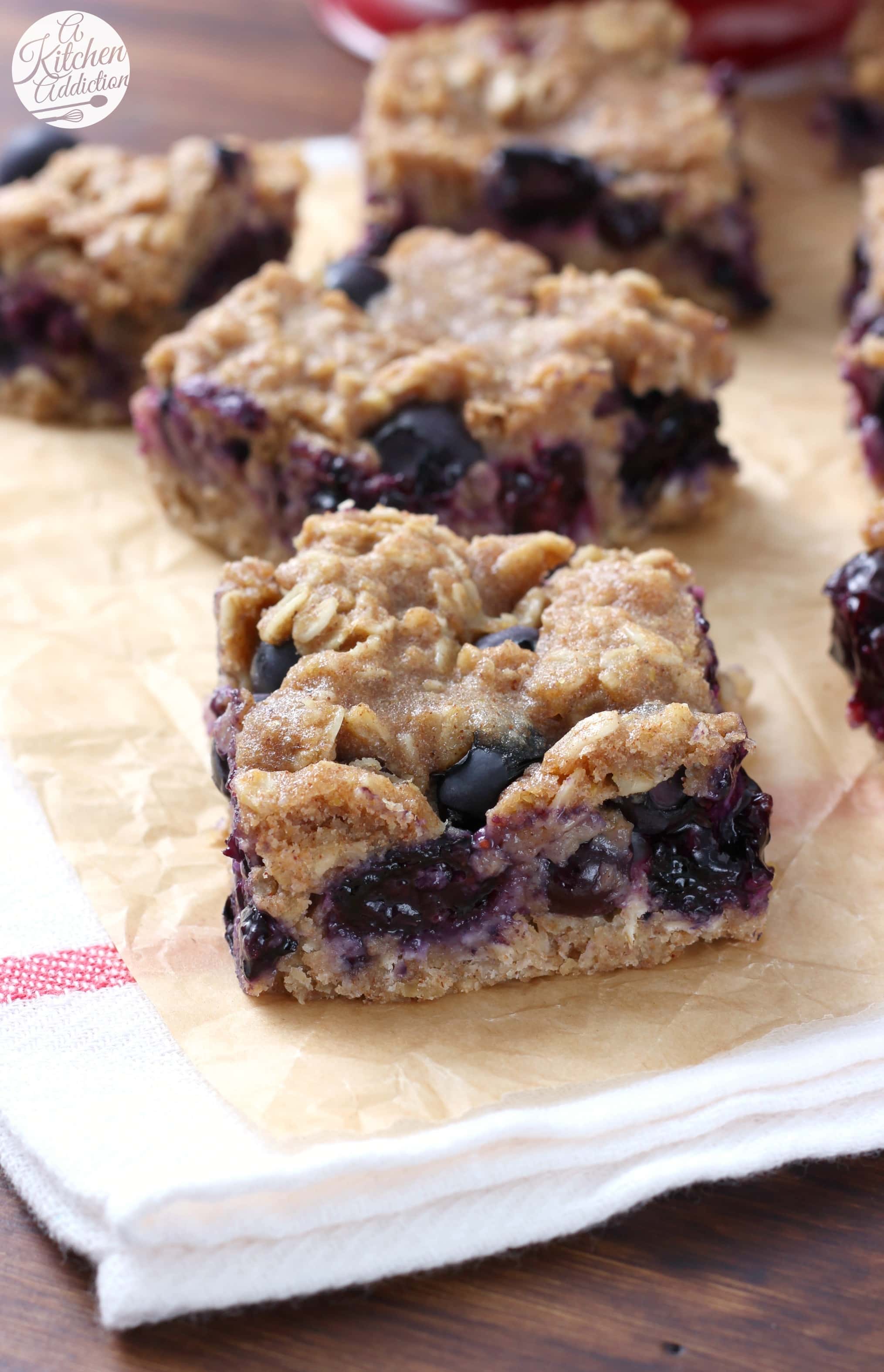 I can't get enough blueberries, but I don't want to always put them into a dessert. These bars are a great way to enjoy them for more than just dessert.
Two whole cups of fresh blueberries fill these cinnamon oat-based bars! Enjoy one as a quick snack or as a grab-and-go breakfast on a busy morning!
Don't forget that today is the last day to enter the America's Test Kitchen Cookbook giveaway! Entry details at the bottom of this post!

Blueberry Oat Snack Bars
Author:
A Kitchen Addiction
Ingredients
2 C fresh blueberries, washed and patted dry
2 tsp fresh lemon juice
1½ tsp cornstarch
1½ C rolled or quick oats
1 C whole wheat flour
¼ C ground flaxseed
2 tsp cinnamon
½ tsp baking powder
¼ tsp salt
1 C milk of your choice
⅓ C honey
¼ C coconut oil, melted
1 tsp vanilla extract
1 egg
Instructions
Preheat oven to 350. Spray a 9x9 inch baking dish with non-stick cooking spray.
In a small bowl, gently toss together blueberries, lemon juice, and cornstarch.
In a large bowl, whisk together oats, flour, flaxseed, cinnamon, baking powder, and salt.
In a medium bowl, whisk together milk, honey, coconut oil, vanilla extract, and egg. Add wet ingredients to dry ingredients and stir to combine.
Spread ⅔ of batter into prepared baking dish. Pour blueberries over the top. Top with remaining batter.
Bake for 20-25 minutes, or until edges are light golden. Remove to a wire rack to cool for at least 15-20 minutes before slicing and serving.
Notes
If you're blueberries aren't very sweet, you may want to add another couple of tablespoons of honey.