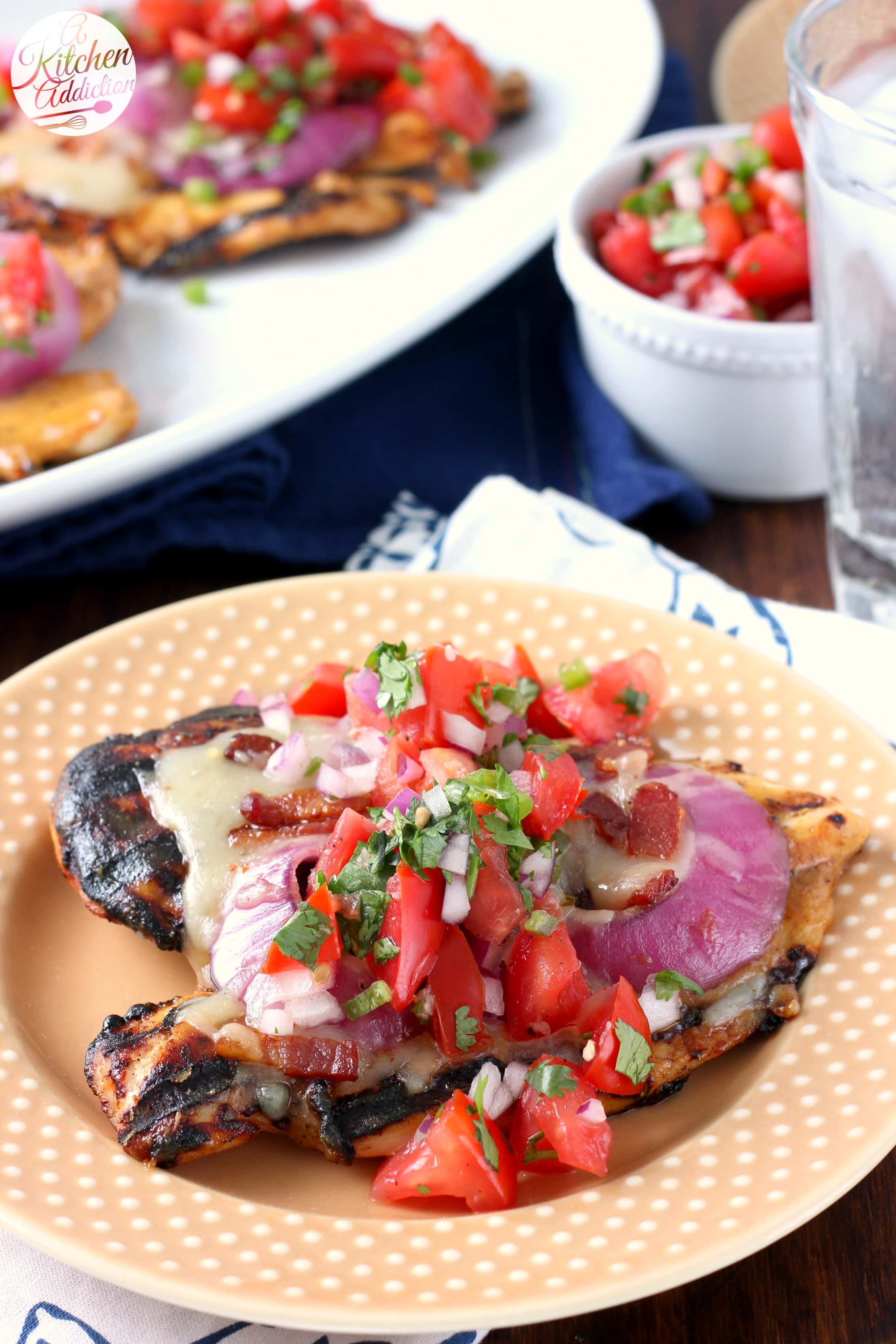 It's been awhile, but I have another great cookbook for you! If summer = grilling for you, then I think I've found your new favorite cookbook. It's not uncommon for us to grill almost every day of the week this time of year.
Sometimes we get in a bit of a grilling rut, especially when it comes to chicken. I find myself prepping the same handful of recipes on a regular basis. Now I have a new one to add to the rotation, grilled monterey chicken!
This is just one of the many that I have marked to try from America's Test Kitchen's new book, Master of the Grill. (Don't miss the opportunity at a chance to win a copy for yourself at the bottom of this post!)
From beginner to advanced, this cookbook has recipes for every skill level. You'll also find regional favorites that you can now replicate at home!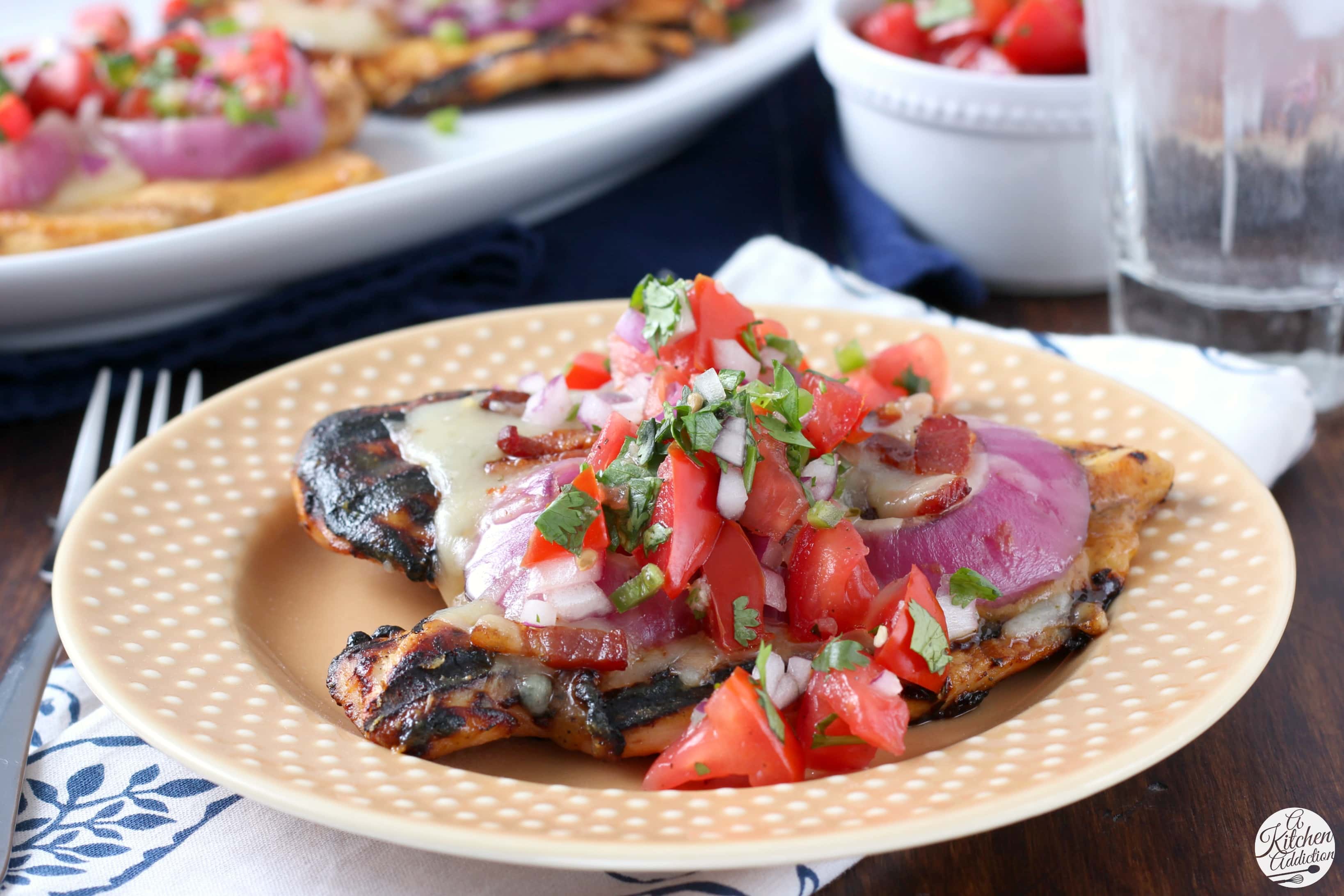 Along with great recipes, the cookbook also features ingredients tips, grilling utensil ratings, prepping tips, grill hacks, and, my favorite, the science behind why the recipe works.
I know I've said it before, but I'll say it again, knowing why a recipe works is so helpful! Not only does the information help you with the recipe you're working on, but it can also help you with other recipes that are similar.
Another helpful section in the cookbook, is how to set up the fire in your grill. Heat is obviously very important in grilling, and this section shows you how to set up your charcoal for different heating levels for a charcoal grill and how to set the burners on a gas grill! Super helpful!
After looking through the cookbook, and marking a bunch of recipes to try, I handed it over to my husband.
He's the master griller at our house and would be making the recipe, so I figured I should let him have a say in what he makes!
He had a hard time choosing just one recipe, too, but we eventually settled on this monterey chicken complete with a fresh pico de gallo!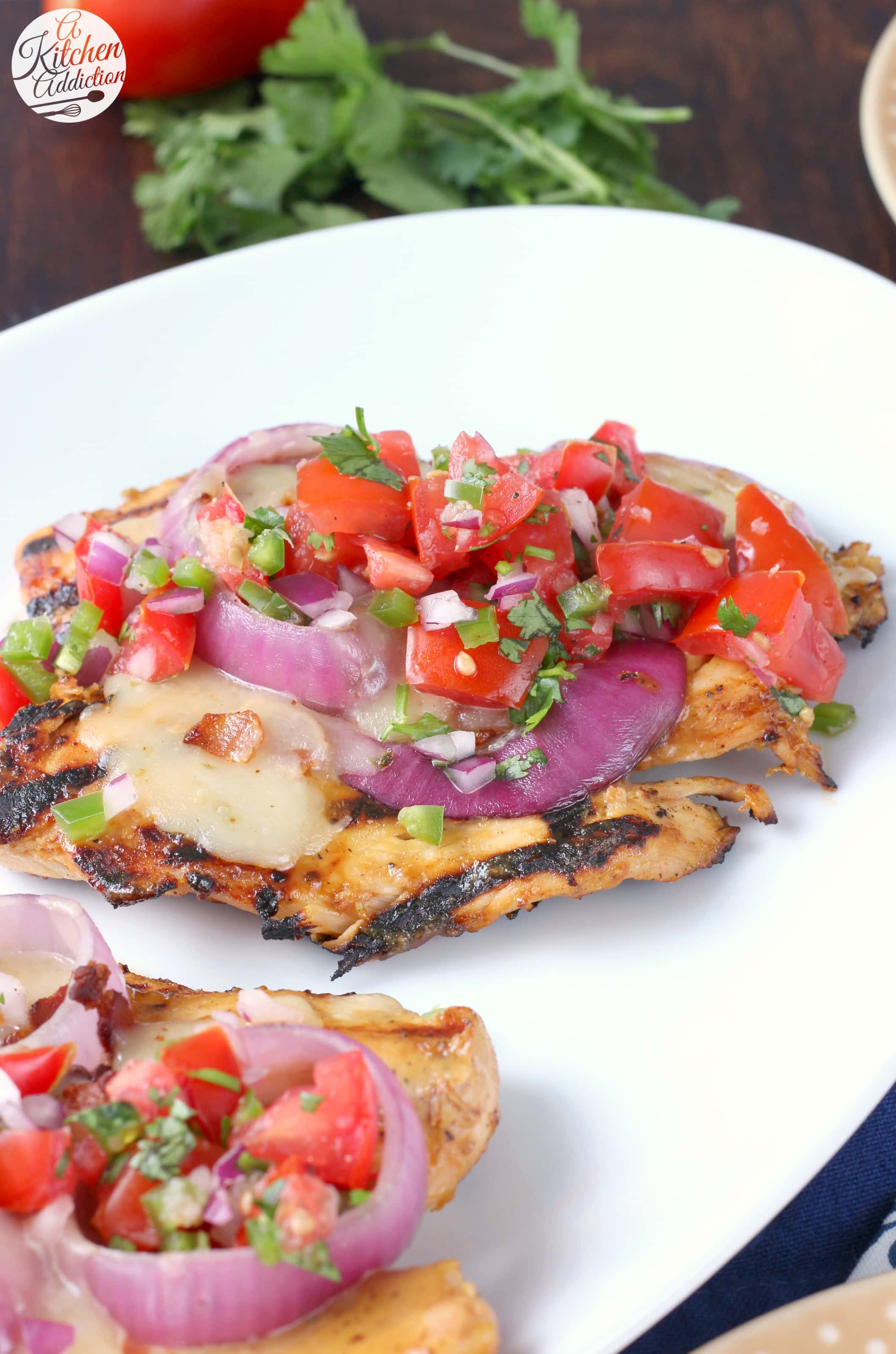 With minimal prep work, just a handful of ingredients, and clear, easy-to-follow instructions, this grilled monterey chicken turned out juicy and loaded with flavor. Grilled onions basted with bacon fat top the honey Dijon marinated chicken.
A combination of pepper jack cheese and bacon is melted over the top. And, lastly, a fresh (and super easy) pico de gallo is spread on top right before serving. No more boring grilled chicken here!
Want a chance to win this cookbook for yourself? Simply leave a comment below telling me what your favorite food is to grill! That's it. Good luck!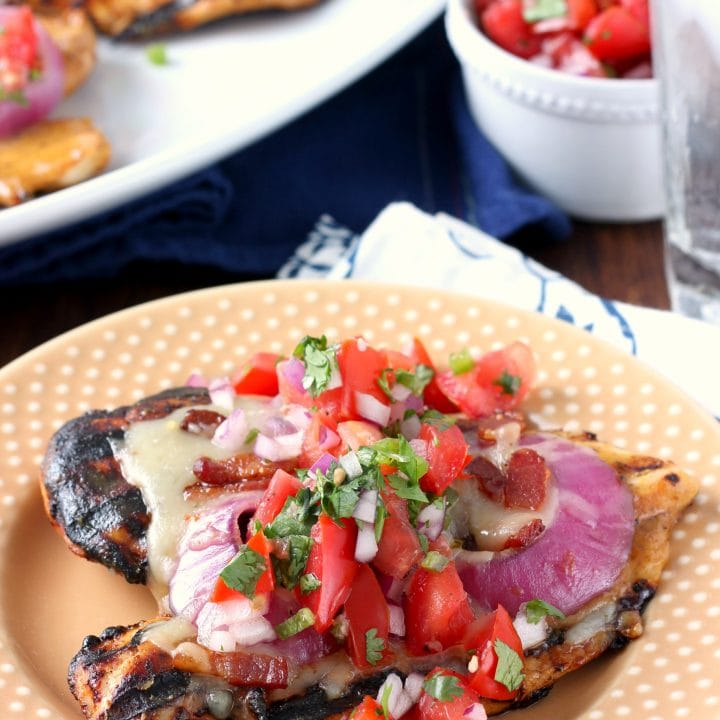 Grilled Monterey Chicken
Ingredients
For the Chicken
1/2 C Dijon mustard
1/4 C honey
1 tsp salt
1/2 tsp pepper
4 (6 to 8-ounce) boneless, skinless chicken breasts, trimmed
4 slices bacon, cut into 1/2 inch pieces
6 oz (1 1/2 C) pepper jack cheese, shredded
4 (1/2 inch thick slices red onion
For the Pico de Gallo
3 small tomatoes, cored and chopped
salt and pepper
1/4 C finely chopped red onion
1/4 C chopped fresh cilantro
1 jalapeno chile, stemmed, seeded, and minced
1 tbsp lime juice
1 garlic clove, minced
Instructions
Whisk mustard, honey, salt and pepper together in bowl. Reserve 1/4 cup honey-mustard mixture for basting chicken. Transfer remaining honey-mustard mixture to 1-gallon zipper-lock bag.
Working with one chicken breast at a time, starting on the thick side, cut chicken in half horizontally. Stop 1/2 inch from edge so halves remain attached. Open up breast like book, creating a single flat piece. Place chicken in bag with honey-mustard mixture. Toss to coat, and refrigerate for 30 minutes to 1 hour.
Meanwhile, cook bacon in 10-inch skillet over medium heat until crisp, about 5-7 minutes. Using a slotted spoon, transfer bacon to paper towel-lined plate. Reserve bacon fat. Once cool, toss bacon with pepper jack.
For a Charcoal Grill
Open bottom vent completely. Light large chimney starter filled with charcoal briquettes (6 quarts). When top coals are partially covered with ash, pour two-thirds evenly over half of grilled, then pour remaining coals over other half of grill. Set cooking grate in place, cover, and open lid vent completely. Heat grill until hot, about 5 minutes.
For a Gas Grill
Turn all burners to high, cover, and heat grill until hot, about 15 minutes. Leave primary burner on high and turn other burners to medium.
To Grill
Clean and oil cooking grate. Push toothpick horizontally through each onion slice to keep rings intact while grilling. Brush onion slices lightly with reserved bacon fat and place on cooler side of grill. Place chicken on hotter side of grill, cover, and cook until lightly charred, about 5 minutes. Flip onion slices and chicken. Brush chicken with reserved honey-mustard mixture, cover and cook until lightly charred on second side, about 5 minutes.
Remove onion slices from grill and move chicken to cooler side of grill. Quickly remove toothpicks and separate onion rings. Divide onion rings evenly among chicken breasts. Divide bacon-pepper jack mixture evenly over onion rings.
Cover and cook until pepper jack is melted and chicken registers 160 degree, about 2 minutes. Transfer chicken to platter, tent with aluminum foil, and let rest for 5 to 10 minutes.
For the Pico de Gallo
Toss tomatoes with 1/4 teaspoon salt in bowl. Transfer to colander and let drain for 30 minutes. Combine drained tomatoes, onion, cilantro, jalapeno, lime juice, and garlic in bowl. Season with salt and pepper to taste.
Recommended Products
As an Amazon Associate and member of other affiliate programs, I earn from qualifying purchases.


This recipe is used with permission from America's Test Kitchen: Master Of The Grill.
Disclaimer: I received a copy of America's Test Kitchen: Master Of The Grill for review purposes. Giveaway is sponsored by America's Test Kitchen and is open to US residents 18 years of age and older.