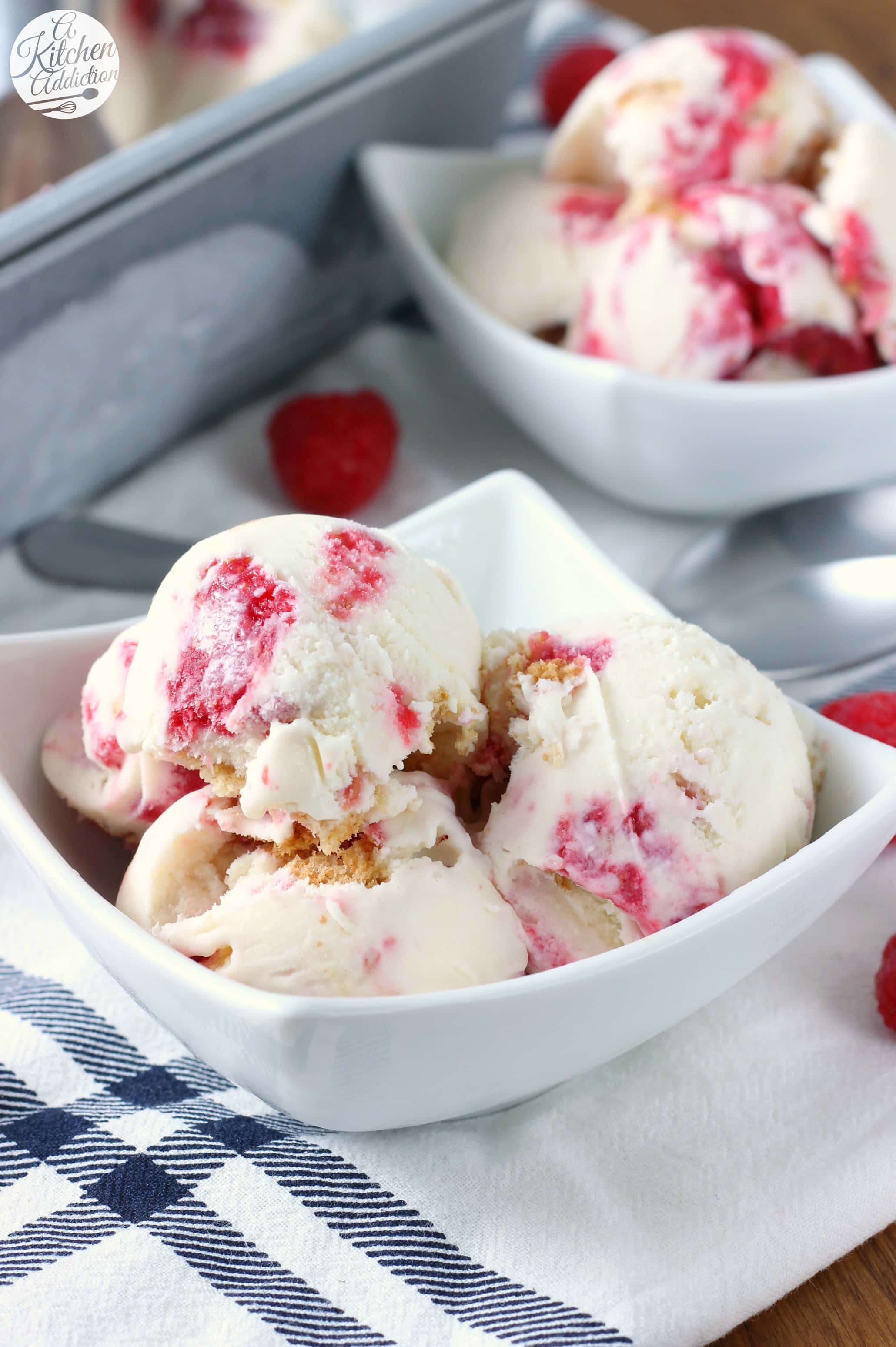 It's National Ice Cream Day! And given our love for ice cream around here, there's no way we could let the day pass without celebrating! Ice cream is one of the those sweets that I have a hard time avoiding.
I can turn down just about anything, but offer my a scoop of good ice cream, and I really have to think about it!
Fortunately for me my husband likes ice cream just about as much as I do, so he didn't mind at all when I whipped up a batch of raspberry swirled cheesecake ice cream!
During a recent trip to northern Minnesota we stopped at a little custard shop in Ely and split the largest "small" ice cream cone I have ever seen.
The flavor was a rich, creamy strawberry cheesecake. As soon as I tasted it, I knew I wanted to recreate something like it at home!
But, instead of strawberries, I went with sweet raspberries that I had on hand. And instead of a custard base, I went with an ice cream base to keep it simple.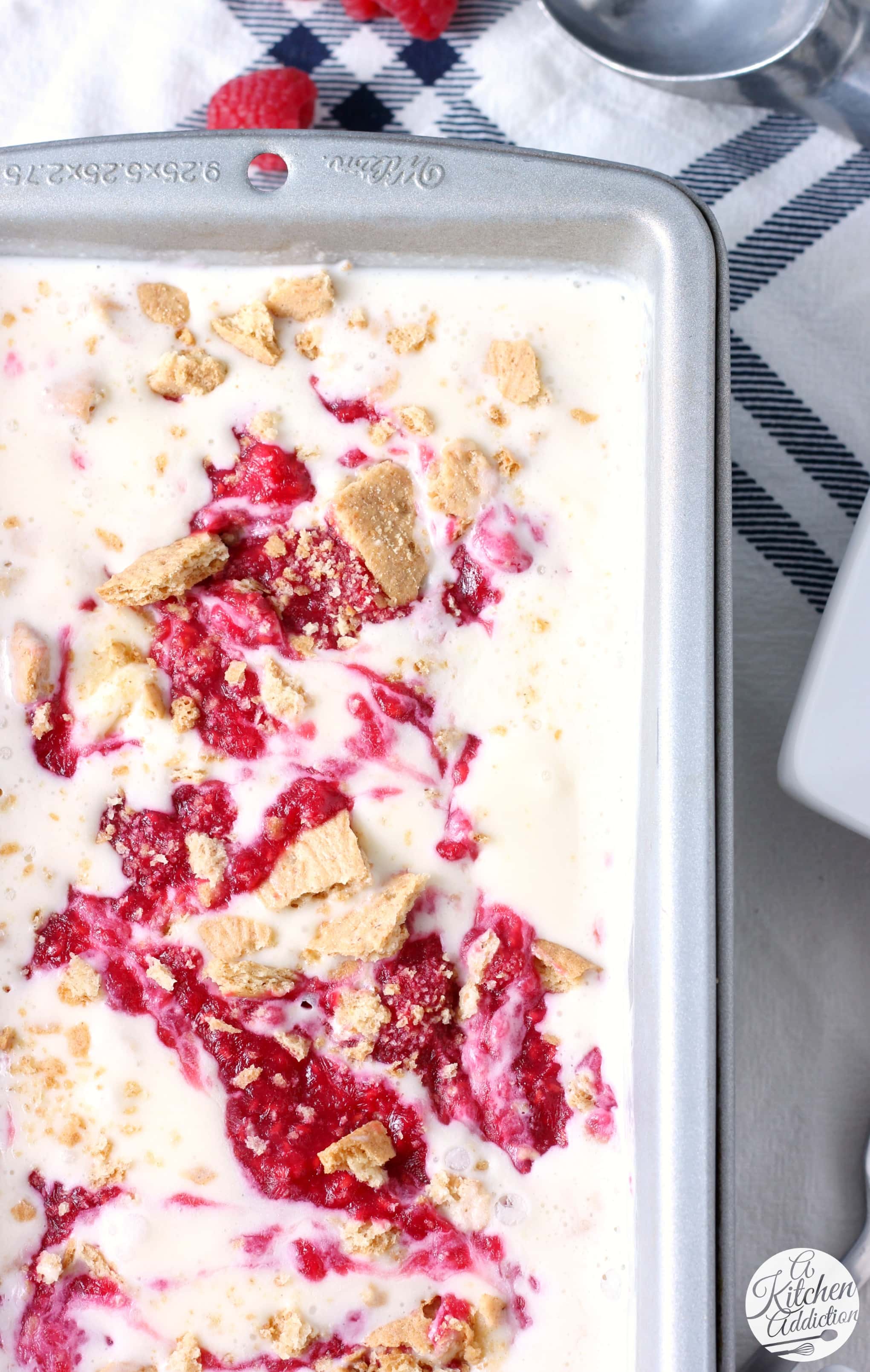 This ice cream starts off with a simple no-cook base that's mixed with a block of cream cheese. It would be good enough like that, but then we added in a homemade raspberry filling and crushed graham crackers.
All of the flavors of a rich raspberry cheesecake without turning on the oven!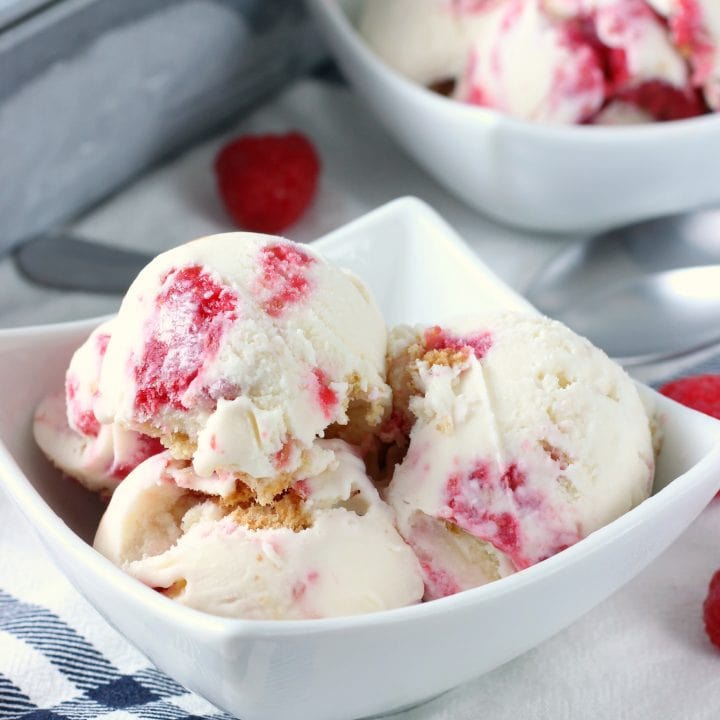 Raspberry Swirled Cheesecake Ice Cream
Ingredients
For the Raspberry Swirl
1 1/2 C fresh raspberries
1/4 C sugar
1 tbsp fresh lemon juice
1 tbsp cornstarch mixed with 1 tsp cold water
For the Ice Cream
14 oz sweetened condensed milk, chilled
8 oz cream cheese, softened
1 1/2 tsp vanilla extract
1/8 tsp salt
2 C milk or cream (the higher the fat content, the creamier the ice cream)
1/2 C crushed graham crackers
Instructions
In a small saucepan, stir together raspberries, sugar, and lemon juice. Bring to a boil over medium heat. Reduce heat to medium-low and allow to simmer for 10 minutes. Stir in cornstarch and simmer for an additional 5 minutes. Remove from heat.
Allow to cool slightly and pour into a heat-safe container. Refrigerate from 1 hour or prepare the day before and refrigerate until needed.
In a food processor or blender, pulse or blend sweetened condensed milk, cream cheese, vanilla extract, and salt until smooth.
Transfer to a large bowl and gently whisk in milk.
Pour milk mixture into ice cream machine and churn according to manufacturer's instructions.
When ice cream is soft-set, pour half into a freezer-safe container. Spoon half of the raspberry mixture and half of the crushed graham crackers over the top. Swirl through the raspberry mixture with a knife. Spread remaining ice cream over the top. Top with remaining raspberry mixture and crushed graham crackers. Swirl through ice cream with a knife.
Freeze until desired consistency is reached.
Recommended Products
As an Amazon Associate and member of other affiliate programs, I earn from qualifying purchases.