It's been a rainy, cool few days around here, but we managed to get our gardens started this weekend during a brief pause in the rain. Since this is our first full summer at this house, we're excited to see what kind of a yield we'll get from the gardens. Though I'm not getting too excited, I'm pretty sure I have the exact opposite of a green thumb!
We also noticed this weekend that our apple trees are budding and looking a lot better after a major pruning earlier this spring. I'm really hoping that we get some decent apples.
Of course, after seeing the buds on the apple trees, I couldn't stop thinking about baking with apples. It wasn't long before these soft baked apple peanut butter oat bars were coming out of the oven!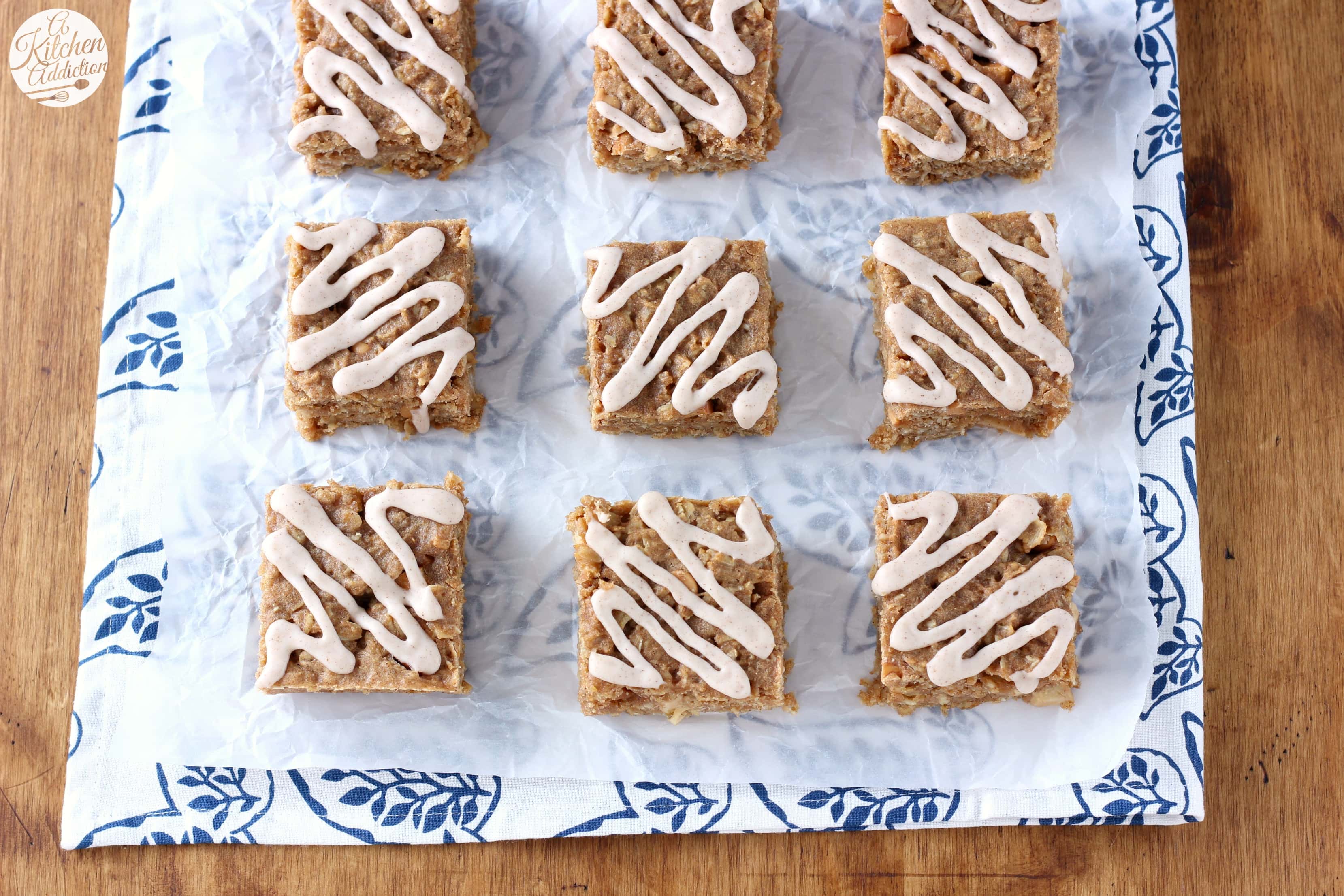 Loaded with wholesome ingredients such as oats, whole wheat flour, ground flaxseed, honey, and peanut butter, these oat bars not only taste good, but they're good for you!
A whole cup of chopped apple is mixed in to give the bars a fresh flavor and a bit of texture. A simple cinnamon glaze is drizzled over the top to boost the sweetness and cinnamon flavor, but feel free to leave it off if you want to avoid any refined sugar. The bars are sweet enough without it!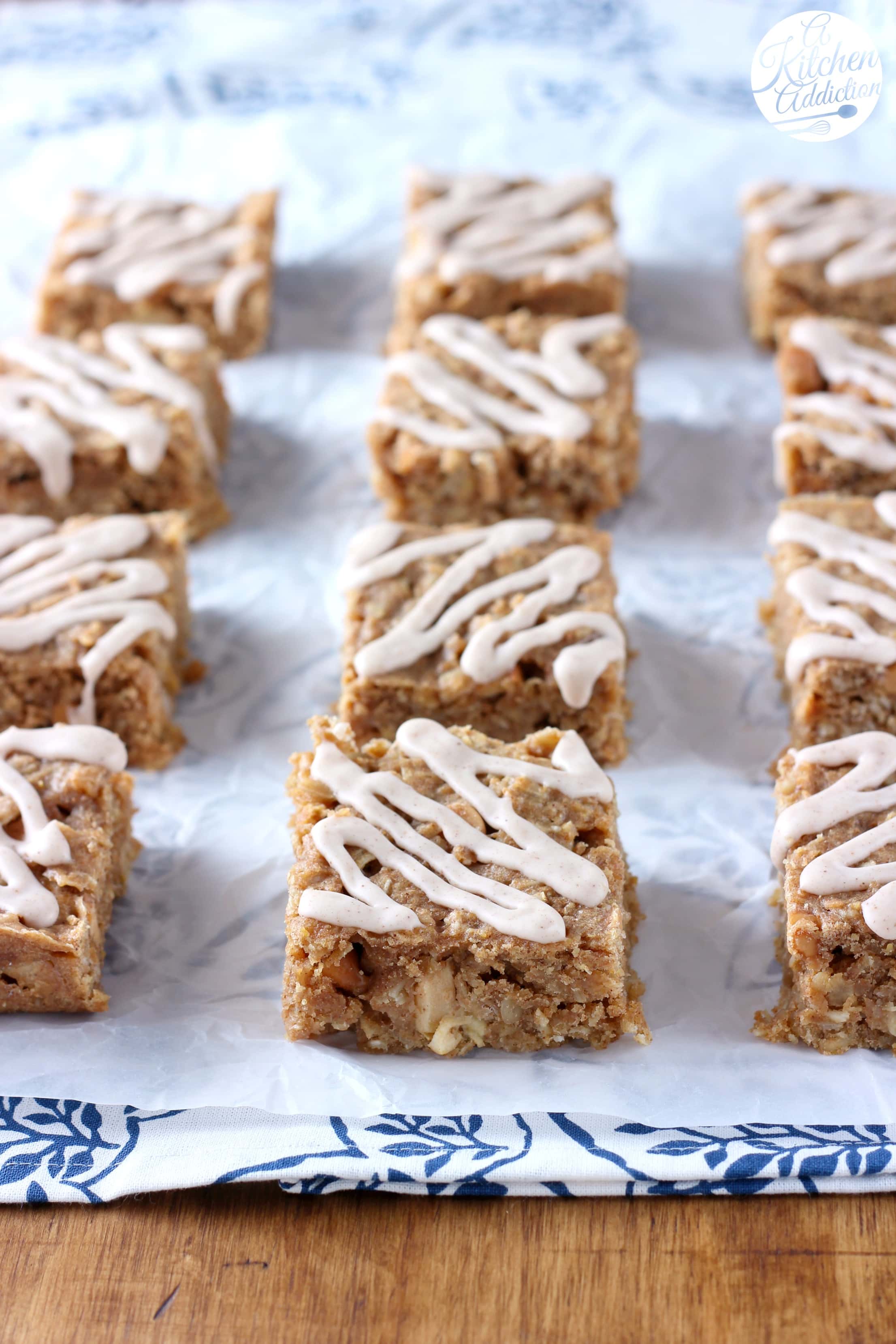 Because these oat bars are made with fresh apples, it's best to eat these up within a week. I can't guarantee that they'll last much longer than that.
I don't know from personal experience, because these bars kept disappearing before I could see how long they'd keep!
Soft Baked Apple Peanut Butter Oat Bars
Author:
Ingredients
1 1/2 C regular or quick oats
1 C whole wheat flour
1/4 C ground flaxseed
1 tsp cinnamon
1/2 tsp baking powder
1/4 tsp salt
1/4 tsp nutmeg
1 C milk of your choice
1/2 C no-stir natural creamy peanut butter
1/4 C honey
3 tbsp coconut oil, melted (or olive/canola oil)
1 egg
1 tsp vanilla extract
1 C finely chopped apples
1/2 C peanut butter chips
For the Drizzle
3/4 C confectioner's sugar
1 tsp cinnamon
1 tbsp milk
Instructions
Preheat oven to 350. Lightly spray a 9×9 inch baking dish with non-stick cooking spray.
In a large bowl, whisk together oats, flour, flaxseed, cinnamon, baking powder, salt, and nutmeg.
In a medium bowl, whisk together, milk, peanut butter, honey, coconut oil, egg, and vanilla extract. Add wet ingredients to dry ingredients. Stir until combined. Stir in chopped apples and peanut butter chips.
Spread batter into prepared baking dish. Bake for 15-20 minutes or until toothpick inserted in the center comes out clean.
Remove dish to a wire rack to cool. While bars are cooling, stir together confectioner's sugar and cinnamon in a small bowl. Stir in milk. Add additional milk as needed to reach desired consistency.
Drizzle over cooled bars. Allow glaze to harden and serve.