This easy recipe for Bakery Style Rhubarb Muffins is filled with fresh, tart rhubarb and a hint of cinnamon and nutmeg! The perfect pairing to your morning cup of coffee or tea!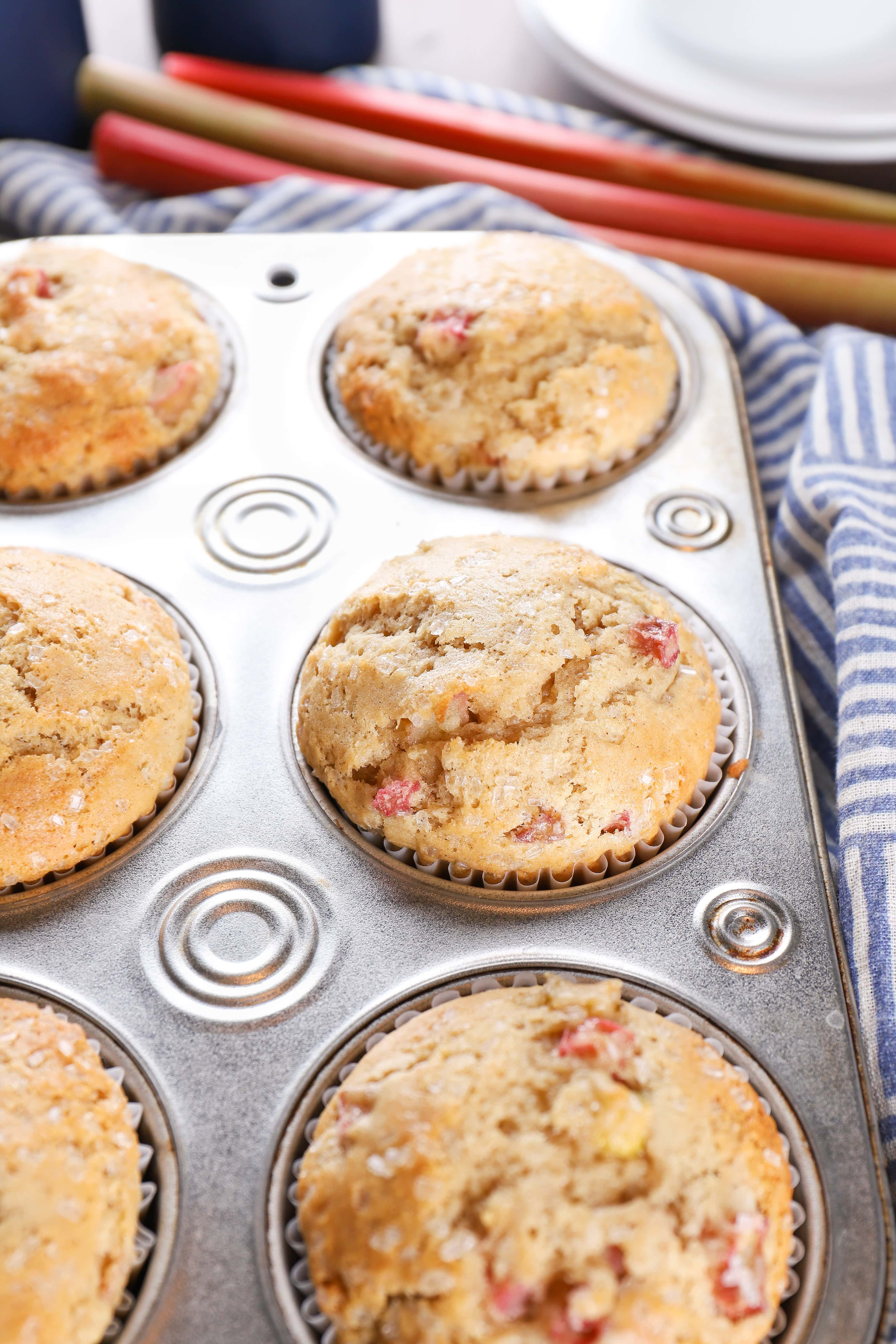 Every spring when the rhubarb makes an appearance, I get excited. It's a sign that fresh fruits and veggies are soon on their way to MN!
But while we wait for everything else, we get to start enjoying fresh rhubarb. It doesn't matter if it's in a pie, made into a compote over angel food cake, or baked into muffins, rhubarb is a favorite around here.
This latest recipe came about as a way to use up some rhubarb that we had cut but hadn't gotten around to using. What's better than a light, fluffy muffin?!
The base of these muffins is from my bakery style cranberry orange muffins. They're a light, fluffy white whole wheat muffin that has quickly become my base for many different flavor variations.
Plus, it just takes combining a few simple ingredients before the muffins come together.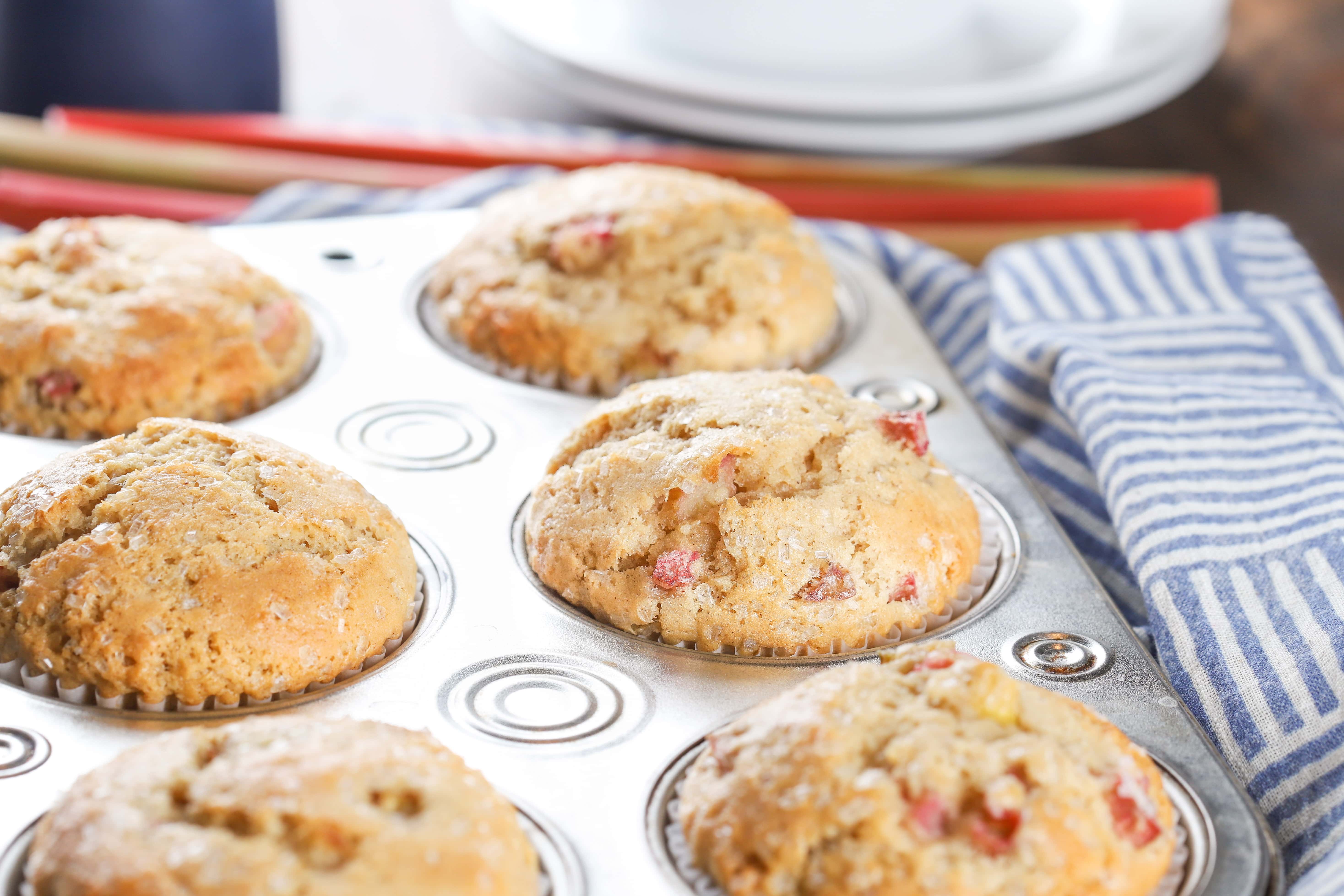 You can easily swap out the white whole wheat flour for all-purpose flour. However, I wouldn't recommend using whole wheat flour unless you are prepared for the whole wheat flavor and denser texture.
Fresh rhubarb and a bit of cinnamon and nutmeg are all the ingredients that are added to the base. This gives the muffins a distinct rhubarb flavor with a hint of warm, cozy spice.
All that's left is a sprinkling of coarse sugar right before baking to add a bit of texture and crunch to the muffins!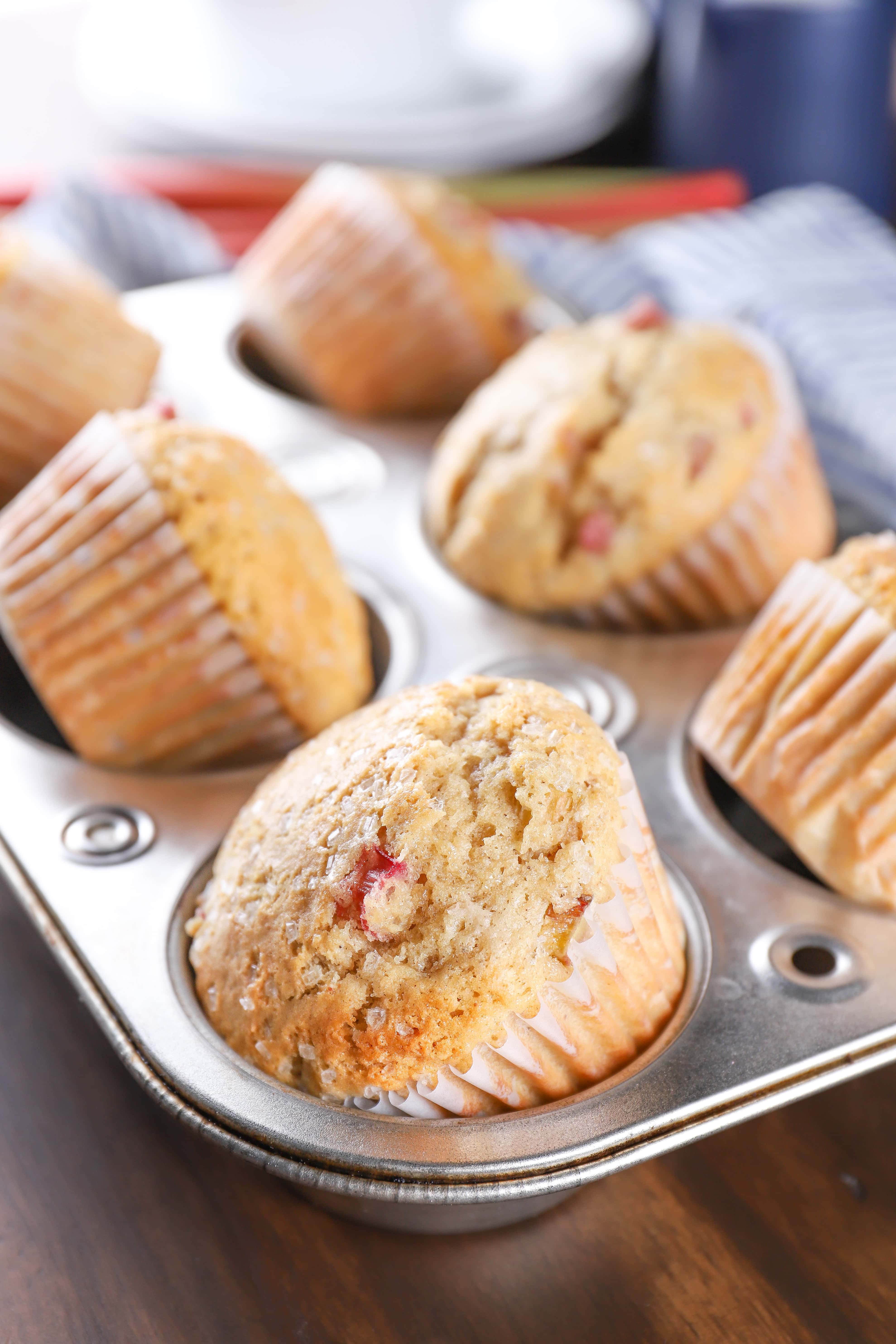 Tips for Making Bakery Style Rhubarb Muffins
You can use whole wheat flour in place of the white whole wheat flour; however, there will be a noticeable whole wheat taste and the texture will be more dense. You can also use all-purpose flour if you don't have white whole wheat flour on hand.
Mix the wet ingredients in just until combined. This will keep the texture of the muffins light.
Sprinkling the batter with coarse sugar right before baking will give the tops of the muffins a bit of crunch and texture.
Love muffins? More easy muffin recipes!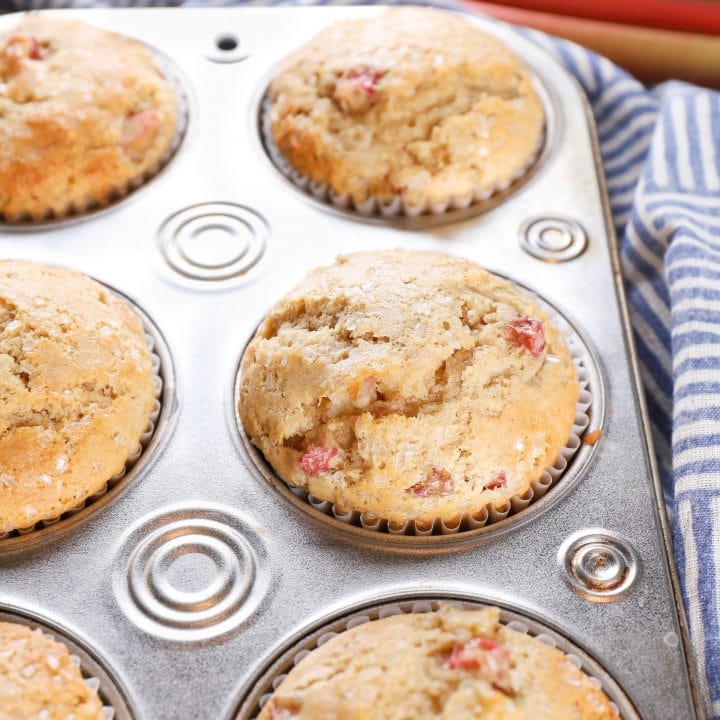 Bakery Style Rhubarb Muffins
Yield: 12 muffins

Prep Time: 10 minutes

Bake Time: 15 minutes

Total Time: 25 minutes

This easy recipe for Bakery Style Rhubarb Muffins is filled with fresh, tart rhubarb and a hint of cinnamon and nutmeg! The perfect pairing to your morning cup of coffee or tea!
Ingredients
2 Cups white whole wheat flour
1/3 Cup brown sugar
1/3 Cup sugar
2 teaspoons baking powder
1 teaspoon baking soda
1/2 teaspoon salt
1/2 teaspoon cinnamon
1/8 teaspoon nutmeg
3/4 Cup milk
2 eggs, room temperature
2 teaspoons vanilla extract
1/2 Cup (8 Tablespoons) butter, melted and cooled
1 Cup chopped fresh rhubarb
coarse sugar for sprinkling, optional
Instructions
Preheat oven to 350 degrees Fahrenheit. Spray a muffin tin with non-stick cooking spray, or line with cupcake liners.
In a large bowl, whisk together flour, brown sugar, sugar, baking powder, baking soda, salt, cinnamon, and nutmeg.
In a separate bowl, whisk together milk, eggs, and vanilla extract. Add wet ingredients to dry ingredients, and stir until just starting to combine. Stir in melted butter and chopped rhubarb until just combined.
Evenly divide batter into 12 muffin cups. (I like to use an ice cream scoop to easily scoop out the batter.) Depending on the size of the muffin tin, each cup will be 3/4 full to almost completely full. Sprinkle with optional coarse sugar.
Bake for 15-20 minutes, or until toothpick inserted in the center comes out clean. Remove to a wire rack to cool.
Recommended Products
As an Amazon Associate and member of other affiliate programs, I earn from qualifying purchases.
Nutrition Information:
Yield: 12 Serving Size: 1
Amount Per Serving: Calories: 134Total Fat: 2gSaturated Fat: 1gTrans Fat: 0gUnsaturated Fat: 1gCholesterol: 32mgSodium: 296mgCarbohydrates: 27gFiber: 2gSugar: 11gProtein: 4g

Nutrition information shown is an estimate provided by an online calculator and may not always be accurate. It should not be considered a substitute for a medical professional's advice.