These Lighter Peanut Butter Honey No Bake Cookies are a healthier twist to traditional no bake cookies!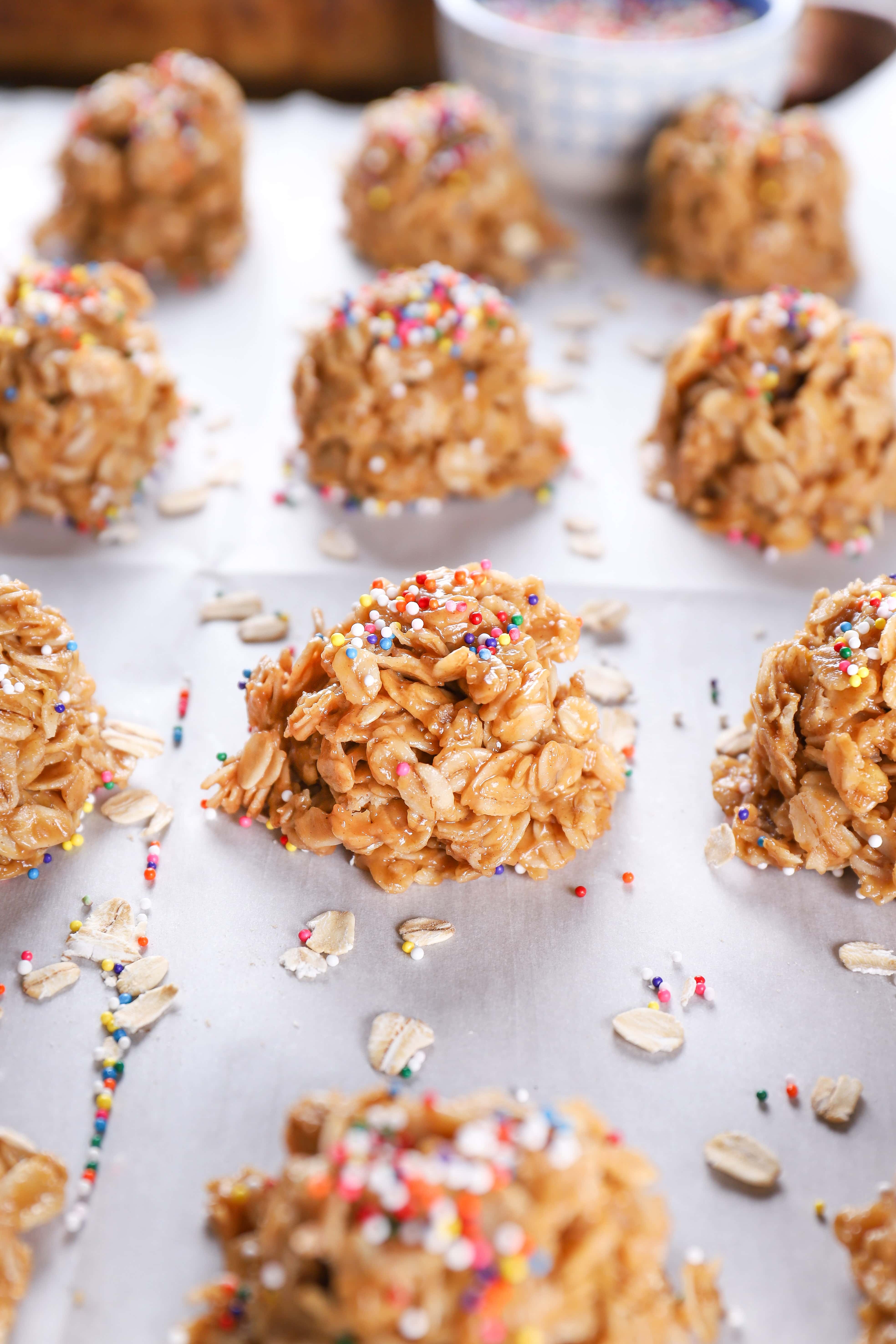 Since summer is all about quick and easy food, and we can never have too many cookies, here is a quick and easy cookie recipe for you!
These lighter peanut butter honey no bake cookies take less than 10 minutes of active work. Then they just need a quick chill before shaping and heading to the fridge for a 30 minute chill time to set up completely.
Or, if you want to eat them warm, you can have your cookie craving cured in 10 minutes (though it'll be a little messy!). Either way, these peanut butter honey no bake cookies are perfect for your busy schedule (and your warm house!).
**Recipe from 06/27/14. Updated 07/24/20.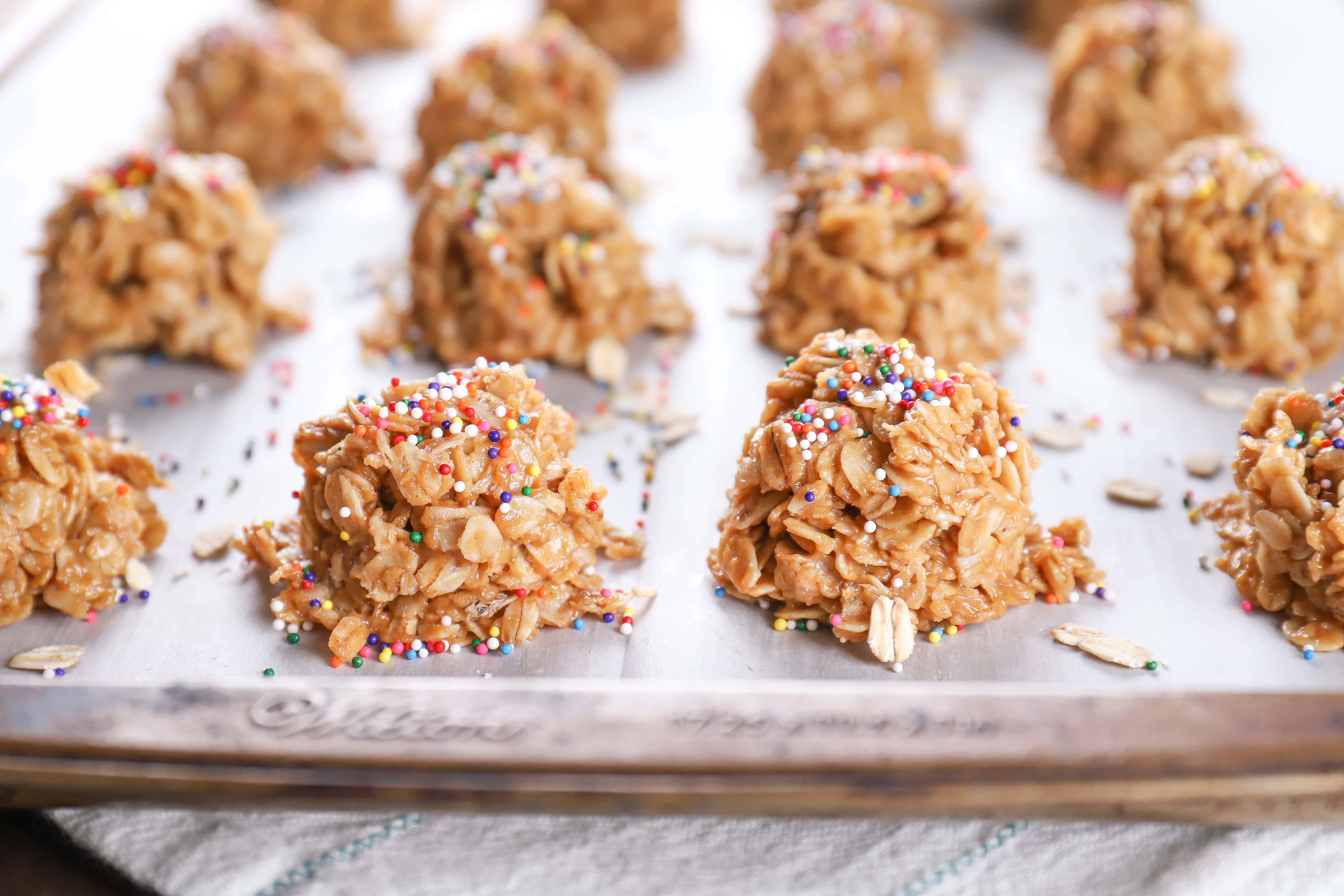 In an attempt to keep things a little lighter, I got rid of all the butter and white sugar that is found in typical no-bake cookies. I also got rid of the chocolate, but only because I was out of the cocoa powder that I like.
A chocolate version will be coming soon! Honey is the replacement for the sugar and a bit of coconut oil replaces the butter.
Since you don't have to dissolve and boil a sugar and butter mixture, these cookies come together quickly.
Just melt together the coconut oil, peanut butter, and honey until runny and just starting to boil. Add in the rest of the ingredients, stir, and chill enough to take the most of the heat out of the mixture. Then drop, and chill until firm.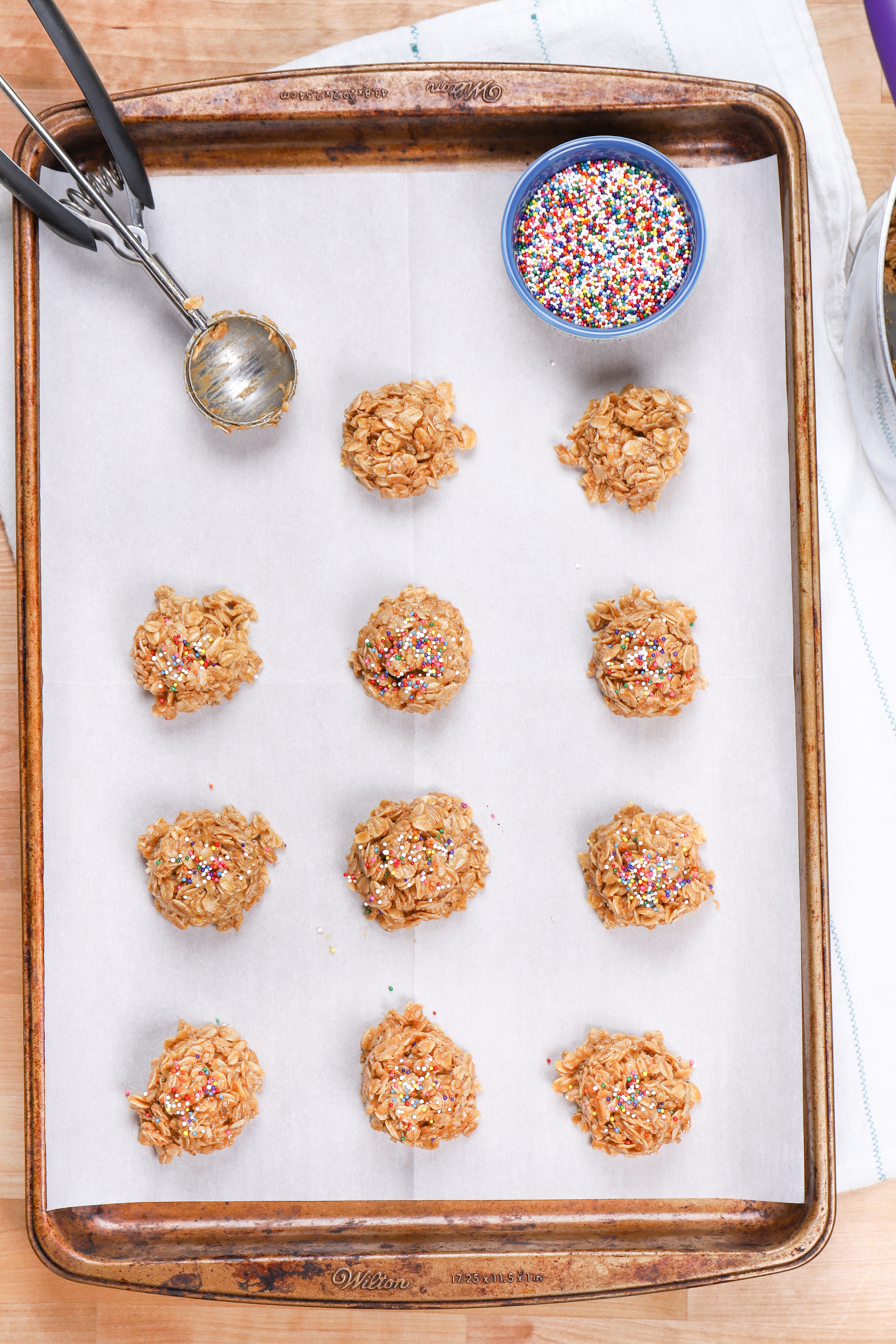 Tips for Making Lighter Peanut Butter Honey No Bake Cookies
If you use natural peanut butter, make sure that it is the "no stir" variety, for best results. You can use the other kind, just know that the cookies won't hold together as well.
Because the solidity of coconut oils varies, some people will find that their cookies are fine at room temperature while others will need to store the cookies in the refrigerator to keep them firm.
I like to use a cookie scoop to scoop the mixture out onto the baking sheet. I press the mixture against the side of the bowl as I'm scooping it out to help the cookies hold their shape when released from the cookie scoop.
The cookies will appear "loose" when you place them on the baking sheet, but they will firm up as the oats absorb the moisture.
You can flatten the cookies with the bottom of a glass for more of a "cookie" look. I just skip that part because I'm for as few steps as possible!
Sprinkles are optional, but definitely help the overall appearance of an all brown cookie! 😉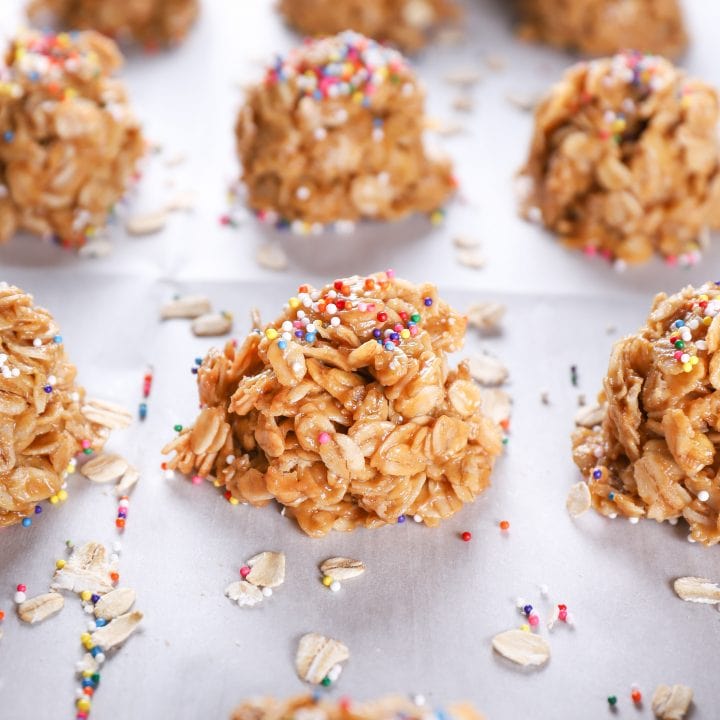 Lighter Peanut Butter Honey No Bake Cookies
Yield:
18-24 cookies, depending on size
These Lighter Peanut Butter Honey No Bake Cookies are a healthier twist to traditional no bake cookies!
Ingredients
1/2 Cup no-stir natural creamy peanut butter
1/3 Cup honey
3 Tablespoons coconut oil (measured at room temperature)
2 teaspoons vanilla extract
2 1/2 Cup oats
sprinkles, optional
Instructions
Line a baking sheet with a silicone baking mat or parchment paper.
In a large saucepan, combine peanut butter, honey, and coconut oil. Melt over medium-low heat until mixture is completely melted and just starting to boil, making sure to stir constantly to prevent scorching. Stir in vanilla and oats.
Cover saucepan, place on a trivet, and refrigerate for 15-20 minutes, or until mixture has started to cool.
Drop by heaping tablespoonful onto prepared baking sheet. I like to use a cookie scoop for this and press the mixture against the side of the bowl as I scoop it out. Top with sprinkles, if desired.
Refrigerate for 30 minutes or until set.
Notes
Depending on the solidity of your coconut oil at room temperature, you may want to keep these cookies in the refrigerator.
If you want to keep them at room temperature, consider using only 1 tablespoon coconut oil and replacing the other 2 tablespoons with more peanut butter.
These cookies will continue to set up over time as the oats soak up the moisture.
Recommended Products
As an Amazon Associate and member of other affiliate programs, I earn from qualifying purchases.
Nutrition Information:
Yield:

24
Serving Size:

1
Amount Per Serving:
Calories:

127
Total Fat:

8g
Saturated Fat:

3g
Trans Fat:

0g
Unsaturated Fat:

4g
Cholesterol:

0mg
Sodium:

52mg
Carbohydrates:

12g
Fiber:

1g
Sugar:

5g
Protein:

3g
Nutrition information shown is an estimate provided by an online calculator and may not always be accurate. It should not be considered a substitute for a medical professional's advice.