These Baked Apple Cider Donuts are tender, light and filled with apple cider and warm apple pie spices! Coating these donuts is an irresistible cardamom sugar! Grab one or two, and cozy up with a mug of hot apple cider!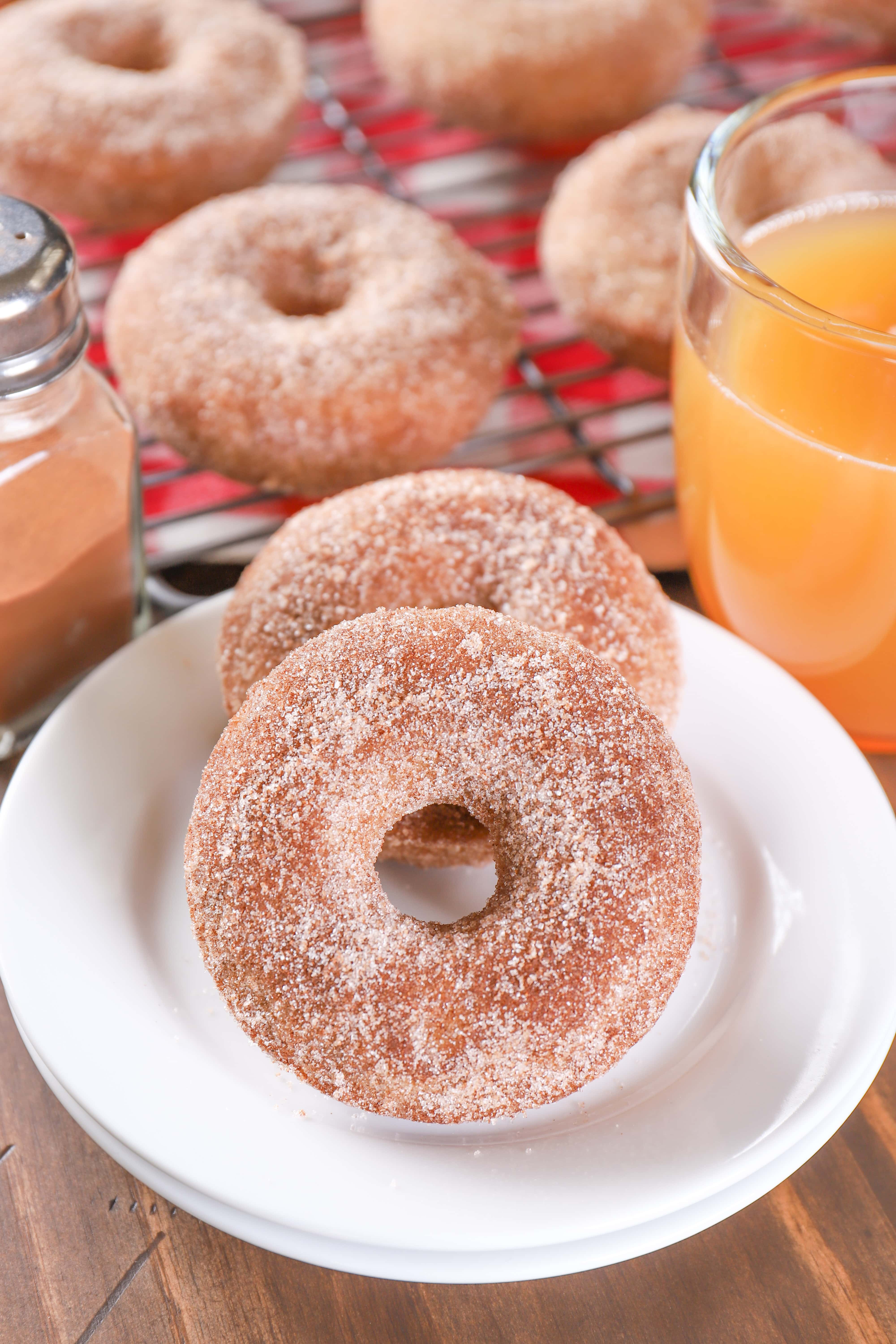 We've had snow, we've had 70 degree days. Fall must be here for good in MN! Fall is slightly bipolar around here, and you can't count on having the same temperature for two days in a row. But one thing you can count on when fall arrives is lots of fresh apples available at any one of the many orchards in our area!
We love that about where we live and take advantage of all of the different varieties available. One thing that I always think sounds good when we're at an orchard, but don't want to try because of my strange dislike for fried donuts, is the apple cider donuts.
So, this year I've finally gotten around to make my own!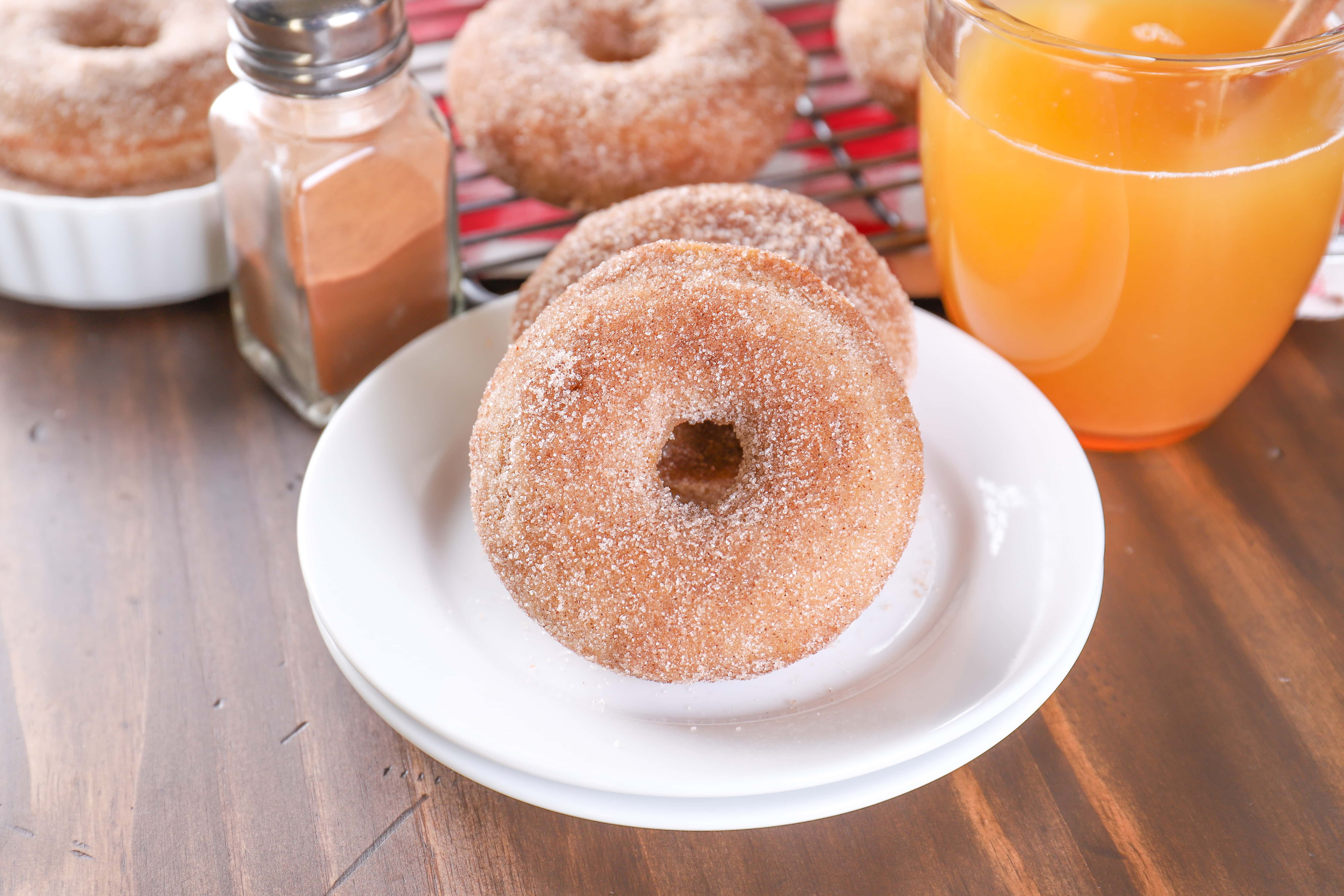 These baked apple cider donuts are based off of our favorite baked cardamom pumpkin donuts. The warmth of the cardamom paired with the traditional pumpkin flavors made these an instant hit at our house.
(And I think they are still my favorite by just a bit, though my husband found a new favorite in these apple cider donuts!)
So, after buying some local apple cider on the same weekend that I was planning on making pumpkin cardamom donuts, it didn't take much thought for me to finally try making apple cider donuts. And add a cardamom sugar twist!
The warmth and spice from the cardamom pair well with apple cider, especially in a donut. Don't be surprised if you see more apple cider cardamom baked goods popping up around here!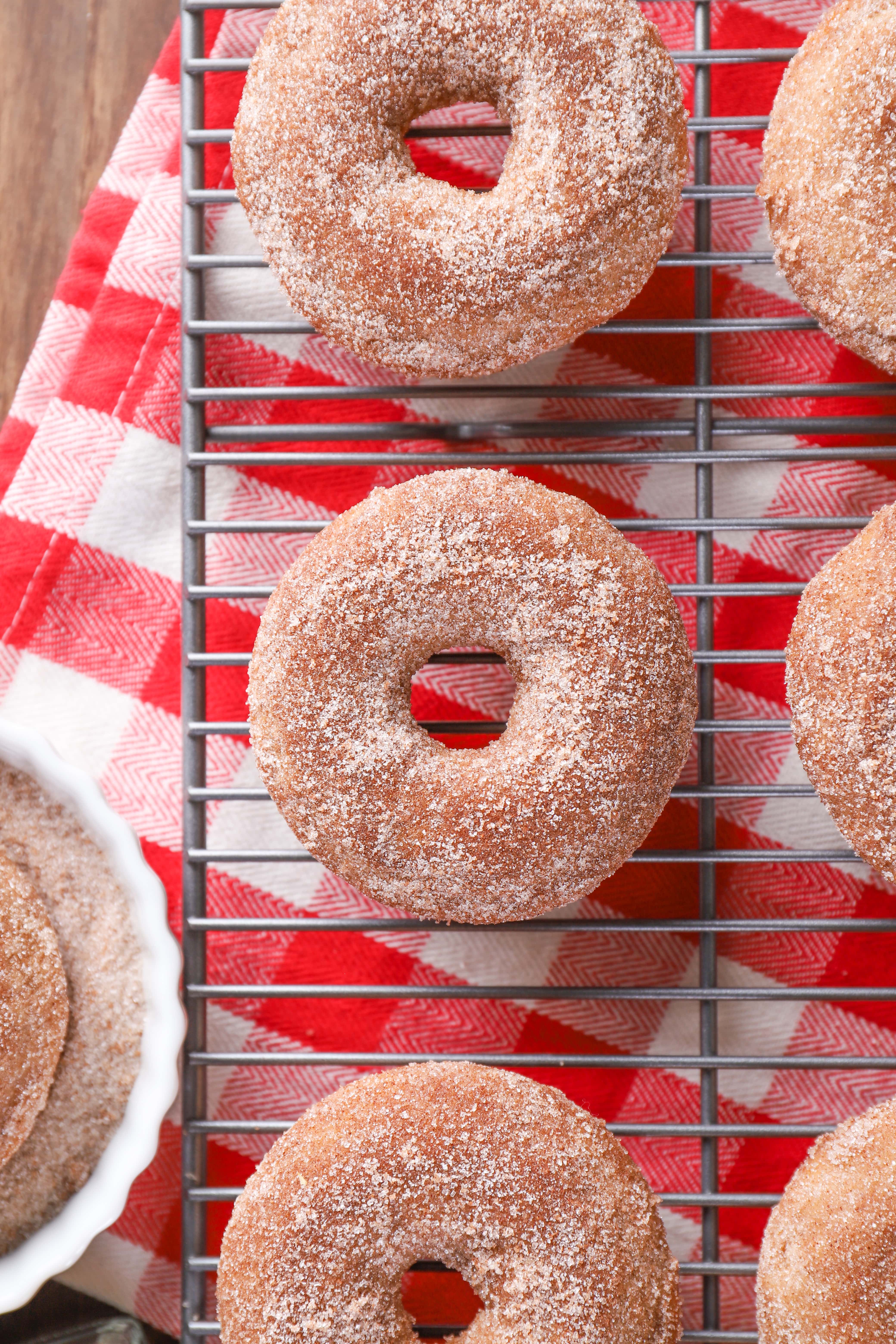 Tips for making Baked Apple Cider Donuts with Cardamom Sugar:
Stick with white whole wheat or all-purpose flour if you don't like the heartiness of whole wheat. You will be able to taste the whole wheat and notice a difference in texture.
I brushed the butter on the donuts with a pastry brush. This made the process less messy than dunking the donuts in melted butter. It also allowed me to use less.
You'll want to make sure that the butter is completely melted and not just mostly melted. This will give you a nice light layer of butter to coat the donuts with, so the donuts don't get soggy with butter.
If you don't like cardamom, you can just leave it out and have a cinnamon sugar coating instead.
If you don't have the time to reduce the apple cider, you can use apple cider that isn't reduced. Just know that the apple cider flavor won't be that strong.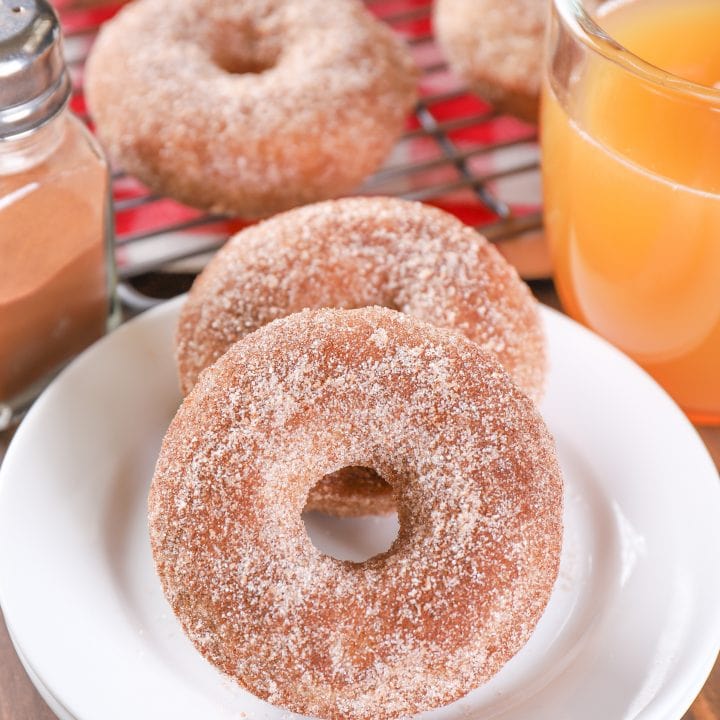 Baked Apple Cider Donuts
These Baked Apple Cider Donuts are tender, light and filled with apple cider and warm apple pie spices! Coating these donuts is an irresistible cardamom sugar!
Ingredients
For the Donuts
2 C white whole wheat flour (I used Trader Joe's)
⅓ C sugar
¼ C brown sugar
2 tsp baking powder
1½ tsp cinnamon
½ tsp nutmeg
½ tsp allspice
1/4 tsp ginger
1/8 tsp cardamom
¼ tsp salt
3/4 C reduced apple cider**
½ C unsweetened applesauce
2 eggs
3 tbsp butter, melted and cooled
1½ tsp vanilla extract
For the Sugar Coating
1/2 C sugar
1 1/4 tsp cinnamon
½ tsp cardamom
3 tbsp butter, melted
Instructions
Preheat oven to 350°F. Lightly spray a donut pan with non-stick cooking spray.
In a large bowl, whisk together flour, sugars, baking powder, cinnamon, nutmeg, allspice, ginger, cardamom, and salt. Stir in apple cider, applesauce, eggs, butter, and vanilla extract until just combined.
Pour batter into a pastry bag or a ziploc bag with the corner cut off. Fill each donut cavity about ¾ full.
Bake for 10-12 minutes or until edges just start to turn light golden brown and donuts spring back when lightly pressed. Remove to a wire rack to cool for 2 minutes before removing from pan onto wire rack.
Stir together sugar, cinnamon, and cardamom in a small bowl. Brush donuts with melted butter and dip donuts in sugar mixture until coated.
Best eaten in 1-2 days.
Notes
You can also use 1 teaspoon apple pie spice in place of all of the spices.
**Add 1 1/2 cups apple cider to a small saucepan. Bring to a boil over medium-high heat. Reduce heat to medium and allow to simmer until reduced to half (3/4 cup), about 20-25 minutes.
Recommended Products
As an Amazon Associate and member of other affiliate programs, I earn from qualifying purchases.
Nutrition Information:
Yield:

12
Serving Size:

1 donut
Amount Per Serving:
Calories:

214
Total Fat:

7g
Saturated Fat:

4g
Trans Fat:

0g
Unsaturated Fat:

2g
Cholesterol:

46mg
Sodium:

190mg
Carbohydrates:

36g
Fiber:

3g
Sugar:

20g
Protein:

4g
Nutrition information shown is an estimate provided by an online calculator and may not always be accurate. It should not be considered a substitute for a medical professional's advice.