Turkey leftovers are not just for sandwiches! This Turkey Sweet Potato Quinoa Bake is full of flavor, easy to make, and a healthy way to use up those leftovers around the holidays!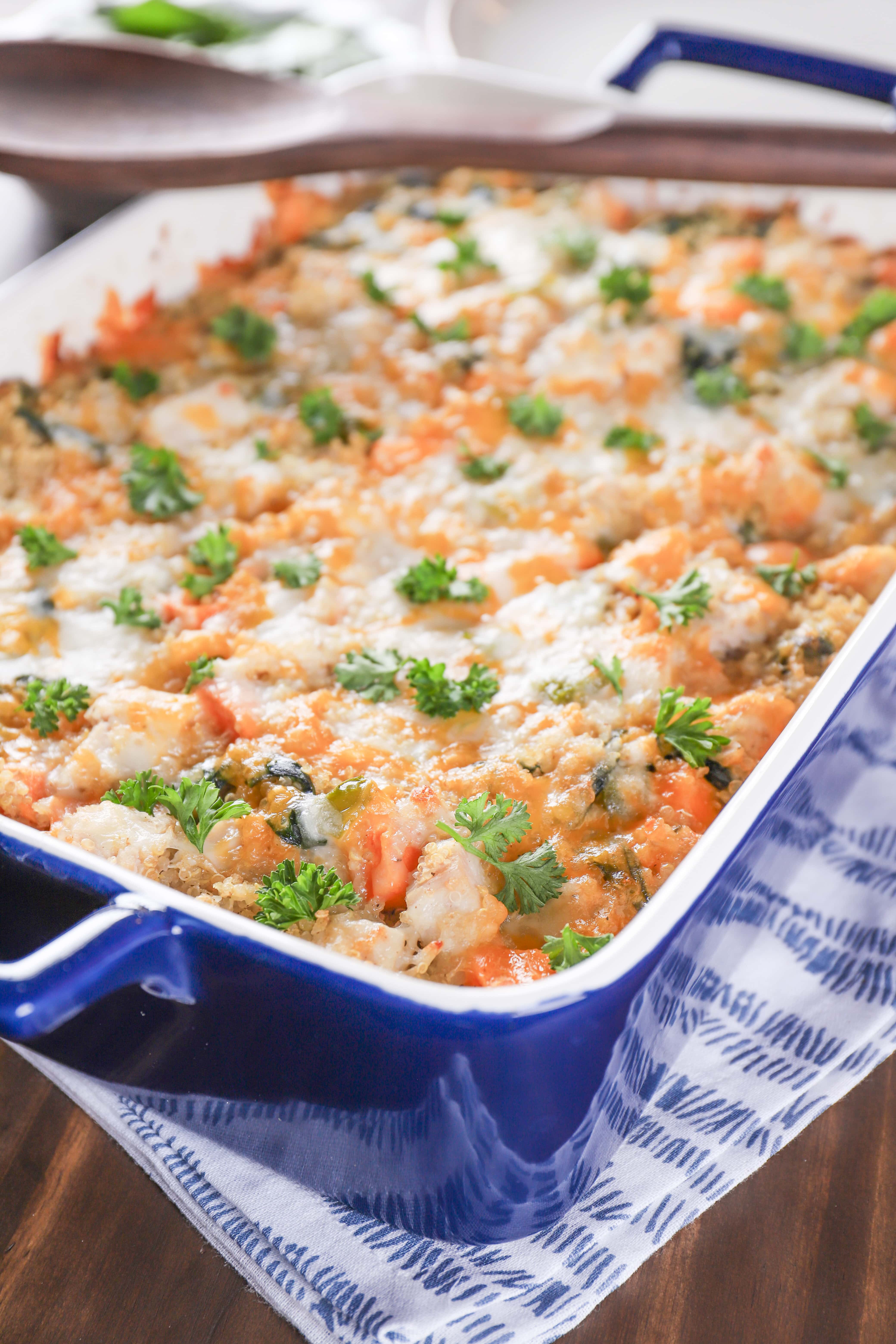 *This post is sponsored by the Minnesota Turkey Growers Association. As always, all opinions are still my own.
How's your Thanksgiving menu looking? Do you have everything planned out and ready to go? I can't believe that it's less than two weeks away!
Remember last year when I took a trip to Alexandria, MN to meet with local farmers and see the Presidential turkey flock? Well, this year I won't be sharing pictures from the flock (it's in South Dakota this year!), but I still have the privilege of working with Minnesota Turkey Growers Association again to help you with your Thanksgiving plans!
(Minnesota ranks #1 in turkey farming with 450 turkey farm families! These farmers raise about 42.5 million turkeys, all of which are raised without added growth hormones or steroids.)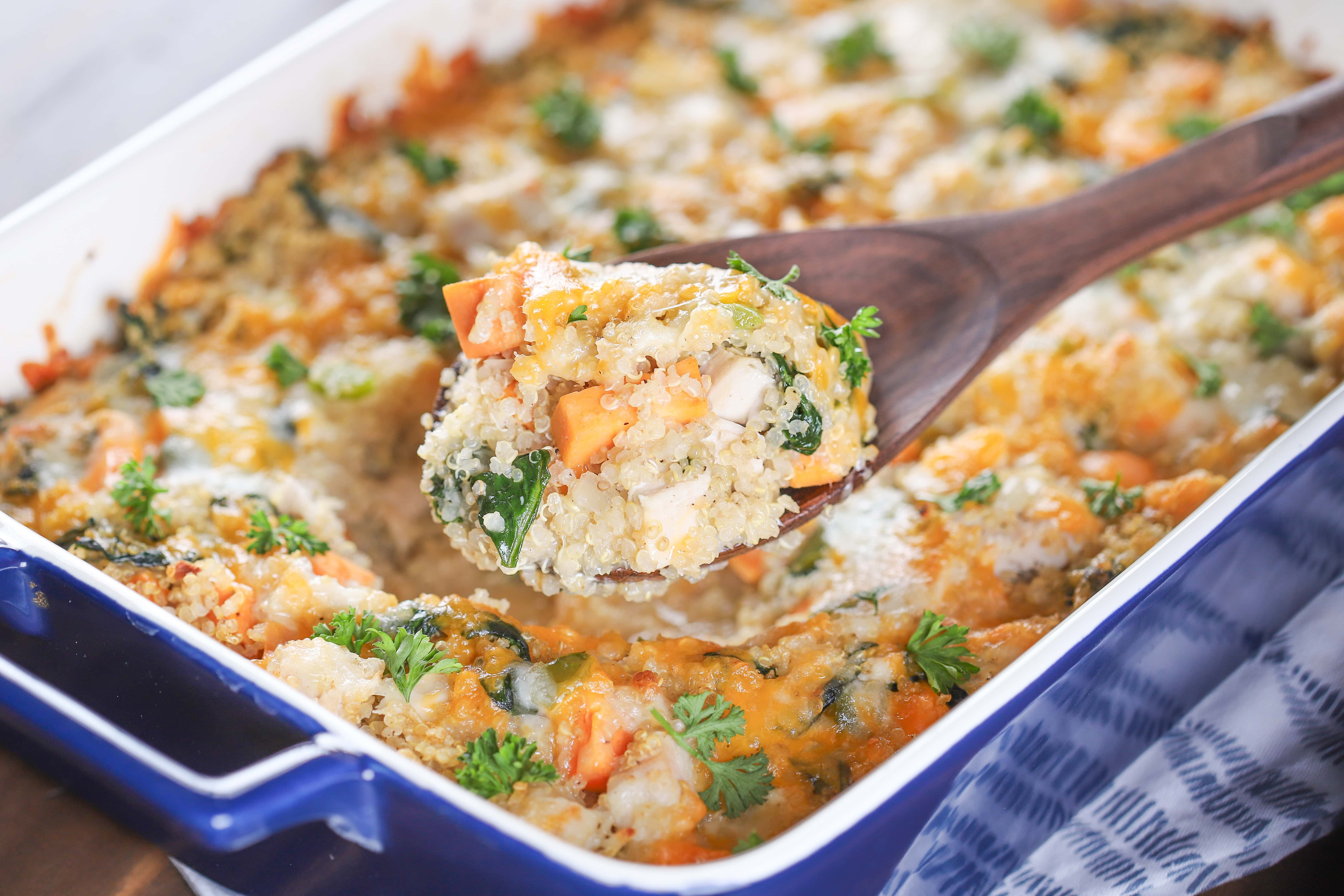 Unlike the last couple of years where I shared slow cooker turkey breast recipes, this year I'm conquering the mountain of turkey leftovers that we all seem to find ourselves with come the end of Thanksgiving dinner.
There are always two things that we can count on having leftovers of after Thanksgiving at our house. Turkey and sweet potatoes. (I have a bad habit of buying way more sweet potatoes than what I need.)
So, this recipe solves the problem of what to do with two different ingredients!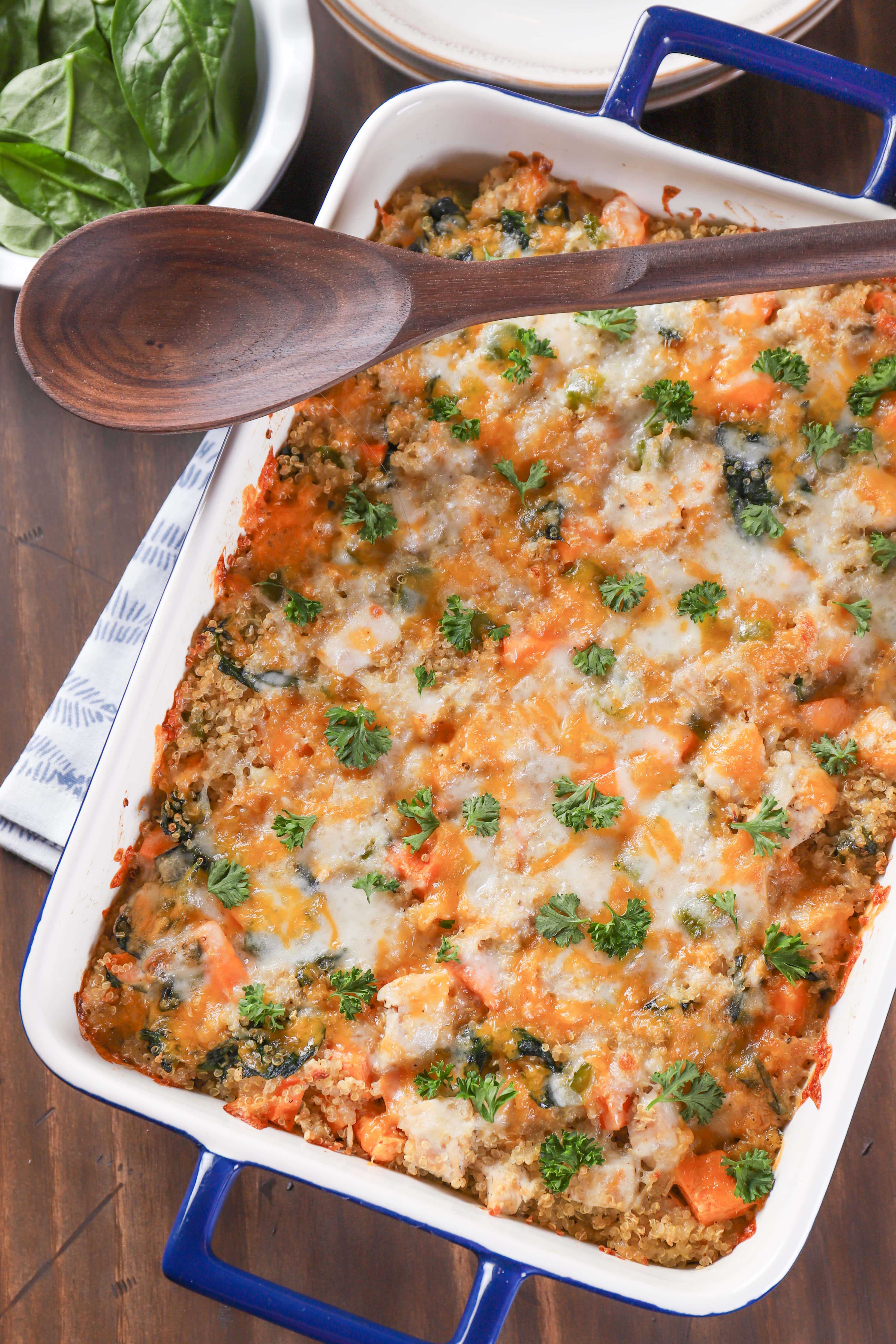 And it doesn't involve a sandwich. Don't get me wrong, I do like a good leftover turkey sandwich, but there are only so many of them I can eat before I'm ready to move on to a different flavor profile!
Like this turkey sweet potato quinoa bake that adds in the freshness of spinach, bell pepper, and parsley.
I used this Slow Cooker Maple Herb Butter Turkey Breast in order to get the leftovers to make this casserole. (And it's still our favorite way to make turkey! So juicy and flavorful!)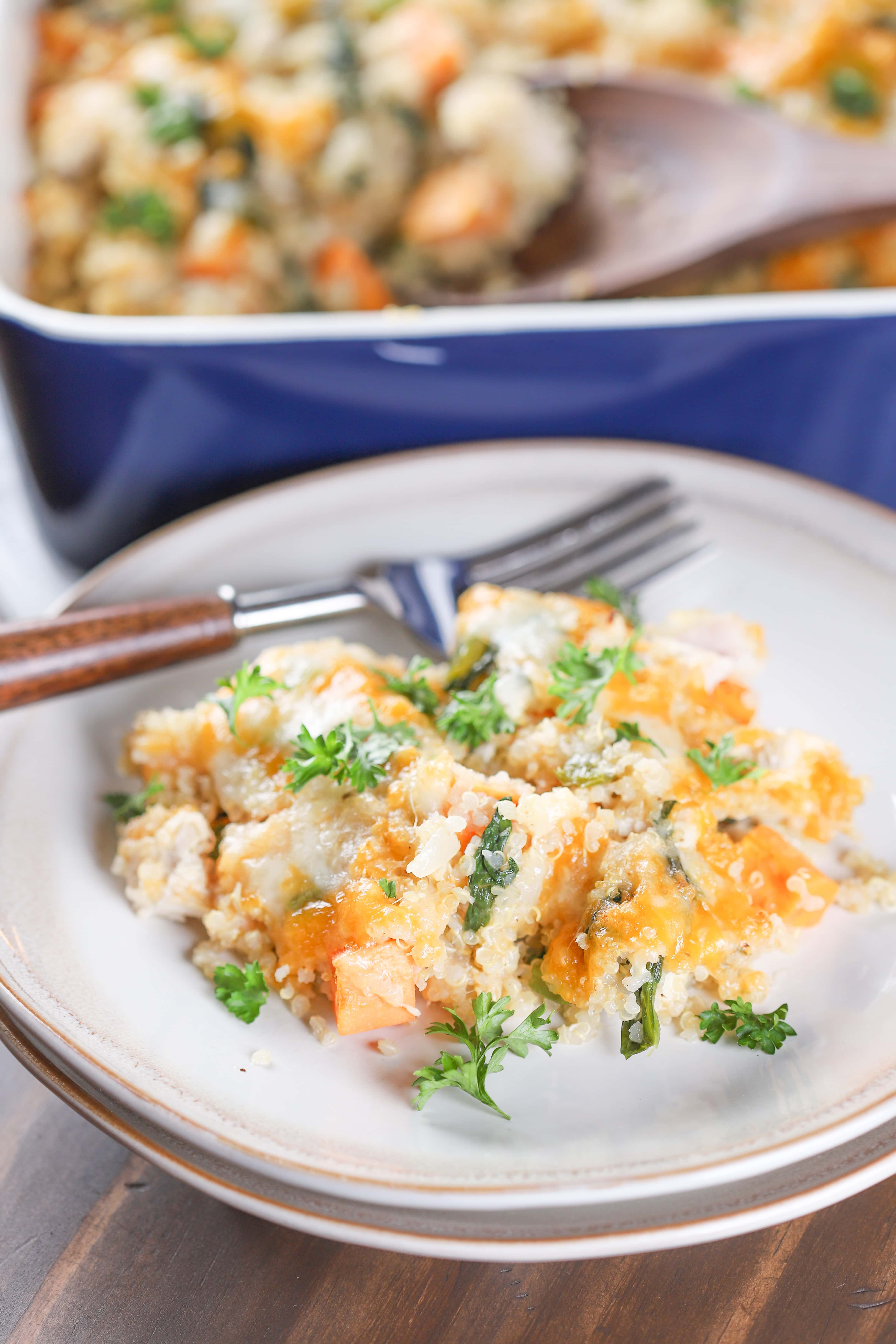 Quinoa is the base of this easy casserole. Fill it with leftover turkey, chopped sweet potato, bell pepper, and cheese.
And since cheese is always a good idea in this house, top it with a bit more cheese at the end of the bake time for extra gooeyness!
Onion, garlic, and parsley add another layer of flavor and help you use up those random bits of parsley, garlic cloves, and parts of onion that you didn't need for your Thanksgiving feast.
Easy, delicious comfort food!
Tips for Making Turkey Sweet Potato Quinoa Bake
If you want to add a little spice to the quinoa bake, chop up a jalapeno, and stir it in with the sweet potato, onion, and bell pepper in the skillet.
If you go to reheat your leftovers and notice that it looks a little dry, sprinkle it with a bit of broth before reheating.
Have leftover sweet corn? You can add that into the bake for a little extra flavor.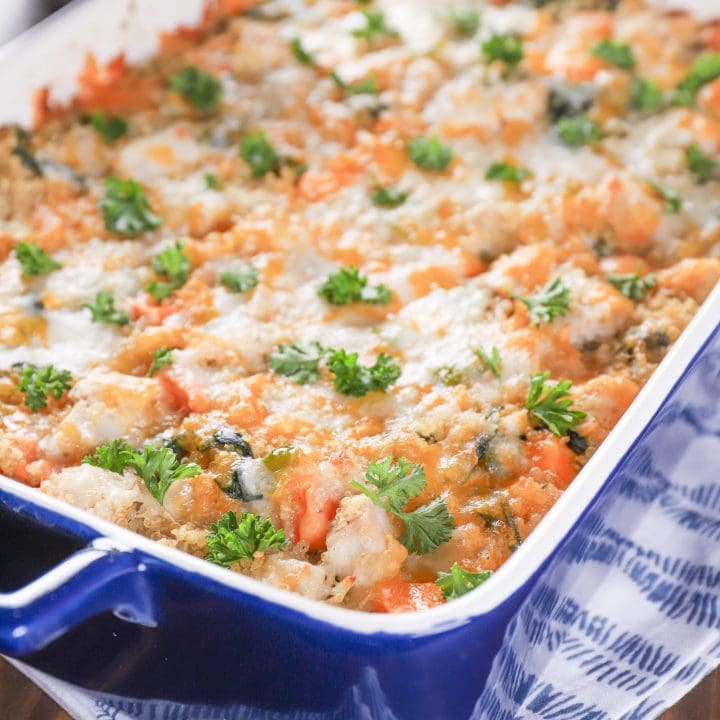 Turkey Sweet Potato Quinoa Bake
Turkey leftovers are not just for sandwiches! This Turkey Sweet Potato Quinoa Bake is full of flavor, easy to make, and a healthy way to use up those leftovers around the holidays!
Ingredients
1 C uncooked quinoa, rinsed + reduced-sodium chicken broth needed for cooking
1 tbsp olive oil
2 C cubed raw sweet potato
1 small yellow or white onion, chopped
1 medium-large green bell pepper, chopped
2 cloves garlic, minced
3 C baby spinach leaves
2 C shredded turkey (white or dark meat)
1 C reduced-sodium chicken or vegetable broth
1 tsp salt
1/2 tsp ground black pepper
2 C shredded mozzarella cheese, divided
1 C shredded cheddar cheese
2 tbsp fresh parsley, for garnish
Instructions
Prepare quinoa according to package instructions using low-sodium chicken broth in place of the water. Fluff with a fork and transfer to a large, heat-safe bowl. Set aside.
Preheat oven to 350 degrees F.
Heat olive oil in a large skillet over medium heat. Add sweet potato, onion, and bell pepper. Cook until bell pepper is softened and onion is translucent, about 7-9 minutes. Stir occasionally.
Stir in spinach and garlic and cook for an additional 2-3 minutes, or until spinach is wilted. Transfer vegetable mixture to bowl with quinoa.
Stir in shredded turkey, chicken broth, salt, pepper, and 1 cup shredded mozzarella cheese.
Spread mixture into a 9x13 inch baking dish. Bake for 25 minutes.
Carefully remove from oven. Top with remaining 1 cup shredded mozzarella cheese and shredded cheddar cheese. Return to oven and bake for an additional 20-25 minutes, or until cheese is starting to brown and edges are bubbling.
Remove from oven to a wire rack and allow to cool for 10-15 minutes before serving. Sprinkle with parsley, and serve.
Store leftovers in the refrigerator.
Recommended Products
As an Amazon Associate and member of other affiliate programs, I earn from qualifying purchases.
Helpful Tips for Choosing and Preparing Your Thanksgiving Turkey from Minnesota Turkey Farmers
Allow one (1) pound of turkey per person for a fresh or frozen bird.
Allow approximately 24 hours for every 4-5 pounds of bird weight for thawing in the refrigerator.
Let a turkey stand for 20 minutes after removing from oven before carving to allow juices to set.
Reheat leftover turkey to 165 degrees Fahrenheit before serving, and enjoy leftovers within 3-4 days.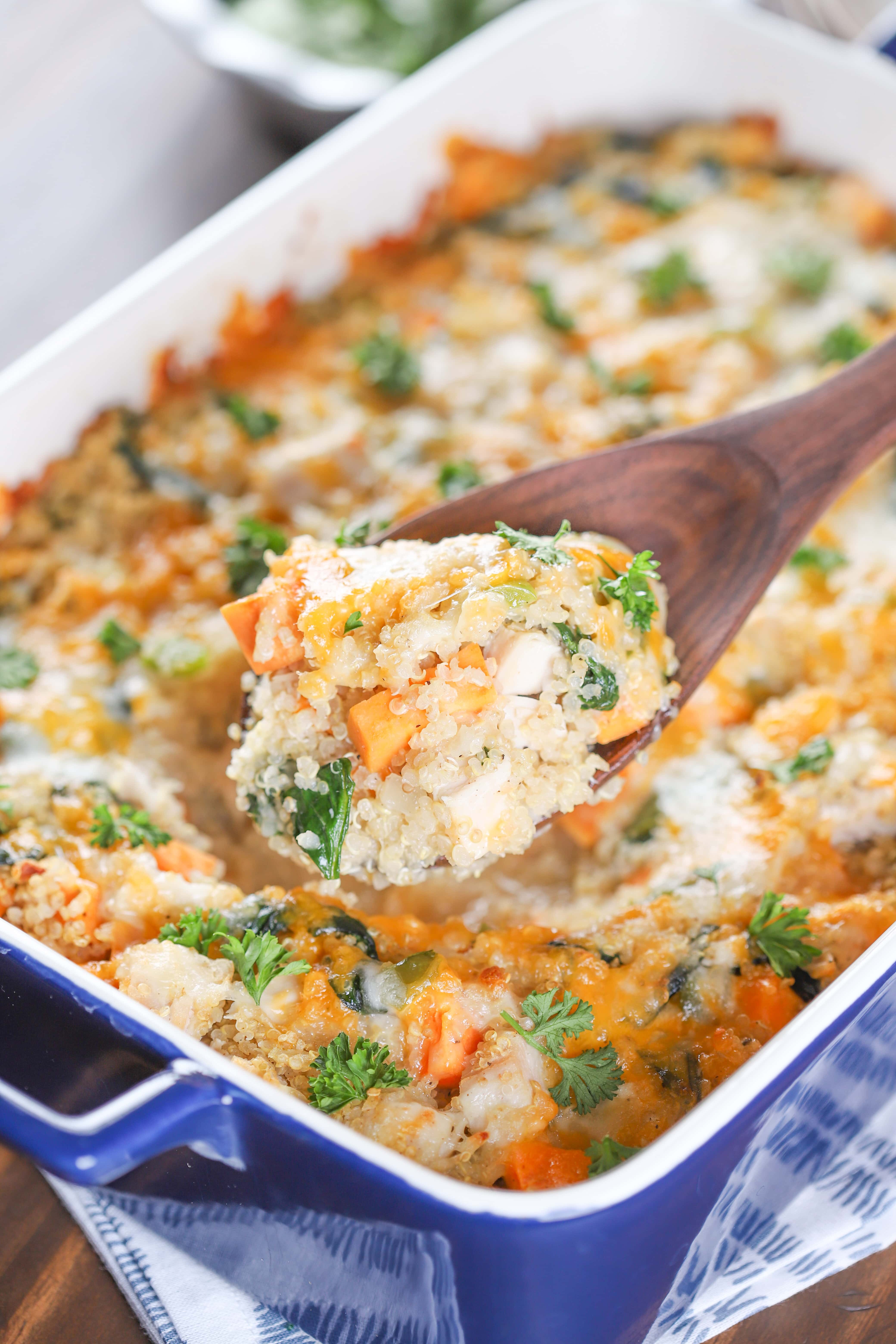 Be sure to check out the Minnesota Turkey Growers Association on Facebook, Twitter, and Pinterest for more Thanksgiving tips and tricks!
Follow along with this year's Presidential Turkey Flock on the National Turkey Federation's Facebook, Twitter, and Instagram accounts!