(This recipe has been given an update here –> Lightened Up Stuffed Pepper Casserole.)
Stuffed peppers without the work of carving out the peppers, stuffing them, trying to get them to stay upright, etc.?? Sounds great to me!
That is exactly what this recipe gives you. The taste is that of a stuffed pepper, but the work is that of an easy casserole. Plus, the leftovers store and reheat a lot easier this way!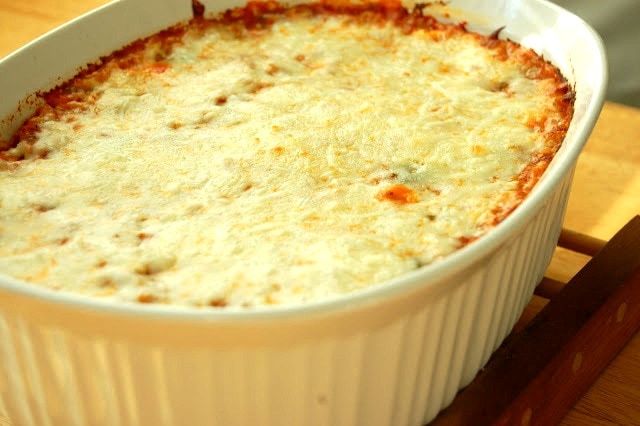 Next time I think I will try adding in black beans and corn to up the veggies in the dish!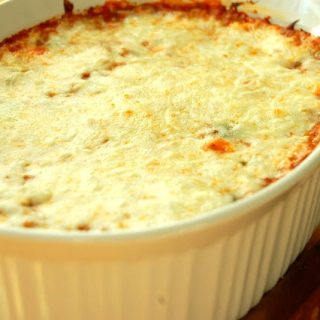 Stuffed Pepper Casserole
Yield: 7 - 1 cup servings

Prep Time: 15 minutes

Cook Time: 25 minutes

Total Time: 40 minutes
Ingredients
1 lb pound extra-lean ground beef
2 small green peppers, coarsely chopped
1 tsp onion powder
salt to taste, optional
3 garlic cloves, minced
2 C long grain brown rice, cooked
1 24oz jar of low-sodium spaghetti sauce (If you are using a plain spaghetti sauce, you will want to add in 1/4 tsp Italian seasoning, 2 tsp season salt, 2 tsp onion powder, and 1 1/2 tsp garlic powder to give more flavor.)
1 1/2 C reduced-fat mozzarella cheese blend, divided
Instructions
Preheat oven to 350.
Cook meat in frying pan until almost completely browned. Drain and rinse. Place beef back in pan and add peppers, onion powder, salt, and garlic cloves. Cook over medium-low heat until beef in completely cooked and peppers begin to turn tender.
In a 2 1/2 qt casserole, stir together the rice, spaghetti sauce (and added spices if using), and 3/4 C cheese.
Add in the beef mixture and stir until combined. Sprinkle with remaining cheese.
Bake for 25 minutes or until heated through and cheese begins to brown. Let sit for 5-10 minutes before serving.
Stuffed Pepper Casserole

Adapted from: Kraft Recipes
Like this recipe? Be sure to "like" A Kitchen Addiction on Facebook to not miss a single recipe!