Cinnamon has become one of my favorite flavors. If I can find a way to add it to something, I will. Cinnamon bread, cinnamon in my coffee, cinnamon oatmeal, cinnamon cookies, so why not cinnamon biscotti?! When I came across this recipe, I knew I had to try it!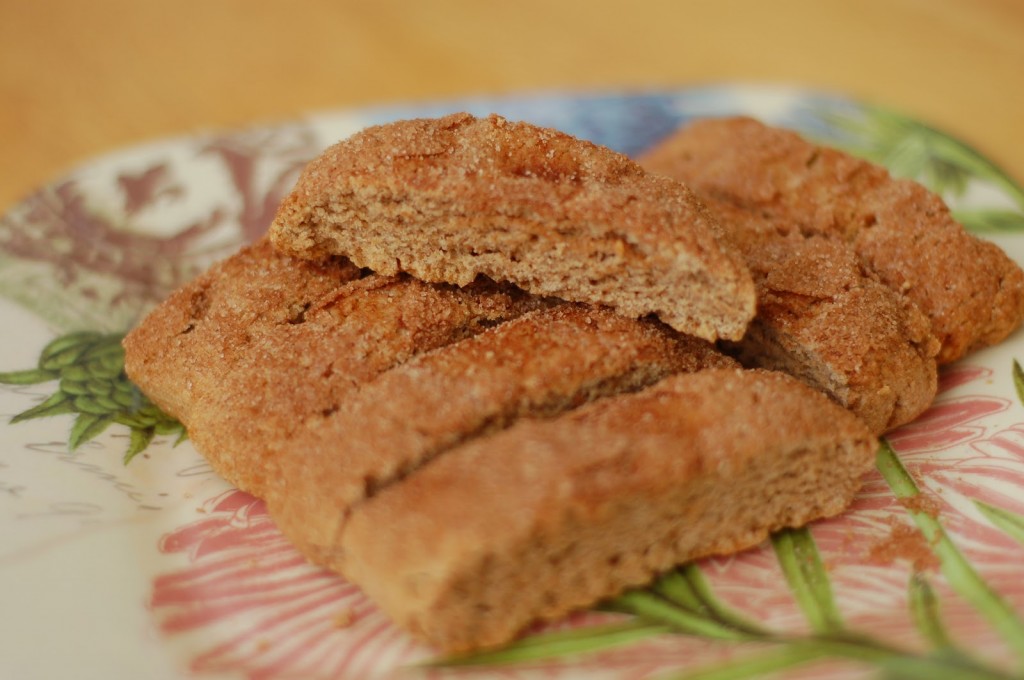 By adding whole wheat flour, using applesauce, and reducing the amount of sugar, I found a new perfect pairing for coffee/tea/milk. 🙂 And since it's "healthy," I can enjoy it more often!
Cinnamon Sugar Biscotti

Adapted from: honey & jam
Yield: about 24 pieces
Ingredients
1 C all-purpose flour
1 C white whole wheat flour
1 1/2 tsp cinnamon
1 tsp baking powder
1/4 tsp salt
1/4 C sugar
3/4 C sugar substitute
3 tbsp applesauce
3 tbsp butter, room temperature
2 eggs, one whole and one separated (will use the white for the glaze)
1 tsp vanilla extract
For the Topping
beaten egg white from separated egg
2 tbsp sugar
1/2 tsp cinnamon
Directions
Preheat oven to 325. Line a baking sheet with parchment paper.
In a medium bowl, whisk together flours, cinnamon, baking powder, and salt. Set aside.
In the mixing bowl of a stand mixer, add sugar, sugar substitute, applesauce, and butter. Beat until creamy. Add egg and egg yolk of separated egg. Beat until light and creamy. Add vanilla and beat until well combined.
Add dry ingredients to wet mixture. Beat until a dough begins to form. If dough is too stiff for mixer, finish mixing by hand.
Divide dough in half and place both halves on parchment lined baking sheet. Pat dough into a 9 1/2′" long and 1 1/2″ wide rectangle. Brush dough with beaten egg white. Sprinkle with cinnamon sugar and pat into dough.
Bake for 30 minutes, rotating baking sheet halfway through baking time. After 30 minutes, remove baking sheet and allow to cool until able to touch dough (Leave oven on.).
Using a serrated knife, cut logs into 1/2 inch wide slices. Place biscotti cut side down on baking sheet and sprinkle with more cinnamon sugar.
Bake again for about 10-15 minutes or until pale golden. Cool completely. Store in an airtight container.