Happy Friday!! I hope that you all have had a good week and will be able to have a relaxing weekend. I have a recipe for you that will get a relaxing weekend started for you! This bread makes your house smell amazing from the dough cycle to the time you take it out of the oven! The added nutmeg and cinnamon to the dough gives the bread an added hint of spiciness. 🙂
The filling makes it taste like cinnamon roll bread, tasting great alone or toasted. This would also work well as thick slices of french toast! Just make sure to roll the dough tightly so that it bakes together well. I have had it were the pieces fall apart when it gets loose. Still tastes great, just doesn't make it great to handle! 🙂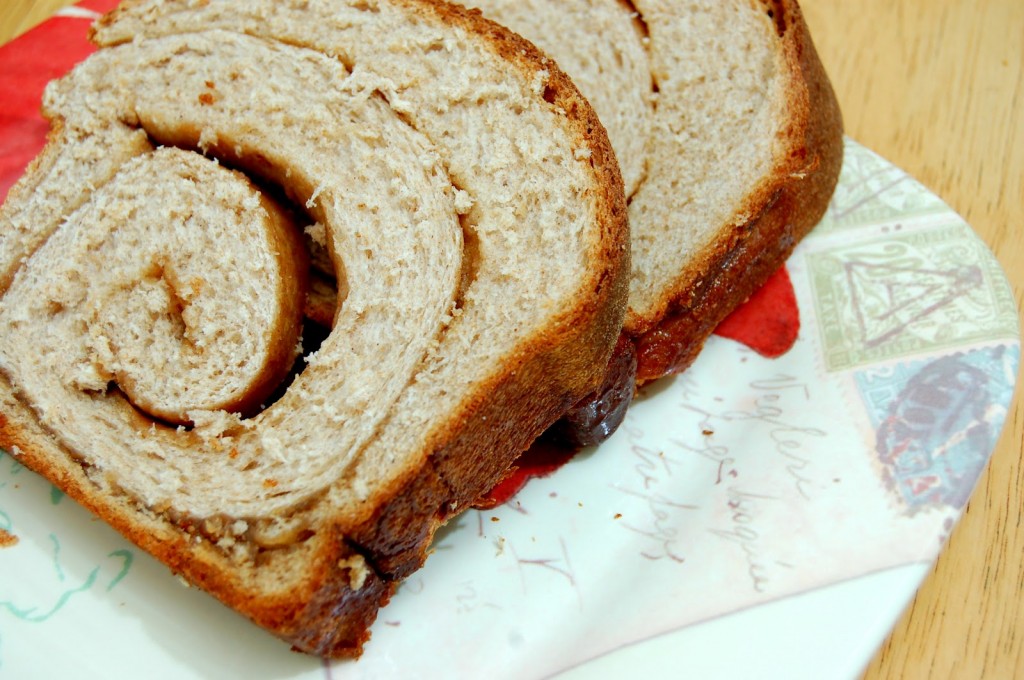 Hope you all have a wonderful weekend!
Simply Amazing Cinnamon Swirl Wheat Bread

Yield: one 2lb loaf
Ingredients
For the Dough
1 egg, room temperature
1/4 C non-fat milk
3/4 C warm water
1/4 C butter, softened
1/3 C sugar
1 tsp salt
2 C whole wheat flour
1 1/2 C all-purpose flour
1/2 tsp nutmeg
1/2 tsp cinnamon
2 1/2 tsp instant dry yeast
For the Filling
3-4 tbsp butter, softened
1/3 C brown sugar
1 tbsp cinnamon
Directions
Put egg, milk, and water into bread machine pan.
Add butter, sugar, flour, salt, nutmeg, cinnamon, and yeast.
Set bread machine to dough cycle.
Remove dough at end of cycle and roll into approx. a 10×12 rectangle.
Spread softened butter on surface of dough to the edges. Sprinkle with brown sugar and cinnamon.
Starting with short side, roll tightly. Pinch and fold down ends.
Place in bread pan. Cover and let rise in a warm spot for about an hour or until dough has doubled in size.
Preheat oven to 350.
Once dough has risen, bake for 35 minutes.
Remove from oven and let cool in pan for at least 10 minutes to allow filling to set.