With these Healthier Chocolate Chip Peanut Butter Oat Cookie Wedges, you can be biting into a warm, gooey cookie in less than 30 minutes! Cookie craving cured!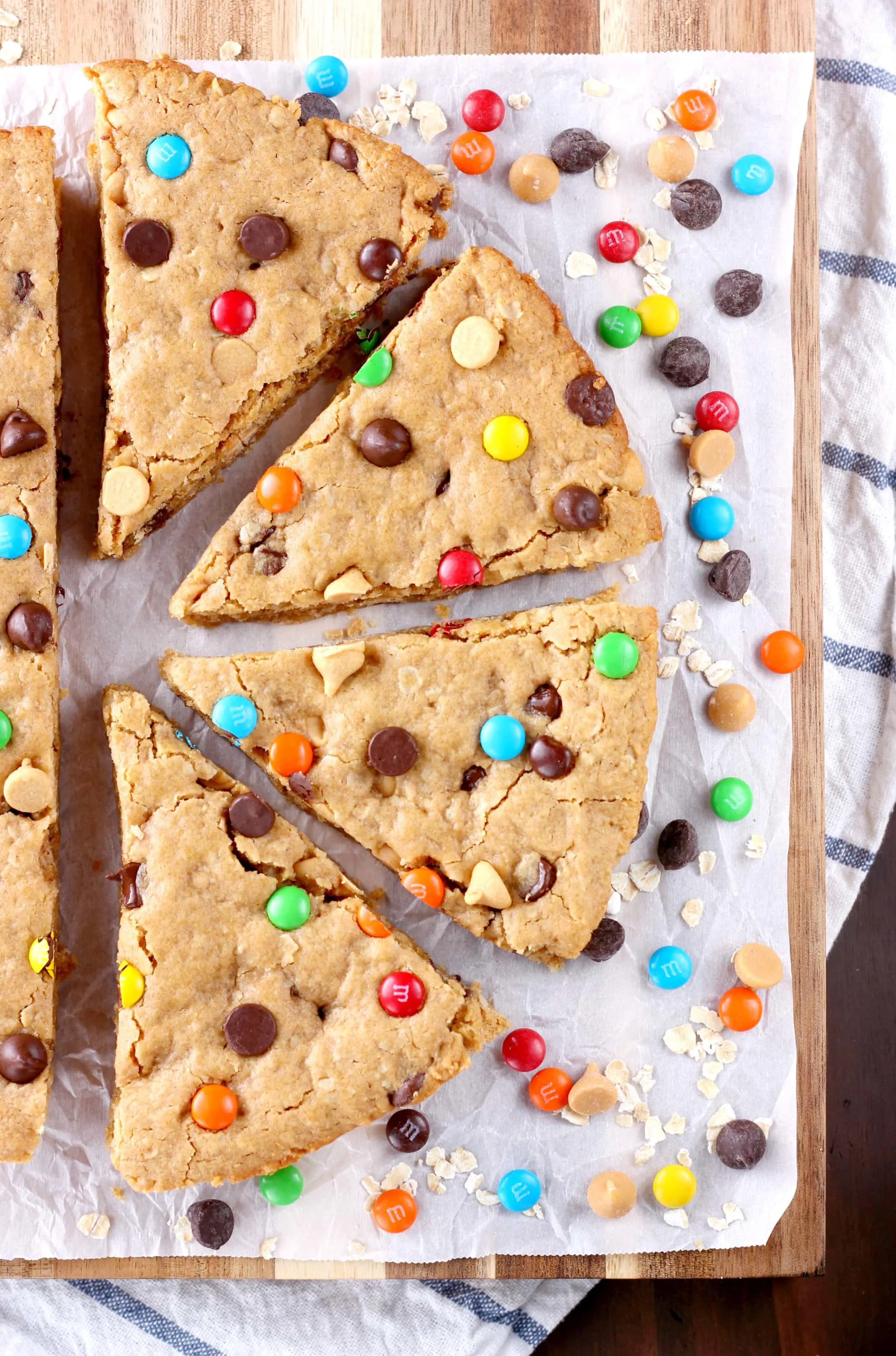 Do you ever want dessert or a little something sweet but don't have the time (or patience!) to make a whole batch of cookies?
We don't have cookies or any dessert just sitting around at our house very often, so when one of us wants cookies, we usually have to make it when the craving hits. And we usually don't want to wait!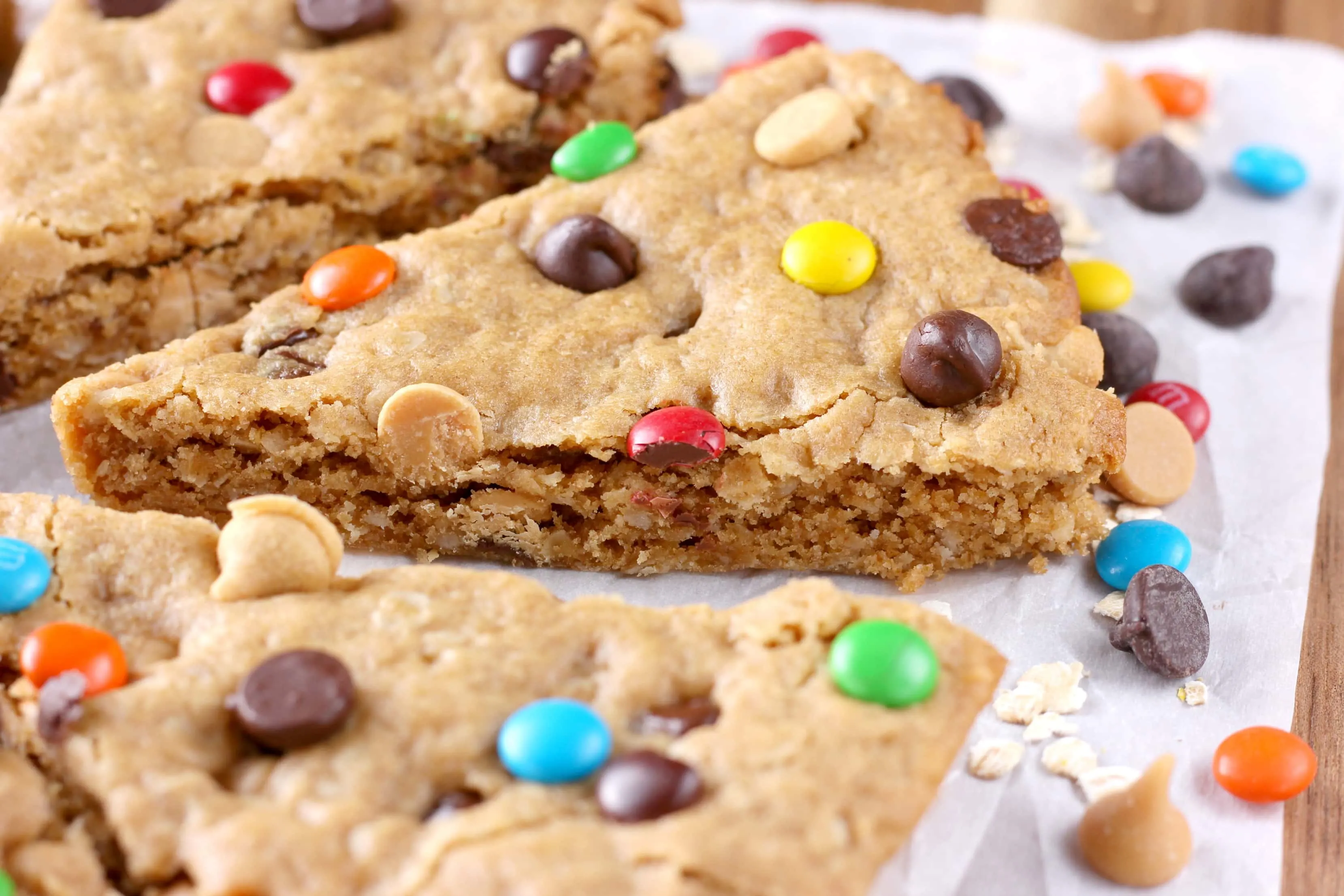 So, I made a giant cookie that can satisfy our cookie cravings without taking up our precious time or without eating lots of refined sugars and fats!
White whole wheat flour, oats, honey, and an egg white make this delicious cookie lighter than your average cookies.
And it's super easy to make. You don't even need a mixer. Just whisk together the wet ingredients, whisk together the dry ingredients and stir the two together.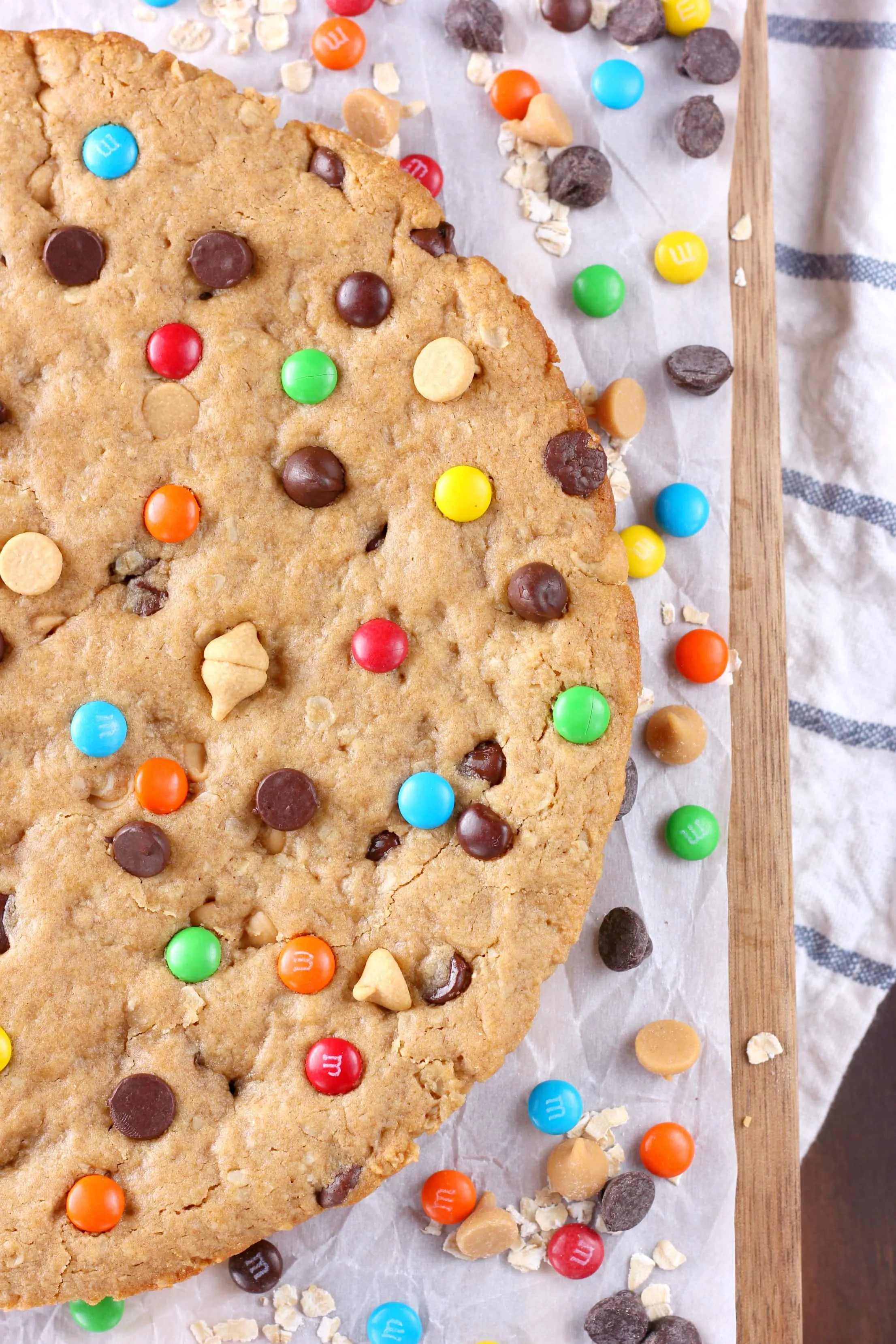 A combination of dark chocolate chips and peanut butter chips is mixed in and then the dough is pressed into the pie plate.
I thought the cookie dough was looking a little plain, so I sprinkled on a 1/2 tablespoon of mini M&M's at the last minute to add a pop of color!
Then all you have to do is bake! Well, that and wait for it to cool long enough so you don't burn your tongue before you dig in!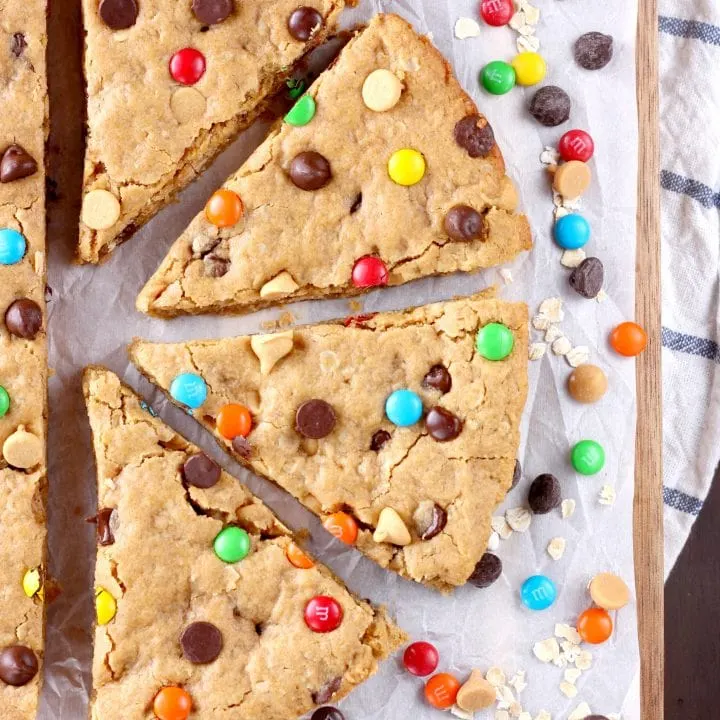 Healthier Chocolate Chip Peanut Butter Oat Cookie Wedges
Ingredients
¼ C honey
¼ C no-stir natural creamy peanut butter
2 tbsp melted coconut oil (can also use olive or canola oil)
1 large egg white
½ tsp vanilla extract
3/4 C white whole wheat (or all-purpose) flour
½ C quick oats
2 tbsp brown sugar
¼ tsp baking soda
¼ tsp salt
2 tbsp dark chocolate chips
2 tbsp peanut butter chips
1/2 tbsp mini M&M's
Instructions
Preheat oven to 350. Lightly spray a 9 inch pie plate with non-stick cooking spray.
In a small bowl, whisk together honey, peanut butter, oil, egg white, and vanilla extract.
In a large bowl, whisk together flour, oats, brown sugar, baking soda, and salt. Add wet ingredients to dry ingredients and stir until combined. Stir in dark chocolate chips and peanut butter chips.
Spread batter into the bottom of prepared pie plate. Sprinkle with mini M&M's. Gently press mini M&M's into dough.
Bake for 10-15 minutes or until edges just start to turn golden.
Remove to a wire rack to cool for at least 5 minutes before cutting into slices and serving.
Recommended Products
As an Amazon Associate and member of other affiliate programs, I earn from qualifying purchases.