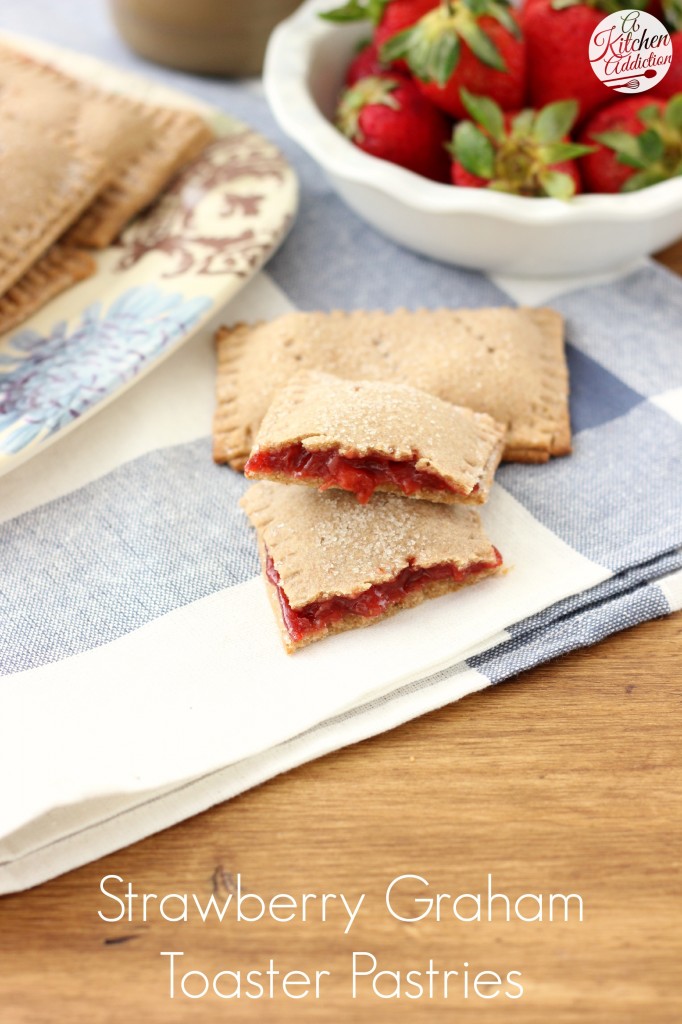 Homemade toaster pastries . . .have you ever had them? After tasting their fresh, wholesome flavor, you may never want a store bought one again! I made my first batch last summer after really wanting to have a toaster pastry that wasn't filled with lots of refined flours and sugars. They were blueberry toaster pastries that were whole wheat and filled with ripe, juicy blueberries. Since I have a huge addiction to fresh strawberries this time of year, it was only a matter of time before I switched up my blueberry toaster pastries to be strawberry toaster pastries!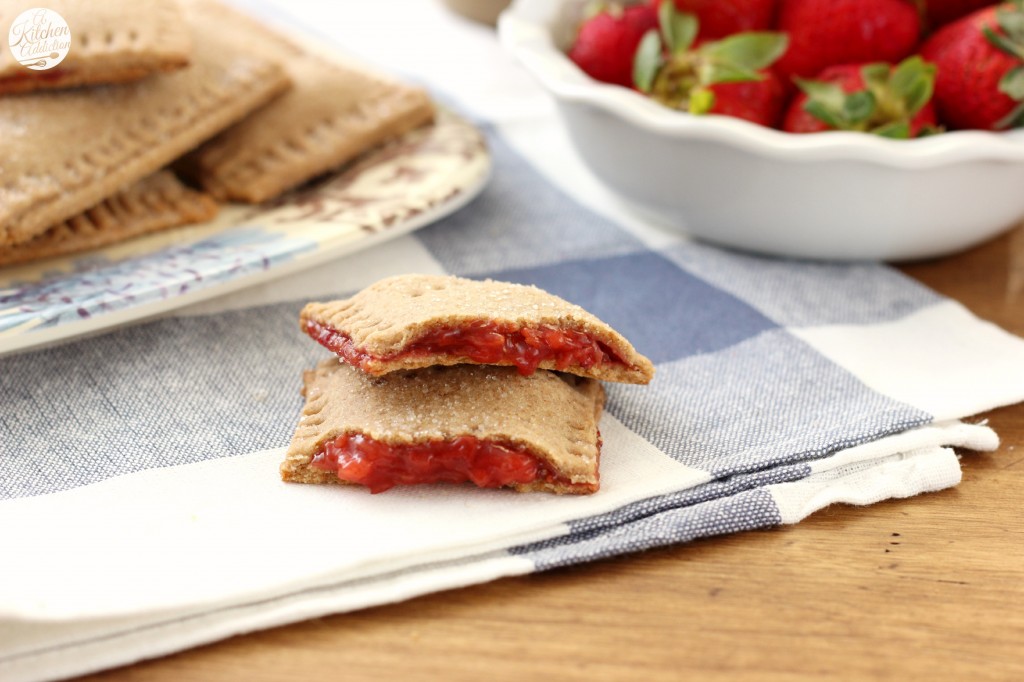 Along with loving strawberries, I love the graham flavor. I switched out some of the whole wheat flour for finely ground graham cracker crumbs. The graham crackers add flavor and give these toaster pastries a softer texture. Instead of just strawberry flavoring (or a bit of natural flavor, if you're lucky!) like store bought toaster pastries, these toaster pastries are filled with real strawberries so you get a chunk in each bite. A bit of cinnamon is added to boost the flavor and make these toaster pastries even more irresistible.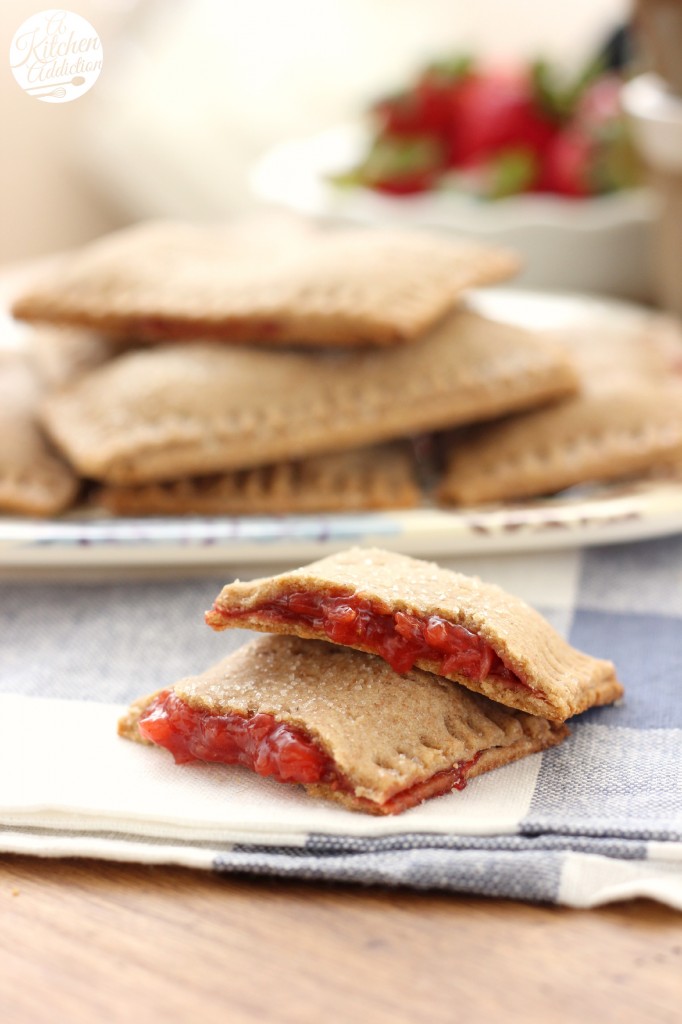 Eat them warm straight from the oven (let them cool just a bit so you don't burn your mouth!) for a warm tasty breakfast! Or, let them cool and serve them as a fun afternoon snack for your kids. Either way, you will find that a batch of these strawberry graham toaster pastries won't last long at your house!
Whole Wheat Strawberry Graham Toaster Pastries
Author:
Ingredients
For the Filling
1 1/2 C strawberries, chopped
1/3 C sugar
1 tbsp fresh lemon juice
1 tbsp cornstarch
1 tsp cinnamon
For the Dough
1 1/4 C whole wheat flour
1/2 C finely crushed graham cracker crumbs
1 tbsp sugar
1/4 tsp salt
1 egg
1/2 C unsalted butter, cold
1-3 tbsp milk
coarse sugar for garnish, optional
Instructions
In a small saucepan, stir together strawberries, sugar, and lemon juice. Bring to a boil over medium heat. Boil for 10 minutes, stirring occasionally to prevent scorching. Stir in cornstarch (whisked with a bit of cold water) and reduce heat to medium-low. Boil for 5 minutes. Remove from heat and stir in cinnamon. Allow to cool.
Preheat oven to 375. Line baking sheets with parchment paper or a baking mat.
In the bowl of a food processor (or in a large bowl), mix together flour, graham cracker crumbs, sugar, and salt. Add in egg, butter, and 1 tablespoon milk. Pulse or stir until dough begins to form. Add additional tablespoons of milk as needed.
Turn dough out onto well-floured surface. Knead dough a couple of times until smooth. Roll out into a thin rectangle. Cut into approximate 2.5 inch x 4 inch rectangles. Collect scraps and roll out into more rectangles. (You will get anywhere from 16-20 rectangles, depending on the thickness of the dough.
Place half of the rectangles on prepared baking sheets. Spread about a heaping tablespoon of strawberry mixture over the top leaving about 1/8 inch of dough on all sides.
Top with remaining dough rectangles. Crimp edges with fork. Pierce top dough layer with fork a few times to allow steam to escape while baking. Sprinkle with sugar.
Bake for 10-12 minutes or until edges just start to turn light golden brown.
Allow to cool for a few minutes before serving warm.
Loosely wrap leftovers with plastic wrap.