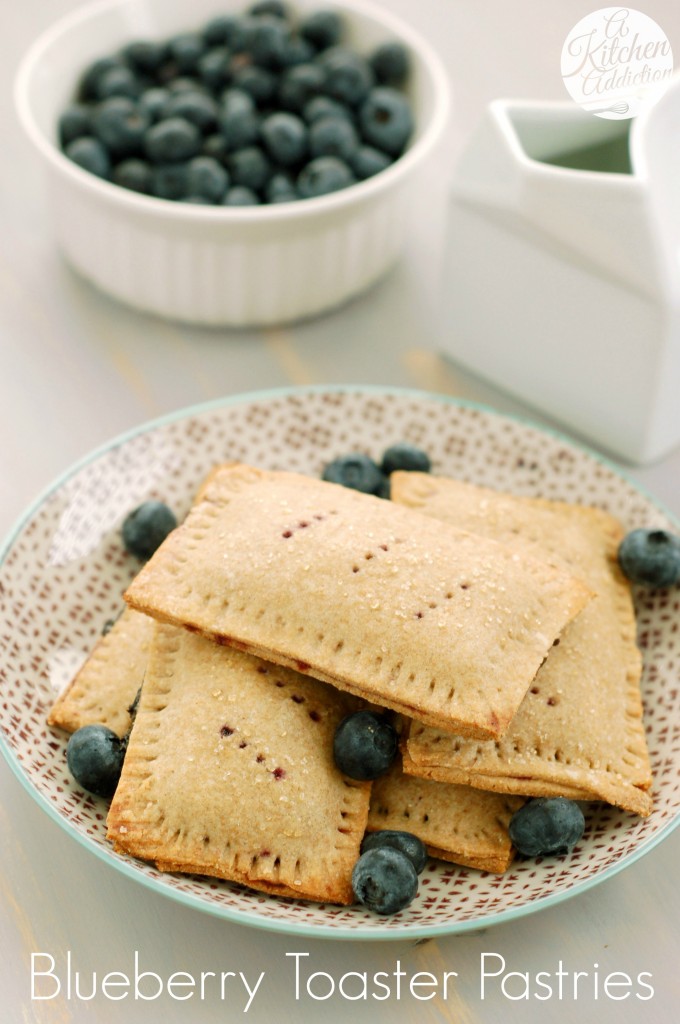 Have you ever wanted to try making your own toaster pastries/pop tarts but you thought the process sounded too difficult? Well, can I just tell you that they really are easy!
They take a little bit of time to prepare, but no step is that difficult. And while you're spending the time making them, you can think about how much healthier they are than the store bought versions!
These blueberry toaster pastries have a combination of whole wheat flour and white whole wheat flour to make the crust.
If you have picky eaters that don't like the texture of whole wheat, you can substitute white whole wheat flour for all of the flour or use half all-purpose.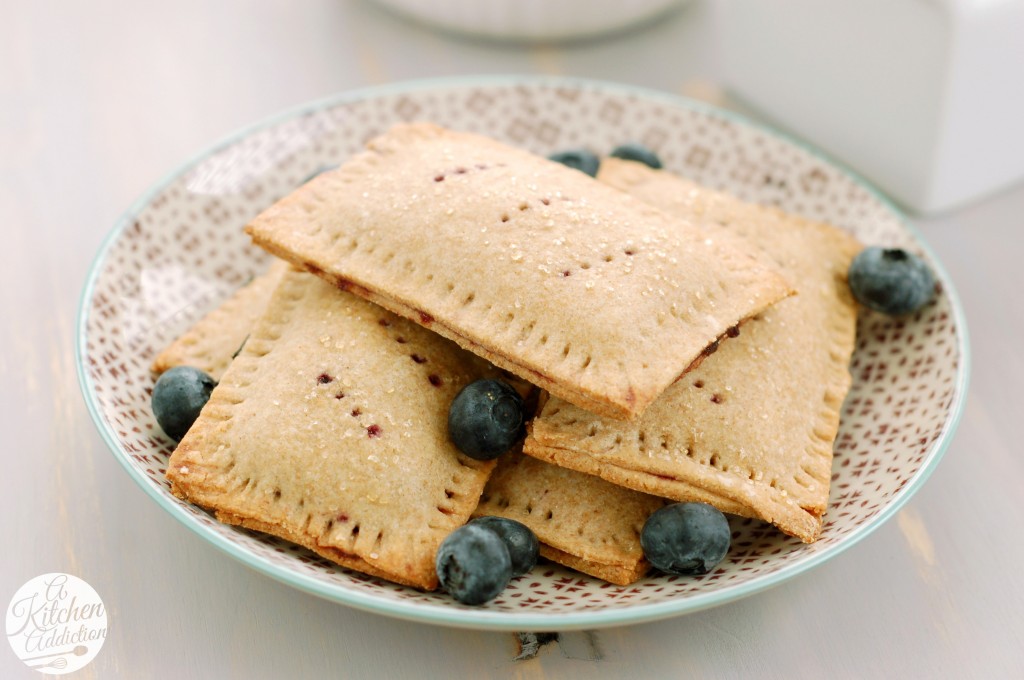 The filling starts with fresh blueberries that are then made into a homemade pie type filling. No store bought jelly or jam here, though that could work in a pinch.
Some lemon juice and sugar are simply boiled together with the blueberries to heighten the flavor of the berries and keep them the main flavor in these homemade toaster pastries.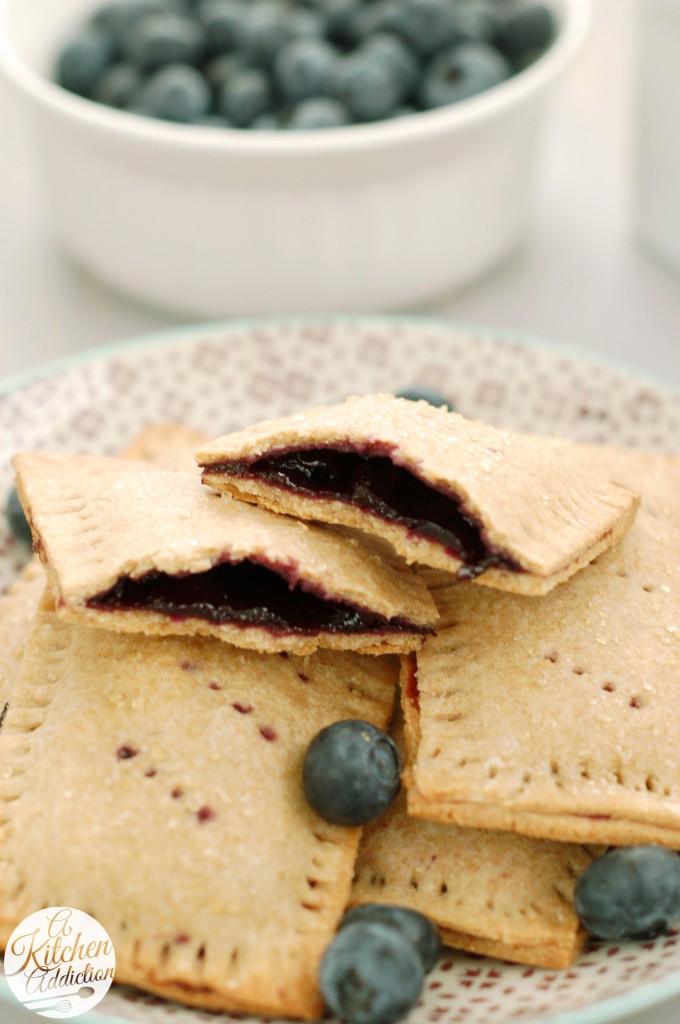 These taste the best warm from the oven but can be reheated in a toaster if there isn't a lot of filling seeping out the sides.
Take a couple to work with you or send some to school with your kids. You don't have to feel bad about the ingredients found in these whole wheat blueberry toaster pastries!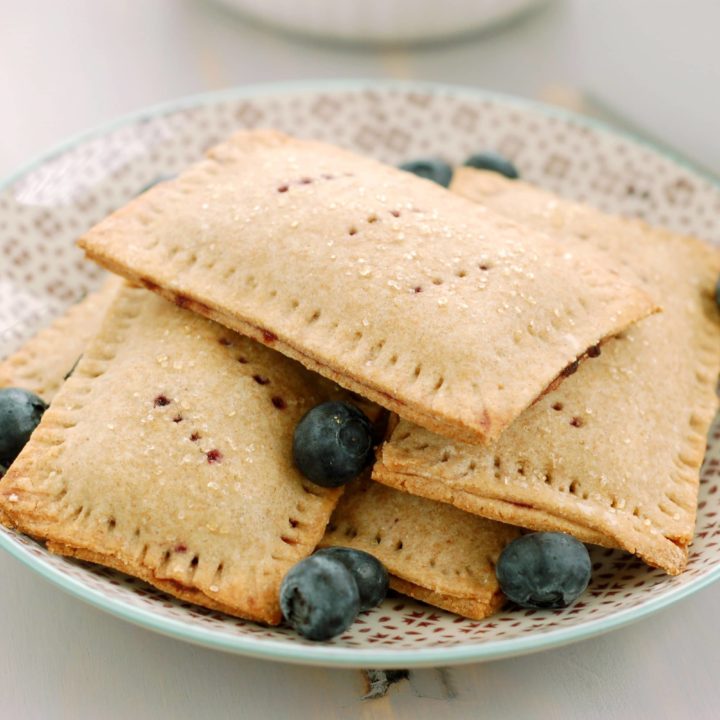 Whole Wheat Blueberry Toaster Pastries
Yield:
10 toaster pastries
Ingredients
For the Filling
1 1/2 Cups fresh blueberries
1/3 Cup sugar
1 Tablespoon fresh lemon juice
1 Tablespoon cornstarch
For the Dough
1 Cup whole wheat flour
3/4 Cup white whole wheat or all-purpose flour
1 Tablespoon sugar
1/4 teaspoon salt
1 egg
1/2 Cup unsalted butter, cold
2-4 Tablespoons milk
coarse sugar for garnish, optional
Instructions
In a small saucepan, stir together blueberries, sugar, and lemon juice. Bring to a boil over medium heat. Turn heat to medium-low and boil for 10 minutes. Stir in cornstarch and boil for another 5 minutes. If mixture gets too thick, stir in a little water.
Set aside and allow to cool.
Preheat oven to 375 degrees Fahrenheit. Line baking sheet with parchment paper or silicone baking sheet.
In the bowl of a food processor or in a large bowl, mix together flours, sugar, and salt. Add in egg, butter and 2 tablespoons milk. Pulse or stir until dough begins to form. Add additional tablespoons of milk as needed.
Turn dough out onto well-floured surface. Knead dough a couple of times until smooth. Roll out into a thin rectangle. Cut into 2.5 in x 4 in rectangles. Collect scraps and roll out into more rectangles. You will get anywhere from 16-20 rectangles depending on the thickness of the dough.
Place half of the rectangles on prepared baking sheet. Spread about a heaping tablespoon of blueberry mixture over the top leaving about 1/8 inch of dough on all sides.
Top with remaining dough rectangles. Crimp edges with fork. Pierce top dough layer with fork a few times to allow steam to escape while baking. Sprinkle with sugar.
Bake for 10-12 minutes or until edges just start to turn light golden brown.
Allow to cool for a few minutes before serving warm.
Loosely wrap leftovers with plastic wrap.
Recommended Products
As an Amazon Associate and member of other affiliate programs, I earn from qualifying purchases.
Nutrition Information:
Yield:

8
Serving Size:

1
Amount Per Serving:
Calories:

342
Total Fat:

13g
Saturated Fat:

8g
Trans Fat:

0g
Unsaturated Fat:

5g
Cholesterol:

54mg
Sodium:

82mg
Carbohydrates:

51g
Fiber:

5g
Sugar:

13g
Protein:

8g
Nutrition information shown is an estimate provided by an online calculator and may not always be accurate. It should not be considered a substitute for a medical professional's advice.