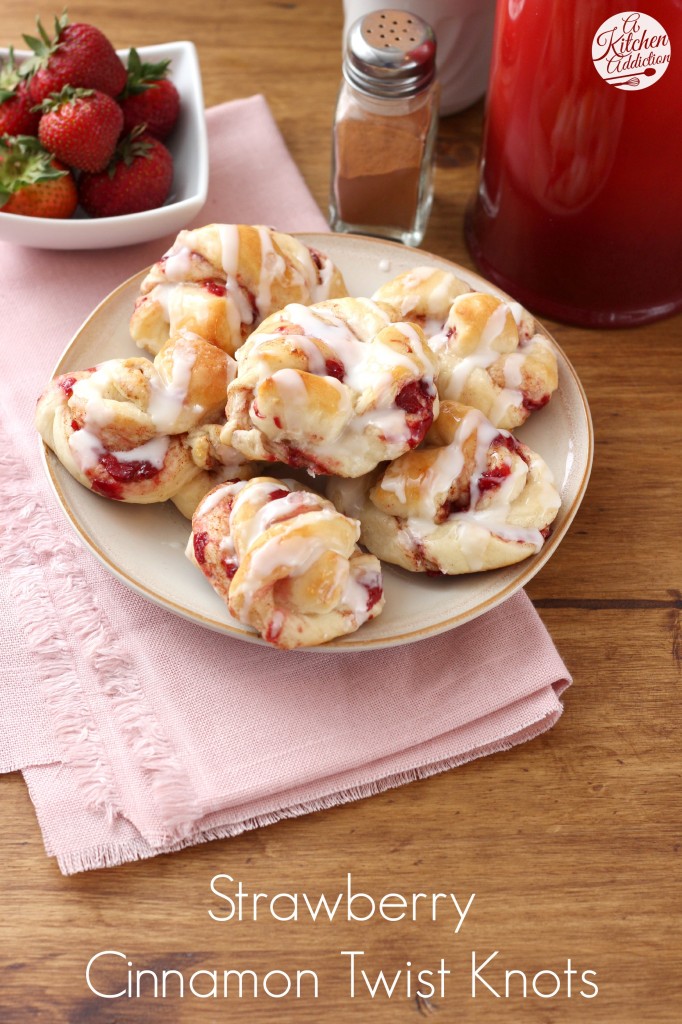 Today is a special day! A group of bloggers have gotten together to throw Stephanie, from Girl Versus Dough, a virtual baby shower! Stephanie is expecting a baby girl and we are all excited for her (and excited to see pictures of her sweet girl!)!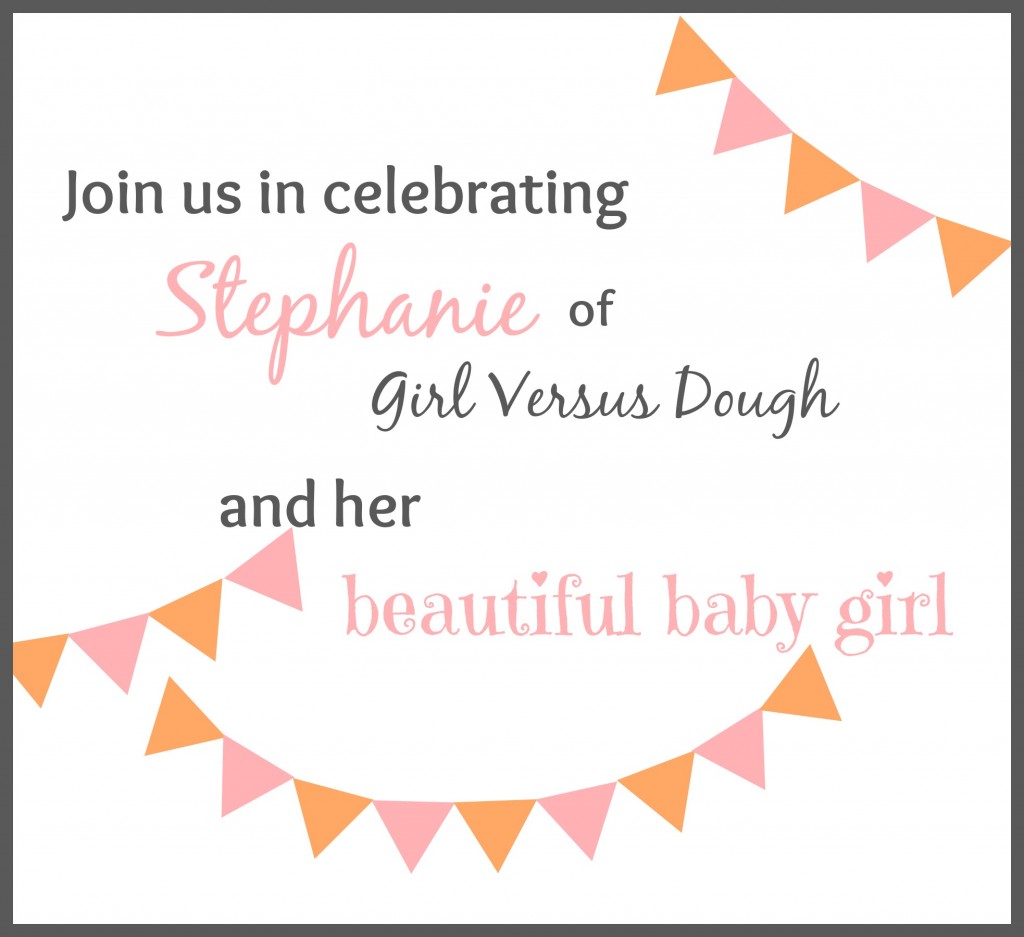 Since Stephanie's blog is named Girl Versus Dough, I thought it was only appropriate to make something that was a type of bread! And, since it's a girl's baby shower, there had to be some pink!
These mini strawberry cinnamon twist knots fulfill both those requirements. These little pastries will not only brighten any morning with their sweet strawberry swirls and light sugar drizzle, but they also make a great addition to a party!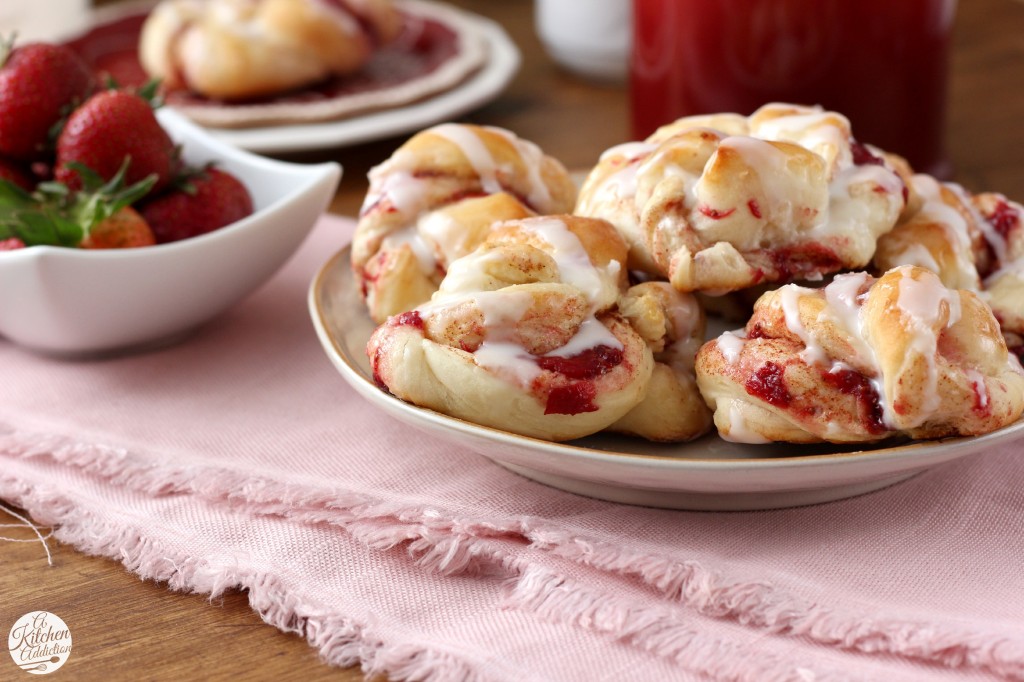 I make regular cinnamon twist knots that are the size of your hand and have always wanted to try paring them down to make them a little smaller. With a few tweaks to the recipe, I finally figured out a miniature version of a blog favorite.
Though they're small, these little knots are full of flavor. Fresh strawberries are boiled down with a bit of sugar to create the perfect filling when blended with a bit of cinnamon.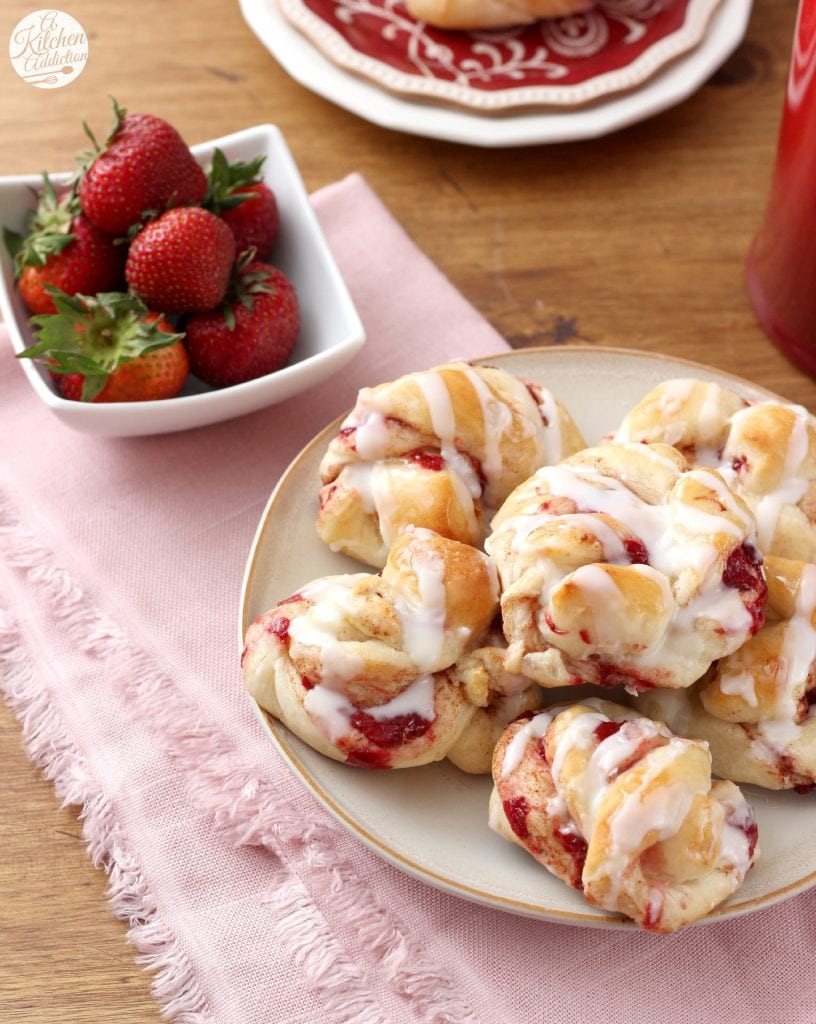 The simple glaze that is brushed over the knots while they are still warm locks in moisture keeping them tender and fresh.
Though I love to eat these while they're still warm from the oven, they still taste great at room temperature the next day. Which makes them great for bringing to a party!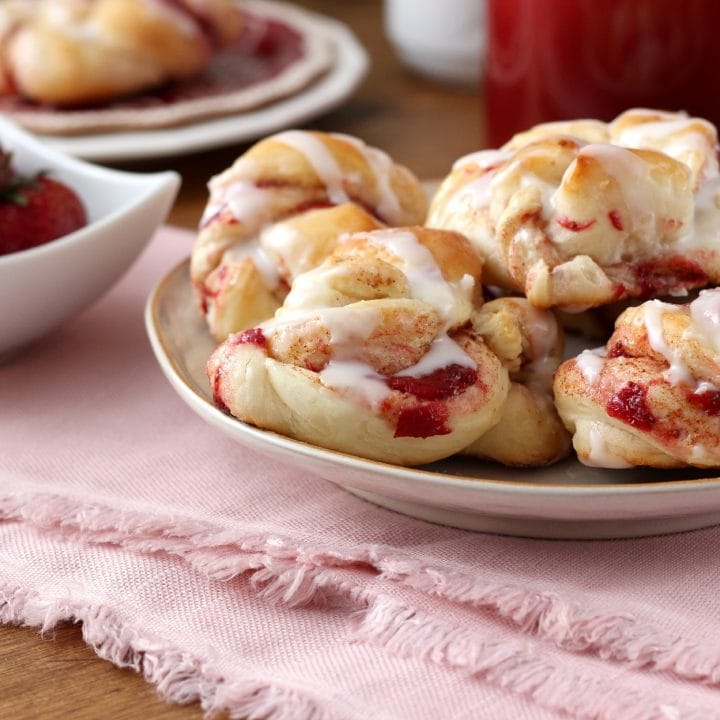 Mini Strawberry Cinnamon Twist Knots
Yield:
16 mini cinnamon twist knots
Ingredients
For the Knots
3 C bread flour
2 1/2 tbsp sugar
3/4 tsp salt
2 1/4 tsp Platinum Red Star Yeast or active dry yeast
1 egg, room temperature
2 tbsp butter, melted and cooled
1 C non-fat milk, warmed to 120-130 degrees F
For the Filling
1 1/2 C strawberries, chopped
1 1/2 tbsp sugar
3 tbsp butter, softened
2 tsp cinnamon
For the Glaze
2 tbsp sugar
1 tbsp water
1 tsp honey
For the Drizzle
3/4 C confectioner's sugar
2 tsp milk
Instructions
In the bowl of a stand mixer, beat together 2 C flour, sugar, salt, and yeast. Add in eggs, butter, and milk. Beat until just starting to combine. Add in remaining cup of flour.
Replace paddle with dough hook and knead for 5 minutes or until dough is smooth and starts to pull away from the edge of the bowl. Dough will be soft and somewhat sticky.
Transfer dough to a large bowl that has been greased. Roll dough around bowl to coat. Cover with a clean towel and allow to rise until doubled in size, about 45 minutes.
While dough is rising, prepare strawberry filling. Combine strawberries and sugar in a small saucepan over medium heat. Bring mixture to a boil. Reduce heat to medium-low and simmer for 20-30 minutes or until strawberries soften and mixture thickens. Remove from heat and allow to cool.
Turn dough out onto floured surface and punch down. Roll out into an approximate 16x8 inch rectangle. Spread dough with softened butter. Sprinkle with cinnamon and spread strawberry mixture over the top.
Gently fold dough in half width wise. Cut dough into 16 strips. Twist each strip and tie into a knot.
Place knots on a parchment paper lined baking sheet or a non-stick cooking sprayed baking sheet. You can either bake them right away or let them rise for another 20 minutes or until puffed.
Preheat oven to 375.
Bake knots for 8-10 minutes or until knots just start to turn golden brown.
When the knots are almost done baking, begin preparing glaze. Stir together sugar, water, and honey in a small saucepan. Bring to a boil over medium heat. Reduce heat to medium-low and allow to simmer for 3 minutes or until mixture just starts to reduce. Remove from heat and cool.
Brush glaze over the freshly baked knots.
Stir together confectioner's sugar and milk until smooth. Drizzle glaze over warm knots. Allow glaze to harden and serve.
Recommended Products
As an Amazon Associate and member of other affiliate programs, I earn from qualifying purchases.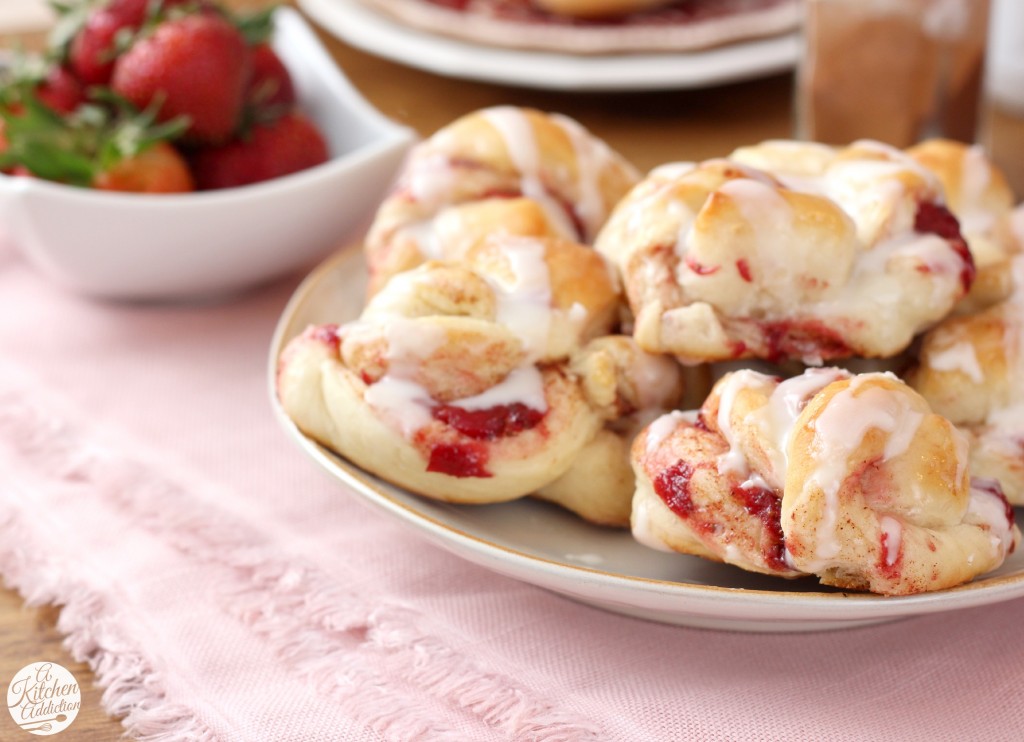 Please join in on this virtual baby shower celebration by visiting the rest of these blogs for more baby shower treats!
Mini Strawberry Cheesecakes from Sarcastic Cooking
Lemon Blueberry Coffee Cake with Lemon Drizzle from Greens & Chocolate
Super Chewy M&M Blondies from The Realistic Nutritionist
Strawberry Cinnamon Twist Knots from A Kitchen Addiction
Lemon Shortbread with Salted Chocolate Drizzle from The Lemon Bowl
Chocolate Cherry Ice Cream from A Zesty Bite
Blackberry and Mango Curd Pie from Joanne Eats Well With Others
Pecan Sticky Buns from Warm Vanilla Sugar
Strawberry Rhubarb Muffins from Garnish with Lemon
Chocolate Chip Pancakes from Susie Freaking Homemaker
Super Simple Sugar Cookies from Espresso and Cream
Raspberry Acai Frozen Margarita from Nutmeg Nanny
Berry Coconut Frozen Yogurt from The Law Student's Wife
Pretty in Pink Buttercream Cups from Keep it Sweet Desserts
Broccoli Salad with Honey Toasted Walnuts from The Roasted Root
Neapolitan Baked Doughnuts from Climbing Grier Mountain
Giant Pink M&M and Raisinette Cookies from Steph's Bite by Bite
No-Bake Rhubarb Cheesecake Parfait Cups from Hungry Girl Por Vida
Strawberry Rhubarb Crisp from A Cedar Spoon
Freckled Strawberry Rhubarb Lemonade from Take a Megabite
Vanilla Anise Cupcakes from Blahnik Baker
Mini Vanilla Bean Layer Cakes from The Baker Chick
Mini Blackberry Hazelnut Meringue Cakes from Eat Your Heart Out