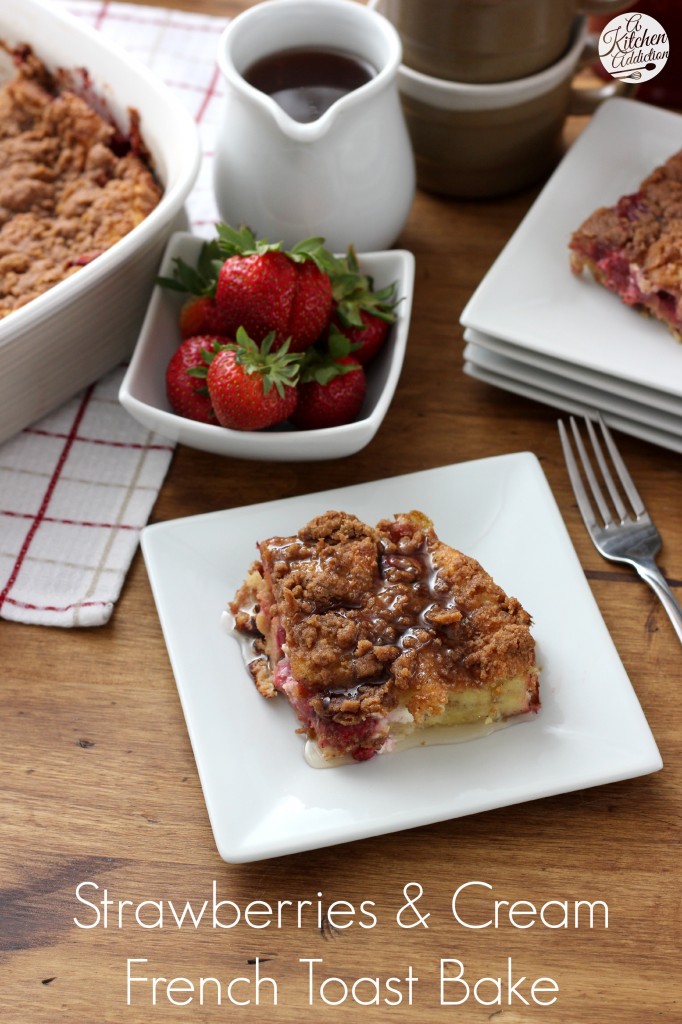 I just came to the realization that Easter is quickly approaching. I don't know if it's the extended cold, dreary weather that makes it hard to believe that April is almost half over or what. But, I do know that this month has flown by!
Even if I haven't realized that it's almost Easter, I have noticed that our grocery stores are just starting to get some good, fresh produce!
Since I couldn't help myself when strawberries were on sale the other day, I ended up with more than we could eat fresh.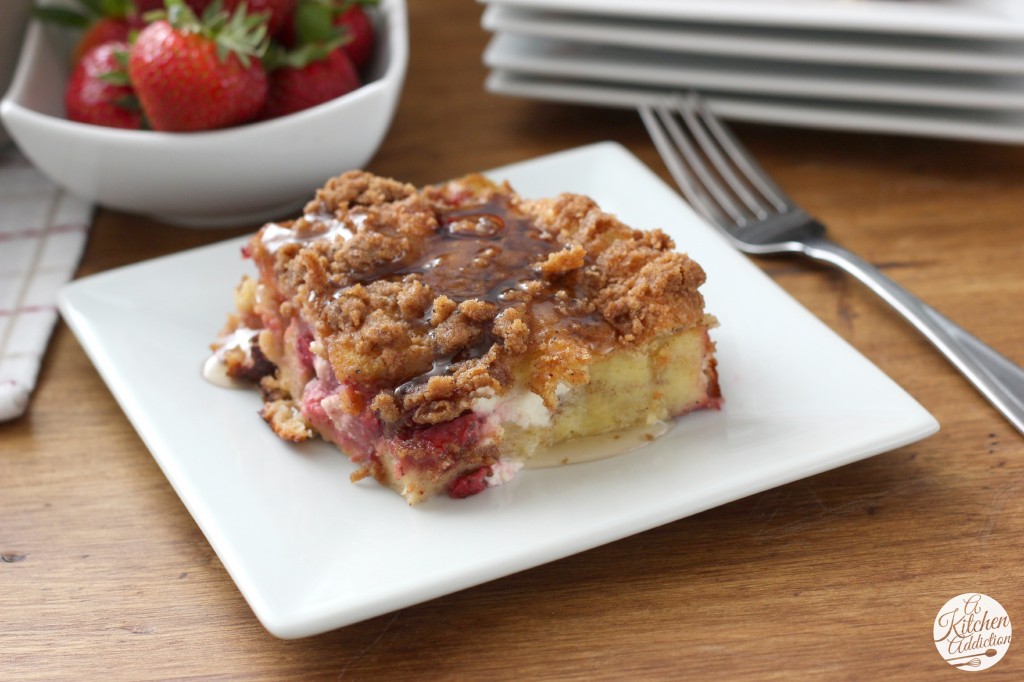 I couldn't just let them go bad. This strawberries and cream french toast bake has been on my mind the last few weeks and this was the perfect opportunity to finally give it a try!
Fresh, juicy strawberries and sweet cream cheese combine with cinnamon and nutmeg to create a french toast bake bursting with spring flavor. A light layer of cinnamon streusel tops it off giving it a sweet, crunchy top.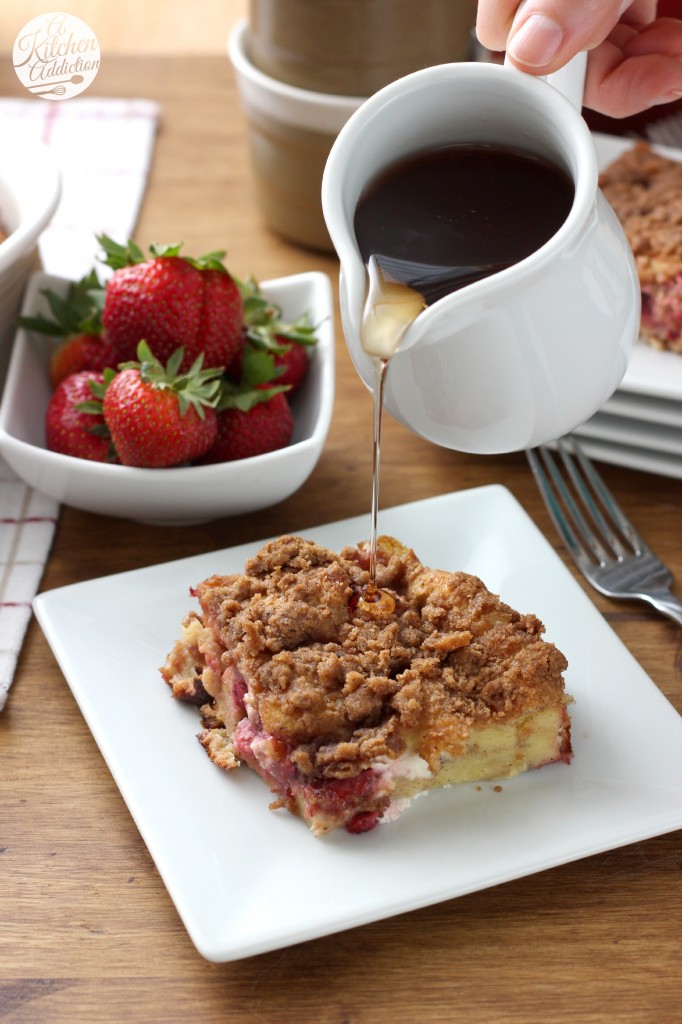 I love how easy it is to prepare french toast bakes and how you can make them the night before and have it all ready to go for when you need it!
Whether you're starting to think about your Easter menu or you just want something a little extra special for breakfast, this no-fuss french toast bake will be a crowd pleaser!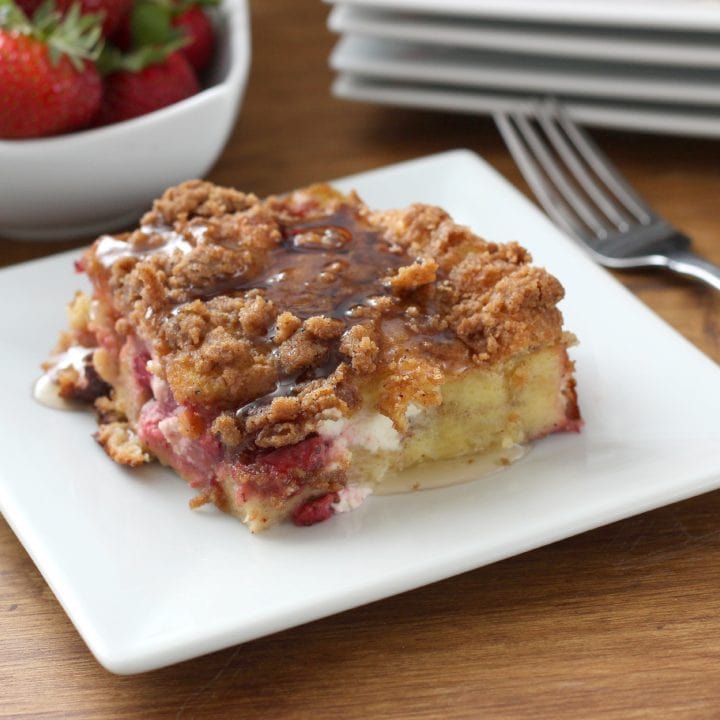 Strawberries and Cream French Toast Bake
Ingredients
For the French Toast
6 1/2 C day old French bread, cubed
5 eggs
1/4 C maple syrup
1 C milk
2 tsp vanilla extract
1 tbsp cinnamon
1 tsp nutmeg
1 1/2 C chopped strawberries
4 oz 1/3 of the fat cream cheese, cubed
For the Topping
1/4 C butter, softened
1/4 C brown sugar
1/4 C all-purpose flour
1 1/2 tsp cinnamon
1/2 tsp nutmeg
1/4 tsp salt
Instructions
Preheat oven to 350. Lightly spray an 8x8 or 9x9 inch baking dish with non-stick cooking spray.
Add bread cubes to a large bowl.
In a medium bowl, whisk together eggs, maple syrup, milk, vanilla extract, cinnamon, and nutmeg. Pour over bread cubes and stir to combine. Gently stir in chopped strawberries and cream cheese.
Pour bread mixture into prepared baking dish. Gently press with a spatula.
In a small bowl, stir together sugar, flour, cinnamon, nutmeg, and salt. Cut in butter with a fork. Sprinkle over the top of bread mixture.
If baking the next day, place in refrigerator until ready to bake. If baking immediately, bake for 40-50 minutes until topping browns and center is puffed. (Center will deflate as it cools)
Remove from oven and allow to cool for 10 minutes before serving with your favorite syrup.
Store leftovers in the refrigerator.
Recommended Products
As an Amazon Associate and member of other affiliate programs, I earn from qualifying purchases.