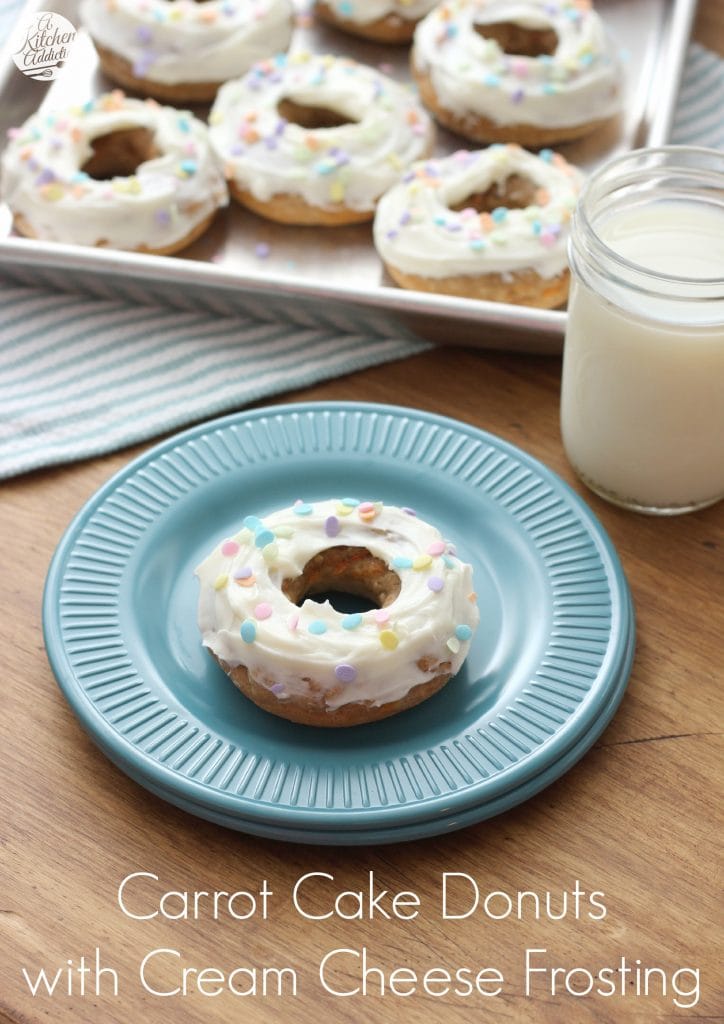 Since spring is here, that means it's time for all things "carrot cake." That's good news for those of us who love carrot cake! Sometimes though, you want a way to enjoy carrot cake that is not just for dessert (though no judging here if you find yourself eating it throughout the day!).
One way to fix that is to make carrot cake donuts. . . carrot cake donuts that are actually much healthier than an actual carrot cake!
Each bite is filled with all of the flavors that you expect from a carrot cake, right down to the cream cheese frosting (because all carrot cake should be topped with cream cheese frosting!)!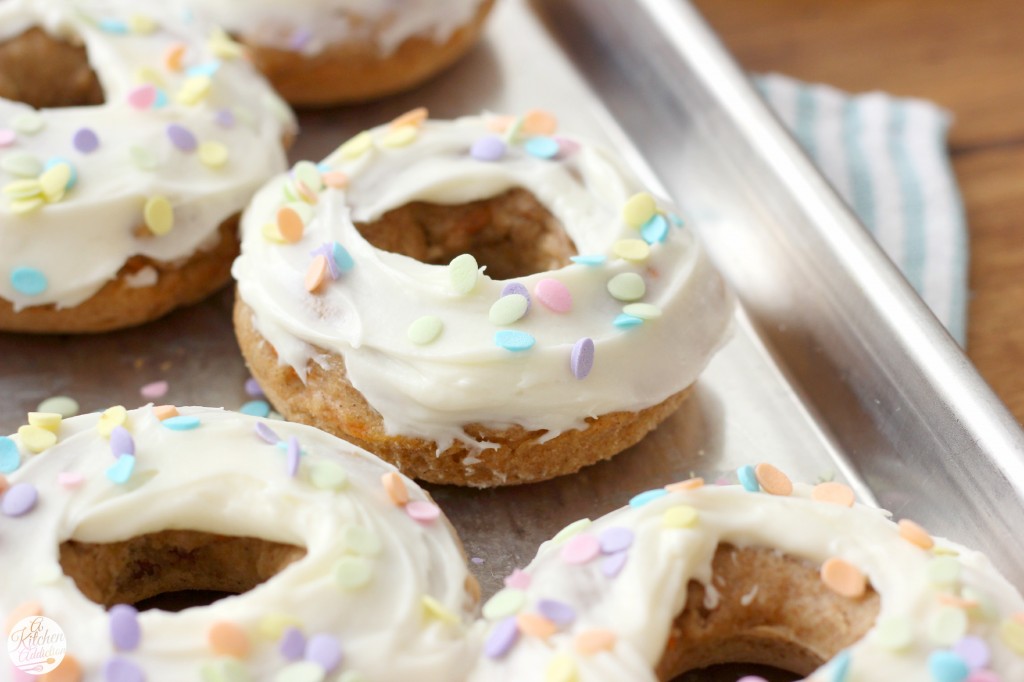 Even with using some whole wheat flour, these donuts have a lighter texture than your typical carrot cake.
And, since I'm not a huge fan of nuts and raisins, in my carrot cake, I've left those out. Feel free to throw some in if that is what "authentic" carrot cake is to you.
The frosting for the donuts is light and airy with more of a tang from the cream cheese than sweetness from the confectioner's sugar.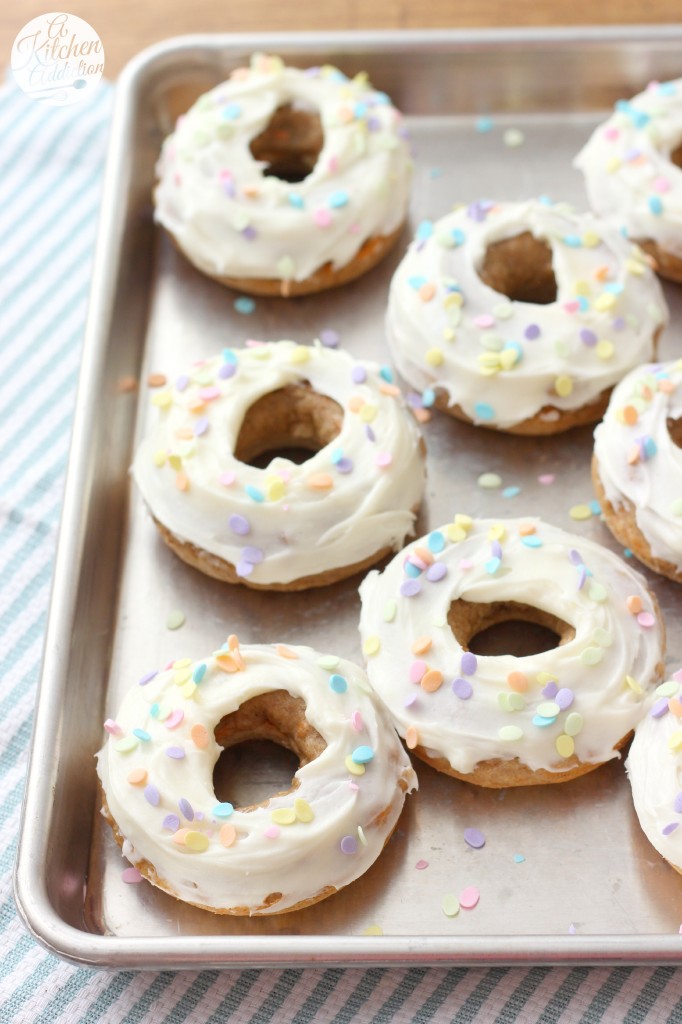 If you're starting to plan your Easter menu, keep these fun donuts in mind. They're easy enough to whip up for an Easter brunch without causing a lot of added stress.
You can even make the frosting the day before so you have less work to do the day day of your gathering!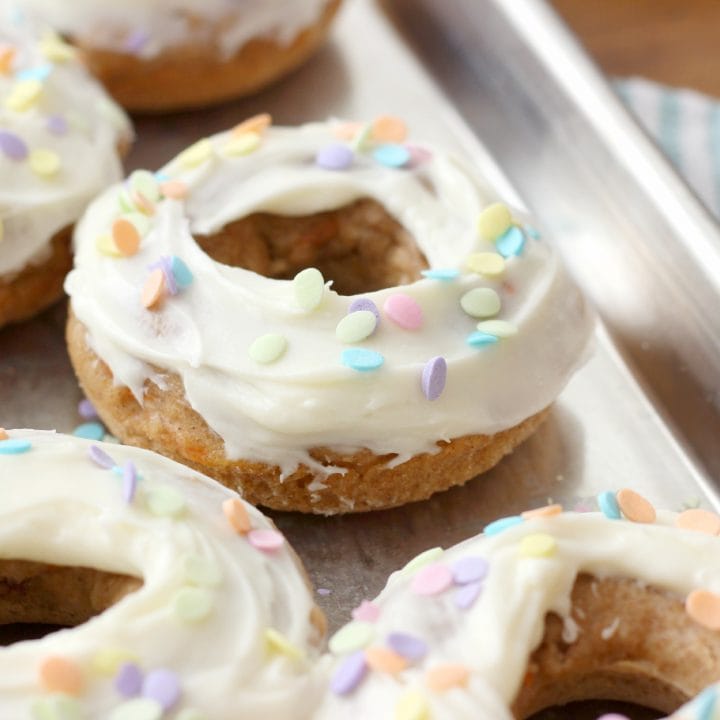 Carrot Cake Donuts with Cream Cheese Frosting
Ingredients
For the Donuts
1 C whole wheat flour
1 C all-purpose flour
1/3 C brown sugar
1/4 C sugar
2 tsp baking powder
1/4 tsp salt
1 1/2 tsp cinnamon
1/2 tsp nutmeg
1/4 tsp allspice
1/4 C butter, melted and cooled
2 eggs
1 C non-fat milk
1 tsp vanilla extract
1 C shredded carrot
For the Frosting
4 oz 1/3 of the fat cream cheese
2 tbsp butter, softened
1/2 C confectioner's sugar
1/2 tsp vanilla extract
1/8 tsp salt
*If you like a lot of frosting, you may want to double the recipe.
Instructions
Preheat oven to 350. Spray donut pan with non-stick cooking spray.
In a large bowl, whisk together flours, sugars, baking powder, salt, cinnamon, nutmeg, and allspice.
In a small bowl, whisk together butter, eggs, milk, and vanilla extract. Add wet ingredients to dry ingredients and stir until combined. Stir in shredded carrot.
Pour batter into a pastry bag or a ziploc bag with the corner cut off. Fill donut cavity about 1/2 full.
Bake for 8-10 minutes or until edges just start to turn light golden brown. Allow donuts to cool for 2 minutes in the pan before removing to a wire rack to cool completely.
While donuts are cooling, start preparing the frosting.
Beat together cream cheese and butter until smooth and creamy. Add confectioner's sugar, vanilla extract, and salt. Beat until smooth.
Spread frosting over the top of cooled donuts. Best served the same day.
Store leftovers in the refrigerator.
Recommended Products
As an Amazon Associate and member of other affiliate programs, I earn from qualifying purchases.