This Spiced Apple Pie French Toast Bake has two layers of spiced bread mixture with a layer in the middle of apples that have been sitting in a mixture of sugar and apple pie spices! Topping the bake is a spiced, buttery streusel!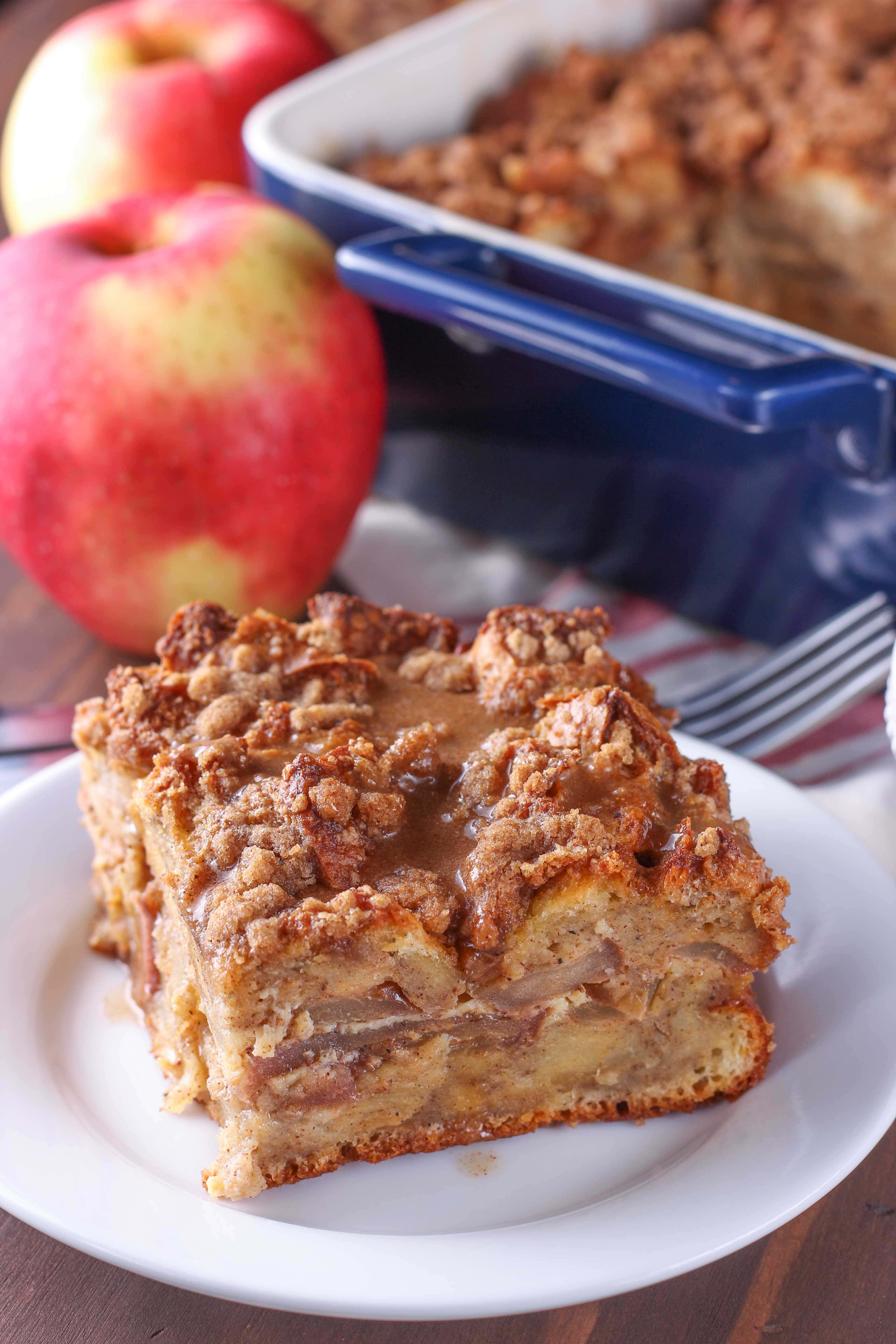 This post is sponsored by SweeTango, however all opinions are my own.
Fall is officially here. I know that date-wise it's been here for awhile. But the weather had been so mild it was hard to believe it was actually fall!
However, the cooler weather has arrived to stay, and I feel like I can start digging out sweatshirts, fall candles, and favorite comfort food recipes. I don't know about your house, but it isn't just the cooler weather that makes it feel like fall.
For us, apple season means fall! We eat so many pounds of apples this time of year! Whether they're eaten fresh, made into applesauce to freeze and enjoy later in the winter, or used in baked goods, apples are equivalent to fall for us. Even more so than pumpkin.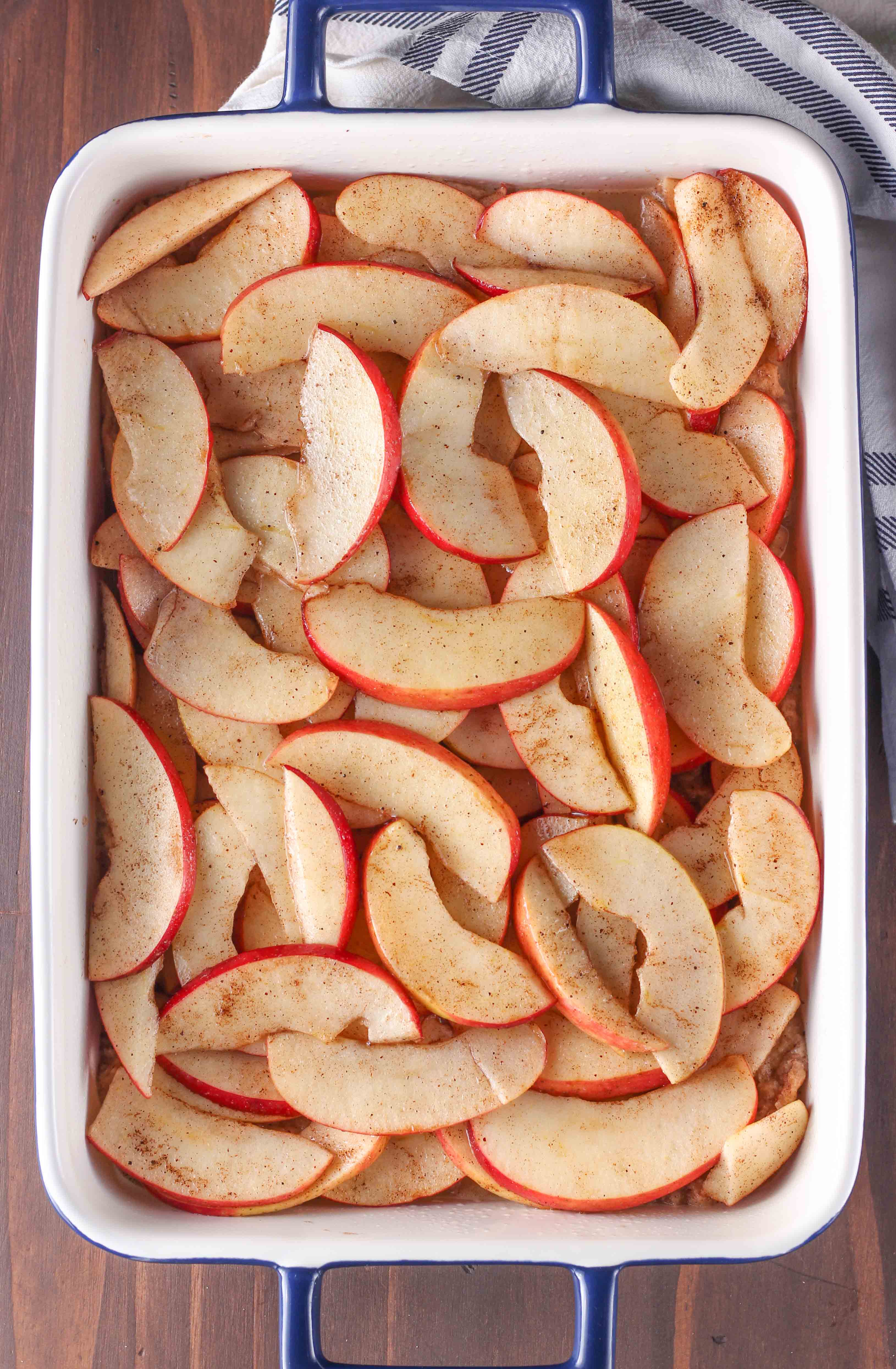 And what apple do we enjoy the most this time of year? SweeTango apples! So, when SweeTango asked me to partner with them again this year, I couldn't resist!
SweeTango apples are a cross between a Zestar! and a Honeycrisp (and were created right here at the University of Minnesota!). If you like Honeycrisp, you'll love SweeTango apples! They are crunchy and sweet with a hint of citrus, honey, and spice. Great for snacking on and for baking!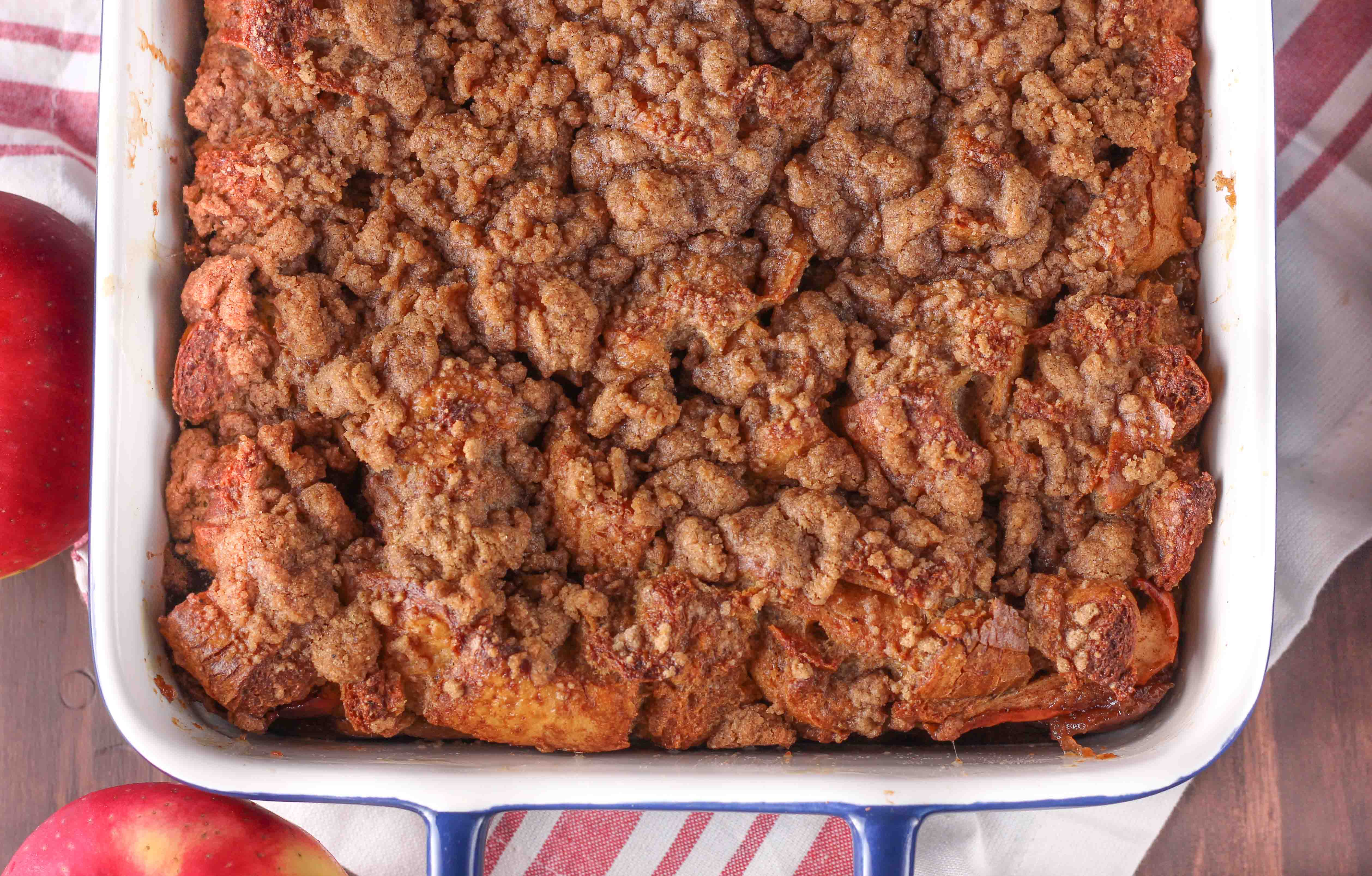 Oh, and that crunch I mentioned? Fun Fact: It set the world record in 2016 for the "loudest crunch of an apple" in the Guinness Book of World Records!
This premium apple variety is available from early September and are usually gone in December. So, that means it's time right now to take advantage of the season!
Just like last year when I made apple pie filled cinnamon twists, I went with another breakfast/brunch recipe. There's nothing like waking up to a warm, hearty breakfast that's filled with warm spices, fresh autumn apples, and a sweet, buttery streusel!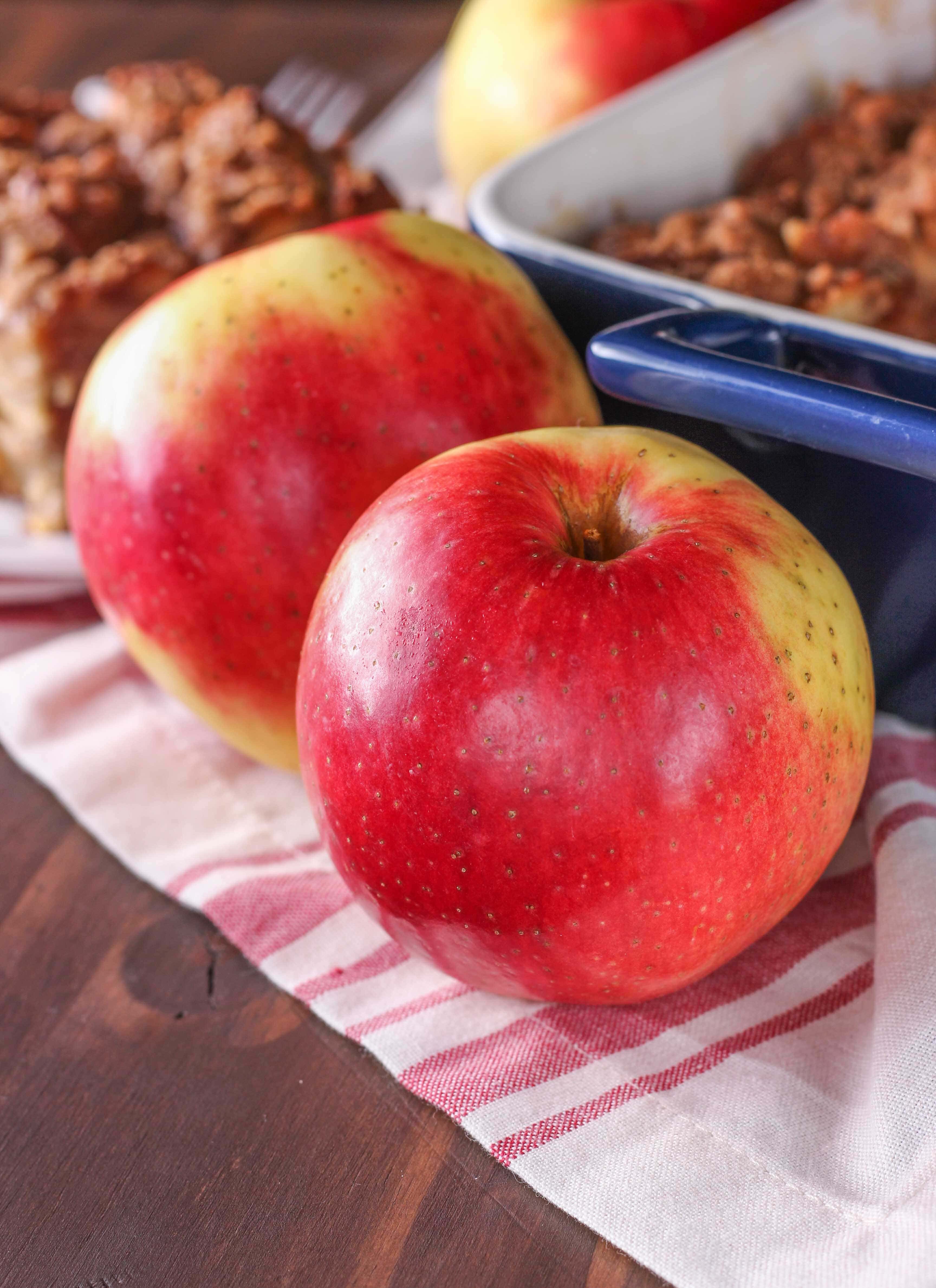 French toast bake has been a favorite at our house for awhile. I like the fact that you can either make it the morning you want it or you can prep it the day before to bake the next morning. Plus, the leftovers taste great.
Serve up whatever size you want in the morning. It's also a convenient option for when you're leaving the house at different times in the morning!
This french toast bake has two layers of spiced bread mixture with a layer of apples in the middle that have been sitting in a mixture of sugar and apple pie spices. Don't be scared away by the longer list of ingredients! Most of the ingredients are just spices.
And those same spices are used for the french toast, the filling, and the topping. Easy!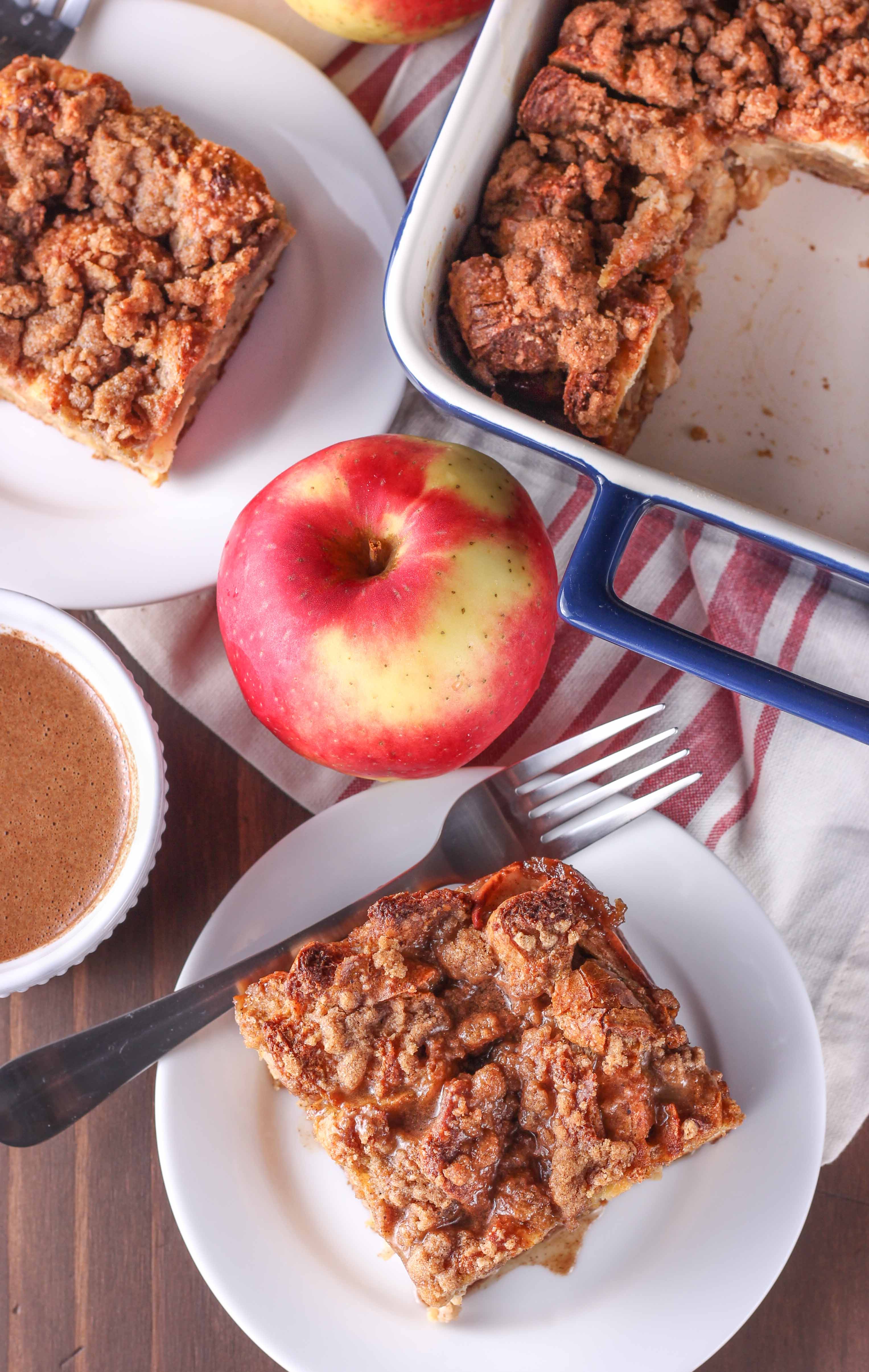 The sweet apple pie spiced topping on this is perfect for adding more apple pie flavor without making it too intense and overpowering. And really, is streusel topping on a baked good ever bad?! Cut yourself a slice, and enjoy your new favorite fall breakfast!
Be sure to check out the SweeTango Facebook Page for more apple inspiration!
**Want to win a gift box of SweeTango so you can try them yourself?** (((CLOSED))))
All you have to is comment below letting me know your favorite way to enjoy apples!!
Want extra entries? Follow A KITCHEN ADDITION and SWEETANGO on Instagram and come back here and let me know you followed.
GOOD LUCK!
Spiced Apple Pie French Toast Bake
Author:
Ingredients
For the French Toast
12 C cubed day old french bread
10 eggs
1/2 C maple syrup
1 1/2 C milk of your choice
1 tbsp vanilla extract
1 tbsp cinnamon
1½ tsp nutmeg
For the Apple Pie Filling
5 C thinly sliced or chopped apples
1/3 C sugar
1 tsp cinnamon
1/2 tsp nutmeg
1/4 allspice
1/8 tsp cardamom
For the Crumb Topping
¼ C butter, softened
¼ C brown sugar
¼ C all-purpose flour
1½ tsp cinnamon
¼ tsp nutmeg
1/8 tsp allspice
⅛ tsp salt
For the Spiced Maple Syrup, optional
1/2 C maple syrup
1/2 tsp cinnamon
1/8 tsp nutmeg
1/8 tsp cloves
Instructions
Preheat oven to 350. Spray a 9×13 inch baking dish with non-stick cooking spray.
Add cubed bread to a large bowl. Set aside.
In a separate large bowl, whisk together eggs, maple syrup, milk, vanilla extract, cinnamon, and nutmeg. Pour over cubed bread and stir to combine.
Stir together apples, sugar, cinnamon, nutmeg, allspice, and cardamom.
Pour 1/2 to 2/3 of bread mixture into the bottom of the prepared baking dish. Using a slotted spoon to scoop apples while straining the excess liquid, spoon apple pie mixture over the top.** Top with remaining bread mixture.
In a small bowl, whisk together brown sugar, flour, cinnamon, nutmeg, allspice, and salt. Cut in butter until mixture resembles coarse crumbs. Sprinkle over the top.
If baking the next day, cover and store in refrigerator until ready to bake. If baking immediately, bake for 55-65 minutes or until topping browns and center is puffed. (Center will deflate as it cools.) Allow to cool for 10 minutes before cutting into pieces and serving.
While french toast is baking, combine maple syrup, cinnamon, nutmeg, and cloves in a small saucepan and bring to a boil over medium heat. Remove from heat and set aside until ready to use.
Store leftovers in the refrigerator.
Notes
**You can just spoon the apple mixture over the french toast without straining the excess liquid, but the french toast take will take a few minutes longer to bake and will be on the wetter side.