These soft, tender Pumpkin French Toast Scones are filled with pumpkin, the warm spices found in french toast, and a hint of maple! Topping these scones is a sweet maple glaze that gives them the maple syrup finish to french toast!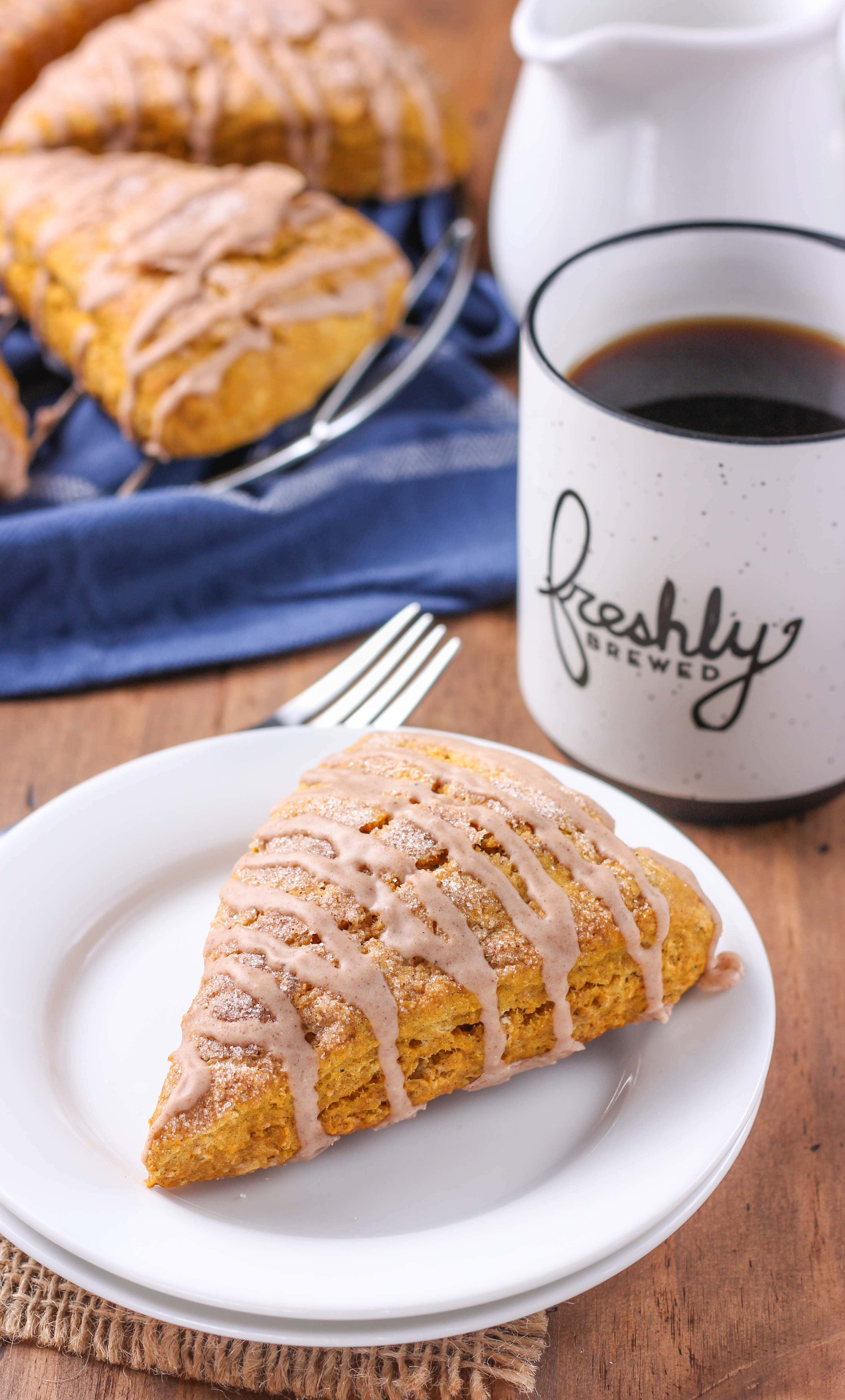 Apparently the theme of the last few days around here is french toast! I mentioned on Thursday with the spiced apple pie french toast bake that it's finally feeling like fall around here. The leaves are changing and the mornings are chilly.
And with those chilly mornings comes a desire to be warm and cozy! I'm ready for all of the warm spices that are traditionally used more during the cooler seasons! These pumpkin french toast scones are just what I need to pair with a large mug of coffee and a warm blanket.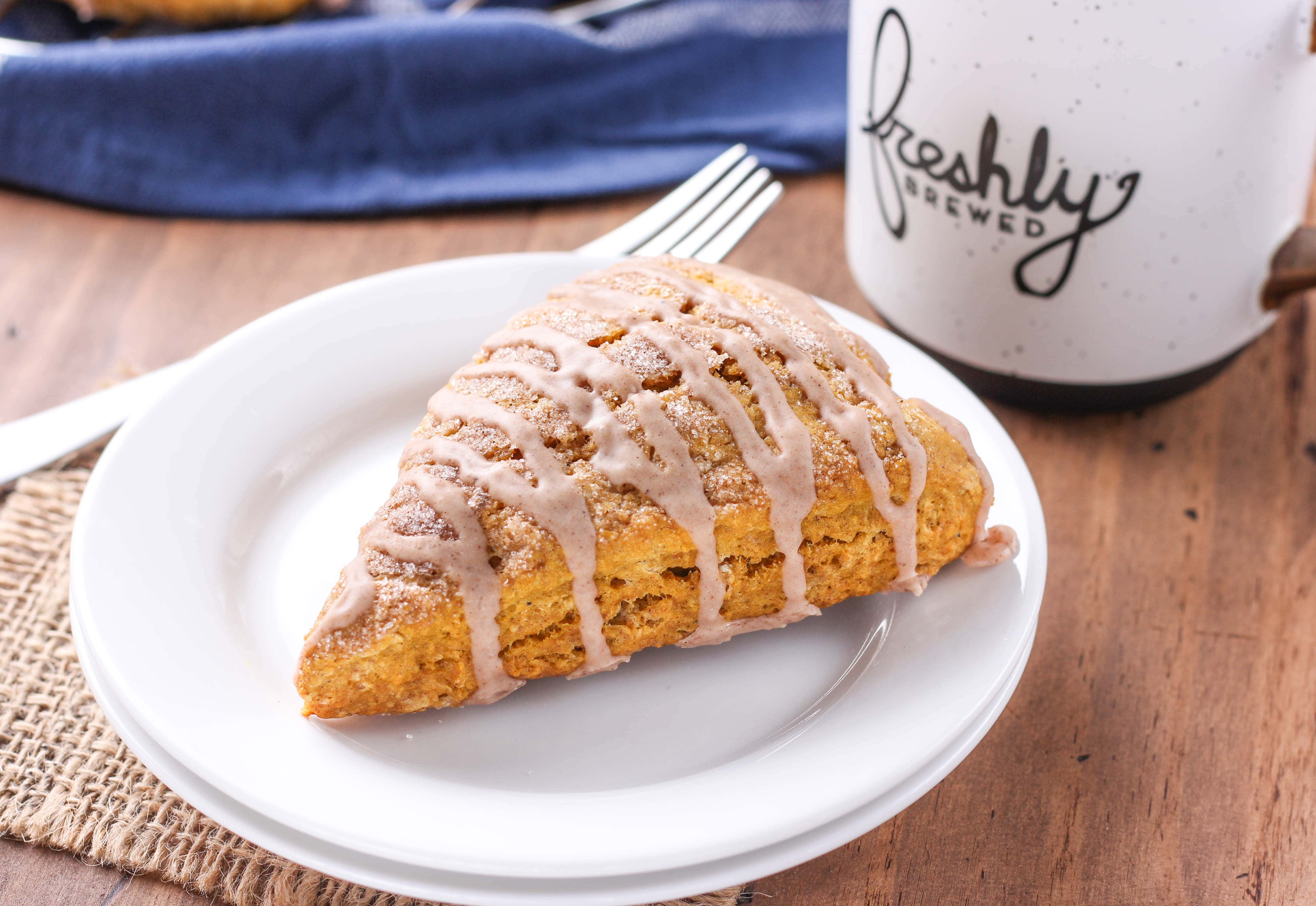 These scones are like enjoying your favorite pumpkin french toast without having to make slice after slice. While french toast bake is one easy way to enjoy french toast, these scones take even less time.
Just make an easy batch of scones and you can enjoy the flavor without the work. Plus, you can take them with you on the go for extra busy mornings!
Full of pumpkin and cinnamon these soft, tender scones are my new fall go-to scone. The dough comes together easier and the flavor makes you instantly think of fall as soon as you take a bite!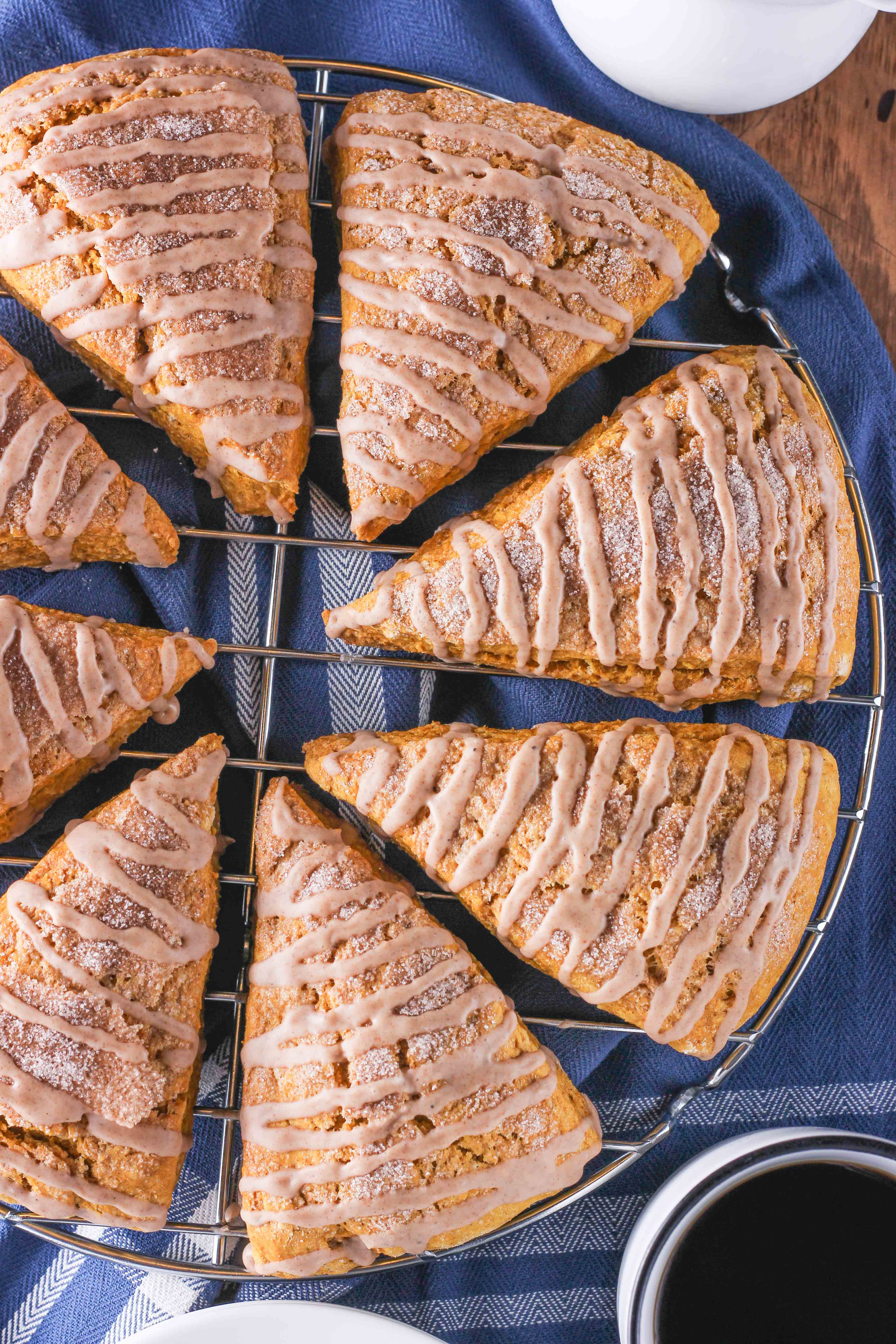 Nutmeg, allspice, and a hint of maple extract round out the flavor of the inside of the scones, and a sweet maple drizzle finishes off the scones giving them the maple syrup finish to french toast!
Grab a mug of your favorite coffee or tea, a blanket, and a scone, and you're ready for a cozy fall morning!

Pumpkin French Toast Scones
Author:
A Kitchen Addiction
Ingredients
For the Scones
1 C white whole wheat flour
1 C all-purpose flour
¼ C sugar
2 tbsp brown sugar
1 tsp baking powder
½ tsp baking soda
½ tsp salt
2 tsp cinnamon
½ tsp nutmeg
¼ tsp allspice
½ C unsalted butter, cold and cut into pieces
½ C pumpkin puree
1 egg
1 tbsp milk
1 tsp maple extract
For the Cinnamon Sugar
1 tbsp water
2 tbsp sugar
¼ tsp cinnamon
For the Glaze
½ C confectioner's sugar
½ tsp cinnamon
½ tsp nutmeg
¼ tsp allspice
2 tsp milk
¼ tsp maple extract
Instructions
Preheat oven to 350. Line a baking sheet with a baking mat or parchment paper.
In a large bowl, whisk together flours, sugar, brown sugar, baking powder, baking soda, salt, cinnamon, nutmeg, and allspice.
Cut in butter until mixture resembles coarse crumbs.
Stir together pumpkin, egg, milk, and maple extract. Add to dry mixture and stir until just combined.
Turn dough out onto floured surface. Knead dough five to six times or until dough comes together.
Shape into an 8 inch circle. Brush top of dough with water. Stir together sugar and cinnamon for topping and sprinkle over the top. Cut dough into 8 pieces and place on prepared baking sheet.
Bake for 15-18 minutes or until golden brown. Transfer to wire rack to cool. Stir together ingredients for glaze (start with 2 tsp milk and add another tsp if you want a thinner glaze) and drizzle over cooled scones.
Allow glaze to harden and serve.