These Apple Pie Filled Cinnamon Twists are made up of tender, flaky cinnamon twists filled with an easy homemade apple pie filling and drizzled with a sweet glaze!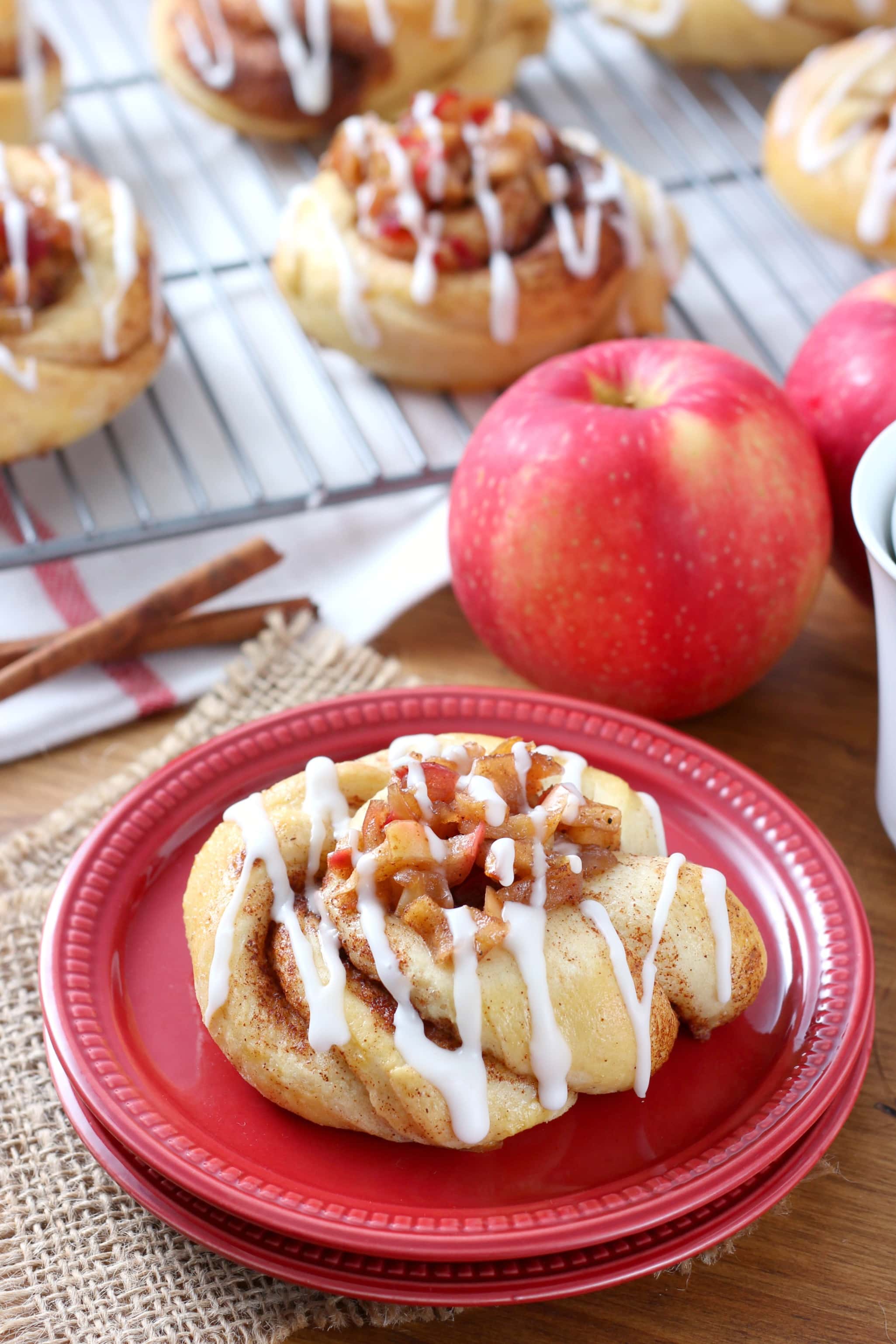 This post is sponsored by SweeTango, however all opinions are still my own.
As you know, I love breakfast food. I love making it (sometimes more than the eating it!). I love eating it. I love having it sitting there ready for me in the morning to grab and eat while I sip my morning coffee.
When fall rolls around, I find myself loving breakfast food even more! Especially breakfast baked goods that are full of fresh fall apples. Like these apple pie filled cinnamon twists!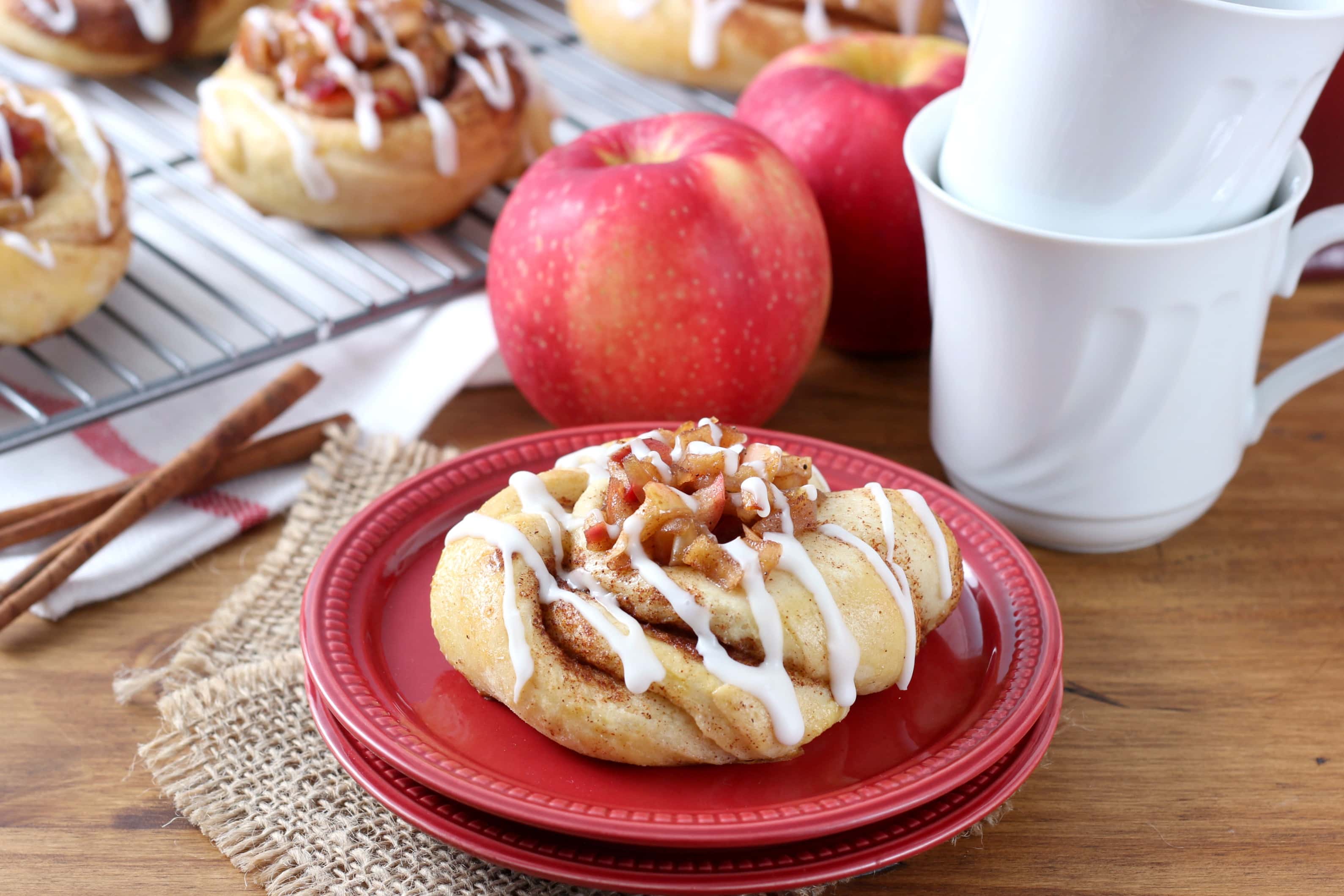 The apple pie filling of these cinnamon twists is made with the SweeTango apple. Have you heard of them before? I was first introduced to them a few years ago and learned that they are a cross between a Honeycrisp and a Zestar.
Since I knew I really liked both those varieties, I was excited to give the SweeTango a try. They've been a favorite ever since!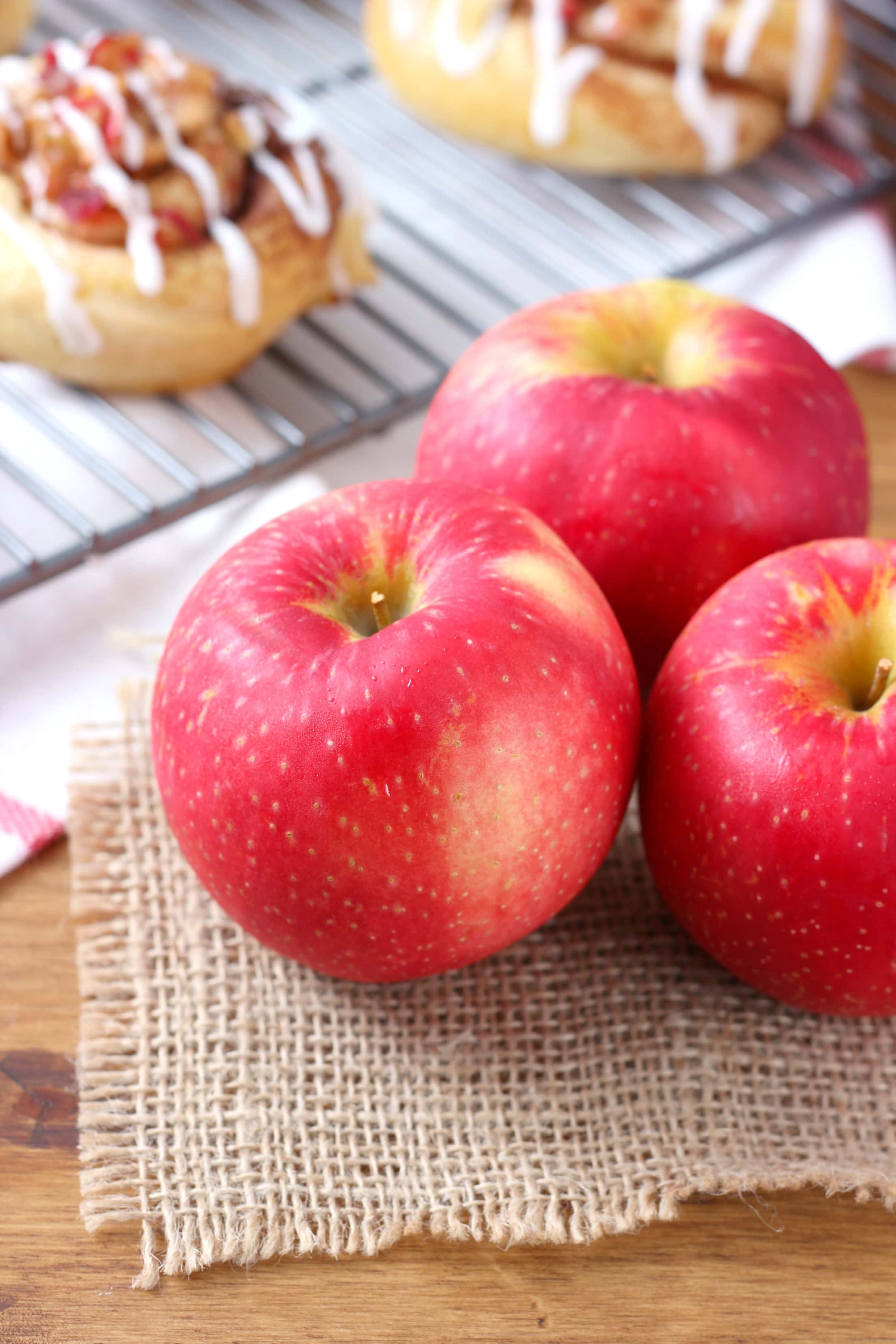 When a shipment arrived on my front doorstep awhile back, I had a hard time saving any for this recipe! My husband and I could have easily eaten all of them fresh!
They are a great snacking apple with a good crunch and a sweet flavor. With each bite you get a hint of honey, citrus and spice. You can see why we were always grabbing one from the fridge to snack on!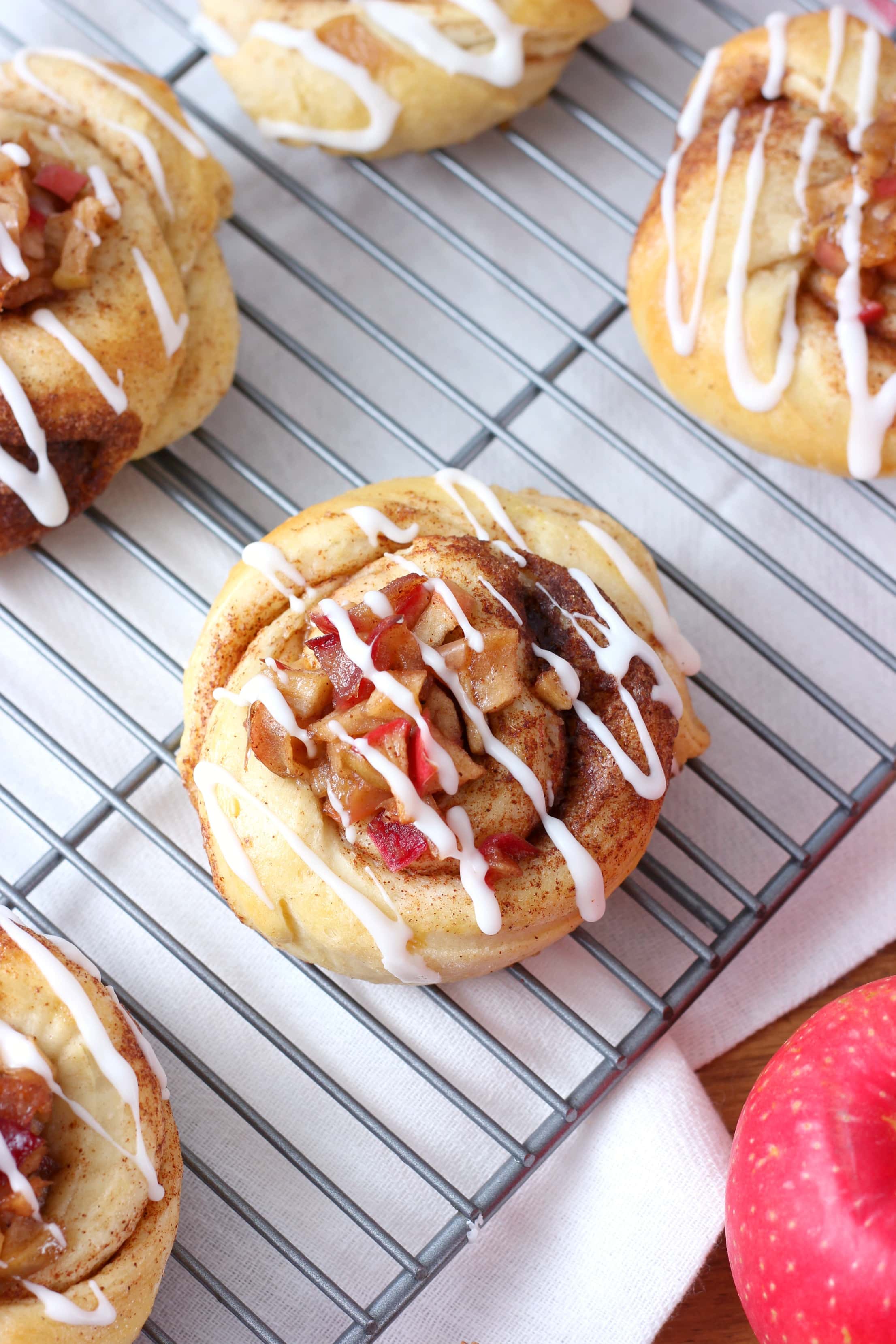 I managed to save out enough to experiment with this recipe, and as hard as it was not to eat them, I'm glad we saved some for baking! The tangy sweetness of these SweeTango apples was the perfect pairing to these buttery, sweet cinnamon twists.
The apples were boiled down with a combination of brown and white sugar and all your favorite apple pie spices to create the filling. A simple glaze finishes off these pastries and makes them an irresistible morning treat!
Be sure to check out the SweeTango Facebook Page for more apple inspiration!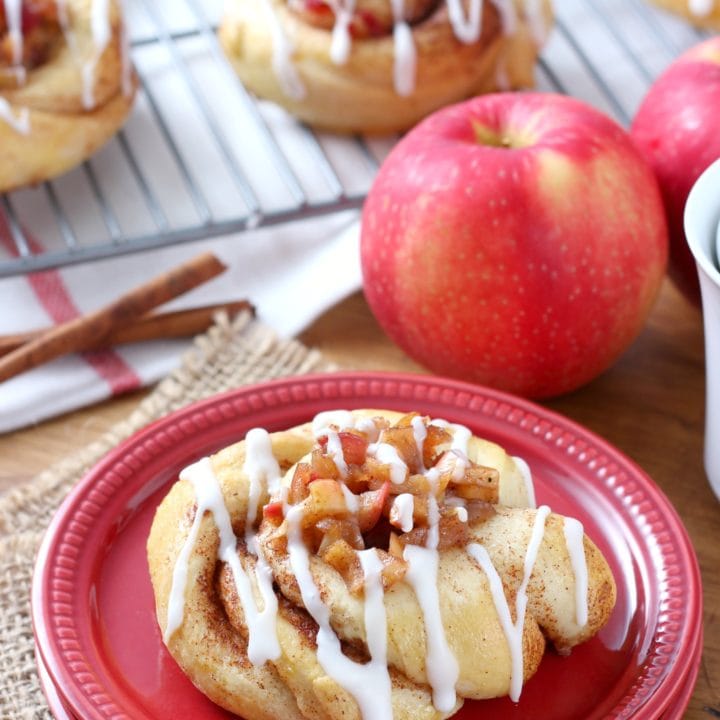 Apple Pie Filled Cinnamon Twists
Yield:
12 cinnamon twists
These Apple Pie Filled Cinnamon Twists are made up of tender, flaky cinnamon twists filled with an easy homemade apple pie filling and drizzled with a sweet glaze!
Ingredients
For the Twists
3 Cups bread flour
2½ Tablespoons sugar
¾ teaspoon salt
2¼ teaspoons instant dry yeast
1 egg, room temperature
2 Tablespoon butter, melted and cooled
1 Cup milk, warmed to 120-130 degrees F
For the Cinnamon Filling
3 Tablespoons butter, softened
1½ Tablespoons sugar
2 teaspoons cinnamon
For the Apple Pie Center
3 Cups chopped SweeTango apples
3 Tablespoons sugar
2 Tablespoons brown sugar
1/2 teaspoon cinnamon
1/4 teaspoon nutmeg
1/4 teaspoon allspice
1/8 teaspoon cloves
1/8 teaspoon cardamom
For the Egg wash
For the Glaze
3/4 Cup confectioner's sugar
2-3 teaspoons milk
Instructions
In the bowl of a stand mixer, beat together 2 cups flour, sugar, salt, and yeast. Add in egg, butter, and milk. Beat until just starting to combine. Add remaining cup flour.
Replace paddle attachment with dough hook and knead on medium speed for 5 minutes or until dough is smooth and starts to pull away from edges of bowl. Dough will be soft and somewhat sticky.
Transfer to a large bowl that has been greased. Roll dough around bowl to coat. Cover with a clean towel and allow to rise until doubled in size, about 45 minutes.
While dough is rising, prepare apple pie filling. Combine apples and sugar in a small saucepan over medium heat. Bring mixture to a boil. Reduce heat to medium-low and allow to simmer for 15-20 minutes or until apples soften and mixture thickens. Remove from heat and stir in cinnamon, nutmeg, allspice, cloves, and cardamom. Allow to cool.
Turn dough out onto floured surface and punch down. Roll out into an approximate 12x10 inch rectangle. Spread dough with softened butter. Sprinkle with sugar and cinnamon.
Gently fold dough in half width wise. Cut dough into 12 strips. Twist each strip and shape each twist into a ring. Press dough down in the center to create a well for the filling.
Place twists on a baking sheet lined with parchment paper or a baking mat. Cover with a clean towel and allow to rise for 20 minutes or until puffed. (You may need to press down the center of the twists again before filling with the apple pie filling.)
Preheat oven to 375 while twists are rising.
Fill center of twists with apple mixture. Whisk together egg and water and brush on the edges of the twists.
Bake for 8-10 minutes or until twists just start to turn golden brown. Remove to a wire rack to cool slightly.
Stir together confectioner's sugar and milk until smooth and you reach desired consistency. Drizzle over warm cinnamon twists. Allow to harden slightly and serve.
Recommended Products
As an Amazon Associate and member of other affiliate programs, I earn from qualifying purchases.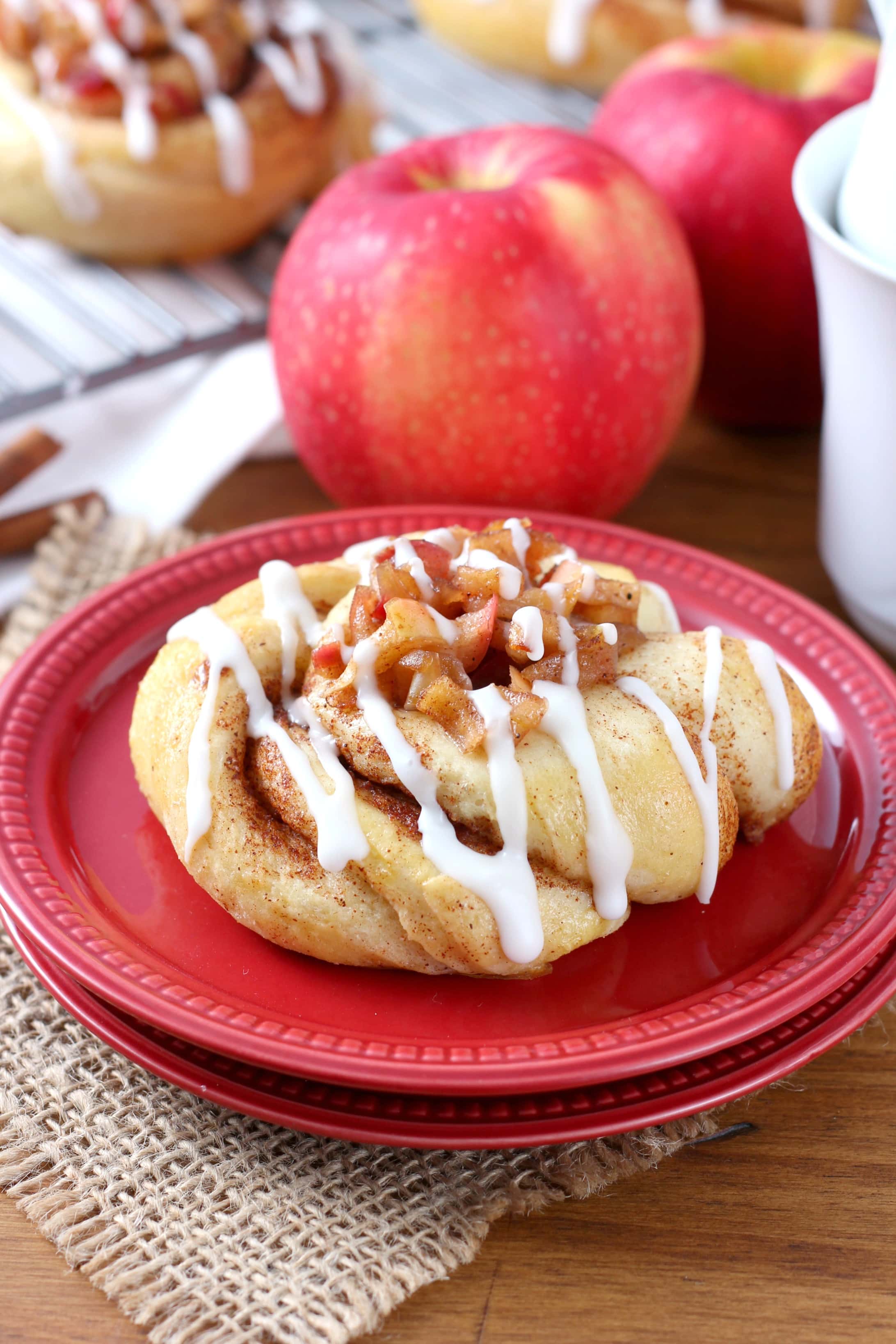 This post was made possible by SweeTango. Thanks for supporting brands that make A Kitchen Addiction possible!