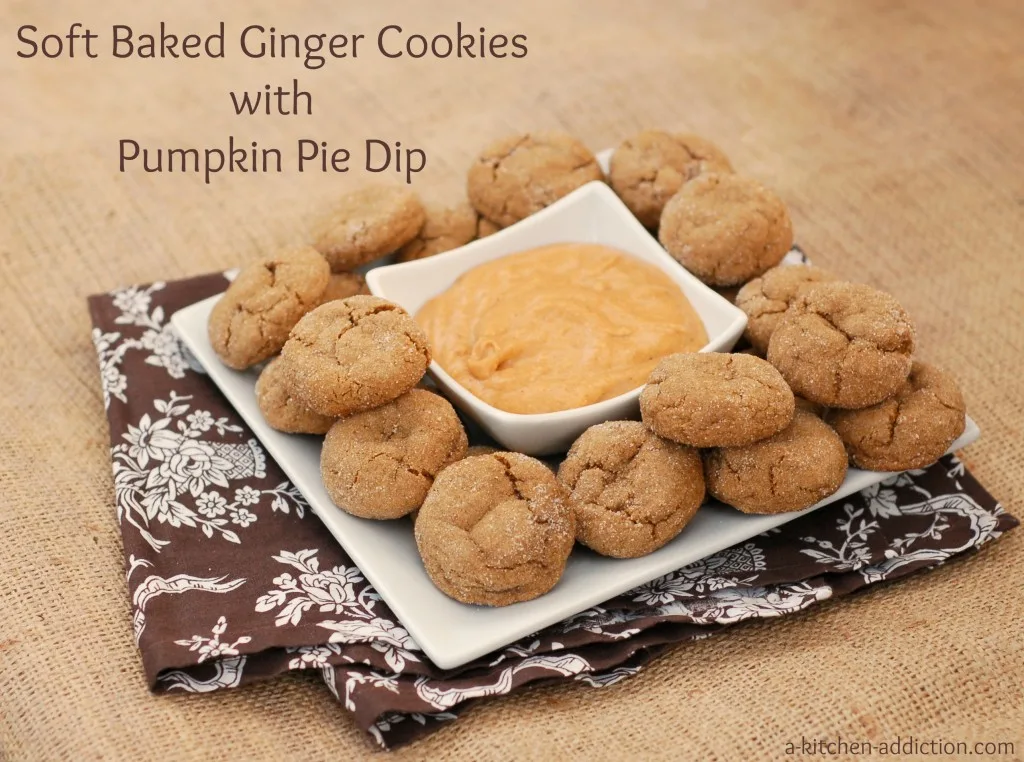 While this weekend felt absolutely nothing like fall (Yesterday was in the 80's and it's the end of October!), these cookies taste just like it! The aroma of the spices and the pumpkin make your home feel warm and cozy (and perhaps slightly hot if you make them on an 80 degree day!).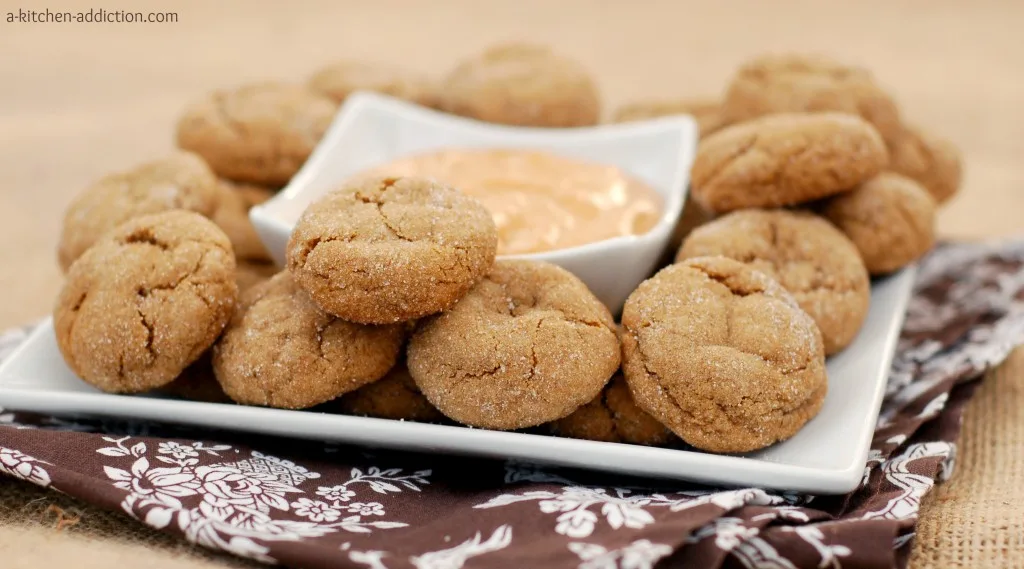 Fortunately for us, these weren't made when it was hot out, so we enjoyed the warmth that the cookies provided! The little ginger cookies are just the right size for dipping and make a fun dessert for company or if you are family that loves ginger cookies, for two! 🙂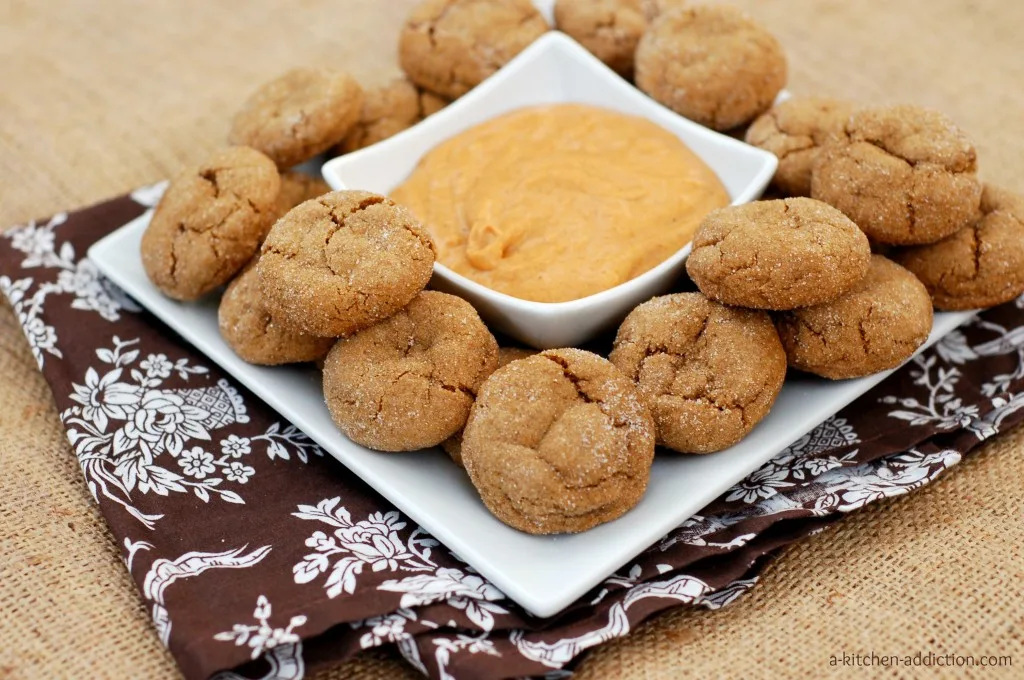 My husband downed these little guys in no time. Since cookies were snitched before the pumpkin pie dip was made, we had leftover dip with no cookies. We discovered that it makes a great spread for bagels! So, if you don't like ginger cookies, make the dip and use it for bagels or perhaps snickerdoodles. . .yum!
Soft Baked Ginger Cookies with Pumpkin Pie Dip
Yield: 3 dozen cookies
Ingredients
For the Cookies
1/2 C butter, softened
1/2 C brown sugar
1/4 C sugar or granulated sugar substitute
1 egg
1/4 C molasses
2 tbsp water
2 1/4 C all-purpose flour (or 1 1/4 C all-purpose and 1 C white whole wheat flour)
1 tsp baking soda
1 tsp cinnamon
2 tsp ginger
1/2 tsp ground cloves
1/8 tsp salt
1/4 C sugar, for rolling dough
For the Pumpkin Dip
4 oz 1/3 of the fat cream cheese
1 C canned pumpkin
1 C confectioner's sugar
1 tsp cinnamon
1/2 tsp nutmeg
1/2 tsp allspice
1/4 tsp ginger
1/4 tsp cloves
Directions
Preheat oven to 350. Line a baking sheet with parchment paper or lightly spray with non-stick cooking spray.
In the bowl of a stand mixer, cream together butter and sugars. Add in egg and beat until creamy. Beat in molasses and water until well-combined.
In a medium bowl, whisk together flour, baking soda, cinnamon, ginger, cloves, and salt. Slowly add dry ingredients to wet ingredients. Dough will be stiff and you may need to finish combining ingredients using a wooden spoon.
Roll dough into 1 – inch balls. Roll dough in sugar to coat. Place dough onto baking sheet. Press dough to indent ball slightly.
Bake for 8-10 minutes or until cookies puff and edges start to turn light golden brown. Allow cookies to cool for a couple of minutes before transferring to a wire rack to finish cooling.
While cookies are cooling, begin preparing pumpkin dip.
Cream together cream cheese and pumpkin until smooth. Slowly beat in confectioner's sugar, cinnamon, nutmeg, allspice, ginger, and cloves until creamy.
Store leftover cookies in an air-tight container and leftover dip in the refrigerator.
This recipe is linked with Crazy Sweet Tuesday, I'm Lovin' It Friday, Lil' Luna Link Party, Strut Your Stuff Saturday, Sweet Treats and Swanky Stuff, Tuesday Talent Show, Weekend Potluck, What's Shakin' Link Party.