The first time I had a french toast latte was last month at our local coffee shop. As soon as I took the first sip, I knew I wanted to recreate the drink. It was so good! I don't know if it's my love for breakfast food that made me love this drink so much or what. There was just something about those brown sugar, maple, and cinnamon flavors with a hint of nutmeg that made the drink stand out.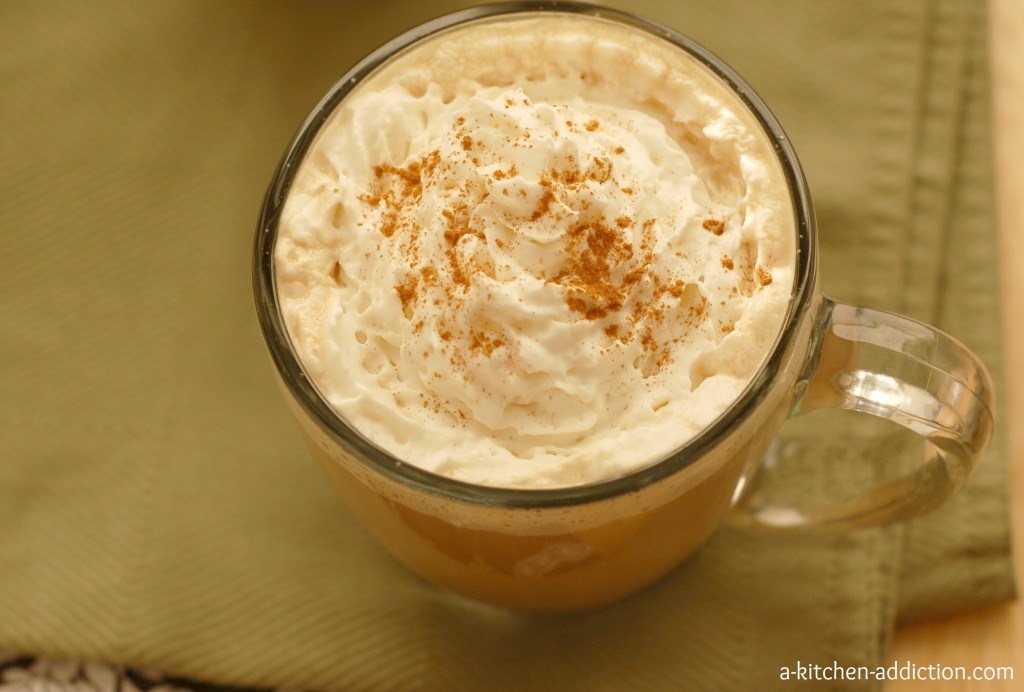 This weekend was a typical chilly fall weekend with gray skies and a little rain. Perfect for staying inside and enjoying a latte! I knew exactly what kind I wanted to make. It wasn't long before I was sipping on my own version of a french toast latte. 🙂 I prefer my coffee drinks to not be super sweet and only used an 1/8 cup of syrup per mug, so this recipe gives me plenty of syrup to enjoy lattes all week. Now if I wasn't the only person in my house who liked coffee, it wouldn't last as long! 🙂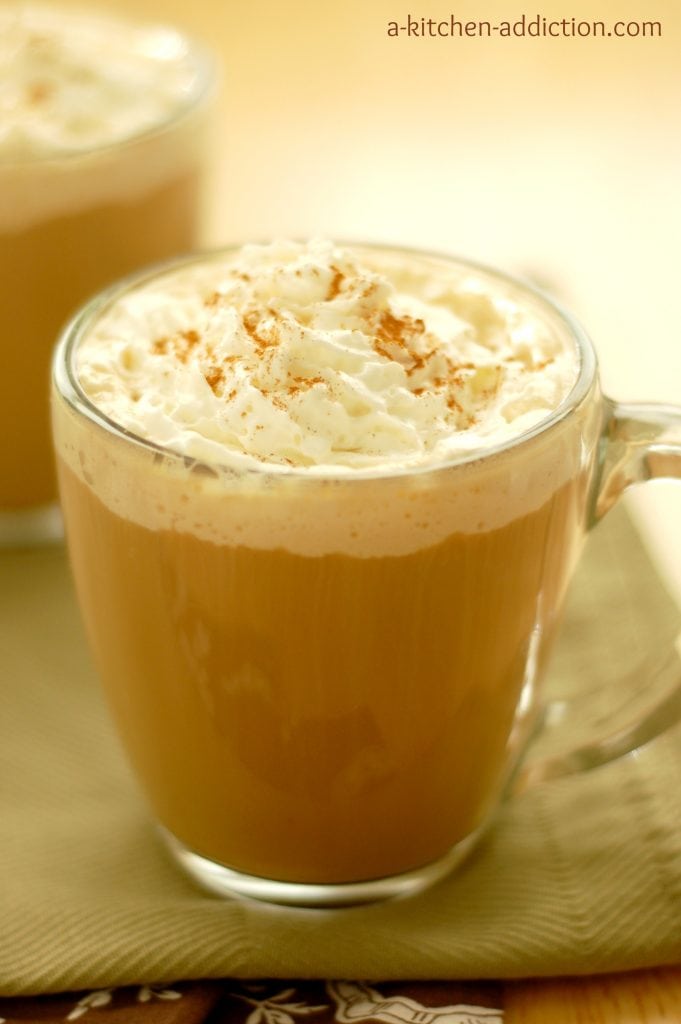 Feel free to add more or less syrup to match your desired sweetness. Also, a little (or a lot!) whipped cream with a sprinkle of cinnamon makes a great finish to these lattes! 🙂
Cinnamon French Toast Latte
Yield: 1 1/8 C syrup or enough for 4-8 lattes depending on desired sweetness
Ingredients
1/2 C water
1/2 C brown sugar
1 1/2 tsp vanilla extract
1 tsp maple extract
8-10 drops cinnamon liquid stevia or 3/4 tsp ground cinnamon
1/4 tsp nutmeg
12 oz steamed/hot milk (This is enough for two lattes)
12 oz brewed espresso or strong coffee (This is enough for two lattes)
Whipped cream, optional
Cinnamon for garnish, optional
Directions
In a medium saucepan, stir together water and brown sugar. Bring mixture to a boil over medium heat. Stir in vanilla, maple, and cinnamon stevia into brown sugar mixture and bring back to a boil. Boil for six minutes stirring occasionally to prevent scorching. Remove from heat and stir in nutmeg (and cinnamon if using ground cinnamon).
Pour 1/8-1/4 cup of syrup, depending on desired sweetness, into two mugs. Pour in 6 ounces of espresso/strong coffee into each mug and stir. Stir in 6 ounces of steamed milk into each mug.
Top with whipped cream and additional cinnamon.
Enjoy!
Store leftover syrup in the refrigerator.
This recipe is linked with Heavenly Treats Sunday, I'm Lovin' It Friday, Crazy Sweet Tuesday, Lil Luna Link Party, Mop It Up Mondays, Seasonal Inspiration, Strut Your Stuff Saturday, Thursday Treasures, Trick or Treat Tuesday, Weekend Potluck, What's Shakin' Link Party.