To add to my strawberry recipe streak, I thought I would share this delicious and super easy Strawberry Rhubarb Peach Crumble with you!
This dessert was inspired by the Multi-Grain Pancakes with Strawberry Rhubarb Compote last Friday. The compote was so easy to make that I wanted to try and use it as the filling to a crumble.
I basically used the same recipe but added in ginger and more of the cinnamon and nutmeg. I also had some fresh peaches on hand and decided to add those to the mix. I'm glad I did! It was the first time that I have ever had a strawberry rhubarb peach combination and it was good!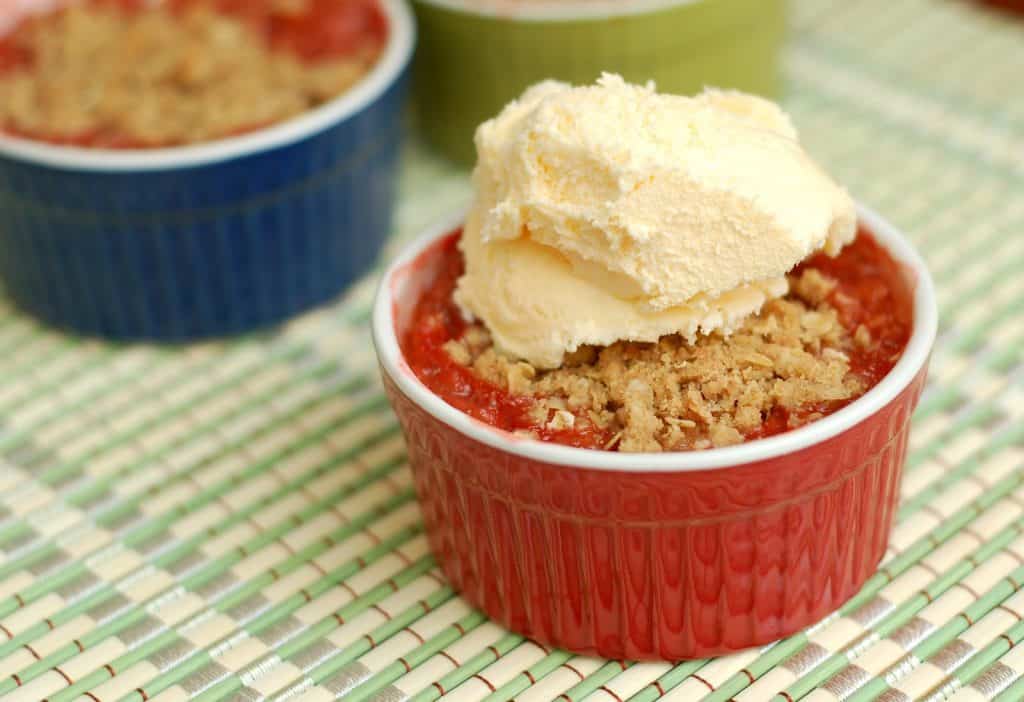 This is what happened to one of the dishes when I left the room. I guess my husband didn't think it was too bad! 🙂
I love how quickly this recipe came together and how little I had to have the oven on. The fruit is already cooked before assembling, so basically you are using your oven to crisp up the topping. Add a scoop of your favorite frozen yogurt and eat up!
Don't miss out on a single tasty bite! "Like" A Kitchen Addiction on Facebook!


Strawberry Rhubarb Peach Crumble

Yield: 6 servings
Ingredients
For the Filling
1 lb strawberries, washed, hulled, and sliced
1 lb rhubarb, washed and cut into 1 inch pieces
1 lb peaches, washed, pits removed, and cut into small pieces
6 tbsp honey
1/2 tsp cinnamon
1/2 tsp nutmeg
1/4 tsp ginger
1 1/2 tbsp water
For the Topping
2/3 C white whole wheat flour or all-purpose flour
1/2 C quick oats
1/4 C brown sugar
1/2 tsp cinnamon
1/8 tsp salt
1/4 C cold butter
Directions
Preheat oven to 350.
Place all ingredients for the filling in a large saucepan. Bring to a boil over medium heat, stirring occasionally. Reduce heat to medium-low and let simmer for about 10 minutes or until fruit is tender and mixture has reduced and thickened. Remove from heat.
While filling is cooking, start assembling the topping.
In a medium bowl, stir together flour, oats, brown sugar, cinnamon, and salt. Cut in butter until crumbly.
Spray the inside of individual ramekins or an 8×8 baking pan with non-stick cooking spray. Pour fruit mixture into ramekins or pan. Sprinkle with topping.
Bake for 10-15 minutes or until filling is bubbly and topping is golden brown.
Top with your favorite frozen yogurt or ice cream. Enjoy!