Why is it that breakfast food tastes so much better for supper?? You have probably already figured out that I like breakfast food. . .a lot! I have multiple scone, muffin, egg, biscotti, and granola recipes. . .but only one pancake recipe! I had to fix that! 🙂
Yep, strawberries are making yet another appearance! You probably thought that I had finally made it an entire week without a recipe using them . . . I'm telling you. . .they are the best! 😉
I found that using a measuring cup worked just as well as anything else! The batter will appear runny at first but with the oats in the batter, it will thicken as it sits. You may need to add more liquid at the end depending on how long it takes you to make all of the pancakes.
These pancakes turned out nice and light despite all of the grains that are in them. The spice of the cinnamon and nutmeg tied together well with the strawberry rhubarb compote making for a nice supper, er, breakfast! (It's a good thing my husband likes breakfast food as much as I do!)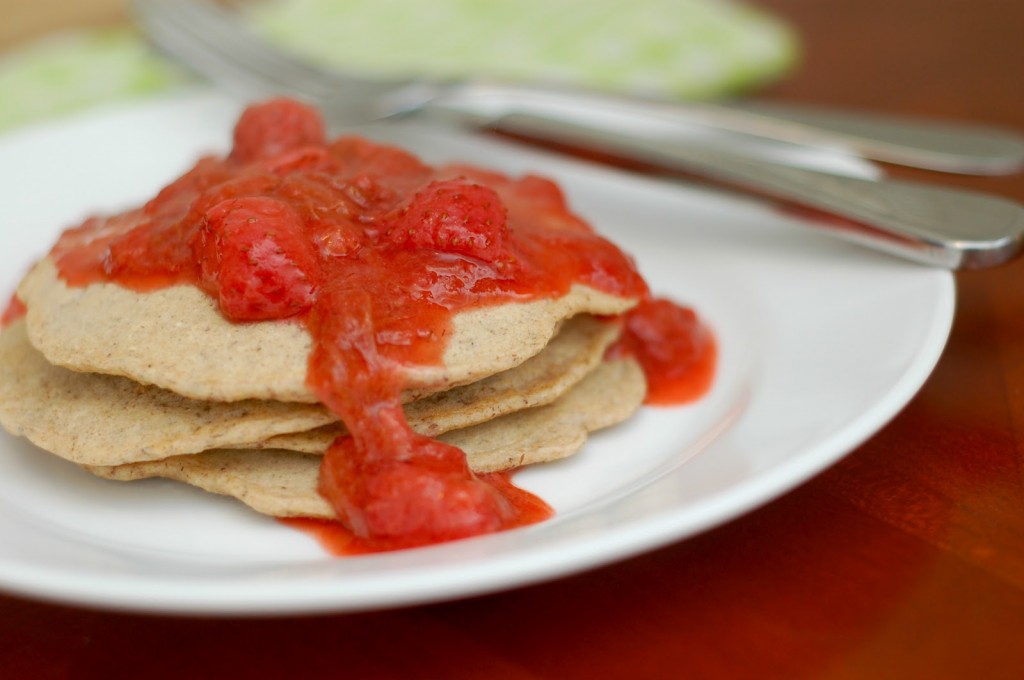 Hope you all have a wonderful, relaxing weekend!!
This post is linked up with the Fabulous Friday Party hosted by My Crowded Kitchen, Crunchy Creamy Sweet, and Serena Bakes Simply From Scratch. Go check it out and join in the deliciousness!
Multi-Grain Pancakes with Strawberry Rhubarb Compote

Yield: 12 pancakes
Ingredients
For the Compote
1 lb strawberries, washed, hulled, and sliced
1 lb rhubarb, washed and cut into 1inch pieces
3 tbsp honey
1/4 tsp cinnamon
1/4 tsp nutmeg
1 tbsp water
For the Pancakes
1/2 C whole wheat flour
1/2 C all-purpose flour
1/4 C flaxseed meal
1/4 C oat bran
1/4 C quick oats
2 tsp baking powder
1/2 tsp salt
1/2 tsp cinnamon
1/4 tsp nutmeg
1 tbsp sugar
1 egg
1 3/4 C unsweetened vanilla almond milk
1/2 C water
Directions
Place all ingredients for the compote into a large saucepan. Bring to a boil over medium heat. Reduce heat to medium-low and let simmer for about 15 minutes or until fruit has softened and the mixture has reduced and thickened. Remove from heat.
While the compote is cooking, start preparing your pancake batter.
In a medium-sized bowl, stir together flours, flaxseed, oat bran, quick oats, baking powder, salt, cinnamon, nutmeg, and sugar.
In a small bowl, whisk together the egg, almond milk, and water. Slowly whisk the wet ingredients into the dry ingredients. Batter will be runny but will thicken while sitting.
Heat griddle or frying pan to medium heat. Spray with non-stick cooking spray. Pour batter by 1/4 cup fulls onto griddle. Flip when the top starts to bubble and the edges look dry. Cook the second side for about 3 minutes or until light brown. Continue with remaining batter.
Remove cooked pancakes to a plate. Top with strawberry rhubarb compote. Enjoy!