This easy recipe for Spiced Apple Cider Donut Muffins is filled with the favorite fall spices of apple pie and sweet apple cider!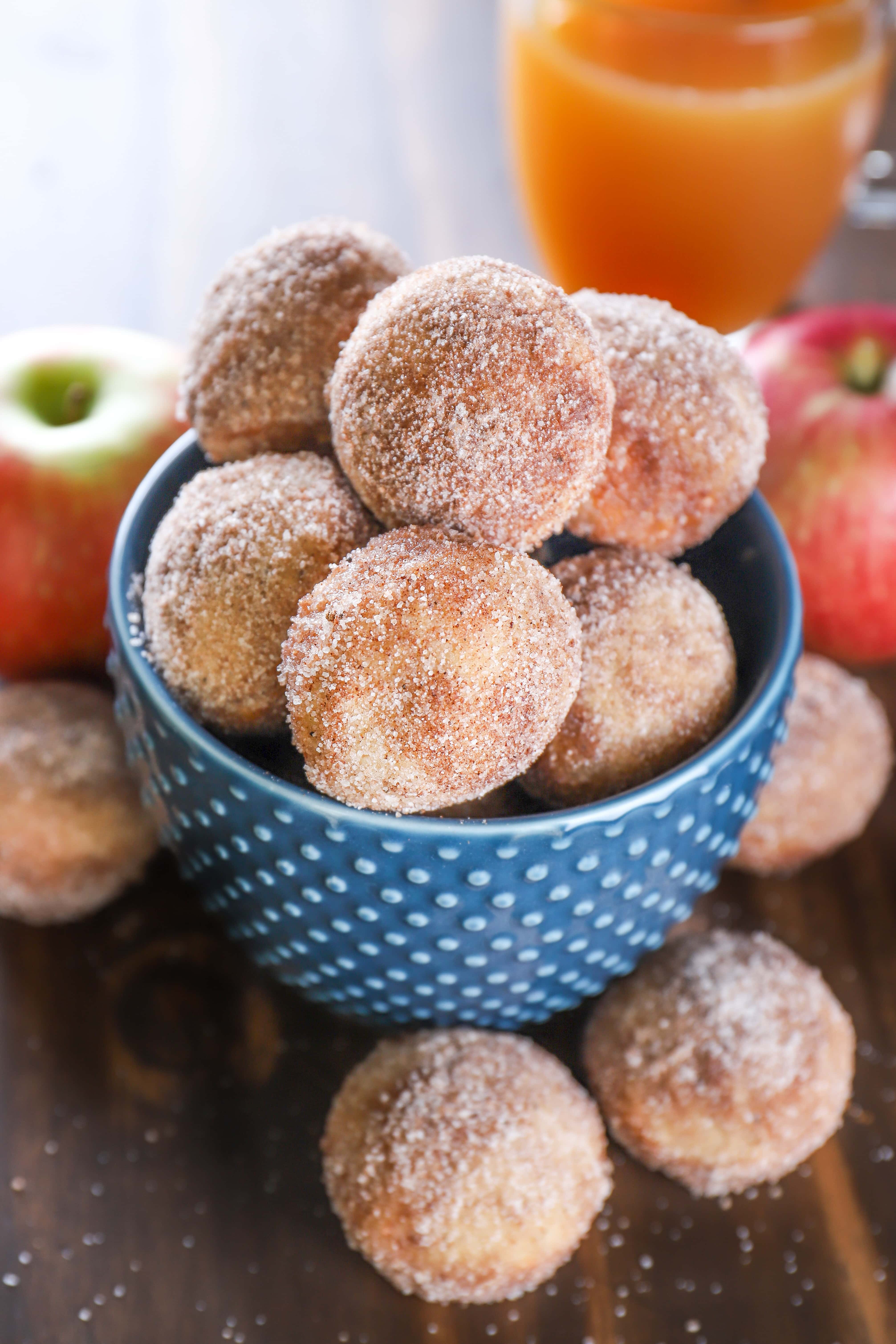 One fall drink that has to make an appearance around my house is apple cider. Since my husband doesn't like coffee, he couldn't care less about pumpkin spice lattes or the other coffee drinks that reappear around this time of year.
Apple cider, however, is a must. This year I decided that I needed to do more with it than just serve it to drink.
Since apple cider donuts are also popular in the fall, I figured I may as well try and make them at home. When I set out to make them, I knew that they had to be baked since I don't like fried doughnuts (I know, you wouldn't be the first to think I'm weird!).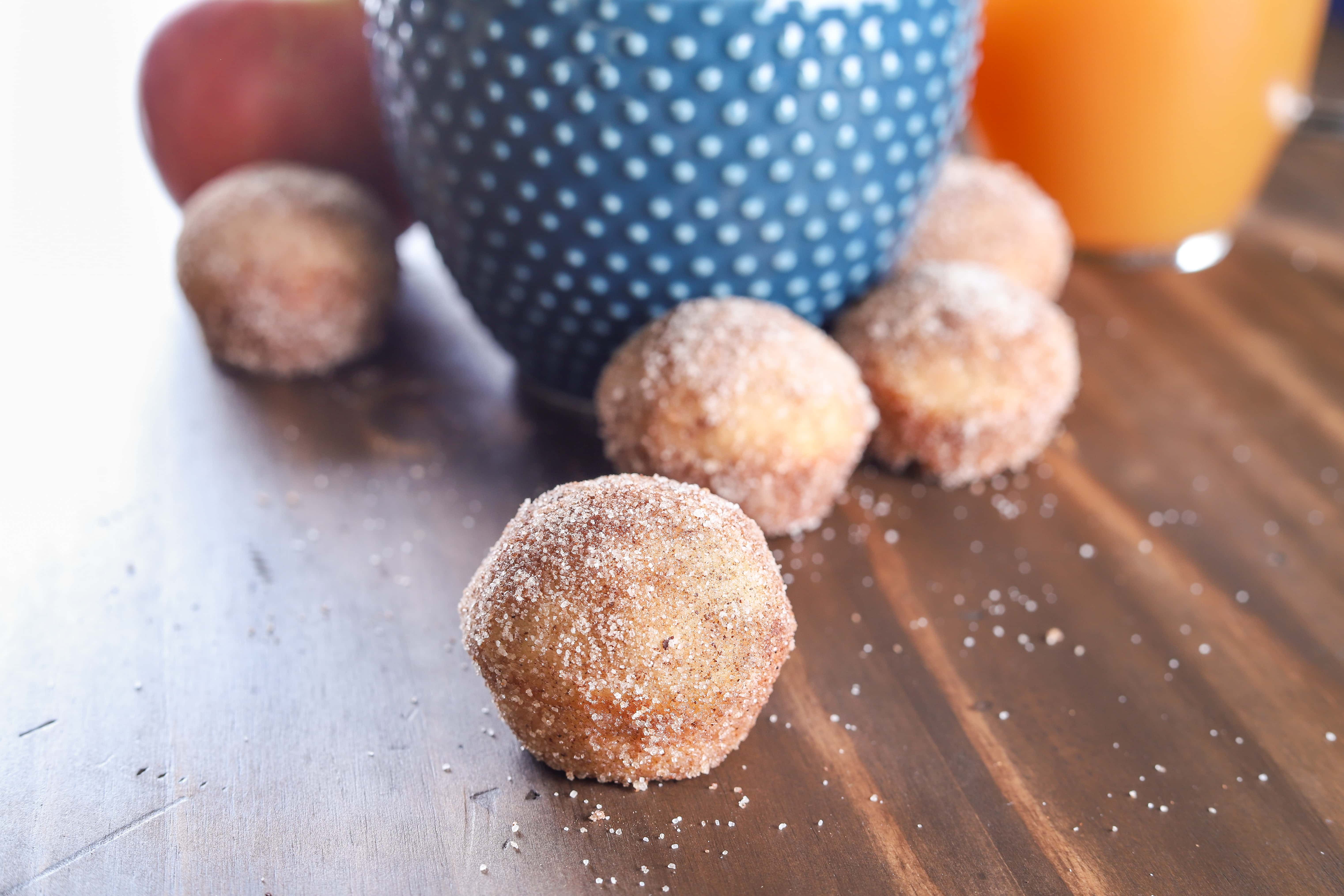 Since they are baked, they obviously don't have the same texture as most apple cider donuts, however, they are still full of apple cider flavor.
In order to make the flavor more intense, I reduced a cup of cider down to 1/3 cup, but feel free to just use the 1/3 cup called for in the directions if you don't want to take the time for it to simmer and reduce. Cinnamon, nutmeg, allspice, and ginger are found both in the muffin and in the topping.
The tops are dipped in melted butter and then into the spice and sugar mixture to give them a rich, sweet coating that melts in your mouth as you take a bite. I think we just discovered another "must have" for fall!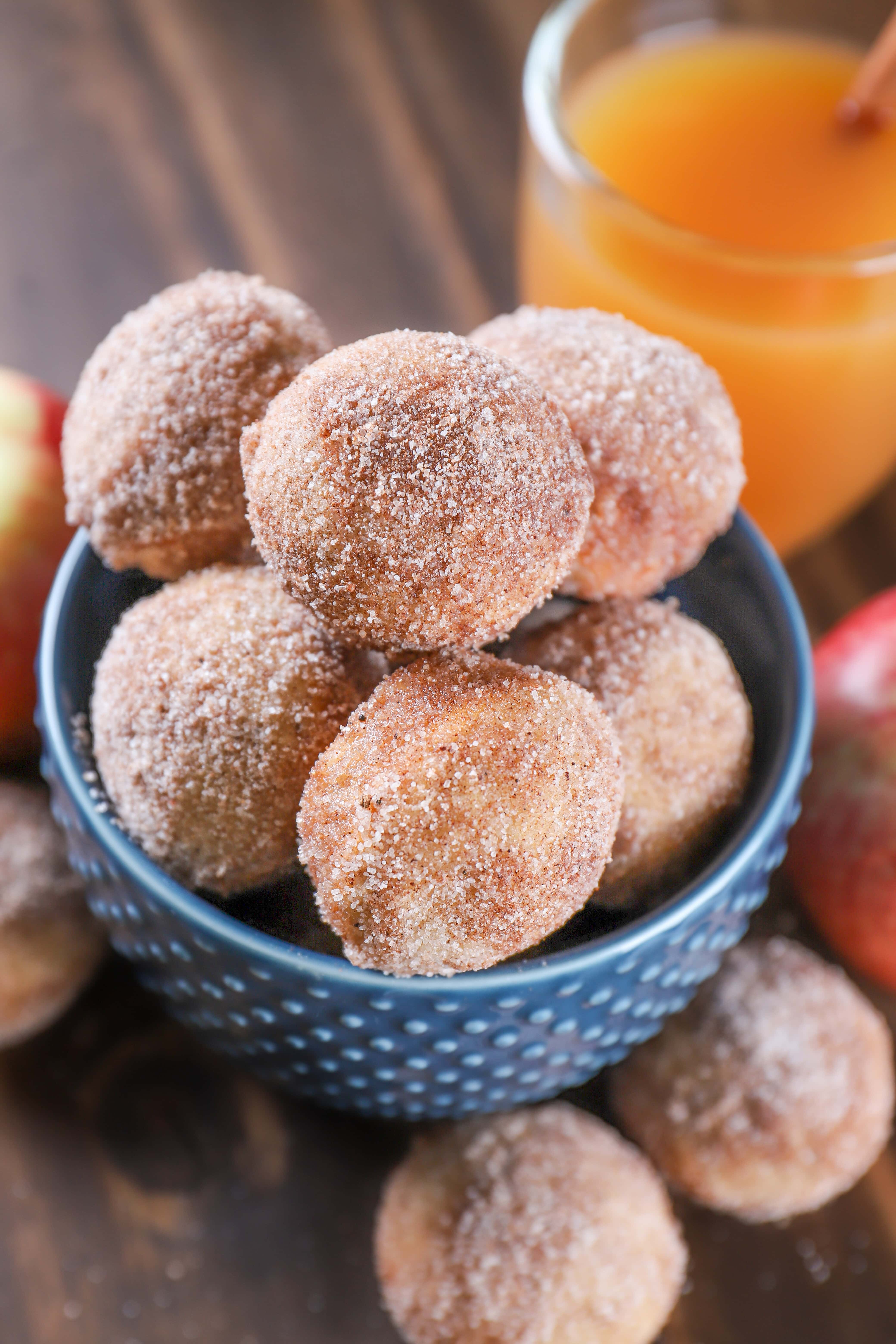 Tips for Making Apple Cider Donut Muffins
To get a more intense apple cider flavor, reduce the 2/3 cup of apple down to 1/3 cup. Simply simmer apple cider for 5-10 minutes, or until cider is reduced to about half.
Using a small cookie scoop helps reduce the mess of portioning out the batter into the muffin tin.
I have made these a few times without the melted butter (because I just completely forgot it!), and they still turned out great. Not quite as rich, but once you dip the mini donut muffins in the butter and roll in cinnamon sugar, you can't tell that there is no butter in the actual muffin. So feel free to leave the butter out!
Because the size of the muffin cup in each tin is slightly different, you may find that your mini donut muffins look larger or smaller than the ones pictured.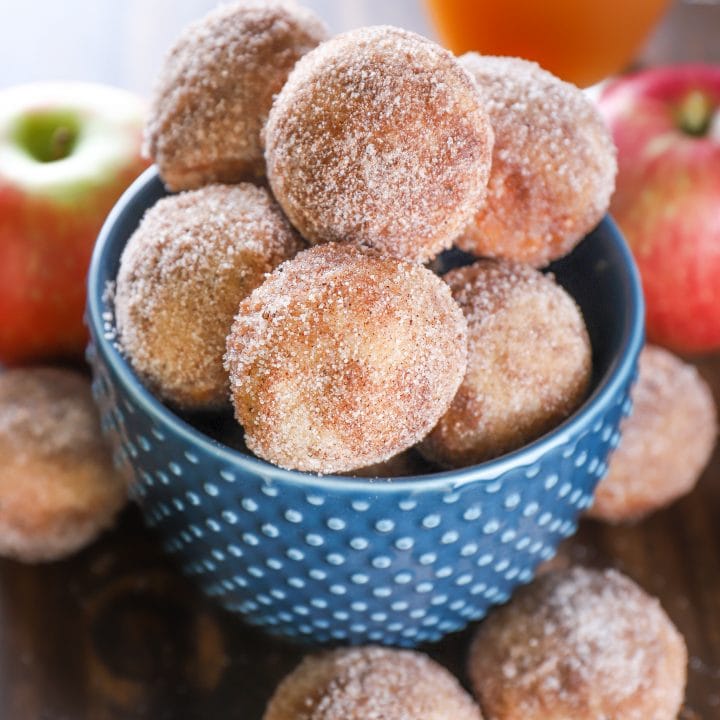 Apple Cider Donut Muffins
Yield: 36 mini donut muffins

Prep Time: 10 minutes

Bake Time: 6 minutes

Total Time: 16 minutes
Ingredients
For the Muffins
2 C all-purpose flour
1 1/2 tsp baking powder
1/4 tsp baking soda
1/2 tsp salt
1/3 C sugar
1/3 C brown sugar
1 tsp cinnamon
1/2 tsp nutmeg
1/4 tsp allspice
1/8 tsp ginger
1/4 C unsalted butter, melted and cooled
1/4 C unsweetened applesauce
2 eggs
1/3 C pure apple cider
1/3 C milk of your choice
For the Cinnamon Sugar Topping
2 tbsp sugar
1/2 tsp cinnamon
1/8 tsp nutmeg
1/8 tsp allspice
3 tbsp butter
Instructions
Preheat oven to 375. Lightly spray a mini muffin tin with non-stick cooking spray.
In a large bowl, whisk together flour, baking powder, baking soda, salt, sugars, cinnamon, nutmeg, allspice, and ginger.
In a small bowl, whisk together butter, applesauce, eggs, apple cider, and buttermilk.
Add wet ingredients to dry ingredients and stir until just combined.
Spoon batter into prepared muffin tin (I like to use a cookie scoop). Fill about 3/4 full. I used about a rounded teaspoon of batter per cup.
Bake for 5-7 minutes or until edges just start to turn golden brown.
Move to a wire rack to cool.
Stir together sugar, cinnamon, nutmeg, and allspice in a small bowl. Melt butter in a separate small bowl.
Dip tops of muffins into melted butter, then dip top into cinnamon sugar mixture. Repeat with all donut muffins.
Recommended Products
As an Amazon Associate and member of other affiliate programs, I earn from qualifying purchases.