These Lighter Maple Pecan Sweet Potatoes skip the marshmallows and heavy cream and instead are filled with the warm spices of cinnamon and nutmeg, sweetened with maple syrup, and topped with crunchy pecans!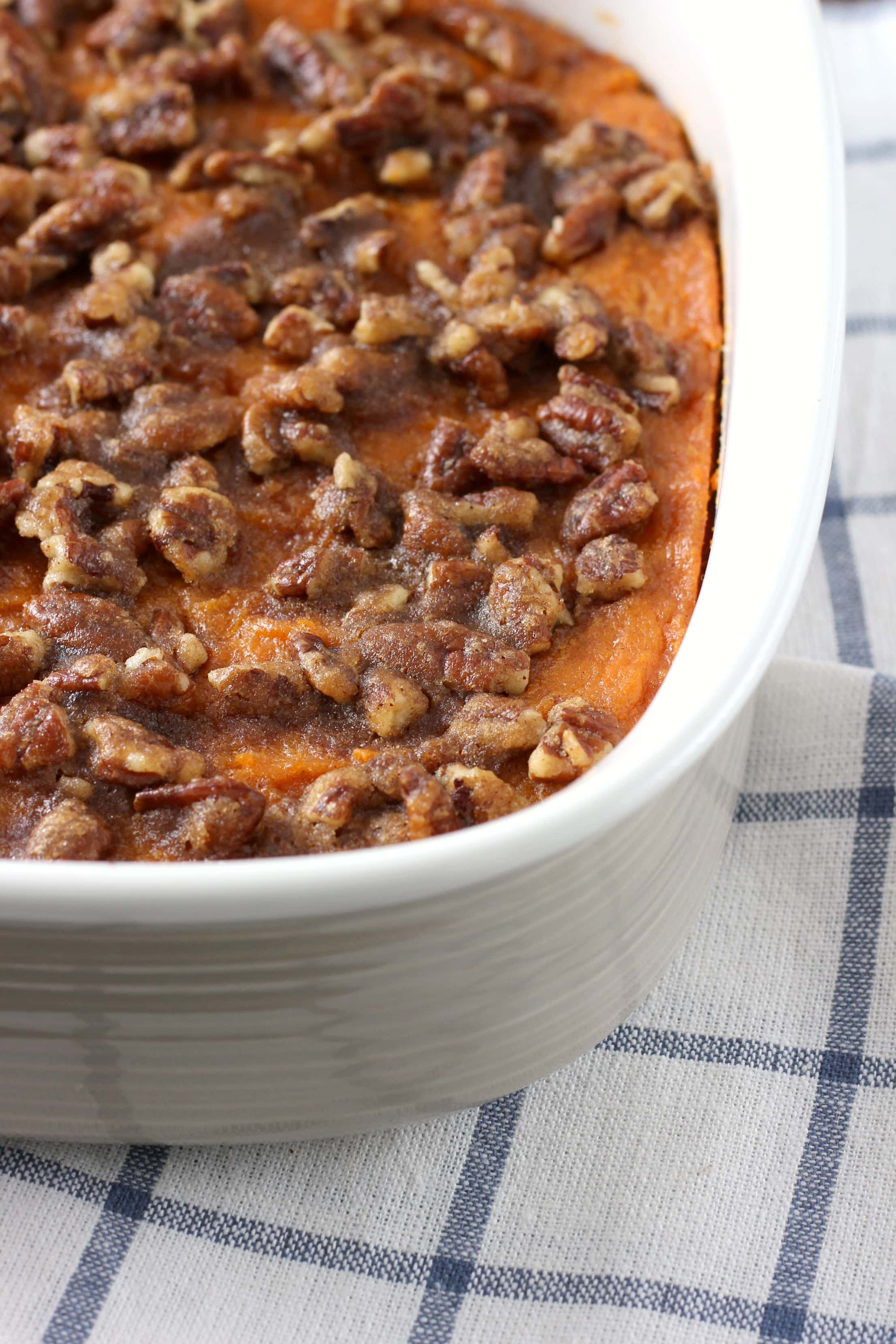 *Post originally from 11/25/13. Images updated 11/14/16.
How is your Thanksgiving menu looking? Have it all planned out and ready to go? Or are you still looking for one or two dishes to round it out?
Well, if you are still in need of a side dish, these lighter maple pecan sweet potatoes should make it on your menu.
Here is a recipe for sweet potatoes that is both quick and easy, and it's lighter than your typical sweet potato dish.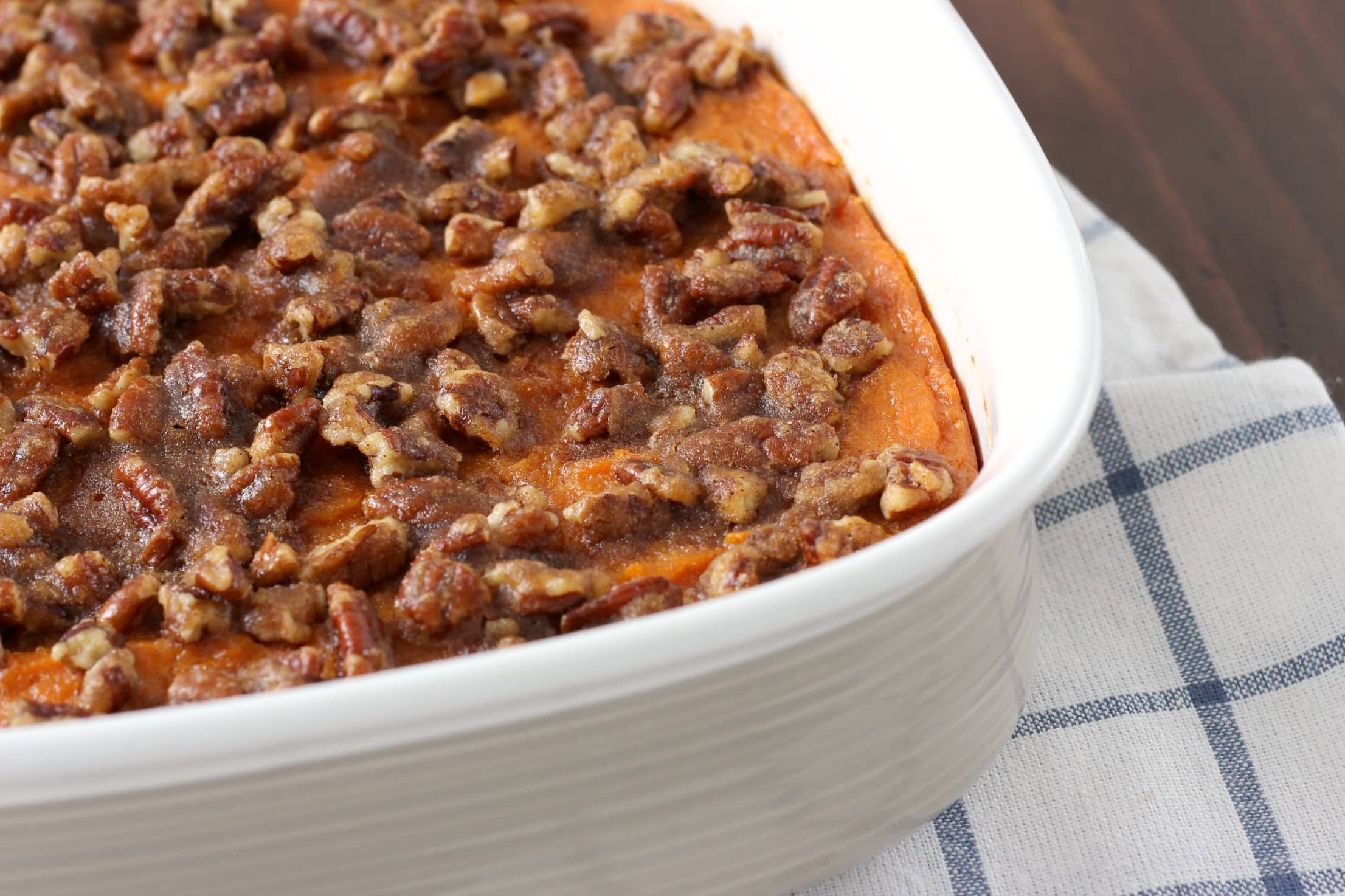 But don't worry, these lighter maple pecan sweet potatoes aren't lacking flavor!
Maple syrup, cinnamon, nutmeg, maple extract, and a hint of allspice make you forget the fact that there isn't lots of butter, cream, or marshmallows to be found in or on these sweet potatoes.
That and the fact that you can actually taste the sweet potatoes instead of being buried under all those marshmallows!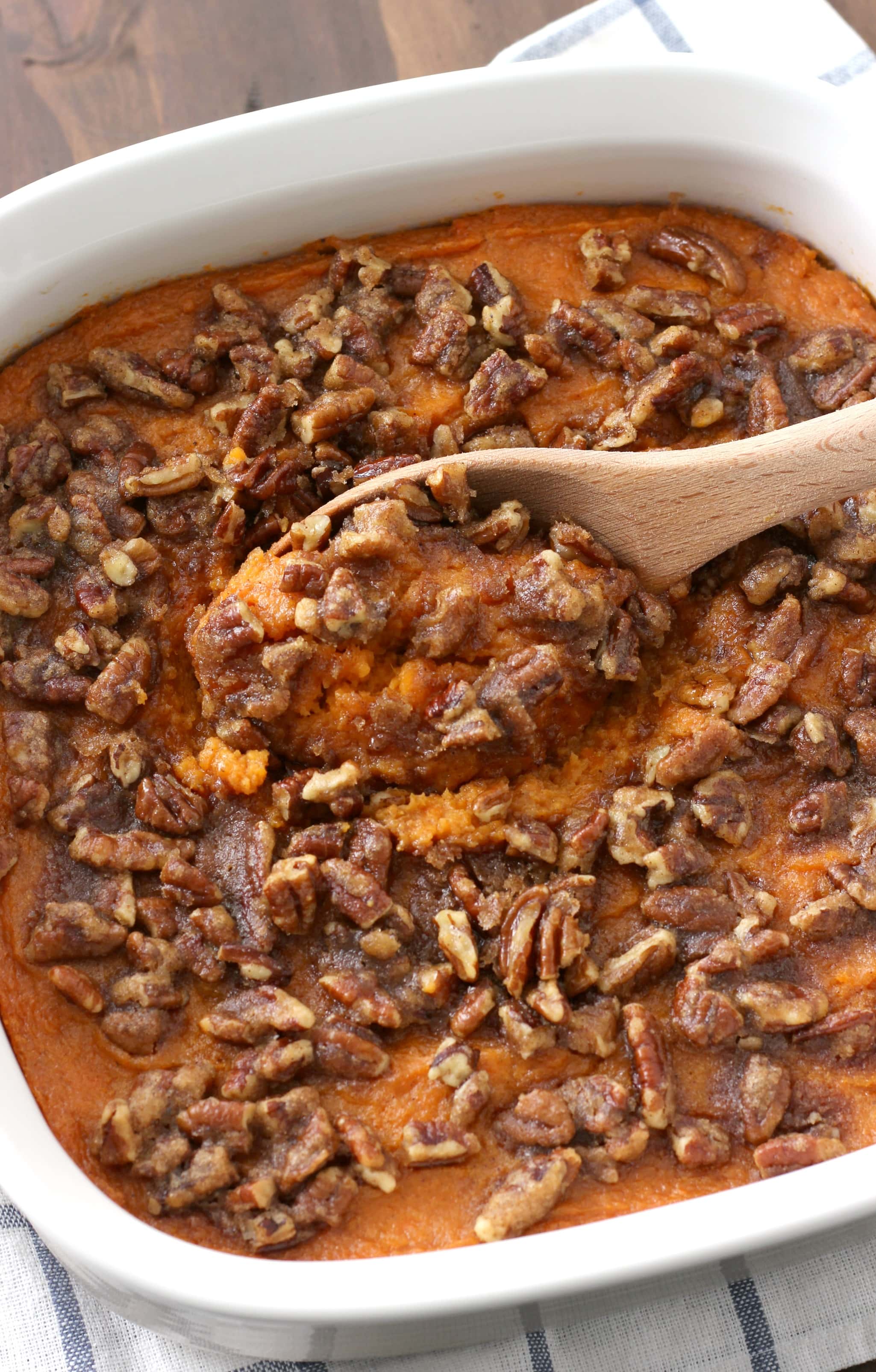 Topping these sweet potatoes is a layer of pecans that have been tossed in a bit of melted butter, brown sugar, and cinnamon.
Once they are baked, they get a nice caramelized coating and add just the right amount of crunch.
See? You won't miss all of that extra fat and sugar at all! 🙂

Lighter Maple Pecan Sweet Potatoes
Author:
A Kitchen Addiction
Ingredients
3 lbs sweet potatoes
3 tbsp maple syrup
3 tbsp honey
3 tbsp milk
½ tsp salt
1 tsp cinnamon
½ tsp nutmeg
⅛ tsp allspice
1 tsp vanilla extract
½ tsp maple extract
1 egg
For the Topping
⅓ C chopped pecans
2 tbsp brown sugar
¼ tsp cinnamon
2 tbsp butter, melted
Instructions
Preheat oven to 400. Pierce sweet potatoes with a fork. Place on a lined baking sheet and bake for 45-60 minutes or until tender. Cool slightly and peel.
Reduce heat to 350. Lightly spray an 8x8 in or 2 qt baking dish with non-stick cooking spray.
Place sweet potatoes in a large bowl or in the bowl of a stand mixer. Add in maple syrup, honey, and milk. Beat until almost creamy. Add in salt, cinnamon, nutmeg, allspice, vanilla extract, maple extract, and egg. Beat until creamy.
Spoon into prepared baking dish.
In a small bowl stir together pecans, brown sugar, cinnamon, and melted butter until pecans are coated. Sprinkle over the top of the sweet potatoes.
Bake for 25-35 minutes or until hot and edges begin to brown.