Thick, fudgy and stuffed with dark chocolate and caramel bits, these Salted Dark Chocolate Caramel Fudge Cookies are completely irresistible!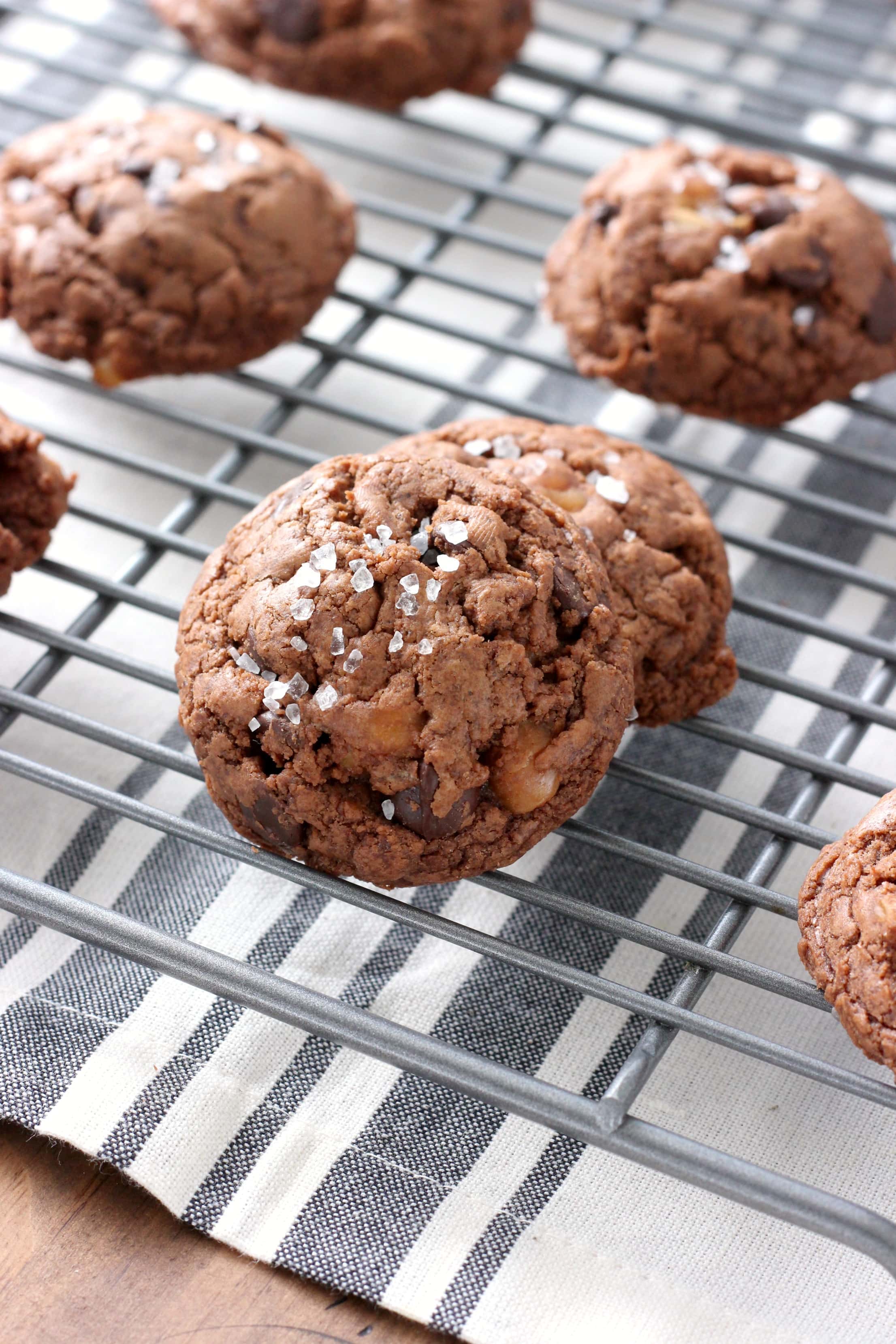 Somehow it's already February. I'm not sure what all happened in January, because it seems to have flown by! And now it's the first week in February. Which means Valentine's Day is almost here.
And whether you're a fan of the day or not, can we agree that it's at least a good excuse to eat chocolate and chocolaty desserts?! These salted dark chocolate caramel cookies are worthy of being eaten on Valentine's Day.
In fact, these cookies received the highest praise from my husband. He said, "I actually like these." While that may not seem like much of a compliment to you, it is.
My husband would choose to eat just about anything other than a chocolate cookie because of how much he doesn't like them. But he actually had more than one! I'd call that a success!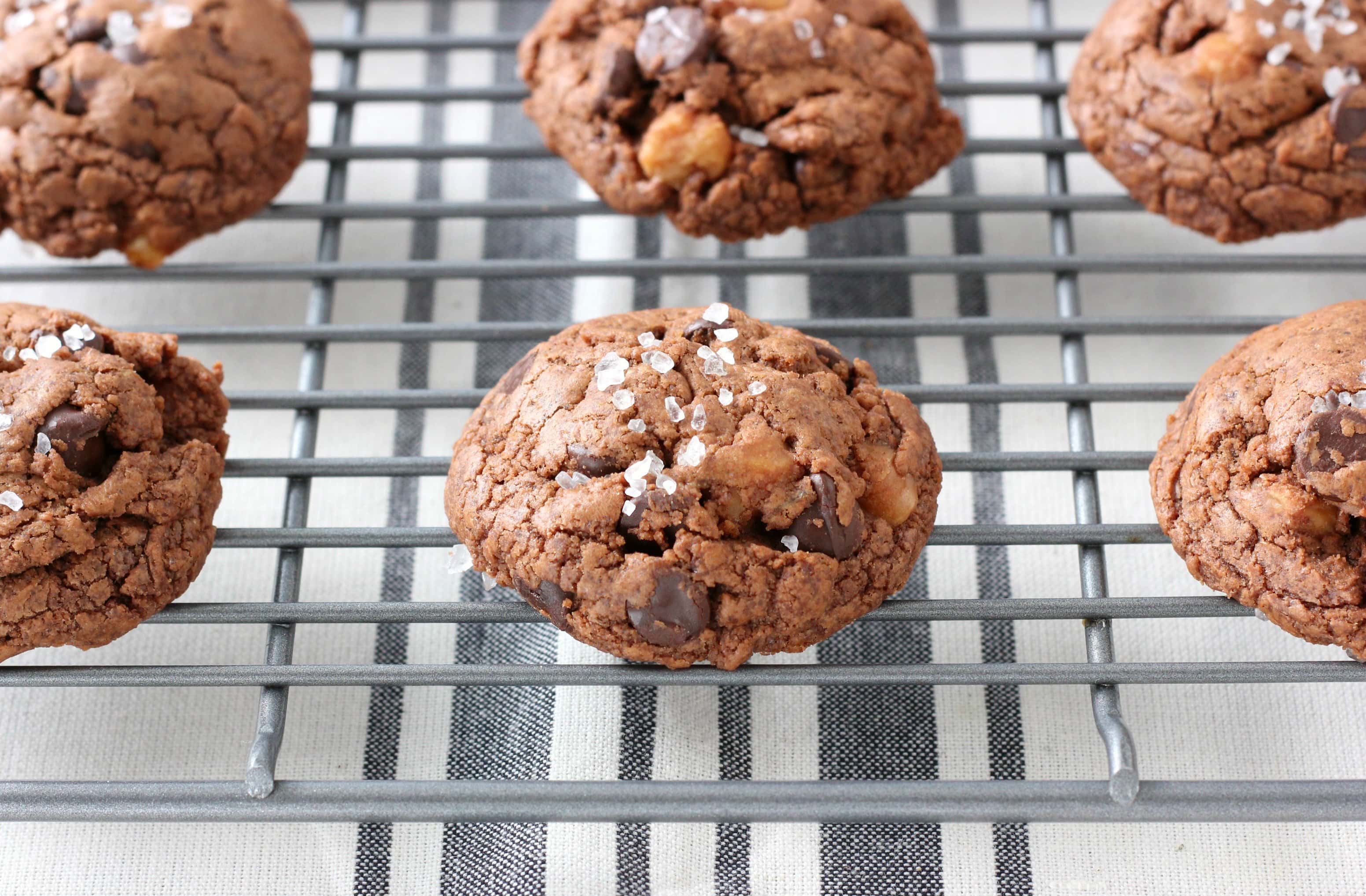 Thick, fudgy, and stuffed with dark chocolate chips and caramel bits, these cookies are hard for me to resist, too! The sprinkling of sea salt on top makes them even more irresistible!
The cookies get their fudgy texture from the melted chocolate and butter base that is similar to the base of my favorite buttermilk brownies recipe, and the edges have the perfect amount of crackly crunch without being dry!
You can't go wrong with cookies that are similar to brownies!
If you're looking for a rich, irresistible chocolate cookie for Valentine's Day, make a batch of these cookies! Actually, you may want to make a double batch, if you wanted to have some left for sharing!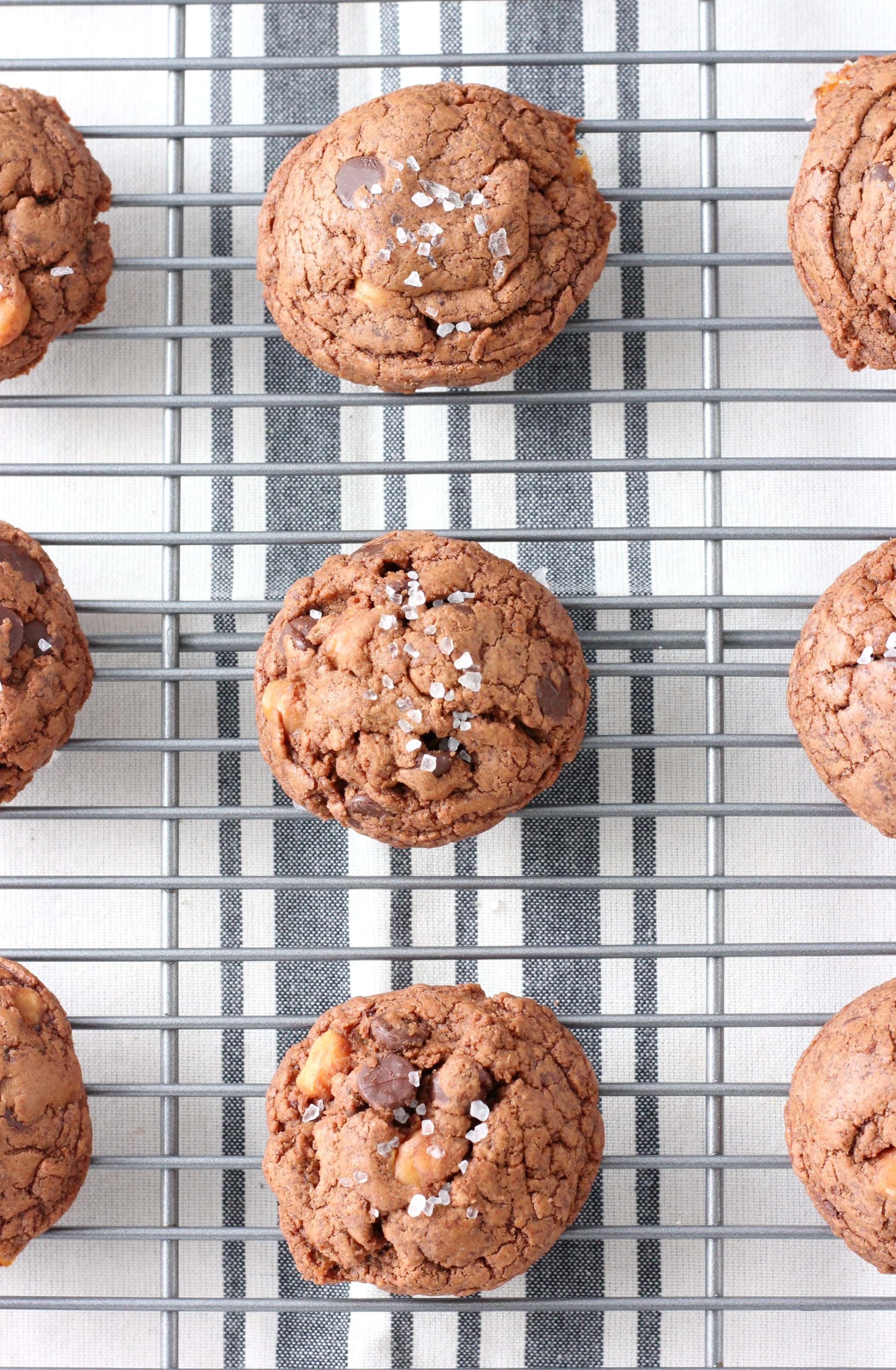 What makes these cookies even better is that they are made to bring awareness to Cookies for Kid's Cancer. We've partnered with them for the last three years and are excited to team up with them once again by joining a group of bloggers who are doing this Valentine's Day event in order to make a difference in the fight against pediatric cancer.
Did you know that cancer is the #1 cause of death of children by disease in the U.S.? There are 40,000 U.S. children actively battling cancer right now. With less than 4% of the National Cancer Institute's budget going to all childhood cancer combined, I knew it was important for me to get involved.
Help us make a difference by donating to Cookies for Kids' Cancer! Our goal is to raise at least $3000. Because these three companies: Dixie Crystals, Land O'Lakes and Mediavine have each pledged to match our donations raised through this campaign up to $3000!
Currently, we have raised: $1,415 ALMOST half way towards our $3000 goal, will you help us with a donation today? Every little bit helps!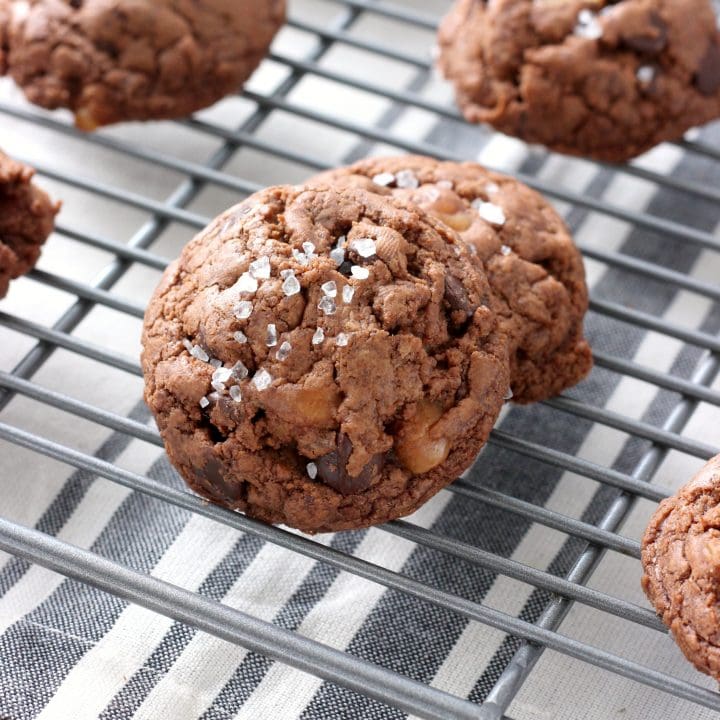 Salted Dark Chocolate Caramel Fudge Cookies
Thick, fudgy and stuffed with dark chocolate and caramel bits, these Salted Dark Chocolate Caramel Fudge Cookies are completely irresistible!
Ingredients
1 1/2 C semi-sweet chocolate chips
6 tbsp unsalted butter
2 eggs, room temperature
½ C brown sugar
½ C sugar
1 tsp vanilla extract
1½ C all-purpose flour
¼ tsp baking powder
¼ tsp salt
½ C dark chocolate chips
1/2 C caramel bits
coarse sea salt for sprinkling
Instructions
Line a baking sheet with parchment paper or a silicone baking mat.
In a medium saucepan, melt 1½ cups semi-sweet chocolate chips and butter together over low heat until just melted, stirring to prevent scorching.
In a stand mixer, or with an electric mixer, beat together eggs, and sugars until creamy. Beat in vanilla extract. Slowly beat in melted chocolate. (Do not add chocolate all at once as this may cook the eggs.) Beat until well-combined.
In a small bowl, whisk together flour, baking powder, and salt. Add dry ingredients to wet ingredients and beat until combined. Stir in dark chocolate chips and caramel bits.
Cover dough and refrigerate while you preheat oven to 350 degrees. This allows the dough to set up.
Drop by heaping tablespoon full onto prepared baking sheet. Press down slightly. Sprinkle with sea salt.
Bake for 9-11 minutes or until edges are light golden and set. Middle may seem underdone but cookies will set as they cool.
Store in an airtight container. Best eaten within 3-4 days of baking.
Recommended Products
As an Amazon Associate and member of other affiliate programs, I earn from qualifying purchases.