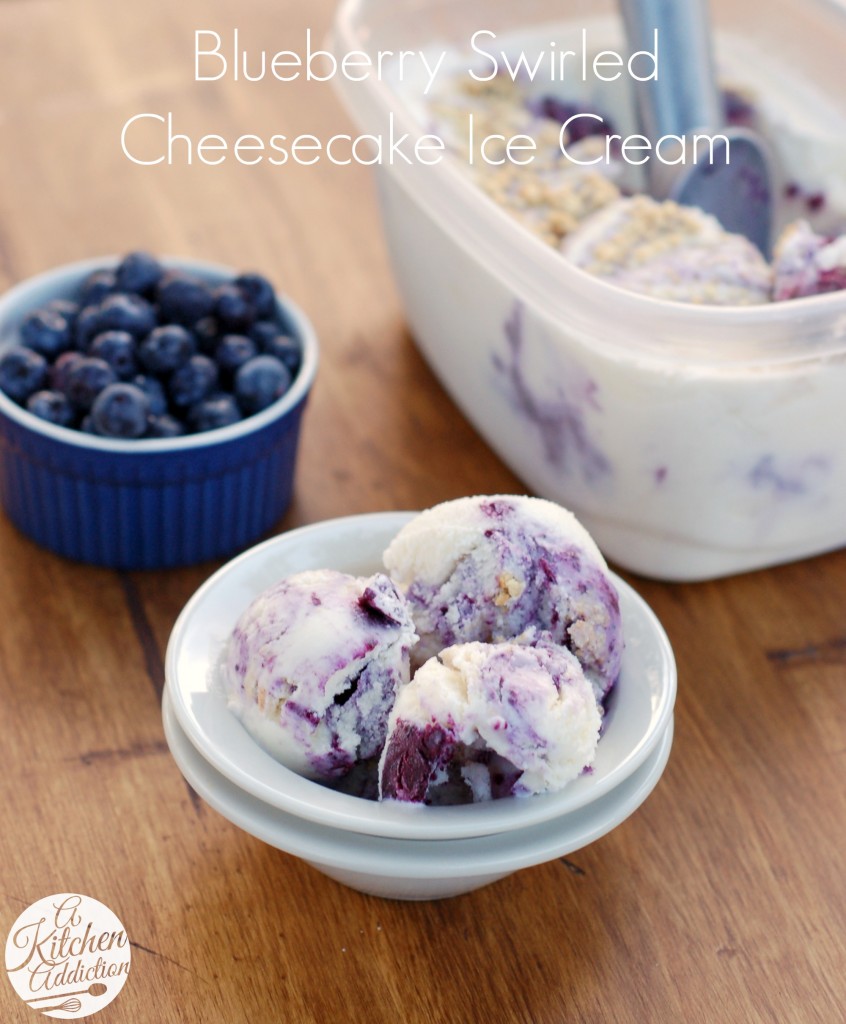 Remember the blueberry toaster pastries from Friday? Well, that blueberry filling can be used for more than just toaster pastries!
It combines perfectly with cream cheese to create this blueberry swirled cheesecake ice cream.
So, if you haven't made those toaster pastries yet, make a double batch of this blueberry filling and enjoy some ice cream along with your toaster pastries! 🙂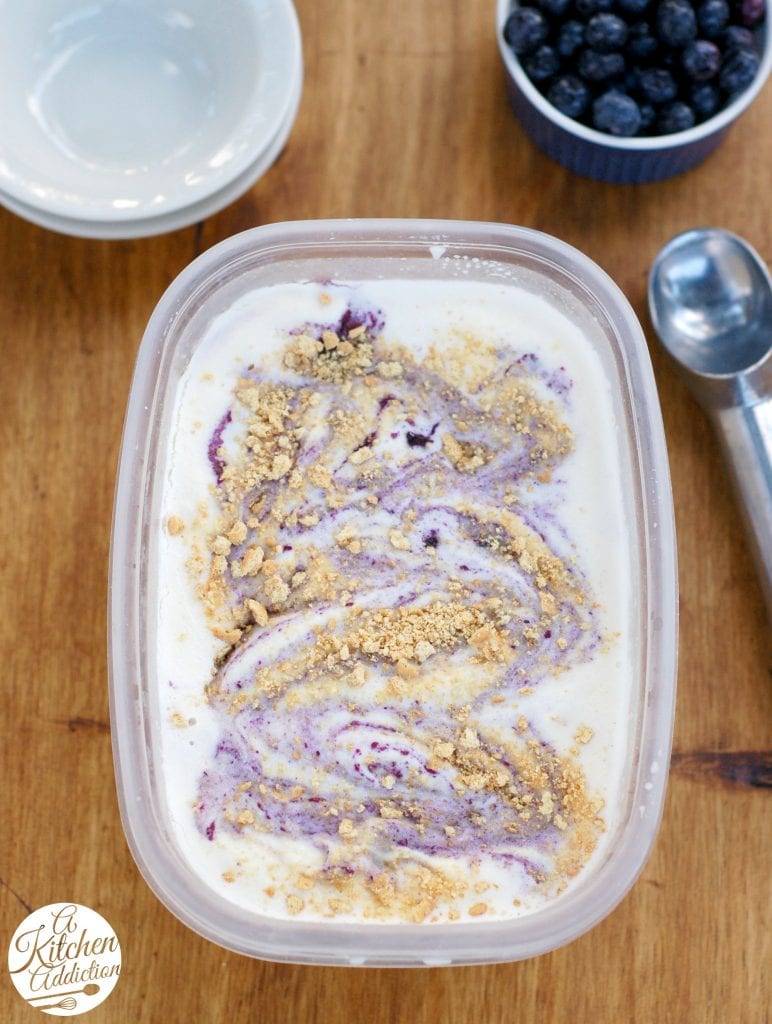 We're still enjoying as many fresh blueberries as we can handle. On any given day you are sure to find at least one pint of blueberries in our house. Sometimes those blueberries get forgotten and start to get a little soft.
Instead of throwing them away or having to eat them not at the peak of freshness, I've been making lots of foods involving blueberries.
Can't say that I mind, especially when ice cream is involved!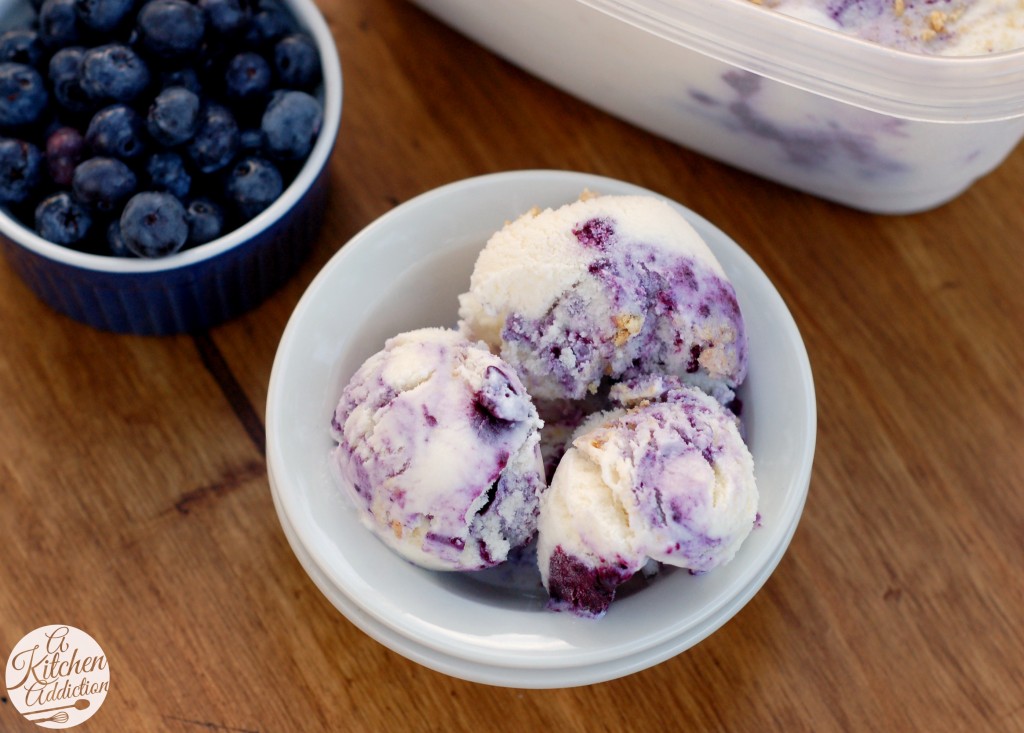 This ice cream is definitely a great way to use up blueberries. Cream cheese is mixed into sweetened condensed milk and milk to create the base.
A fresh blueberry filling is swirled throughout and crushed graham crackers are sprinkled in.
Each bite of ice cream is like taking a cool, creamy bite of blueberry cheesecake.
A great way to savor the last days of summer!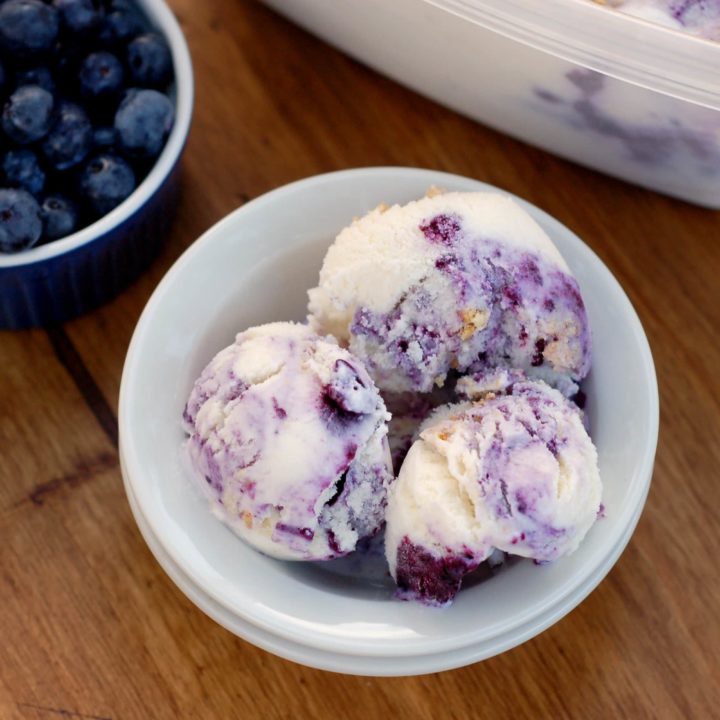 Blueberry Swirled Cheesecake Ice Cream
Yield: 1 Quart

Prep Time: 20 minutes

Total Time: 20 minutes
Ingredients
For the Blueberry Swirl
1 1/2 Cups fresh blueberries
1/4 Cup sugar (if your blueberries are overly tart, you may want to add another tablespoon or two of sugar)
1 Tablespoon fresh lemon juice
1 Tablespoon cornstarch mixed with a bit of cold water
For the Ice Cream
14 ounce can fat-free sweetened condensed milk, chilled
8 ounce 1/3 of the fat cream cheese, softened
1 1/2 teaspoons vanilla extract
1/8 teaspoon salt
2 Cups milk (the higher the fat content you use, the creamier the ice cream)
1/3 Cup crushed graham crackers
Instructions
In a small saucepan, stir together blueberries, sugar, and lemon juice. Bring to a boil over medium heat. Reduce heat to medium-low and allow to simmer for 10 minutes. Stir in cornstarch and simmer for another 5 minutes. Remove from heat.
Allow to cool slightly and pour into a heat-safe container. Refrigerate for 1 hour or prepare the day before and refrigerate until needed.
In a food processor or blender, pulse or blend together sweetened condensed milk, cream cheese, vanilla extract, and salt until smooth.
Transfer to a large bowl. Gently whisk in milk.
Pour milk mixture into ice cream machine and churn according to manufacturer's instructions.
When ice cream is soft set, pour half into a freezer safe container. Spoon half of the blueberry mixture and half of the crushed graham crackers over the top. Swirl through the ice cream using a knife. Spread remaining ice cream over the top. Top with remaining blueberry mixture and crushed graham crackers. Swirl through ice cream using a knife.
Freeze until desired consistency is reached.
Recommended Products
As an Amazon Associate and member of other affiliate programs, I earn from qualifying purchases.
Nutrition Information:
Yield: 8 Serving Size: 1
Amount Per Serving: Calories: 320Total Fat: 9gSaturated Fat: 5gTrans Fat: 0gUnsaturated Fat: 3gCholesterol: 31mgSodium: 177mgCarbohydrates: 54gFiber: 1gSugar: 47gProtein: 8g

Nutrition information shown is an estimate provided by an online calculator and may not always be accurate. It should not be considered a substitute for a medical professional's advice.