This Pumpkin Bread is filled with an entire can of pumpkin and pumpkin pie spices! Salted Caramel Drizzled Pumpkin Buttercream tops off the bread making it completely irresistible!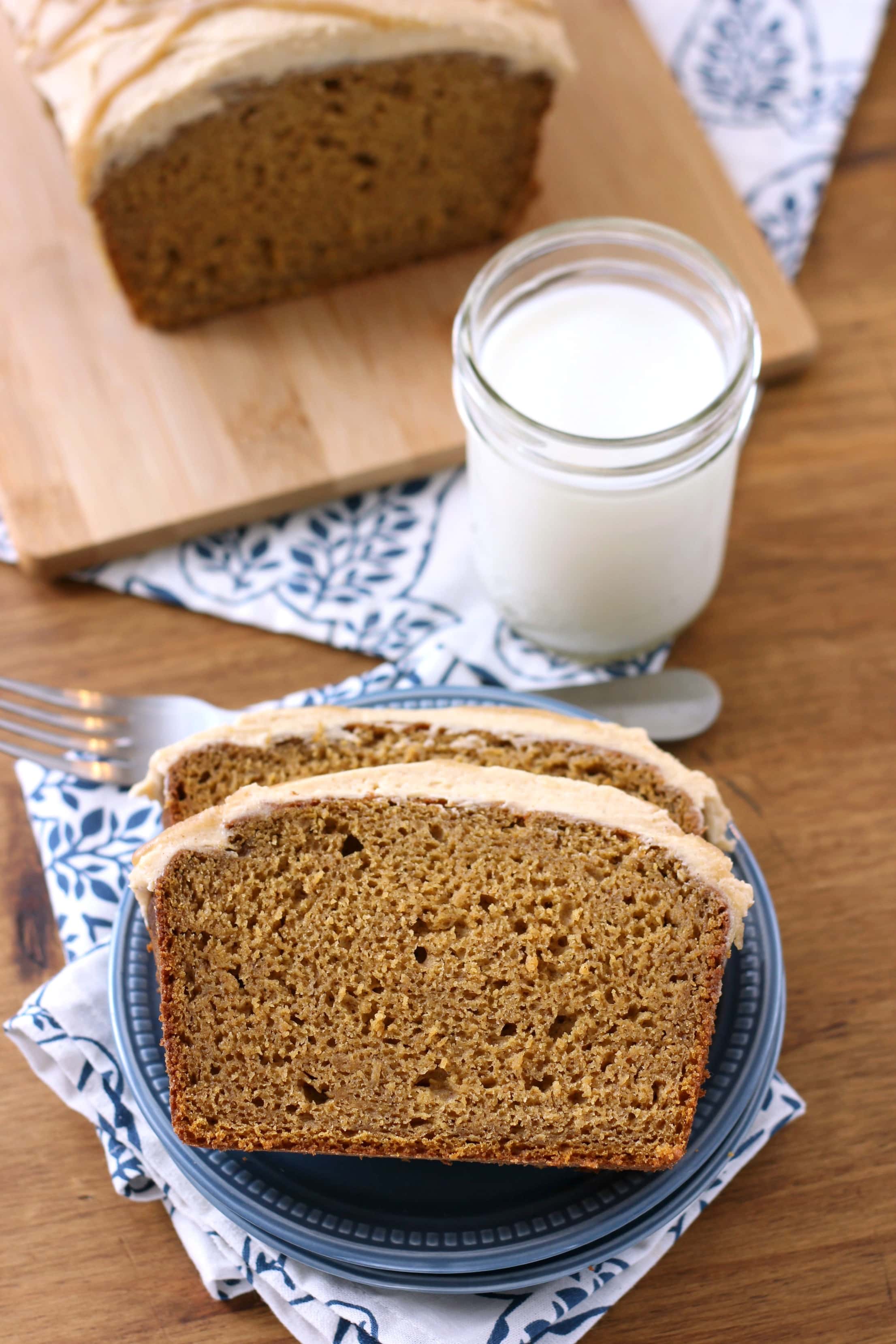 *The wording of this post is from 08/24/12. Images updated 10/19/16.
Since the first day of fall is less than a month away, I thought I was finally time to bring out the pumpkin recipes!
I've already been drinking pumpkin spice coffee already, so why not make some sort of pumpkin baked good to go with it?
And what better than a pumpkin bread topped with salted caramel drizzled pumpkin buttercream!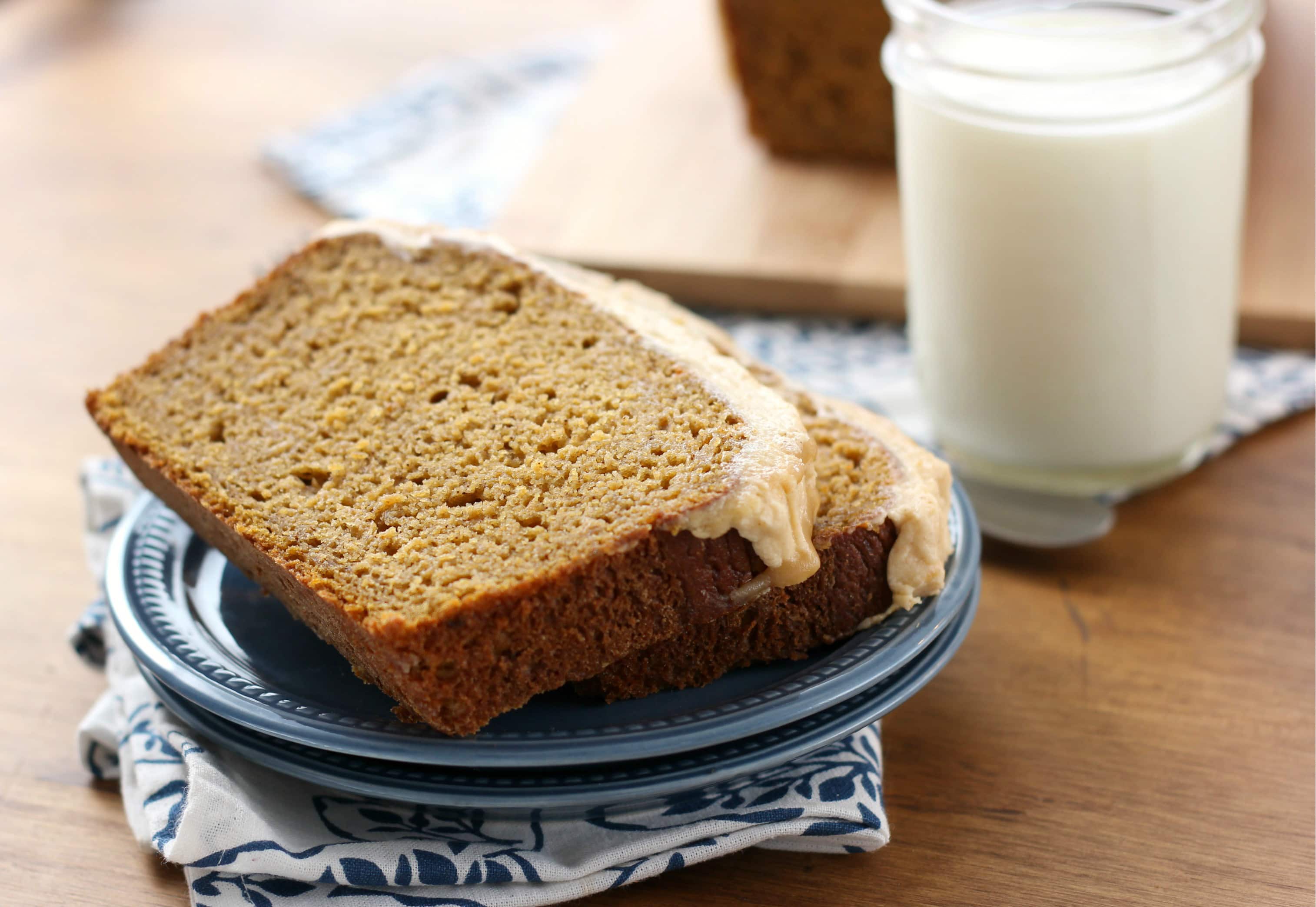 This bread was the perfect pairing and will be making many more appearances at our house! The bread isn't overly sweet, spicy, or oily.
Can you tell which three things bother me about other pumpkin breads?! I used mostly yogurt to get rid of the oiliness and just a little oil to save some of the richness.
I also cut out a lot of sugar completely because I like to taste the actual pumpkin in the bread. In fact, this bread uses an entire can of pumpkin puree. No having only 2-4 tablespoons of pumpkin left that you don't know what to do with!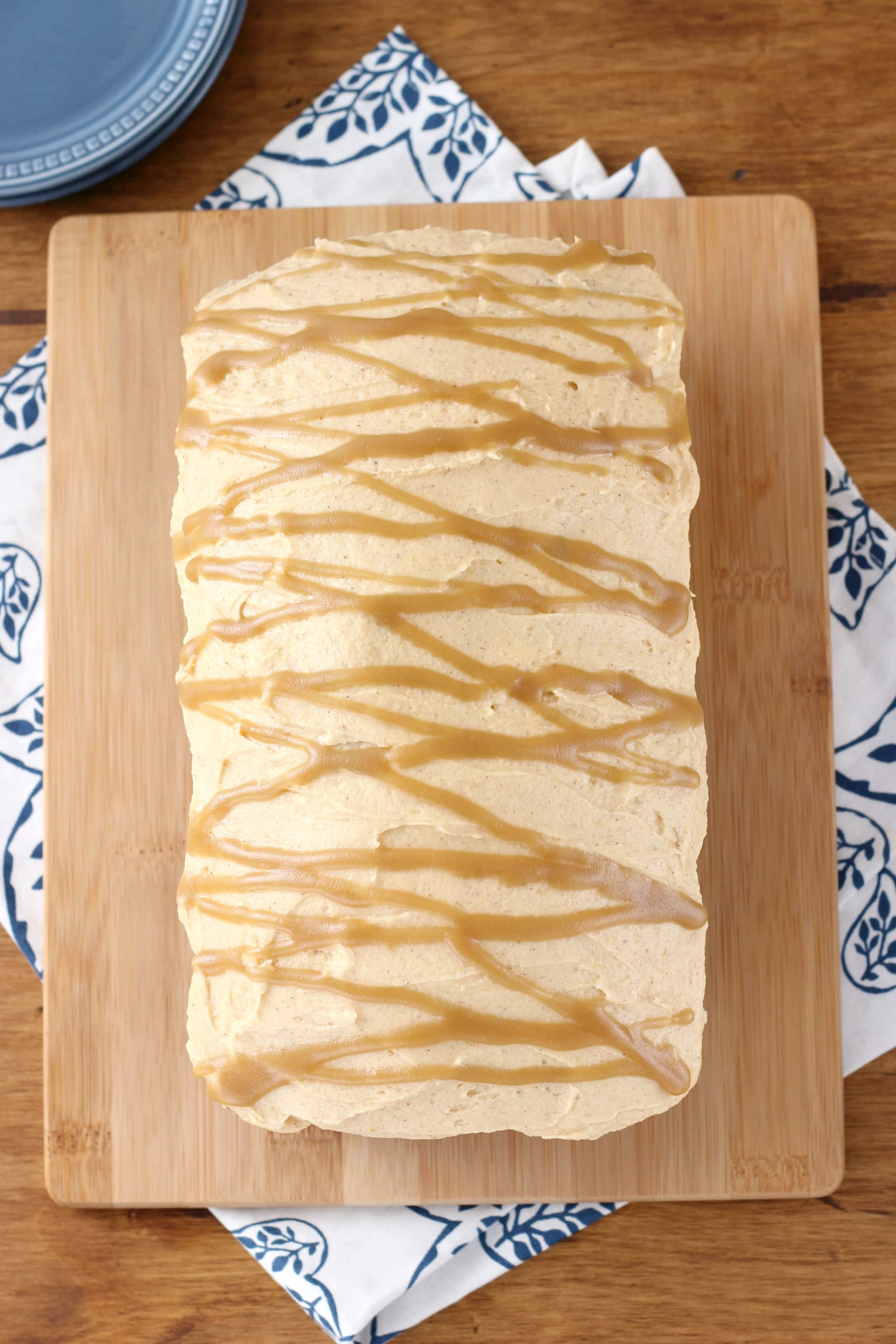 The frosting is sweet (and contains pumpkin!), but the salted caramel does a great job of balancing out the sweetness of the frosting, tying it to the bread perfectly!
The more I talk about this bread, the more I want a slice! Where's my coffee. . . ? Make this bread, lick the frosting bowl clean, and have a great weekend!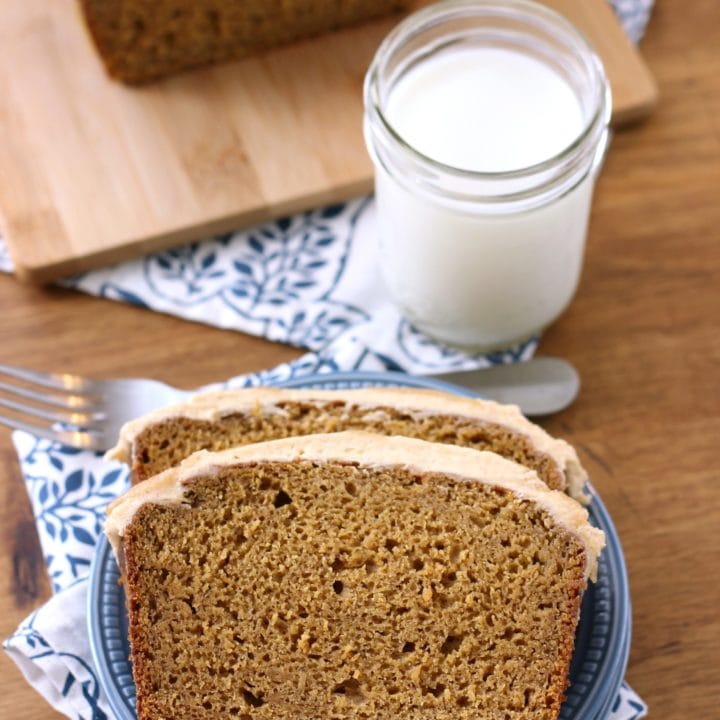 Pumpkin Bread with Salted Caramel Drizzled Pumpkin Buttercream
Yield:
12 slices of bread
Total Time:
1 hour
15 minutes
This Pumpkin Bread is filled with an entire can of pumpkin and pumpkin pie spices! Salted Caramel Drizzled Pumpkin Buttercream tops off the bread making it completely irresistible!
Ingredients
For the Bread
1 Cup all-purpose flour
3/4 Cup white whole wheat flour
1 1/2 teaspoons ground cinnamon
1/2 teaspoon nutmeg
1/2 teaspoon allspice
1/8 teaspoon cloves
1/2 teaspoon salt
1 teaspoon baking soda
1 teaspoon baking powder
2 eggs
2/3 Cup brown sugar
1/4 Cup sugar
1 teaspoon vanilla extract
1/2 Cup low-fat plain yogurt
2 Tablespoons canola oil
1 1/2 Cups pumpkin puree
For the Frosting
1/4 Cup butter, softened (not melted)
2 Tablespoons pumpkin puree
1/2 teaspoon ground cinnamon
1/2 teaspoon vanilla
1 1/2 Cups confectioner's sugar, sifted
2 teaspoons milk, as needed to reach desired consistency
For the Salted Caramel Drizzle
3 Tablespoons brown sugar
1 Tablespoon water
1 Tablespoon butter
1/4 teaspoon salt
1 teaspoon half & half
Instructions
Preheat oven 350. Spray with non-stick cooking spray and flour a 9×5 loaf pan.
Whisk together flours, cinnamon, nutmeg, allspice, cloves, salt, baking soda, and baking powder until well-combined. Set aside.
In a stand mixer, or with an electric hand mixer, beat eggs until creamy. Beat in brown sugar and sugar substitute on medium speed for one minute. Add in vanilla, yogurt and oil. Beat until well-combined. Add flour mixture and pumpkin, beat until just combined. Scraping down the sides of the bowl as necessary.
Spread batter into prepared loaf pan. Bake for 45-55 minutes or until toothpick inserted into the center comes out clean. Allow bread to cool in pan for 10 minutes before removing it to cool completely on a wire rack.
While bread is cooling, begin preparing the frosting. Cream together butter and pumpkin puree. Add in cinnamon and vanilla and beat until creamy. Slowly add confectioner's sugar. (If your pumpkin puree is somewhat watery, you may need to add more confectioner's sugar. If needed, add milk one teaspoon at a time.) Beat until well-combined and creamy. Spread frosting over the top of the completely cooled bread.
In a small saucepan, stir together brown sugar and water. Dissolve sugar over medium-high heat. Continue heating until mixture turns dark brown and starts to boil, making sure to stir constantly to avoid burning. Add butter and salt. Stir to combine and remove from heat. Continue stirring for another 2 minutes to cool the caramel somewhat. Stir in the half & half. Drizzle over the frosting.
Slice bread and serve! Store leftovers in the refrigerator if house is warm to prevent frosting from melting.
Recommended Products
As an Amazon Associate and member of other affiliate programs, I earn from qualifying purchases.