These easy Baked Pumpkin Cardamom Donuts are tender and light and are filled with pumpkin puree and warm spices! Just what your fall morning cup of coffee or tea needs!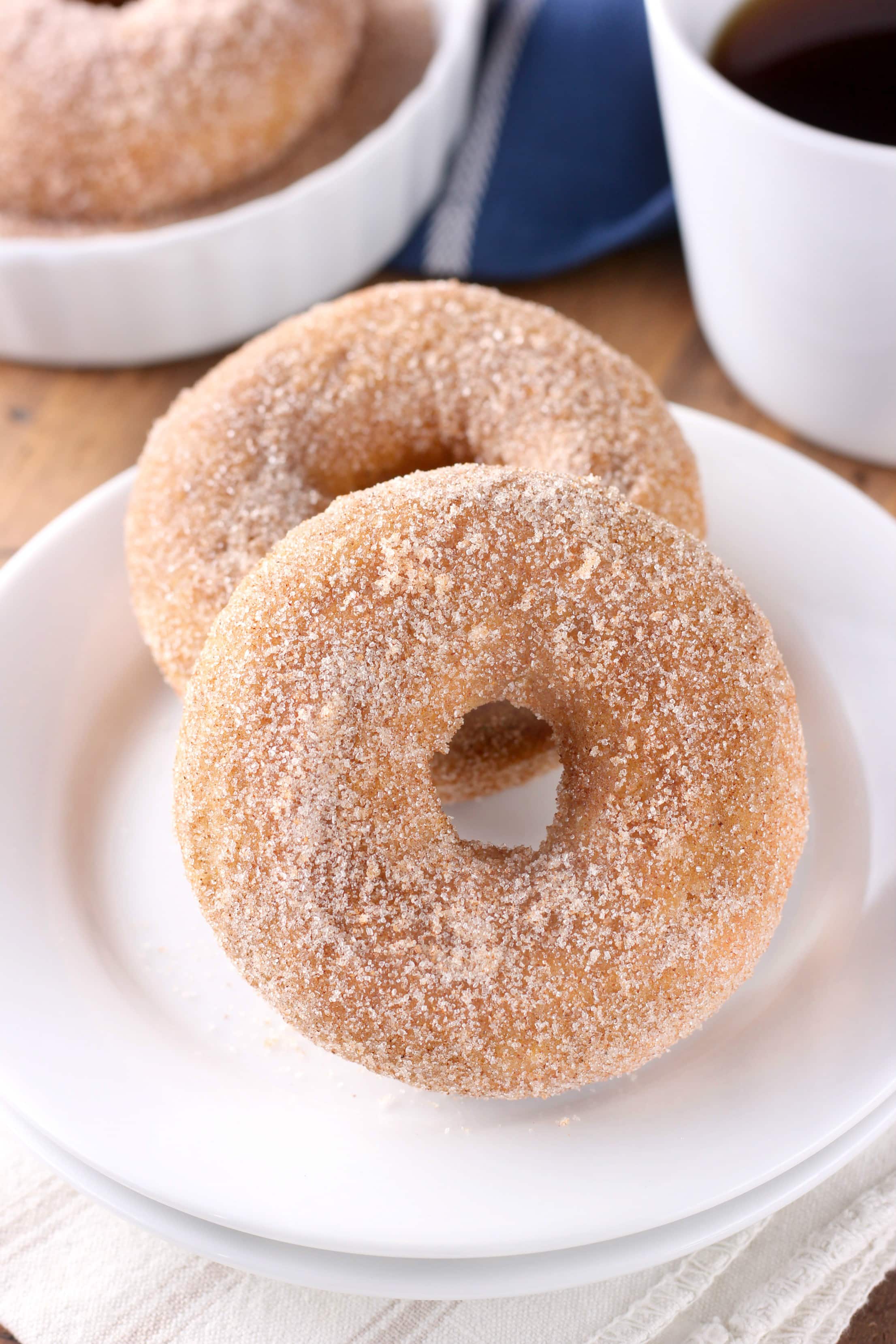 These donuts have been a long time coming to the blog. I noticed awhile back that it's almost been two years since I've shared a donut recipe! That's not because we haven't been making donuts, it's just that we don't make them that often.
That, and I haven't come across a really good one in awhile. I'm usually disappointed in the results of a lot of baked donuts. They're usually too dry, too fluffy, or too bland. Not these.
These baked pumpkin cardamom donuts came about because my husband had a cardamom donut and told me how good it was.
I instantly thought about how I wanted to try to make my own, but make them with pumpkin. And make them baked.
Because even though I don't like a lot of baked donuts, I really don't like many fried ones! Grease coating my mouth just isn't my favorite.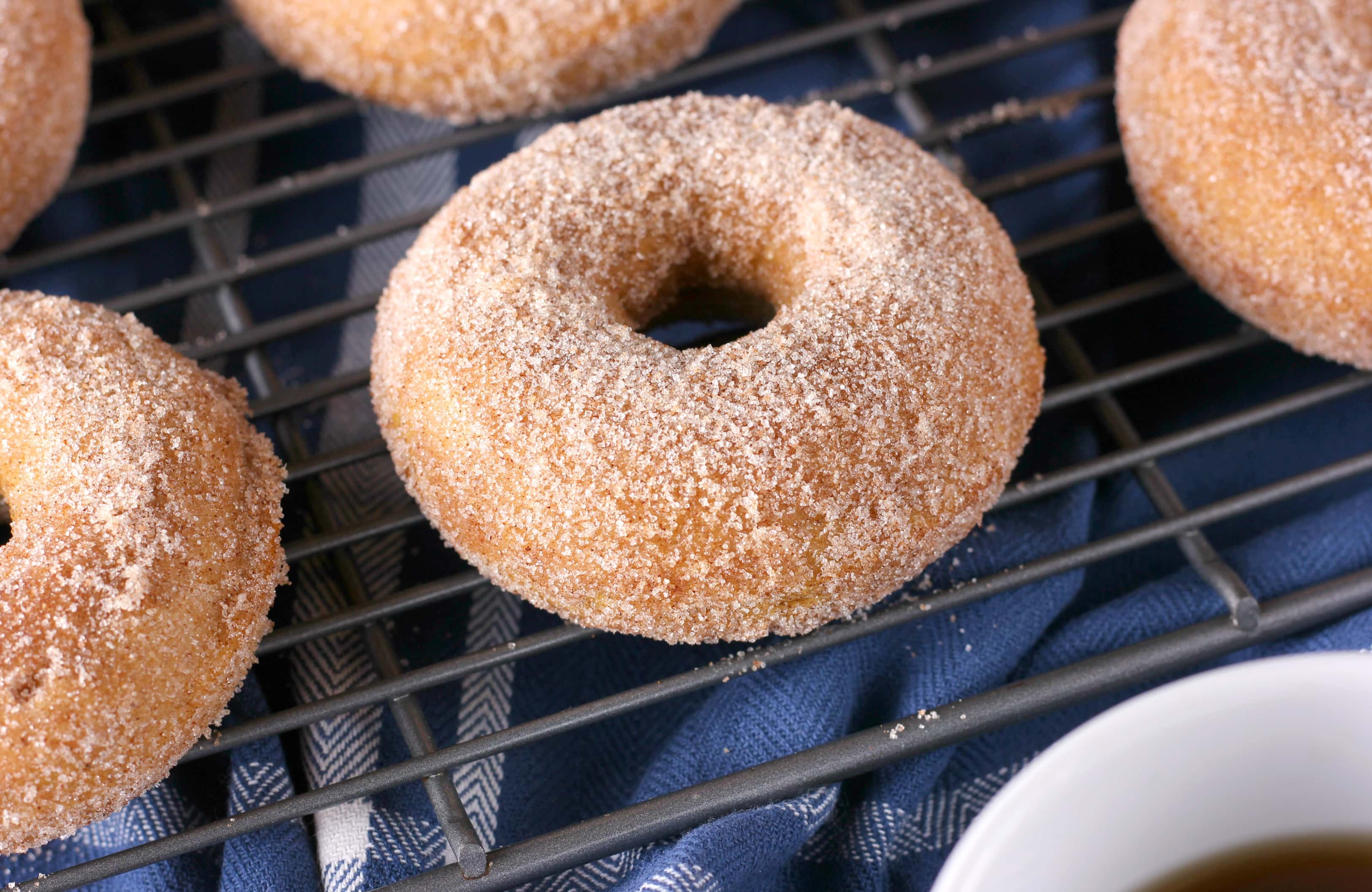 After making a few batches, we finally came across a recipe that was moist, light without being fluffy, and loaded with flavor! Pumpkin puree combines with cinnamon, nutmeg, and cardamom to create the base flavor of the donut.
To give it more flavor and to make the cardamom flavor really shine through, we coated the donuts with a light cinnamon cardamom sugar mixture.
Cardamom is one spice that I don't use nearly enough. I always love the flavor, but it usually ends up hidden in most baked goods. Not these donuts!
You'll notice in the directions that you brush butter over the donuts instead of dipping them in the butter or using no butter at all before coating the donuts with a cinnamon and cardamom sugar mixture.
After trying a few different methods for getting the cinnamon cardamom sugar to stick to the donuts, my husband and I both decided that the donuts tasted the best with the butter brushed onto them.
I placed them all on a wire rack and used a pastry brush to lightly brush butter on one side of all of them, then flipped them over and brushed the other sides.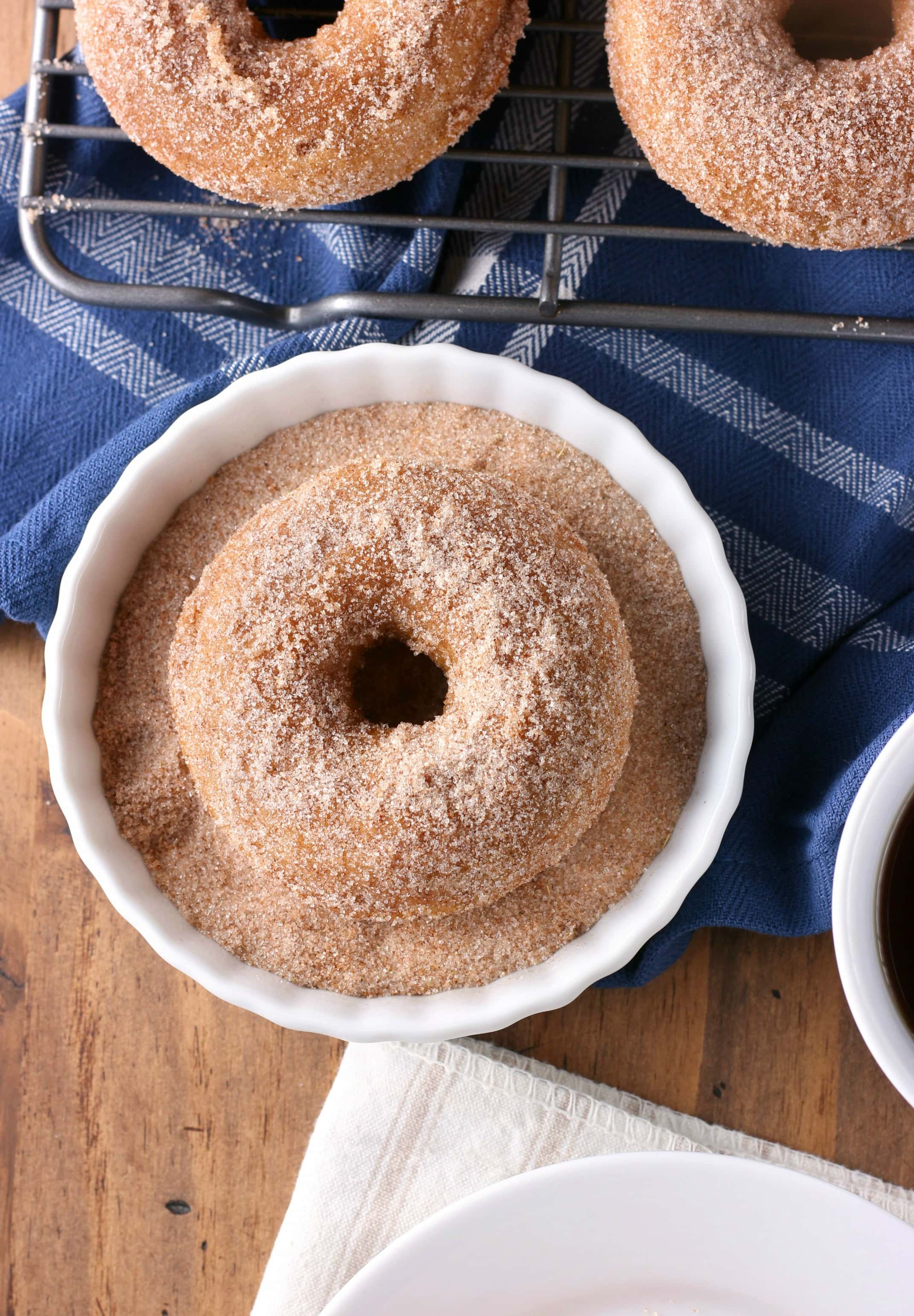 If the butter is warm, you should be able to do at least 6 donuts at a time before it starts to harden. If your house is warm or the butter is hot (be careful!), you should have time to butter all of the donuts before it hardens too much for the sugar to stick.
We both thought that dipping the donuts in the butter made the donuts heavy and soak up too much of the sugar mixture. If you like really sweet donuts, you can do it this way, but the extra step of brushing on the butter keeps the donuts light and not too greasy and sugary. (You'll also need a tablespoon or two more of butter and about 50% more of the sugar mixture.)
Make them for weekend brunch, make them for a fun morning breakfast, make them just because. Whatever your reason, your fall mornings will get tastier!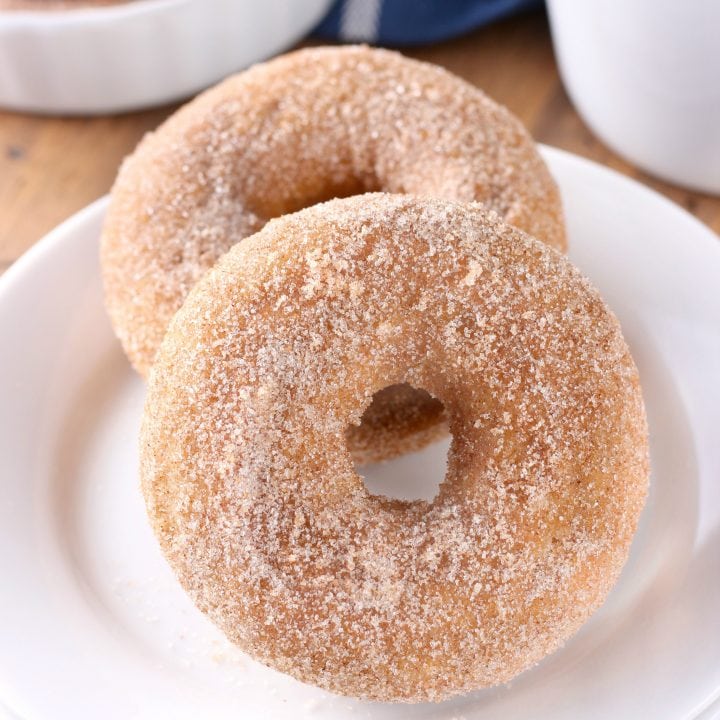 Baked Pumpkin Cardamom Donuts
Ingredients
For the Donuts
2 C white whole wheat flour (I used Trader Joe's)
⅓ C sugar
¼ C brown sugar
2 tsp baking powder
1 1/2 tsp cinnamon
1/2 tsp nutmeg
1/2 tsp cardamom
¼ tsp salt
1 C milk (soy milk or almond milk would work)
½ C pumpkin puree
2 eggs
3 tbsp butter, melted and cooled
1 1/2 tsp vanilla extract
For the Sugar Coating
1/3 C sugar
1 1/2 tsp cinnamon
1/2 tsp cardamom
3 tbsp butter, melted
Instructions
Preheat oven to 350. Spray donut pan with non-stick cooking spray.
In a large bowl, whisk together flour, sugars, baking powder, cinnamon, nutmeg, cardamom, and salt. Stir in milk, pumpkin, eggs, butter, and extracts until just combined.
Pour batter into a pastry bag or a ziploc bag with the corner cut off. Fill each donut cavity about 3/4 full.
Bake for 10-12 minutes or until edges just start to turn light golden brown and donuts spring back when lightly pressed. Remove to a wire rack to cool for 2 minutes before removing from pan onto wire rack.
Stir together sugar, cinnamon, and cardamom in a small bowl. Brush donuts with melted butter and dip donuts in sugar mixture until coated.
Best eaten in 1-2 days.
Recommended Products
As an Amazon Associate and member of other affiliate programs, I earn from qualifying purchases.
Nutrition Information:
Yield: 12 Serving Size: 1
Amount Per Serving: Calories: 206Total Fat: 8gSaturated Fat: 4gTrans Fat: 0gUnsaturated Fat: 3gCholesterol: 48mgSodium: 200mgCarbohydrates: 32gFiber: 3gSugar: 15gProtein: 5g